Showing, Genetics and Breeding
A Show Dog's Life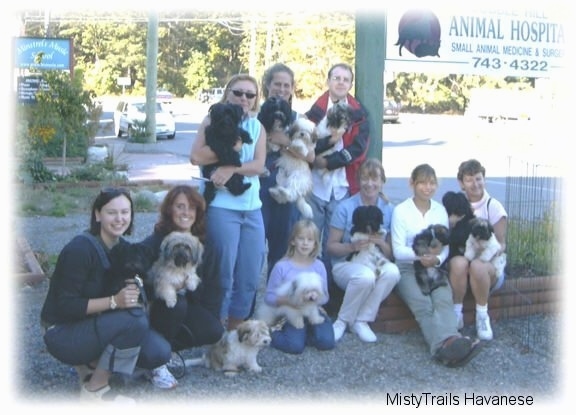 A show dog must conform to the standards for structure, temperament and health. Another part of a show dog's life is often to breed and reproduce.
Before breeding most show dogs also undergo genetic testing as part of the breeders attempt to keep the breed strong and healthy. Pictured is a group of Havanese and their owners at a CERF clinic for eye test.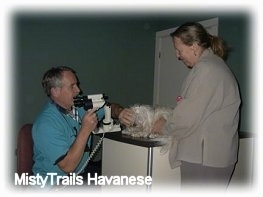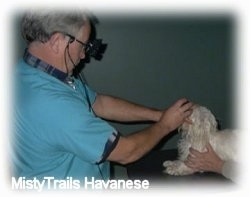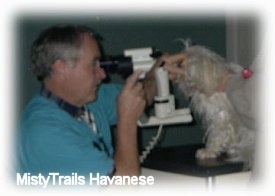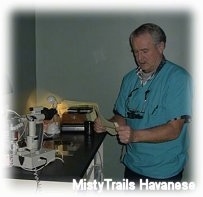 Dr. Graham T. Lewis DVM Dacvo examining MistyTrails PocoAmarra ByEmmy
Study the general structure of your breed of dog. For longhaired breeds, soap the dog to see the actual structure.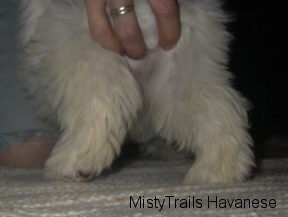 Example of a bad rear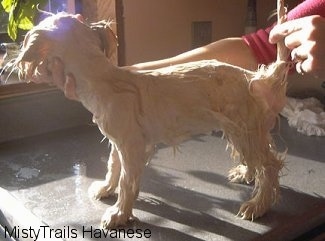 Bad top line—the back should be straight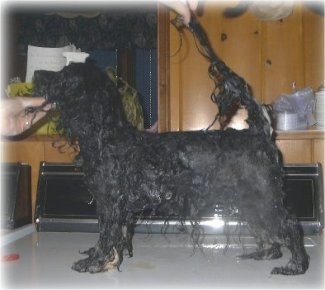 Straight top line—good
Good front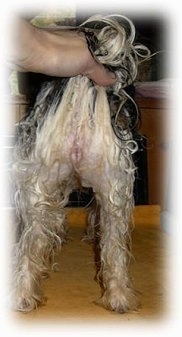 Good rear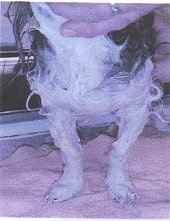 Not-so-good front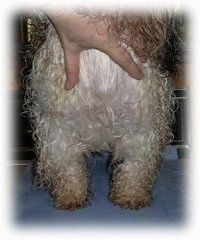 Good front
Genetic Health Screening/Testing Common Genetic Tests (testing for each breed varies)
Canine Eye Registration Foundation (CERF)
Done by Canine Ophthalmologist at an eye clinic, screening for progressive retinal atrophy and cataracts. This test should be done annually and for as long as the dog is in an active breeding program.
Orthopedic Foundation for Animals (OFA) for hip and elbow dysplasia
OFA tests are often done after two years of age, and under anesthetic done by your vet. Sent in to OFA Hip joints standard VD (ventrodorsal) view
Elbow joints flexed lateral view These tests are usually performed once, after the dog reaches 24 months
Thyroid Panel III—done by vet and sent to OFA for certi fication
Heart Testing (usually done by a heart clinic like CERF)
Baur Testing
Allergy Testing
DNA Testing
Blood Collection—for blood panel and electrolytes
Leg Perthes Disease (LPD)—done by the vet at same time as OFA x-rays
Click here to see an acceptable vet certificate for Legg Perthes Disease. This is NOT an accepted OFA certificate for hip dysplasia. If your breed is not prone to dysplasia, this is fine. The x-ray test for hip dysplasia and Legg Perthes is the same. If your breed is prone to hip dysplasia, you need to have the OFA Certificate.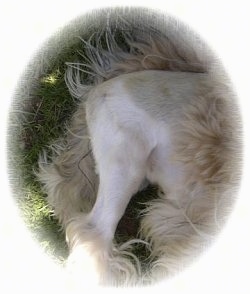 Pictured here is a young male with LPD that has had corrective surgery.
LPD leaves the affected do y repairable and quite expensive. It is important when breeding to make sure you do not combine a pedigree with LPD on both sides. Also any breeder that has LPD in their lines (it is quite common in toy breeds) should be doing the x-ray on the breeding dogs to ensure no microscopic signs of LPD are present as an ongoing precaution to keep the breed healthy. As well it is very important and ethical to inform the owner of the other breeding dog of this and any other genetic problem. With LPD, the mode of inheritance is still in question. NEVER repeat a breeding if a LPD dog is born in a litter. LPD shows up in young dogs at about 6 to 8 months old.
Luxating Patella (Patellar Luxation) certification — can be done by your vet, and is a displaced kneecap; the kneecap doesn't stay in its groove properly. This condition is more common in toy breeds.
Chrondodysplasia (CD) certification— can be checked by vet
CD is height vs. length vs. depth and width of the chest to shoulder placement; general structure is important.
Liver Shunt
For puppies that do not thrive as well as the rest of the litter, the bile acid test is a very good and easy test to see if the pup has a liver shunt and the liver is not functioning normally. Congenital liver disease is one of the problems breeders try to eliminate. It seems to be genetic. The most common congenital liver problem is a portosystemic shunt. This is often the result of blood bypassing the liver thus flowing directly into the system. This bypass of the liver is normal during fetal development. The bypass normally closes after birth. The liver effects metabolism, temperature regulation, circulation, detoxification and waste removal. When a dog has a shunt, the liver cannot function properly and there will be non-detoxified blood circulating through the body, which will slowly poison the body's cells and tissues. This poisoning can impair body functions; the pup may fail to thrive, have poor weight gain, sleepiness, vomiting, blindness and seizures. Early diagnosis and fast treatment offer the best outcomes. The success of surgery depends on how severe the shunt is, and the location of the shunt. Medical management may be tried for inoperable shunts but can be difficult and very expensive with limited success. Responsible breeding can drastically reduce/eliminate this problem.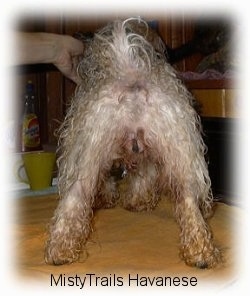 In longhaired breeds proper structure is easier to see when you wet your dog down. Pictured here is a nice back end with straight legs, and no CD.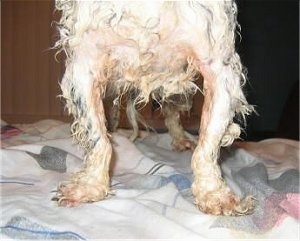 Chrondrodysplasia is also called fiddle front, because it's shaped like a fiddle. This is a strong sign of bilateral chondrodysplasia which is a skeletal and developmental abnormality.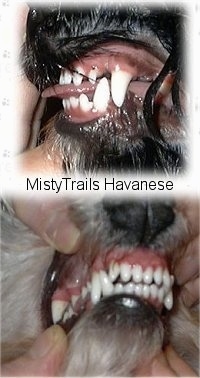 A breeding dog's bite needs to be good. In the ring, a judge always asks to see your dog's bite. Pictured here is a nice scissor bite. A show dog's teeth must be kept clean. Even a dog that is a pet deserves to have healthy teeth.
For each breed, there are certain tests that are highly recommended. What one checks for in one breed may differ from the tests recommended for another breed. Find out what the main important tests for your breed are. It is then suggested by some vets and breeders to do some of these tests every two years on your breeding stock, male or female. It can be costly, but then you can honestly put on a proper health guarantee. Some vets say one series of testings is not enough to carry through the dogs breeding years. Every two years will pick up 90% of any changes. CERF testing on eyes is recommended yearly, whereas OFA on hips is often only done once when the dog is 24 months.
Click here to see a proper CERF form. Each individual dog should have one. A letter from a vet stating a dog's eyes are good, like on the patella form, is NOT a CERF.
Click here to see an acceptable certificate for patella certification of no evidence of luxating patella on either stifle. This is NOT an acceptable eye CERF certificate. This test, performed by your vet, is now able to be registered with OFA, and has a special form.
More examples of bad structure in the Havanese breed...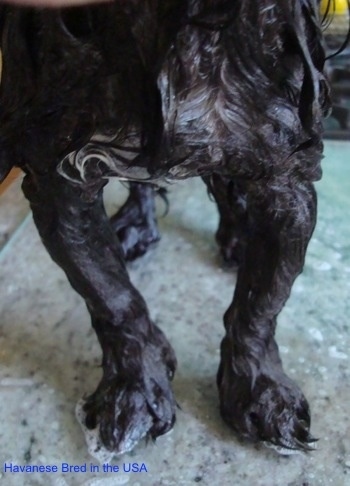 Example of a bad front in a Havanese
Example of a bad front in a Havanese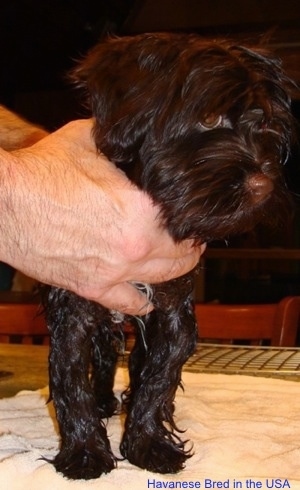 Example of a bad front in a Havanese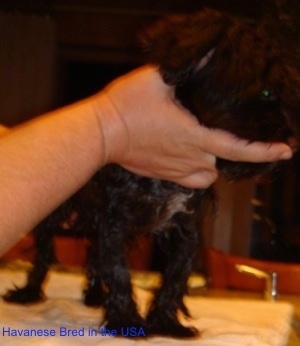 Example of a bad front in a Havanese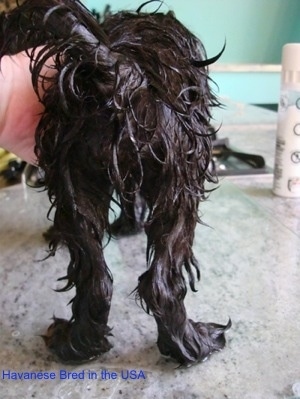 Example of a bad rear in a Havanese. Notice how the hocks go in, cow hocked, and the feet turn out.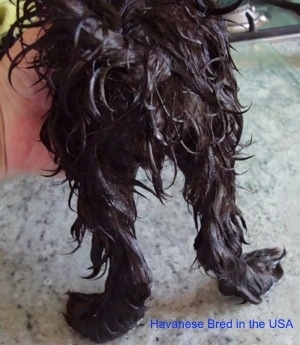 Example of a bad rear in a Havanese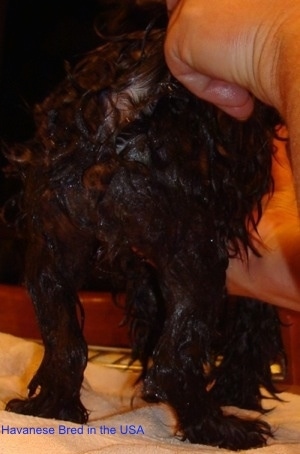 Example of a bad rear in a Havanese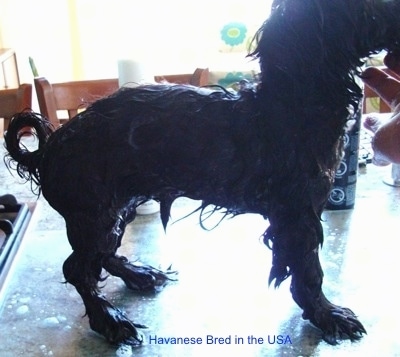 Example of a bad top line in a Havanese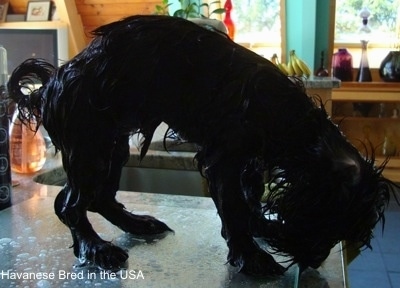 Example of a bad top line in a Havanese
Courtesy of MistyTrails Havanese