Golden Pyrenees
Golden Retriever / Great Pyrenees Hybrid Dogs
Information and Pictures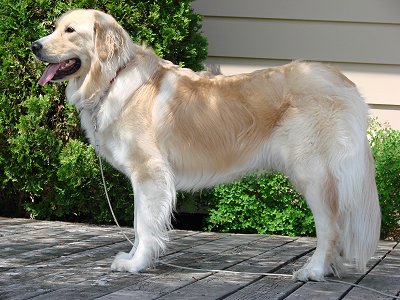 Fluffy the Golden Pyrenees (Golden Retriever / Great Pyrenees hybrid)—"She is 16 months old and weighs 85 pounds in this picture. She is, obviously, pretty big—and is a lap dog. Her temperament is absolutely even. She adores children and watches them intently to make sure everything is on the up and up. A crying baby has her at attention and nosing around to see what she can do to help! She is so people-oriented that she will leave a treat behind if there is a chance that someone near her will shower love upon her."
"Fluffy is very compliant, too. The vet techs said that she should be the poster-dog for "fun" spayings, as Fluffy was so happy before and after the procedure. She likes to go to the vet because there are people there who are all about her! You can wobble her dewlaps, trim her toenails, give her a bath—all without complaint. The look in her eyes tells you she is indulging you, but loves you, so it's all good.
"She does some classic Pyr things—like "playing deaf." If she has thoughts on what she'd like to do, and your thoughts are different, well...you might as well be talking to the wall. *Unless* you make it sound fun—like a people-thing. She also barks at night if the windows are open. We live in a suburban area and she will make you aware of every noise she hears. She'd also dig for China—given the opportunity. We're talking craters, not holes."
Other Names
Golden Pyranees
Description
The Golden Pyrenees is not a purebred dog. It is a cross between the Golden Retriever and the Great Pyrenees. The best way to determine the temperament of a mixed breed is to look up all breeds in the cross and know you can get any combination of any of the characteristics found in either breed. Not all of these designer hybrid dogs being bred are 50% purebred to 50% purebred. It is very common for breeders to breed multi-generation crosses.
Recognition
ACHC = American Canine Hybrid Club
DBR = Designer Breed Registry
DDKC = Designer Dogs Kennel Club
DRA = Dog Registry of America, Inc.
IDCR = International Designer Canine Registry®
Recognized Names
American Canine Hybrid Club = Golden Pyrenees
Designer Breed Registry = Golden Pyranees
Designer Dogs Kennel Club = Golden Pyrenees
International Designer Canine Registry® = Golden Pyrenees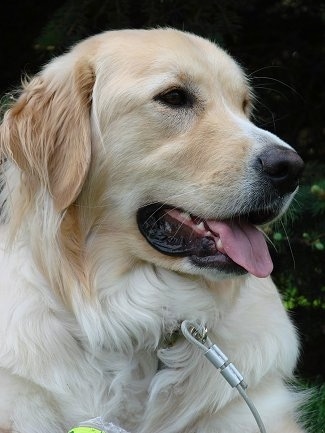 Fluffy the Golden Pyrenees (Golden Retriever / Great Pyrenees hybrid)—"For exercise, we walk about a mile a day and she is perfectly content. She's more of a couch potato than an Energizer Bunny. She's always ready to go—but would really like it best if "going" included intermittent naps."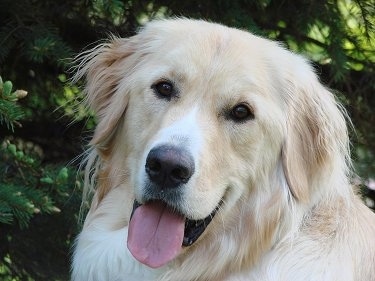 Fluffy the Golden Pyrenees (Golden Retriever / Great Pyrenees hybrid)—"Her coat is long and plentiful. I brushed her every day during the spring and fall, but now it seems she's fine with a thorough once-a-week brushing. Her tail and "britches" are the most snarl-prone. The rest of her coat just needs clearing of the downy-soft undercoat. Point of interest: She does have double dewclaws. Basically, the phrase that best describes her is "joie de vivre" because everything, everything is her "favorite ever!""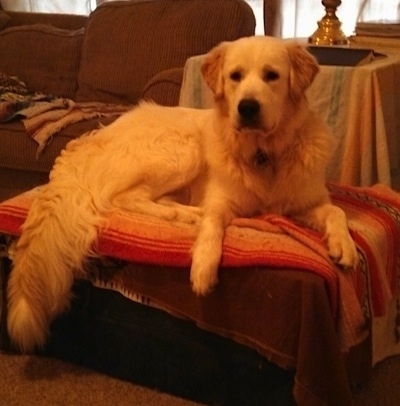 Jelly the Golden Pyrenees at 18 months old—"This is my boy, Jelly. His given name is Admiral, but I've always called him Jelly, short for jellybean. I named him that when he was born, because I gave his sisters all J-names and it sort of stuck. He's so like his father, Jack and his mother, Jillie (you see the theme here). Jack is the Golden Retriever and Jillie is the Great Pyrenees. Jack actually seems delighted to have a like-minded companion ("oh, look, a female!"). Jelly was about a year and a half old in this in this picture. He's now almost two, early adulthood for a slow-to-mature mix. Both father and son are intact (not "neutered"). They horse-play, tumble about on they're backs on the floor, side by side, and sleep together, usually one's head resting on the others hip, and for some weird reason, Jelly won't eat unless he's next to Jack. It doesn't seem like a competition thing. They'll both be relaxed and quiet. It's more like a security thing. The "boys" are living proof that intact males, even in the presence of a bitch in heat, can coexist peacefully if the humans keep the pack balanced."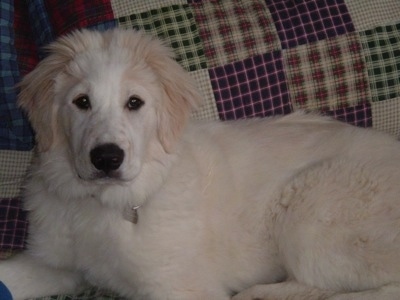 "Hello, this is one of my dogs named Charlie He is a Golden Pyrenees. He was born at the end of January 2008 in Saskatchewan. Charlie is a laid-back, easy-going and very friendly dog. His best friend is my 12-year-old boy; they are the perfect match. He has a temperament of a Great Pyrenees; he likes to watch the world go by, but when he is outside playing ball he is as gentle as a Golden Retriever. Charlie is not a very active dog. We go to the dog park as many times as we can in the winter and most days in the summer he runs around for about 30 mins and then is looking to mom and dad to go home. Charlie lives with two cats that he gets along with great, one snake, and two Great Danes named Stella (white Dane; she is deaf) and Dexter, a mantle Dane that just came to us in January of 2010. I have trained my dogs with the help of Cesar Millan and Brad Pattison, host of "At the End of My Leash." Both shows and books have helped me and my family have a calm pack with all the humans being pack leaders. I owe them both a world of gratitude. Without knowing the training tips I have learned my home would be a scary place to visit and live."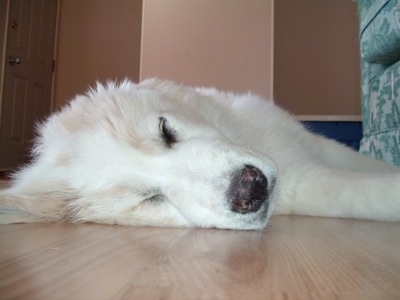 Charlie the Golden Pyrenees taking a nap on the floor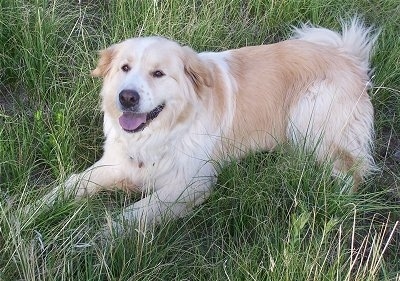 Lucy the Golden Pyrenees (Great Pyrenees / Golden Retriever mix)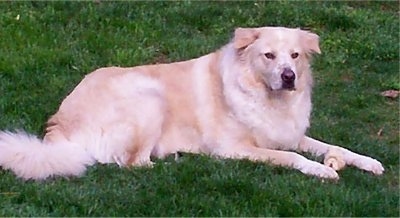 "This is my dog Luke at 6 years old. He is a Golden Pyrenees who we found at our local shelter in NC. He is so sweet and is famous in our neighborhood as everyone loves him. When I found him, he was 40 pounds at 1.5 years old. He had been a stray for those 1.5 years and fed off eating grubs mainly. When we brought him inside, he did not know what to do with stairs so I had to carry him up and down the stairs to teach him. Let's say he has blossomed since we brought him home, and he now weighs 110 pounds. He is the best dog we've ever had and would highly recommend his hybrid. Does not have a mean bone in his body."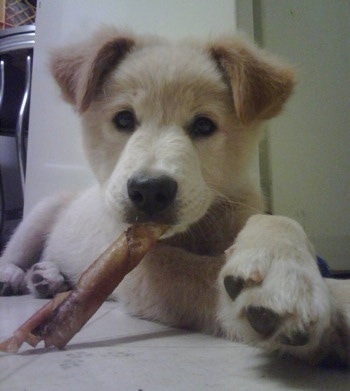 "Fen is an eleven-week-old Great Pyrenees / Golden Retriever mix that we rescued from our local shelter. He is the picture of both breeds; he's very good with children, even at such a young age, gentle, intelligent and quite lazy. He weighs 30 pounds in these photos, and gets bigger by the day."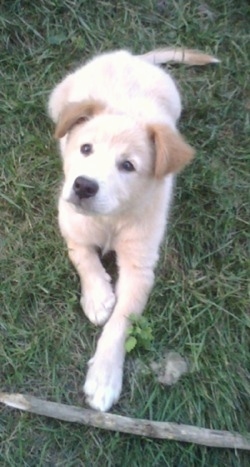 Fen the Golden Pyrenees as a puppy at 11 weeks old laying down in the grass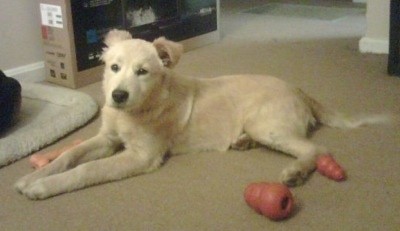 "Fen is now 6.5 months old and 70 pounds. His coat has the texture of a Golden, but hasn't completely filled out like a Pyrenees. He's got a very low energy level; two 20-minute walks a day will suffice for him. He eats about two cups a day and maintains a very healthy weight. Our vet expects him to be around 115-120 pounds as an adult with a projected height of 30 in. at the shoulder.
"He's got the protective nature of a Pyrenees, excellent watch dog. He's trained very well thus far and excels at demanding tasks. Fen adapts well to new people and situations, and is currently working toward getting his Canine Good Citizen certification."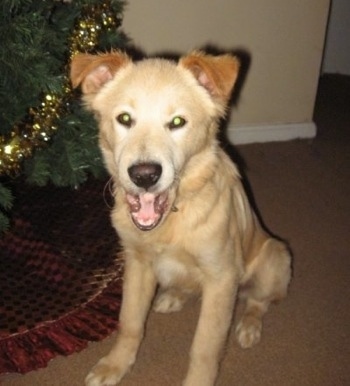 Fen the Golden Pyrenees as a puppy at 6 1/2 months old sitting next to the Christmast tree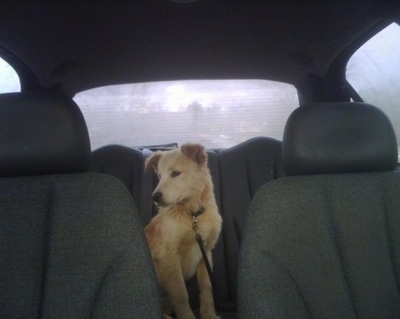 Fen the Golden Pyrenees as a puppy at 6 1/2 months old going for a ride in the car