Havachon
Bichon Frise / Havanese Hybrid Dog
Information and Pictures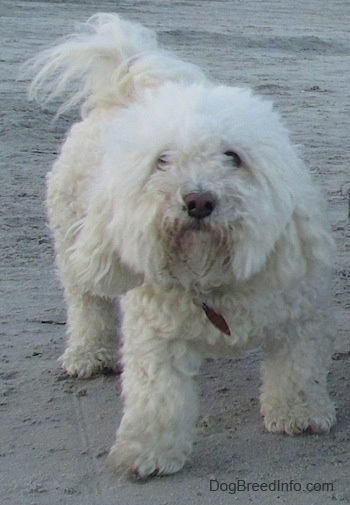 Roxy the Havachon at 8 years old
Other Names
Bichonhavanese
Frise Havanese
Description
The Havachon is not a purebred dog. It is a cross between the Bichon Frise and the Havanese. The best way to determine the temperament of a mixed breed is to look up all breeds in the cross and know you can get any combination of any of the characteristics found in either breed. Not all of these designer hybrid dogs being bred are 50% purebred to 50% purebred. It is very common for breeders to breed multi-generation crosses.
Recognition
ACHC = American Canine Hybrid Club
DBR = Designer Breed Registry
DDKC = Designer Dogs Kennel Club
DRA = Dog Registry of America, Inc.
IDCR = International Designer Canine Registry®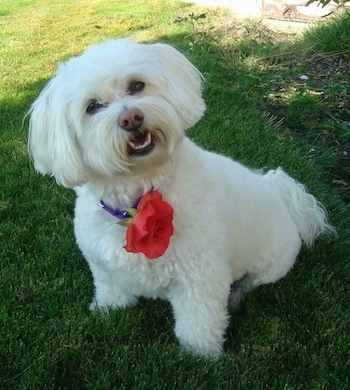 "This is my four-year-old Havachon named Enna. She is extremely smart and knows many tricks like roll over, play dead, shake, dance and wave. Enna is extremely mellow and enjoys meeting new people and dogs. She also enjoys going for walks and playing fetch. Enna loves her food! She seems to always be right underneath you in the kitchen, waiting for a scrap to fall. As a puppy, Enna was easy to potty train. She only had two accidents in the house. We are so happy that we have Enna in our family; she is the best dog we could have asked for. Everyone just adores her and now three other people in our family also have Bichon mixes!"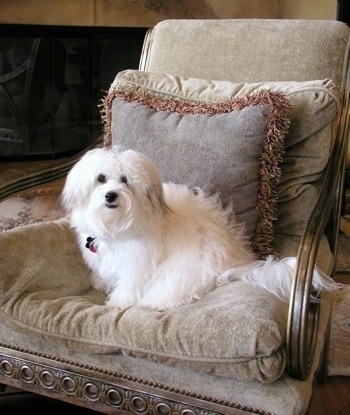 "This is Max at 8 months old. See how his coat colors have changed? That is the delightful trait of a Havanese. His hair is so very silky, I enjoy petting him. We have a daily evening routine where I brush out any mats with a slicker brush. If he's too wiggly, I get one of those rubber bones with grooves for teeth cleaning and fill the grooves with peanut butter. He chews on the bone in my lap and doesn't seem to notice me and the slicker brush. I use a detangling spray when brushing him, but the most important thing is to brush him daily before the mats and tangles begin to bother him.
"I watch The Dog Whisperer avidly and his show has helped me to be a better dog owner. At dusk, Max stands at the patio door and barks at anything that moves. I learned watching Cesar to get in between Max and the door and stand with a stance that says, "This is my door!" and tell Max "no bark." It's been only two days of consistent training and he's already responding well.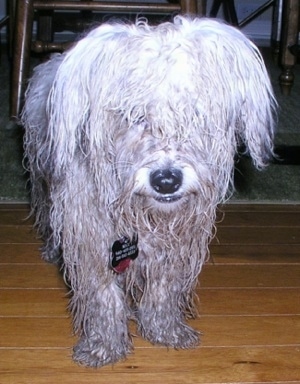 "Max loves water and mud. This picture was taken after a glorious romp and roll!"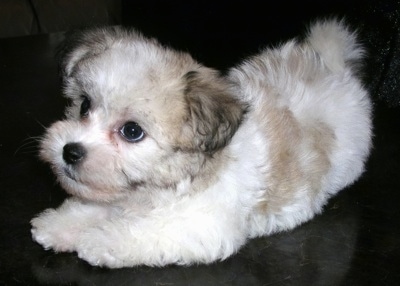 "This is Max, a male Havanese / Bichon hybrid puppy. From the start, Max loves to have his picture taken. He was quick to learn to sit. He took to our black Lab, Gabe, and they quickly became friends. Gabe is a patient Lab, thank goodness, because Max is all over him, chewing on his tail, his feet, whatever he can reach.
"Max is happy and lively as any puppy is. I'm a quiet-natured retired woman, so I am playing with Max gently, encouraging gentle play. I keep chew toys nearby and when he chews on my fingers and toes, I simply remove my fingers and toes from his reach and give him a toy. He seems to be satisfied as long as he has something to chew on. When his natural play behavior becomes too aggressive, we go for walks/runs to work off a little energy He loves it outdoors.
"Max loves my grandchildren, primarily the 3-year-old and the 6-year-old girls. He loves to chase and gets just as excited as the kids. He has discovered that is fun to nip at toes and fingers to see them dance, so my challenge is to train the grandchildren to play without so much excitement.
"Potty training is a big challenge. Especially, now that it's raining and freezing outside. Neither one of us want to be in those nasty elements. I've tried to introduce the pee pad to him, but he has taken it on as a personal challenge to pee anywhere but on the dreaded pad. I read about crate training on your site and may try that. I put him in the crate at night and during the day when I am too busy to keep an eye on him (I like naps, too!). So far, he has not given me any problems."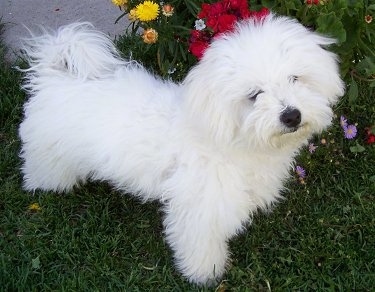 Muffin the white Bichon Frise Havanese mix (Havachon) at 7 months old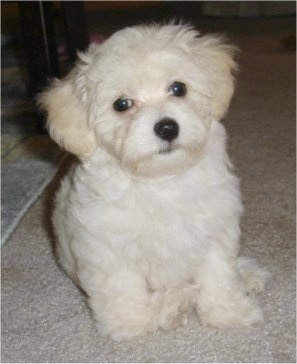 Lani the Havachon as a puppy at 2 months old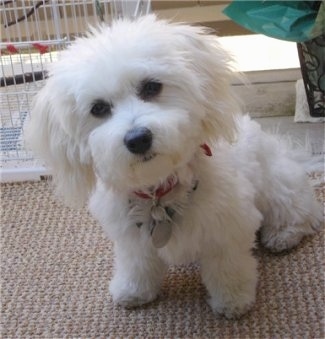 Lani the Havachon as a puppy at 7 months old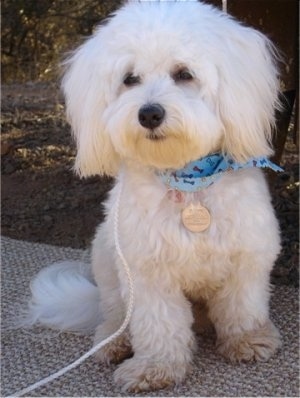 Lani the Havachon as a puppy at 10 months old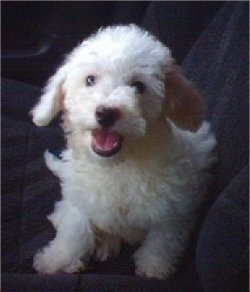 Chase the Havachon (Havanese / Bichon Frise mix) puppy at 2 months old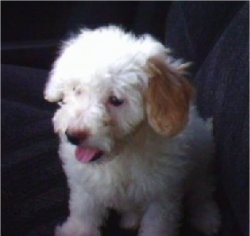 Chase the Havachon (Havanese / Bichon Frise mix) puppy at 2 months old
Roxy the Havachon at 8 years old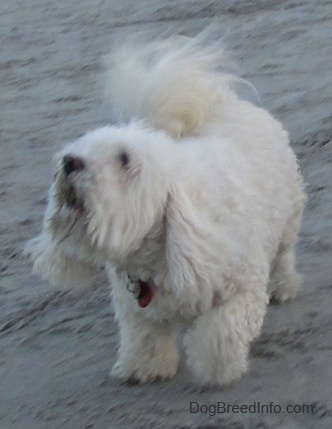 Roxy the Havachon at 8 years old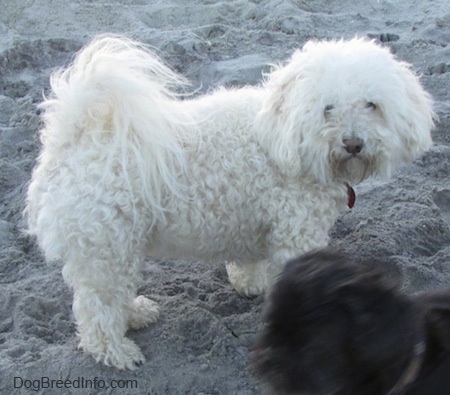 Roxy the Havachon at 8 years old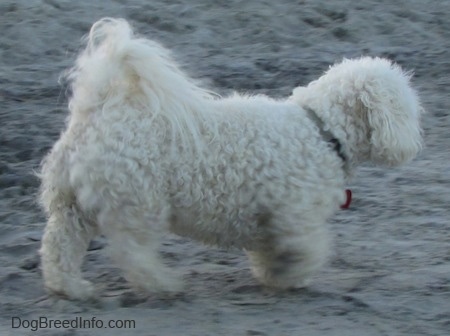 Roxy the Havachon at 8 years old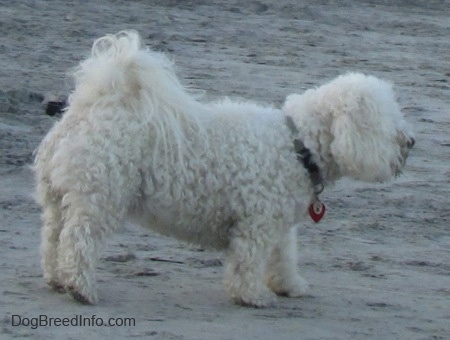 Roxy the Havachon at 8 years old