Jug
Jack Russell Terrier / Pug Hybrid Dogs
Information and Pictures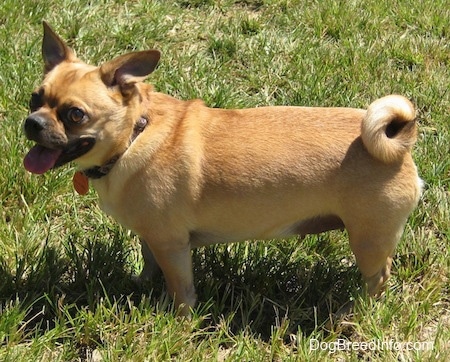 Butters the Jug (Pug x Jack Russell Terrier mix) at 3 years old
Recognition
JackPug
Description
The Jug is not a purebred dog. It is a cross between the Jack Russell Terrier and the Pug.The best way to determine the temperament of a mixed breed is to look up all breeds in the cross and know you can get any combination of any of thecharacteristics found in either breed. Not all of these designer hybrid dogs being bred are 50% purebred to 50% purebred. It is very common for breeders to breed multi-generation crosses.
Recognition
DRA = Dog Registry of America, Inc.
IDCR = International Designer Canine Registry®
Recognized Names
American Canine Hybrid Club = Jug
Designer Dogs Kennel Club = Jug
International Designer Canine Registry® = Jug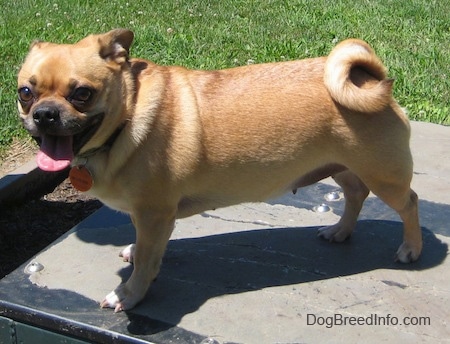 Butters the Jug (Pug x Jack Russell Terrier mix) at 3 years old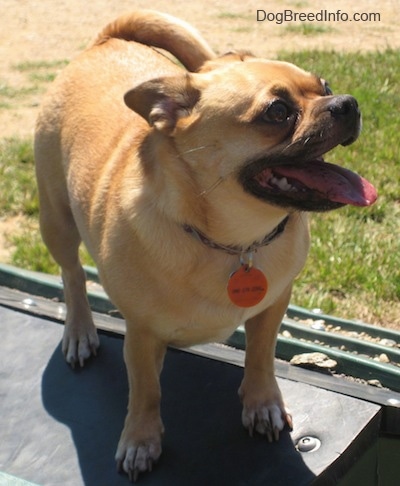 Butters the Jug (Pug x Jack Russell Terrier mix) at 3 years old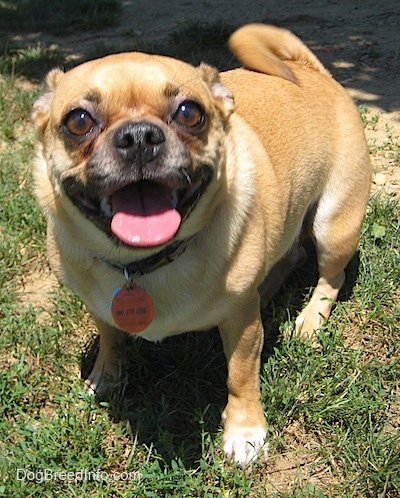 Butters the Jug (Pug x Jack Russell Terrier mix) at 3 years old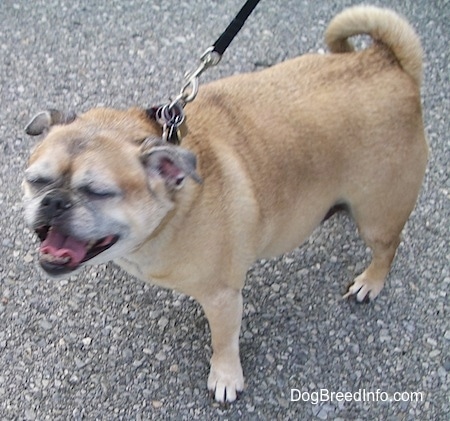 Marzi the Jug (Jack Russell / Pug mix) at 12 years old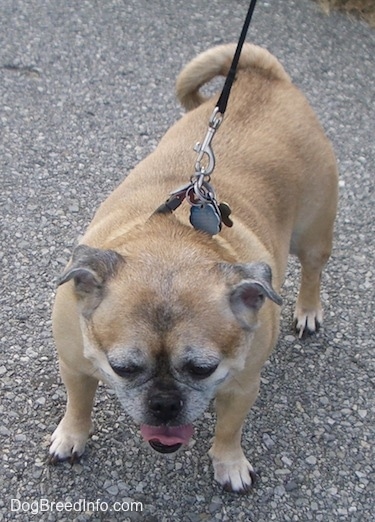 Marzi the Jug (Jack Russell / Pug mix) at 12 years old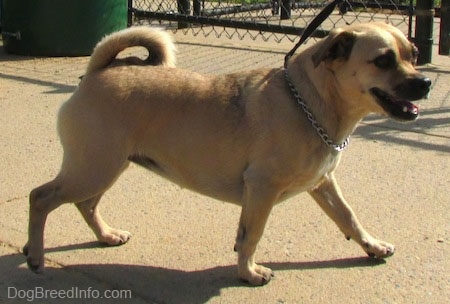 Isabelle the Jug (Pug x Jack Russell Terrier mix) at 5 years old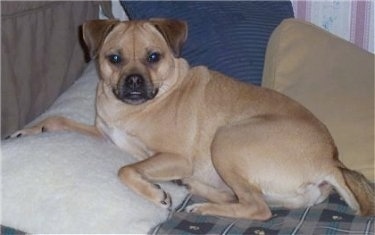 Chloe the Jug at 2 years old—"She is very loving and great with children, cats and other dogs. She takes after the JRT and is very high energy and very intelligent. Jugs should have access to a fenced yard as they love to run and dig. They will chase squirrels, rabbits, etc., so the yard should definitely be fenced."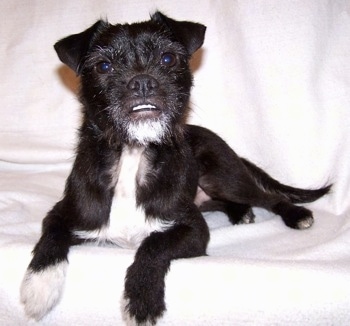 "I adopted my Ollie just before Christmas. He is a Jack Russell / Pug mix and I could not be happier with the characteristics of this hybrid. He has lots of curiosity and play drive, but is equally interested in lap time with Mommy. He also enjoys time with our other mixed breed dog Terra whose mother was a purebred Golden Retriever and we believe a black Lab father. In Ollie's case, he requires a lamb and rice dog food, and I must ensure no one gives him anything with pork in it. I love watching Cesar Millan's the Dog Whisperer and have taken lots of tips from the show in regards to being the pack leader. I was a dog trainer with the local county 4-H program and have been around all types of breeds for many years; Cesar's principals are phenomenal. Ollie can have an attitude when he does not get what he wants when he wants it, so I really do have to use the firm assertive-dominant role with him. He has a super high drive to watch for squirrels and chipmunks and will bark very aggressively toward them. I sometimes let him outside on the enclosed deck to chase them away, HA HA. He thinks it's great. I also developed a toy that he really has a drive to play with; it is a hard plastic ball, large enough not to get stuck in his jaws (which can really be strong) and it has two metal ball bearings inside it. I let him chase it all over the 1st floor of our home. I just close off sections with lots of places for it to get stuck. I also have the main play area pretty well ball proofed. If it gets stuck somewhere he will usually come and get me but you have to keep an eye or an ear out for him since he takes out his frustration on anything nearby. This includes extension cords, patio door blinds or the ottoman. Having consistency on the rules of good behavior during playtime keeps the house from being taken over by this little character. So overall, this breed is a joy to have around. He is my constant companion, loves attention from anyone and of course thinks he's the best. I really fell in love with his looks on first sight but his personality has truly taken my heart."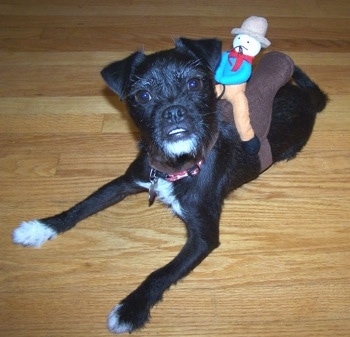 Ollie the Jack Russell Terrier / Pug mix dog (Jug) in his Halloween costume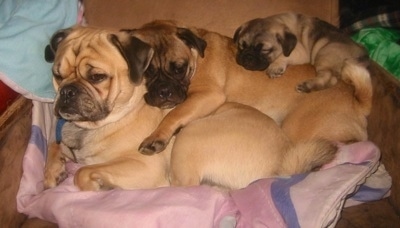 Stack of Jugs (Jack Russell Terrier / Pug hybrids)—"Otto on the bottom is 1/4 Jack Russell Terrier (his mum was half and half), Phyllis in the middle is 1/8 JRT and their son on top Solo was the only one in his litter."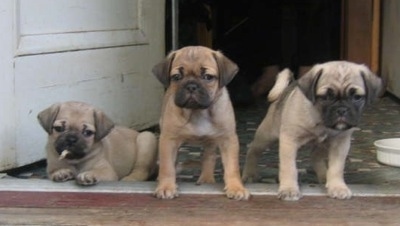 "Benedict, Florence and Nooner, Jug puppies at 8 weeks old—their parents are both Jugs. Otto, their father is 1/4 JRT and Phyllis, their mother is 1/8 JRT."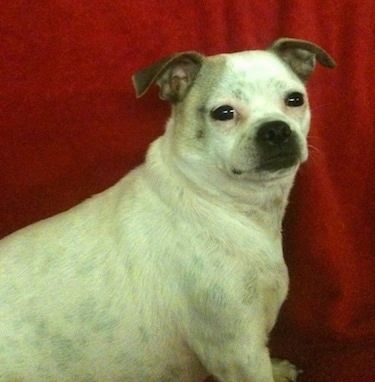 "I taught my dog how to handshake from the Dog Whisperer. She can do that and she can stand and spin in a circle. She loves kids and other animals; she has never hurt a fly. She loves everyone. Her name is Zoey. She was the only white Jug out of the litter. We love her very much."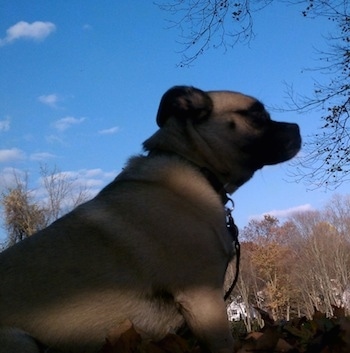 "Diesel is 4 in this picture and is such a happy dog. He's always excited to meet new people and dogs. He is high energy, loves to play but he enjoys cuddling just as much. He has many of the Jack Russell traits. He weighs 26 pounds and is fast. He sits on his side like a Pug and is fawn colored. He needs to get exercise or he starts to be rammy. He is the best of both worlds; a cuddly lap dog but he's always up for adventure."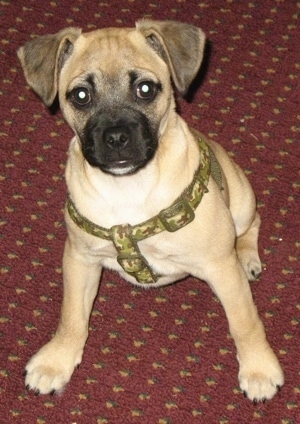 "This is Bugsby. Bugs is four months old. His mom is a Jack Russell Terrier and his dad is a Pug. My husband bought Bugs for me as a Christmas present. Bugs is wonderful and smart, however he demands a lot of attention and exercise. When we are not working we walk Bugs a couple of miles a day. When working, we take him with us and walk him every time we are on a break. He wasn't too difficult to housebreak...just required consistency. I took him to the vet yesterday for his final puppy series and first rabies...he now weighs 9 pounds. He may be a small dog, but he has a big dog attitude. He fears nothing. Bugs is so very sweet. He is very affectionate, but enjoys roughhousing as well. He sometimes bites when playing and we are working on that. He does not like to be told "No." He doesn't bark very often...only when he suspects a threat or when you tell him No. When you tell him No, he looks at you quizzically and then barks at you to express his annoyance. I love him and he is awesome. He loves going through drive-throughs at restaurants where people will tell him how adorable he is."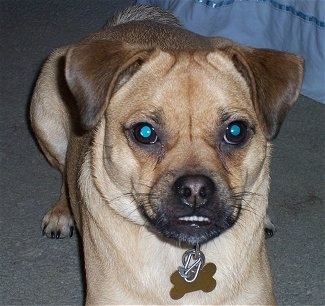 Chloe the Jug (Pug x Jack Russell Terrier mix) at 1½ years old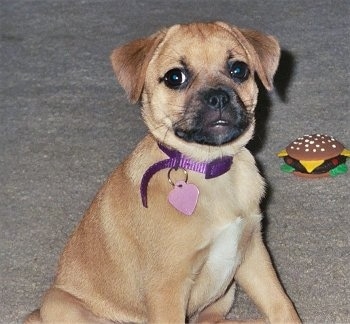 Chloe the Jug (Pug x Jack Russell Terrier mix) as a puppy at 9 weeks old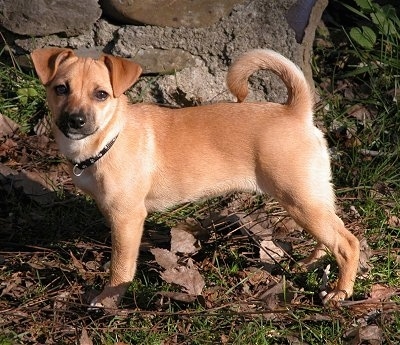 Dollop the Jack Russell Terrier / Pug hybrid at 1½ years old—"Dollop is a great dog, quite the cuddler. She seems to lean toward her Jack Russell side in that she is stubborn and never runs out of energy. Her likes include being the center of everyone's attention—even if she has to demand it—and any activity resulting in her receiving food. She does have a special disdain for the vacuum."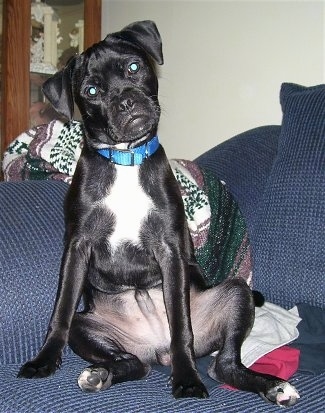 Nugly the Jack Russell / Pug hybrid (Jug)—his owner says, "Nugly is quite the charmer when he wants to be (Pug). Although, he is very hyper (Jack Russell). I got Nugly when he was 3 months old from a pet store. It only took me 2 weeks to have him housebroken and 3 weeks to have him sitting, lying down on command and giving me paw. He is very intelligent."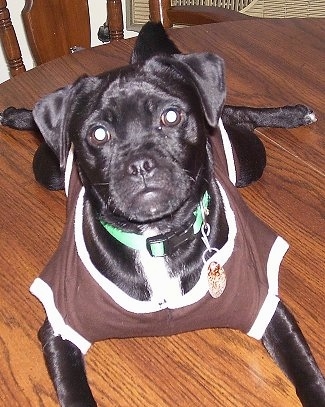 Nugly the Jack Russell / Pug mix (Jug)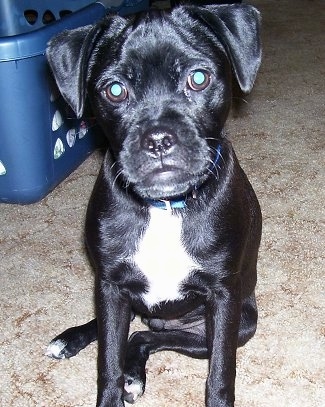 Nugly the black Jack Russell / Pug mix (Jug)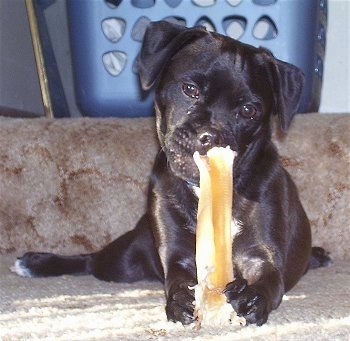 Nugly the black Jack Russell / Pug mix (Jug) chewing his rawhide bone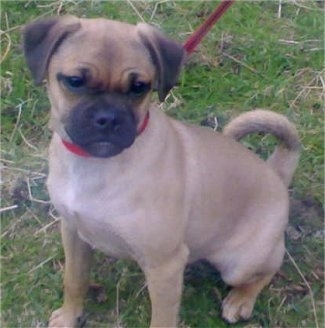 Maggie the black and tan Jug puppy at 7 months old—"We traveled a long way to get her and she was well worth it. She can be quite greedy and has the tenacity of a Jack Russell Terrier. She loves to play and has been complimented on how placid she is around people."

Isabelle the Jug (Pug x Jack Russell Terrier mix) at 5 years old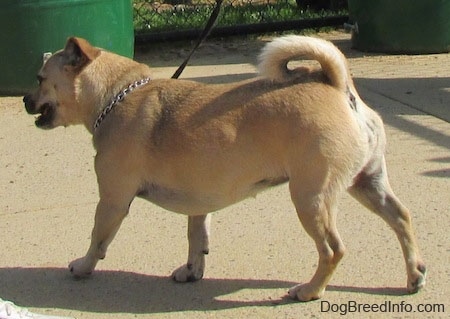 Isabelle the Jug (Pug x Jack Russell Terrier mix) at 5 years old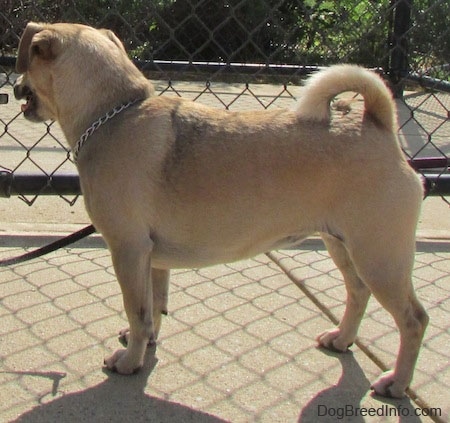 Isabelle the Jug (Pug x Jack Russell Terrier mix) at 5 years old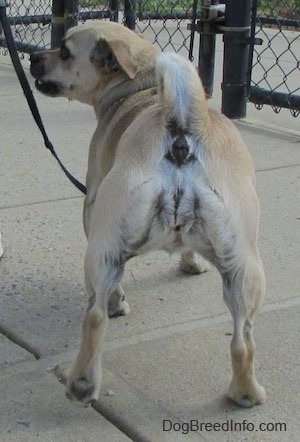 Isabelle the Jug (Pug x Jack Russell Terrier mix) at 5 years old