Labraheeler
Labrador Retriever / Australian Cattle Dog Hybrid Dogs
Information and Pictures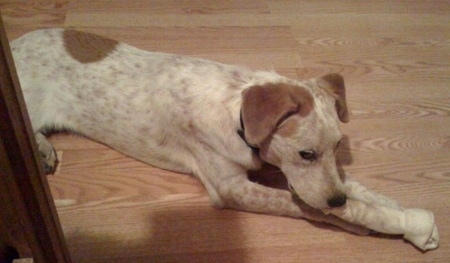 "This is Cannon. He is a yellow Lab / Blue Heeler cross. I adopted him when he was five months old; he is 8 months old in this picture. He is a very smart animal. Within 1 week of having him he already knew sit, stay and lay. He also took to housetraining very quickly. Cannon is very energetic and loving. He loves to go romping around in the pasture and play with the other dogs. He has done very well with children; he won't nip or jump on them. I would say all in all, he is a very good dog and I wouldn't trade him for anything."
Other Names
American Lattle
Description
The Labraheeler is not a purebred dog. It is a cross between the Labrador Retriever and the Australian Cattle Dog. The best way to determine the temperament of a mixed breed is to look up all breeds in the cross and know you can get any combination of any of the characteristics found in either breed. Not all of these designer hybrid dogs being bred are 50% purebred to 50% purebred. It is very common for breeders to breed multi-generation crosses.
Note: the Australian Cattle Dog is also called Australian Heeler, Hall's Heeler, Queensland Heeler, Blue Heeler, Red Heeler, Australian Cattledog and Australischer Treibhund.
Recognition
DRA = Dog Registry of America, Inc.
DBR = Designer Breed Registry
IDCR = International Designer Canine Registry®