List of different American Pit Bull and American Bully bloodlines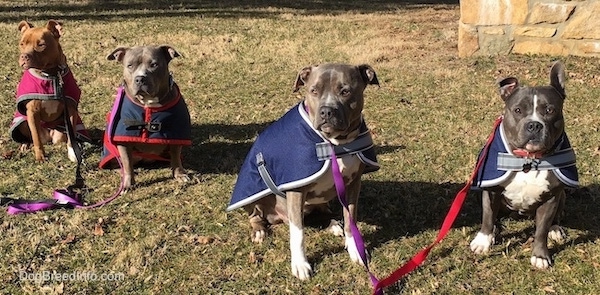 If you know of a line that is not listed here let us know. Note: some claim that some of these lines are really American Bully lines or American Staffordshire Terrier lines, while others say they are indeed Pit Bull lines. We have all of the names listed below, but have listed a few a second time at the bottom of the page for those who say they are American Bully or Staffy. It's hard to find definite answers on the names as everyone seems to have their own opinion depending on what breeder you speak to. A scatter bred or scatterbred is when you breed multiple lines together.
American Pit Bull Terrier bloodlines
Adam's Kingfish
Apache
Assassin
Avant
Banjo
Bolio
Booger
Boogieman
Boomerang
Boudreaux
Boyle
Brown Bow
Buck
Budweiser Crusher
Bully Gang
Bullyson
Carver
Castillo
Ceaser
Chaos
Chevy
Chinaman
Cherokee
Clemmon
Clouse
Colby
Collett
Corvino
Cotton's Bullet
Cowboy
Crenshaw
Cruz
Dibo
Dougline
Dozier
Dream Team
Eli
Excalibur
Falin
Farmers' Boy
Frisco
Gambler
Gator
Gatormouth
Giroux
Gladiator
Golden Boy
Greenwood
Hammond
Hank
Hawaiian Jul'z
Hemphill
Hollingsworth
Homer
Honeybunch
Ironline
Iron Cross
Iron Kid
Iron Man
J Cumbee
Jeep
Jocko
Jumbo
Kobe
Krush
Kurupt
Lightner
Linasky
Lonzo
Loposay
Mayday
Mayfield
Maverick
Maximilian
McCoy
Mississippi Blue Tick
Mountain Man
Neilson
Nigerino
Old Family Red Nose
Palladin
Patrick
Peterson
Powerline
Rapid Roy
Rascal
Razors Edge
Red Devil
Red Gator
Red Man
Red Boy
Red Fox
Reid
Roc & Ruby
Rocky
Royal Red
Sarona
Six Bits
Snooty
Sorrell
Shorty Cowboy
Spike
Sundance
Sweetie
Tab
Tant
Turpin
Tom Garner
Tombstone
Two Eye
Tyson
Vindicator
Virgil
Whitsell
Whopper
Wildside
Weird Jack
Yellow
Yella John
York
Zebo
American Bully bloodlines
Ablepaws
Blueking
Bullyson
Butthead
Camelot
Dagger
Dax
De La Cruz
Eddington
G-Line
Gangis Kon
Gotti
Gottiline
Greyline
Hurricane
Ironline
Iron Man
King Kong
Kingpin
Mikeland
Monster G
Razors Edge
Remyline
RoughNeck
Royal Blue Generations
T-N-T
Watchdog
Whopper
Zullou
American Staffordshire Terrier bloodlines
Armstead
Benmar
Cirkle C
Edelhaus
Ferrells
Gaff
Knollwood
Mombo
Ridall's
Rogers
Royal Blue Generation
Ruffian
Tara's
T-N-T
Wood Forest
Whopper
Pit Bull Color Variations
As a Rule almost any color is accepted for the APBT, AmStaff, and AmBully with the exception of the merle color. Merle has been debunked as a naturally occurring color in the breed and has been DQ'd by all reputable registries as a result.
Some of the acceptable colors are:
Brindle (Black, Brown, Chocolate, Blue, reverse brindle)
Red
Tri colored ( rust colored points)
Blue Fawn
Merle Blue
Black
White
Brown
Chocolate
Fawn
Buckskin
Other various shades of brown
Mo Mo Patterned (Pie Bald)
Note: When someone refers to a 'blue-nose', or a 'red-nose' pit bull they are referring to the color of the dog.