Pitsky
American Pit Bull Terrier / Siberian Husky or Alaskan Husky Hybrid Dogs
Information and Pictures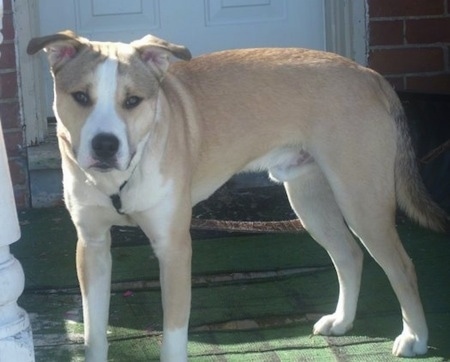 Lugz the Pitbull / Husky mix at 10 months old. "This is Lugz a ten month old Siberian Husky crossed with a blue Pitbull. Both parents are purebreds. He weighs in at 62 pounds with a 22 inch neck and 21 inch head. Lugz also rarely barks, loves children, has never bitten and plays well with other dogs of all sizes. He is an extremely good listener and does not wonder. He does a very good job guarding the house. He likes to chase deer and runs at very high speeds for long distances. He loves the cold and doesn't mind the heat. He needs at least 2 hours of playtime every day to keep him from getting the urge to dig. He loves fresh red meat."
Description
The Pitsky is not a purebred dog. It is a cross between the American Pit Bull Terrier and the Siberian Husky or Alaskan Husky. The best way to determine the temperament of a mixed breed is to look up all breeds in the cross and know you can get any combination of any of the characteristics found in either breed. Not all of these designer hybrid dogs being bred are 50% purebred to 50% purebred. It is very common for breeders to breed multi-generation crosses.
Recognition
DRA = Dog Registry of America, Inc.
Jaxx the blue-eyed Siberian Husky / Pit Bull Terrier mix (Pitsky) at 3 years old—"We came across Jaxx by way of Craigslist. He was actually free, so we had our doubts. Upon meeting his parents we soon learned that they were packing up and headed North for a new job opportunity. We had replied to the posting immediately, and headed over to their home as soon as we got off the phone. When Jaxx was brought around the house, he made a dash for my boyfriend. It's been a bond beyond compare since! Jaxx is of great temperment, other than his occasional tendency to be excited and jump on people. He is very well behaved with other dogs, even the tiny ones, and loves social interactions with dogs, children, and adults. He gets along extremely well with our cat, whom we got shortly after Jaxx. Jaxx has a lean, muscular figure, and his hair is natural. He tends to eat throughout the day, but doesn't over indulge. He doesn't bark, unless asked to speak, and was crate trained when we received him. He loves his toys, and has plenty of them! Jaxx was actually reproduced by accident from what his family told us. His mother, purebred Pit, had dug under the outside crate into the neighboring one where Jaxx's dad, a purebred Husky, was awaiting her. His mother died after giving birth. I believe there were only three puppies that survived. It is very sad, but we are so lucky to have him!"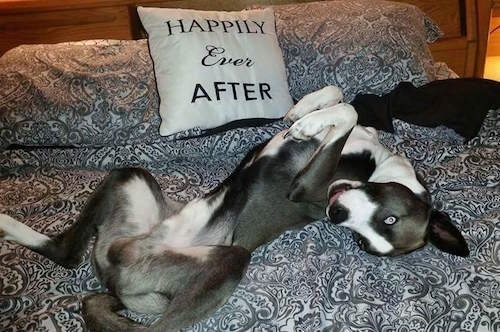 Jaxx the blue-eyed Siberian Husky / Pit Bull Terrier mix (Pitsky) at 3 years old upside down on the bed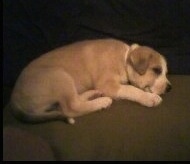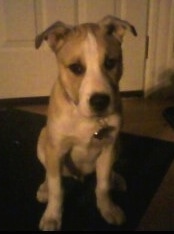 Lugz the Pitbull / Husky mix as a puppy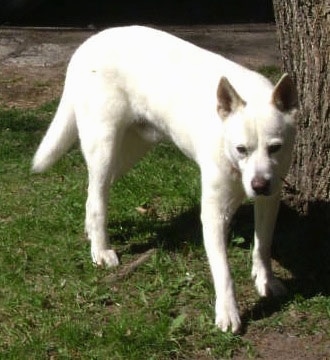 Chip the Alaskan Husky / Pit Bull Terrier mix—"Chip is a cross between an Alaskan Husky and a Pit Bull Terrier. Chip was previously owned by my grandparents who rescued him from a shelter in Alaska. He was there traveling buddy for many years. I have taken him in due to the fact that my grandparents went to a nursing home and could not have him there. He is the best dog. He stands and watches out for my children as they play outside. He gets very goofy in the morning when he believes it is time to get up. He will put his chin on the bed and make this funny growling noise (kind of a playful opened mouth growl) until I pet him. I still have to get vet records for him, so I am assuming he is approximately 11 to 13 years old in these pictures. He is such a calm dog when it comes to people. He likes to bark at anyone walking past our yard, but does not ever leave the yard. He likes to chase rabbits and squirrels and chipmunks. I feel my dog is balanced as a canine, he has the strength of Pit Bull and the endurance of Alaskan Husky. He is gentle and his favorite thing is to get brushed, he will let you brush him for hours. We have to feed him raw meat mixed in with a little dry dog food or he won't eat at all. Chip is a very well mannered dog. The little quirk he has is opening his mouth all the way and making that growling noise if he wants you to brush him or let him in from outside or pet him."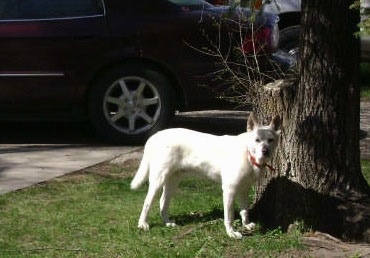 Chip the Alaskan Husky / Pit Bull Terrier mix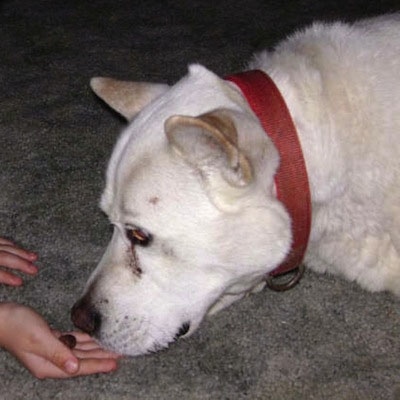 Chip the Alaskan Husky / Pit Bull Terrier mix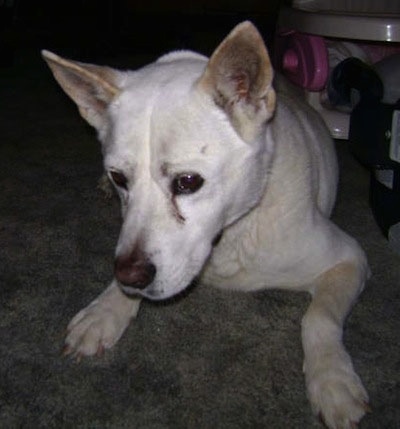 Chip the Alaskan Husky / Pit Bull Terrier mix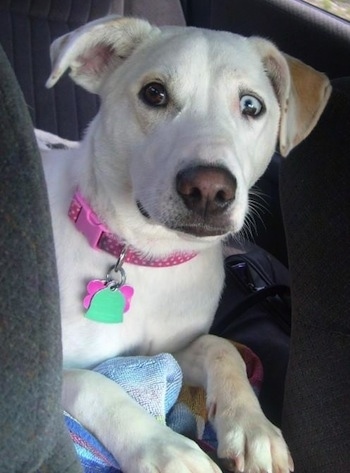 "Lexie is a female Pitbull / Husky mix shown here at 2 1/2 years old. She was a rescue dog that had a pretty rough start, but she sure has over come it! She is a high energy couch potato. She loves to play with my 6-year-old Lab and my Pointer / Terrier mix. She goes to work with me sometimes so she can play with her best friend, my boss's Pit / Lab mix! She loves toys and will do anything for a tennis ball. She has the best temperament. She is wonderful with children and never sees a stranger. Sometimes she is a little nervous and fearful of new dogs, but after a little bit she warms up to them. She is a pretty quiet dog unless she wants something. I really couldn't have asked for a better dog. The only problem that I have with her is that if I leave her out in the house when I am gone she is very destructive. Once she chewed 6 holes in the wall, so if I am going to be gone for a while I have to crate her. She is a diva and my child. I have watched the Dog Whisper and have found a lot of his methods to be quite helpful. I have a total of 5 dogs, all of which have completely different personalities. Through watching him I have learned some ways to help deal with my Lab's dominance aggression, barking problem and I have become able to control her on a leash with out her pulling me around."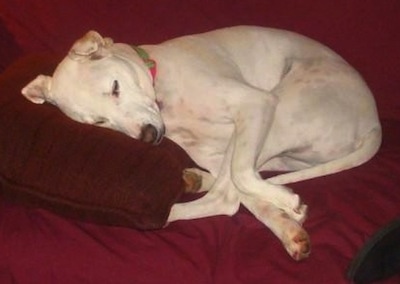 Lexie the Pitt Bull / Husky mix at 2 1/2 years old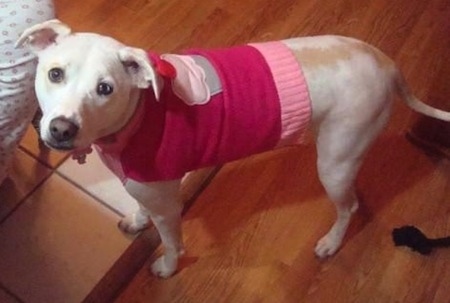 Lexie the Pitt Bull / Husky mix at 2 1/2 years old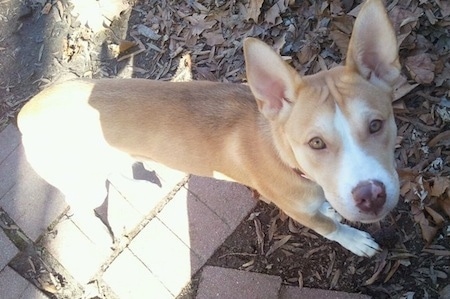 "This is a picture I took of my 8 month old Siberian Husky / Pit Bull mix, Molly. Molly was a shelter dog that we rescued when she was about 3 months old. She is a little shy/skiddish when she first meets people, but she warms up quickly. With dogs, however, she's automatically their best friend. She loves playing with other dogs. Molly has a very hyper/active temperment. She can run around for hours and still be ready for anything. Her favorite toy is any kind of stick and she loves to fetch sticks or jump for them if you hold them up high. For awhile, she wouldn't bark, but now she talks any time she wants attention. One cute quirk that she has is how she barks, though. It's like she has to work up to it and she'll make these little throaty barks. As far as bad habits go, she is a digger. She also likes to chew a lot and most of the chew toys she gets she tears up within hours. Not only does she get a lot of exercise but she needs a lot too. All in all, Molly is a great dog and such a sweetheart. I've never used Bark Busters and while I've watched a few episodes of the Dog Whisperer, but I've never used his philosophies to train Molly."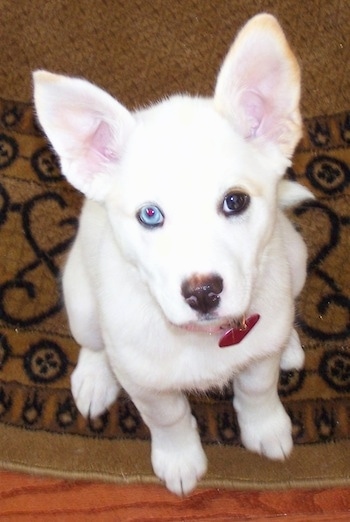 Bella the Pitbull / Husky mix puppy at 2 months old—"This is Bella, our Husky / Pit mix. She is about 2 months old now. She is an amazing dog. Very smart and adorable as you can tell by the pictures! I firmly believe that mutts/mixes are better dogs then purebred and she is no different. She is smart and very playful."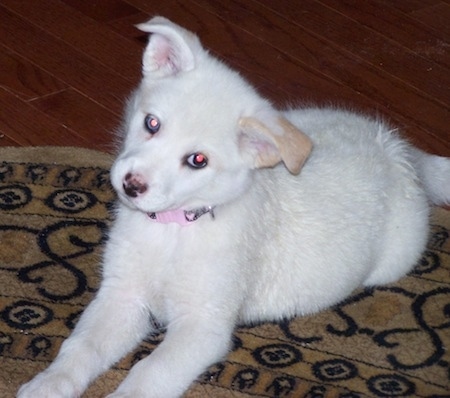 Bella the Pitbull / Husky mix puppy at 2 months old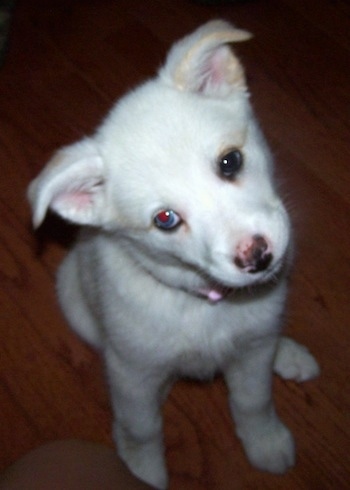 Bella the Pitbull / Husky mix puppy at 2 months old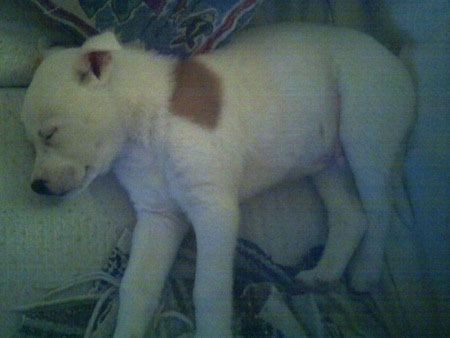 Pitbull / Siberian Husky hybrid puppy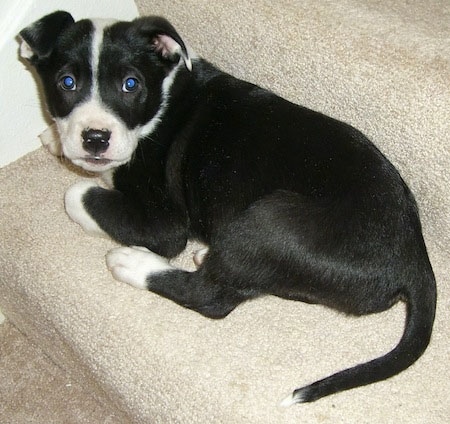 Pedro the Pit Bull / Alaskan Husky mix puppy—"This is my dog Pedro. My husband and I rescued him from a shelter here in Alaska where he was born. He has webbed feet and likes to play fetch and eat snow. He is so sweet and he loves his cat brother."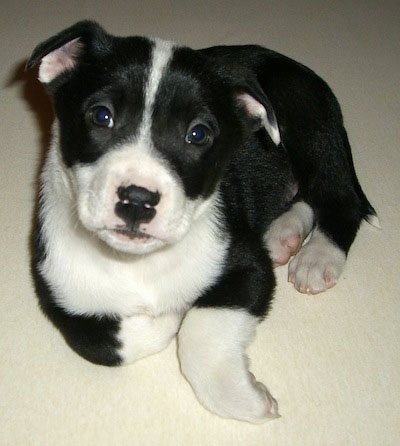 Pedro the Pit Bull / Alaskan Husky mix puppy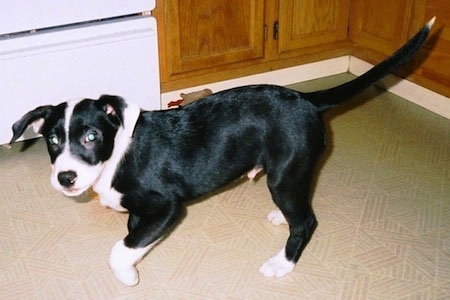 Pedro the Pit Bull / Alaskan Husky mix puppy
Pedro the Pit Bull / Alaskan Husky mix puppy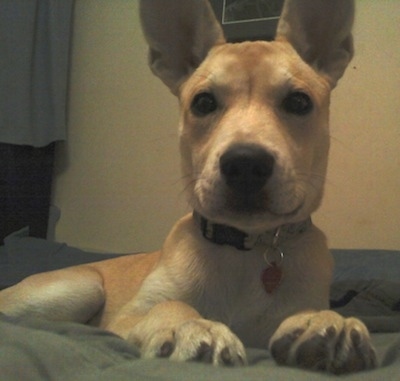 "This is Izzie. She is a Pit Bull / Husky mix shown here at 4 months old. She is very energetic, loves to play, run and chew up anything that looks appetizing. She is VERY well behaved with other dogs. We also have a 5 year old Great Dane / Akita mix named Bear and they are inseparable. Bear is her bodyguard. She loves to run and play with him any chance she gets even when he isn't in the mood to play. Her favorite thing to do is play and gnaw on Bear's leg. She loves getting treats and will do a few tricks to get what she wants. She knows how to sit, lay down, shake (& other paw) and speak. She does not like anything peanut butter flavored! Her ears are bigger than her head, which everyone finds amusing. Her bad habits are her chewing and pottying ( #2) on the floor! She's got more good habits than bad (thank God!) Her good habits are listening. She takes food from your hand nicely and will not grab. She is my baby girl! We got her when she was about 1.5 months old and since then she has been non stop play!"