Pyredoodle
Great Pyrenees / Poodle Hybrid Dogs
Information and Pictures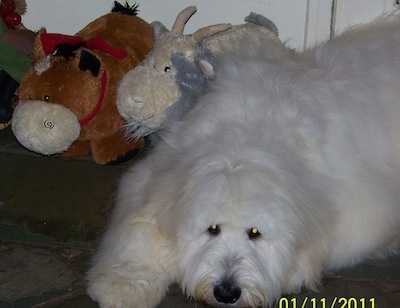 "Meet Gabe, shown here at 6 months old. He is very sweet, calm and so smart! His mom was a Great Pyrenees and dad a black Standard Poodle. At 9 months old he was 90 lbs. He hardly sheds at all. Such a great guy! Anywhere we go everyone has to stop and inquire on him!" Photo courtesy of Big Doodle Pups
Other Names
Pyrepoo
Pyreneesdoodle
Pyreneespoo
Description
The Pyredoodle is not a purebred dog. It is a cross between the Great Pyrenees and the Poodle. The best way to determine the temperament of a mixed breed is to look up all breeds in the cross and know you can get any combination of any of the characteristics found in either breed. Not all of these designer hybrid dogs being bred are 50% purebred to 50% purebred. It is very common for breeders to breed multi-generation crosses.
Recognition
ACHC = American Canine Hybrid Club
DDKC = Designer Dogs Kennel Club
DRA = Dog Registry of America, Inc.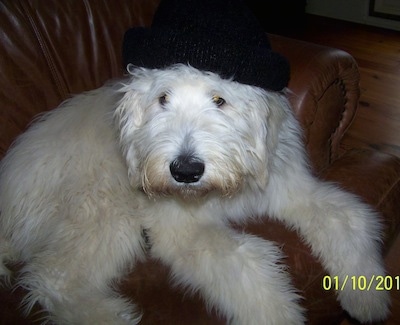 Gabe the Pyredoodle at 6 months old, photo courtesy of Big Doodle Pups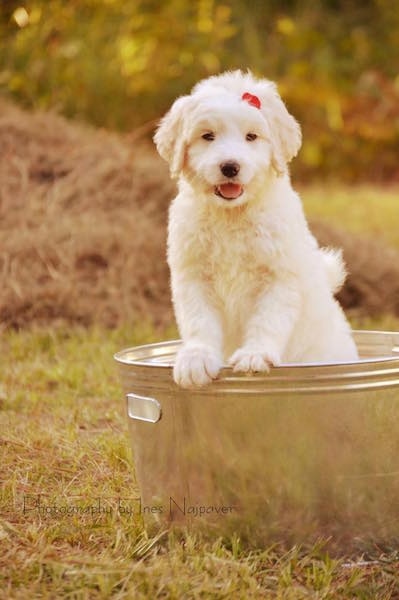 Paisley the Pyredoodle puppy at 8 weeks old—"Paisley is a beautiful F1 Pyredoodle. She is excellent with our children and pretty smart too. Although she looks all white, she has some faint light cream markings. She is an excellent companion and the perfect addition to our family."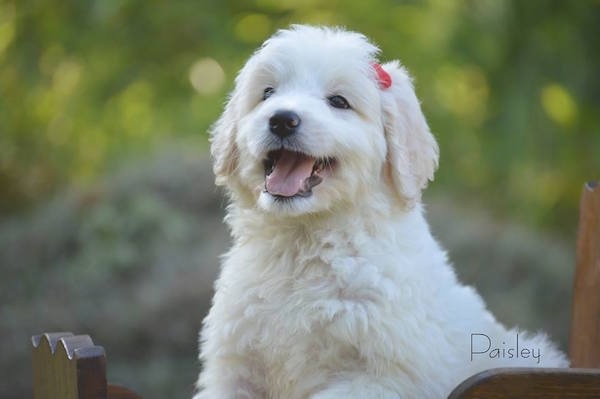 Paisley the Pyredoodle puppy at 8 weeks old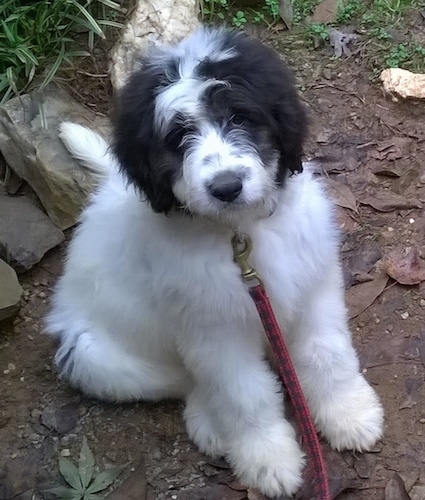 Lola the Pyredoodle puppy at 12 weeks old—"Lola is a F1 Pyredoodle out of my Poodle Beauregard and Great Pyrenees Llamaland Sophie"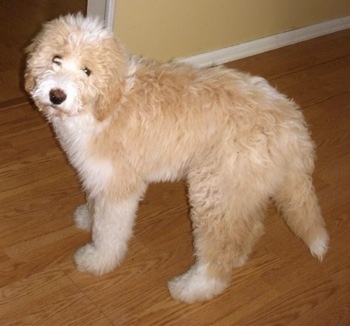 "This is our dog Wynter at 14 weeks, weighing 15 pounds. She is a Pyredoodle and everything we could hope for in a dog. She is going to be a big girl. Her mom is a Great Pyrenees, white, of course, and her dad is a Standard Poodle who was apricot in color. Wynter is a perfect mixture of both colors and textures with her hair having a loose wave as opposed to a curl. My favorite part is her white stripe. I brush her every day, because I don't want to risk her becoming matted. I haven't yet noticed any shedding. She is very leggy and she has a long tail that is ALWAYS wagging along with her butt. She will be tall, but I don't think she will be bulky. The boys from her litter were MONSTERS. I'm sure they will be huge. As far as her temperament goes, she seems to be a very happy dog. She likes to be petted and massaged, and she likes to hang out with us. She loves to play and fetch and pounce."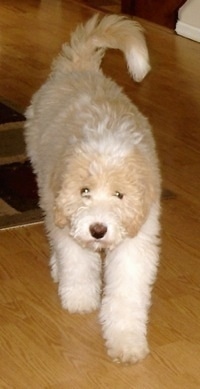 Wynter the Pyredoodle puppy at 14 weeks, weighing 15 pounds (Great Pyrenees x Standard Poodle mix)—"Right now she is very puppyish, but she is learning quickly. She is crated during the day and has only had a few incidents in the crate which are probably not her fault. She loves to play in the yard. We have 2 school-aged children with whom she interacts well. She loves to play chase, and I truly believe she thinks it's her job to keep them in line. When we go on walks, she likes to get to know the people we run into, and I haven't noticed that she has a problem with other dogs. We also have a cat with whom she tries to play, but I don't think the cat's interested. She hasn't done anything with the cat that she probably wouldn't do with other puppies. She just doesn't realize the cat doesn't play like that. I have noticed that she can be a bit stubborn, but once she realizes you aren't going to change your mind, she will obey more consistently. (Not totally yet; she's still learning). I watch Cesar Millan regularly, and we are always striving to be the pack leaders. It's harder to get my children to follow the same philosophy. They just want to play, too. I can tell a difference in Wynter's reactions to my husband and me, and the kids. She's more likely to jump on them and nip at them."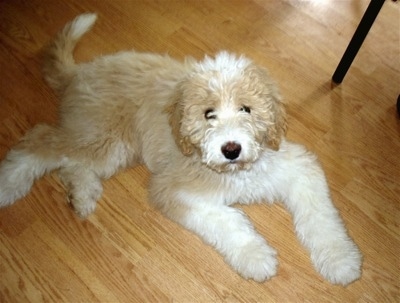 Wynter the Pyredoodle puppy at 14 weeks, weighing 15 pounds (Great Pyrenees x Standard Poodle mix)—"We let her play in the yard for about 45 minutes in the morning before we leave for work and again after, then she gets about a 20-minute walk in the evenings. We try to take her with us in the car to run errands so she's not alone so much and she'll be more accustomed to riding in the car. She is getting better in the car. When we first brought her home, she was pretty frightened."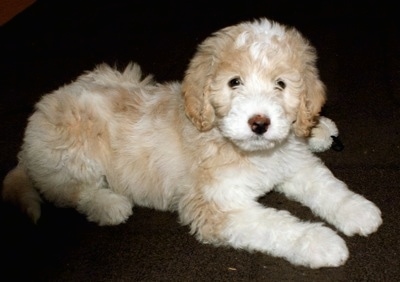 Wynter the Pyredoodle puppy at 8 weeks old, weighing 12 pounds (Great Pyrenees x Standard Poodle mix)