Peruvian Inca Orchid
Information and Pictures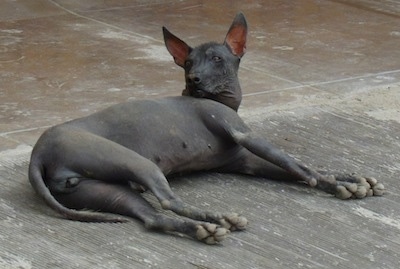 "I've taken this picture of the Peruvian Hairless Dog in front of its home in a coastal town in central Peru."
Other Names
Peruvian Hairless Dog
PIO
Moonflower Dog
Perro Flora
Perro sin pelo del Peru
Al'co Calato
Inca Hairless Dog
Pronunciation
--
Description
The Peruvian Inca Orchid has dark, round eyes that tend to squint in the sunlight due to oversensitivity. The lips are wrinkled and the thick, leathery ears sometimes have wisps of hair. Hair grows on the top of the head. Some are born coated with hair in the same litter as the hairless PIO. The skin is soft and pliable. It can be heavily mottled in any color, in any combination with a pink background, or it can be solid colored.
Temperament
For the right owner the Peruvian Inca Orchid is an exotic treat. Its skin requires special care (see grooming). Quick witted, calm and intelligent,it is usually good with children and gets along with other dogs.
Height, Weight
Height: 20 - 26 inches (50 - 65 cm)
Weight: 26 - 50 pounds (12 - 23 kg)
Health Problems
Prone to skin and teeth problems.
Living Conditions
The PIO will do OK in an apartment. A fenced-in yard is recommended as the PIO is a sighthound and may take off chasing a small animal at any time. This breed should live indoors and be protected from the elements. The PIO sunburns very quickly. It should have a sweater in the winter and be kept at a comfortable temperature in the summer. Keep in mind this breed does not have hair to protect it from the weather and is basically naked.
Exercise
This breed needs to be taken on a daily walk. While out on the walk the dog must be made to heel beside or behind the person holding the lead, as in a dog's mind the leader leads the way, and that leader needs to be the human. If under-exercised, this breed can become nervous and anxious.
Life Expectancy
About 11-12 years
Litter Size
About 3 to 5 puppies
Grooming
The fact that this breed does not have hair does not mean that its skin requires no care. The skin must be protected as much as possible from the sun. A good sunscreen should be used if the dog is going to be out in the sun. People who show these dogs scrub them regularly to remove dead skin and keep the skin soft by using special exfoliating creams intended for use by humans. If you do not plan to show your PIO and the dog is in a normal environment, it is best to not soften the skin as it makes the skin tear more easily. It is most important to keep the skin supple and smooth and to prevent it from becoming dry. Using a lotion or cream or, sometimes, rubbing it with oil is recommended. Bathe these dogs regularly with a gentle soap. The fragile skin is susceptible to sunburn, drying irritation and tears from other dogs, cats and objects. This is a very clean breed with no doggie odor and no fleas. The hairless PIO is ideal for allergy sufferers because there is no hair to shed. The coated variety has hair all over the body and does shed, but not much coat care is required. Regular brushing is required.
Origin
The Peruvian Inca Orchid originated from Peru. Spanish explorers came upon this breed in the homes of the Inca nobility when they first entered Peru in the early 1500s. All the PIOs in the U.S. go back to fewer than a dozen dogs imported a long time ago, so it's a VERY tight gene pool...hence the cookie-cutter look (which is considerably different from the current dogs being imported from Peru.) There have been a few Perro sin Pelo del Peru brought to the U.S. in the last 5 years or so. In Peru the Peruvian Inca Orchid is known as the "Calato," a Quechua word that means "naked." The full name would be "Al'co Calato" (naked dog), but no one seems to use that name. The Spanish carried the dogs to China as gifts, and they may be the origin of the Chinese Crested breed.
Group
Sighthound
Recognition
ACA = American Canine Association Inc.
ACR = American Canine Registry
AKC/FSS = American Kennel Club Foundation Stock Service® Program
APRI = American Pet Registry, Inc.
CKC = Continental Kennel Club
DRA = Dog Registry of America, Inc.
FCI = Fédération Cynologique Internationale
NAPR = North American Purebred Registry, Inc.
NKC = National Kennel Club
UKC = United Kennel Club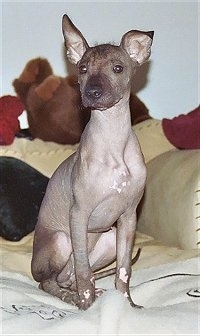 Moone the Peruvian Inca puppy at 5 months old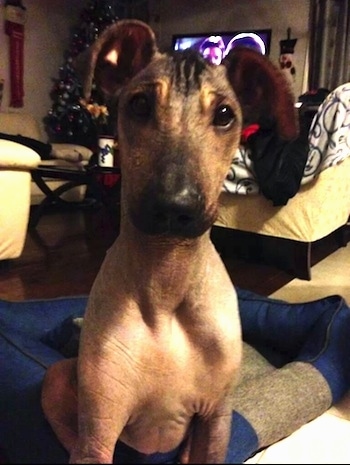 Tupac Amaru the Peruvian Inca Orchid at 8 months old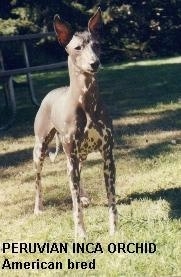 Photo courtesy of Vanna Curtin, a professional rare breed handler and photographer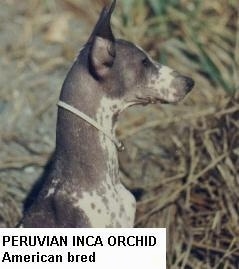 Photo courtesy of Vanna Curtin, a professional rare breed handler and photographer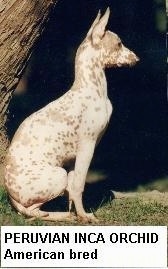 Photo courtesy of Vanna Curtin, a professional rare breed handler and photographer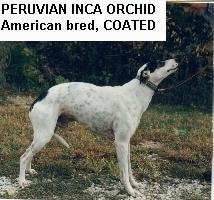 Coated and hairless dogs are born in the same litter, but there is no telling about coat texture or length.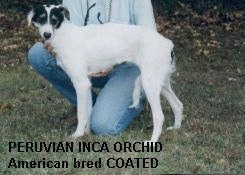 Coated and hairless dog