Saint Bermastiff
Saint Bernard / Mastiff Hybrid Dog
Information and Pictures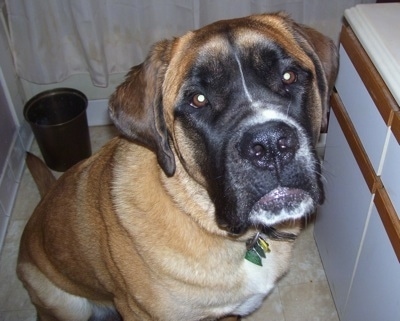 "This is a picture of Bowser the English Mastiff / St. Bernard mix at 1 year old and 160 lbs. His mother was a longhaired St. Bernard and his father was a fawn English Mastiff. Bowser is extremely well behaved, gentle and tolerant. He gets along very with other dogs of all sizes, and is polite with cats. Bowser is a rather lazy dog, and has always loved to lounge around, even at a young age. Bowser is also quite a ham, and loves being the center of attention. Bowser also insists on sleeping in bed with his humans, and he snores loudly! Because he is a giant breed, it was important for Bowser to be trained at a young age, while his size was still manageable. Bowser was taught, as Cesar Millan teaches, to walk beside or behind his owners, and not in front of them, which is extremely important with a giant breed. While learning this, Bowser wore a backpack so that he felt like he had an important job to do on his walks. Now, as an adult, Bowser is very polite on a leash and even a child one-third his weight can walk him."
Recognition
Saint Mastiff
St. Mastiff
Description
The Saint Bermastiff is not a purebred dog. It is a cross between the St. Bernard and the Mastiff. The best way to determine the temperament of a mixed breed is to look up all breeds in the cross and know you can get any combination of any of the characteristics found in either breed. Not all of these designer hybrid dogs being bred are 50% purebred to 50% purebred. It is very common for breeders to breed multi-generation crosses.
Recognition
ACHC = American Canine Hybrid Club
DRA = Dog Registry of America, Inc.
IDCR = International Designer Canine Registry®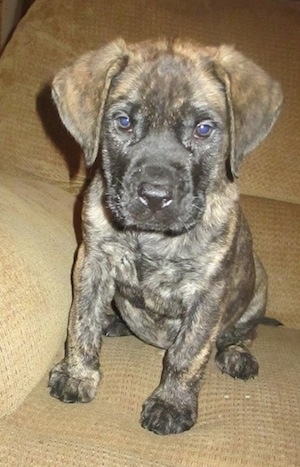 Thor the Saint Bermastiff puppy at 3 months old—"Thor's dam is an AKC CH Bloodline Saint Bernard. His sire is a 200 pound AKC reversed brindle English Mastiff. The pups weighed about 50-60 lbs. at age 3 months. All pups have orange or fawn undercoats with black strips over the base color, white chests, white socks and some have a small white blaze. They have a fantastic disposition and are good watchdogs."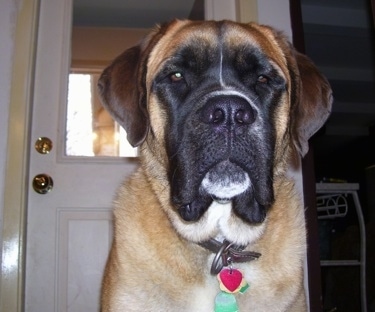 "Bowser weighed about 160 pounds at one year, and had finally learned to be graceful despite his size. Bowser can already be trusted at this age to be left alone with free range of the house, which is a good thing because it would be hard to find a crate to fit him. He does not chew on items, soil the house, or exhibit any other destructive tendencies, even when left alone all day."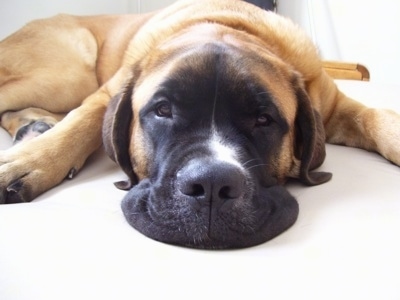 "Bowser (aka greatest pet ever)—his father is purebred Mastiff, and mother purebred Saint Bernard."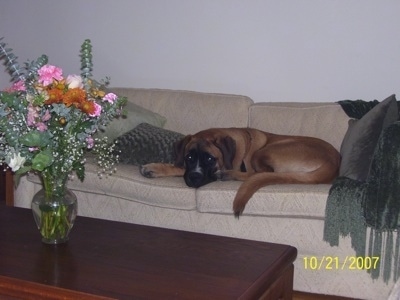 "At 7 months, Bowser weighed about 125 lbs., and he was very clumsy. He was growing so quickly!"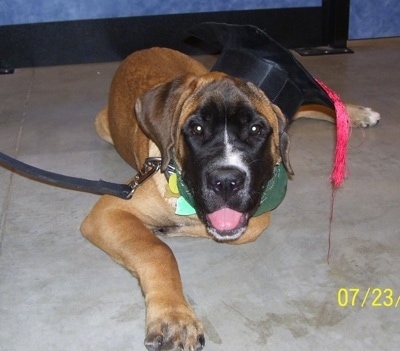 "When Bowser was 4.5 months, he weighed about 80 lbs. and he was graduating from his first obedience class. Bowser was completely potty trained at this age."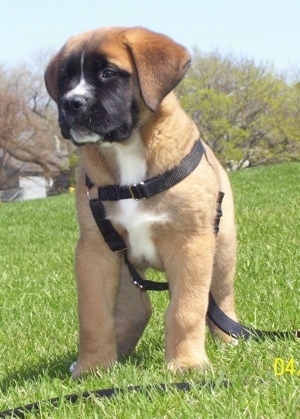 "When Bowser was 8 weeks old, he already weighed in at 35 lbs. He was a very sweet and cautious puppy, afraid of streets and staircases. He also wanted to put his mouth on everything, and shoes had to be placed out of Bowser's reach."
Bowser the St. Bernard / English Mastiff hybrid puppy at 8 weeks old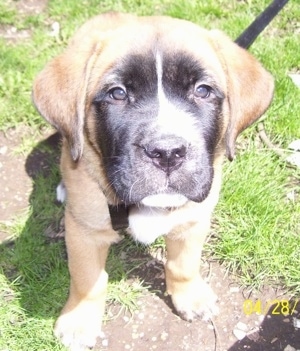 Bowser the St. Bernard / English Mastiff mix breed puppy at 8 weeks old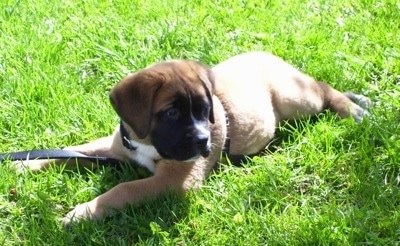 Bowser the St. Bernard / English Mastiff mix breed puppy at 8 weeks old resting in the grass