Schnug
Miniature Schnauzer / Pug Hybrid Dog
Information and Pictures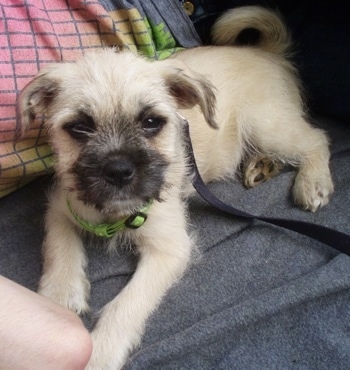 "Her name is Denver. I named her that because she was born in Denver, PA. Her father is a purebred Pug and her mother is a grey Miniature Schnauzer. Her mom was rescued from one of the puppy mills recently featured on Oprah, but was in heat when her owner took her home and their male Pug obviously got to her! But that's okay, because now we have our adorable Schnug!"
"I've only had Denver for a little over a week now, but she definitely has a huge personality already. From far away she looks just like a Pug—her fawn coloration, cute butt, and curly tail are unmistakably Pug. But when you get a good look at her, her face isn't super smooshy, and she has wiry schnauzer hair!
"Personality wise, she is a little clown. She seems to be either really crazy or really tired. There's not a huge middle ground with her. But every time she looks at me with her scruffy face I just laugh. She is definitely stubborn, but is also very smart. She learned how to "sit" in only 2 short training sessions. She loves going to the park and jumping around and playing fetch, but also enjoys a good cuddle session.
"Another great thing about her is that we have 2 cats and they all get along great. She licks the cats' faces and chases them around a bit, but nothing violent. They're all napping near each other right now."
Other Names
Shnug
Description
The Schnug is not a purebred dog. It is a cross between the Miniature Schnauzer and the Pug. The best way to determine the temperament of a mixed breed is to look up all breeds in the cross and know you can get any combination of any of the characteristics found in either breed. Not all of these designer hybrid dogs being bred are 50% purebred to 50% purebred. It is very common for breeders to breed multi-generation crosses.
Recognition
ACHC = American Canine Hybrid Club
DDKC = Designer Dogs Kennel Club
DRA = Dog Registry of America, Inc.
IDCR = International Designer Canine Registry®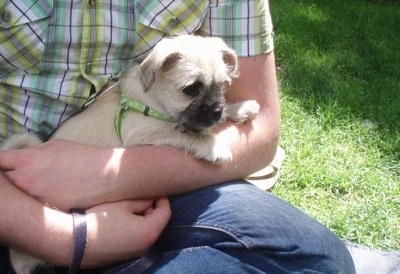 Denver the Schnug puppy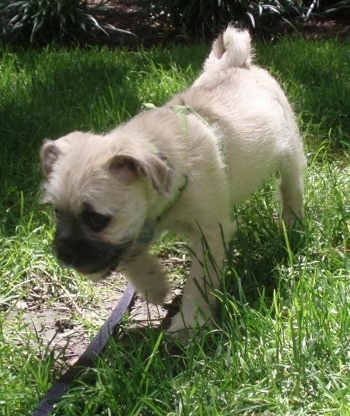 Denver the Schnug puppy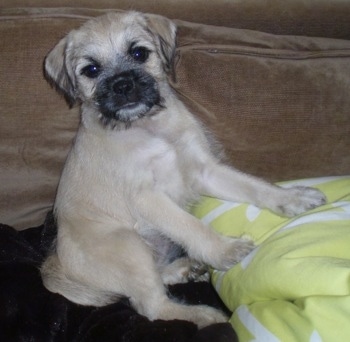 Denver the Schnug puppy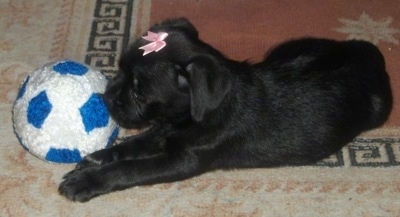 "My daughter was recently given a puppy for an early birthday present and it was a Schnug; a mix of Schnauzer and Pug. These are photos I took the first couple of days she was home with us. She was only eight weeks old, very hyper when she is awake. Much like a newborn she still sleeps most of her day away, but when she is up the whole house knows about it. She is a strong personality dog already and loves to play fight. Sometimes she is very aggressive toward my daughter, but you just have to let her know who is in control and she will ease up. She loves to chew on everything so you must keep the floor clean. The things she likes the most are fingers and toes. She is named Sasha from the Bratz Girls cartoon; much like them this dog is a DIVA in her own right."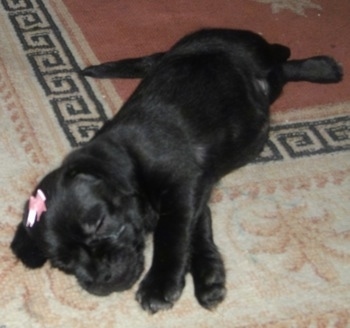 Sasha the Schnug puppy at 8 weeks old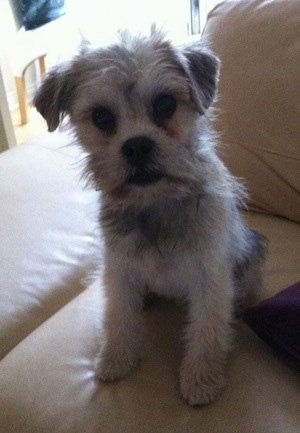 "This is Bobby. He is a 4½–month-old Schnug. He is full of personality and likes nothing better than to lick your face and hands! I took these photos recently after a visit to the groomer and a walk on the beach. As Bobby is my first dog I had a behaviourist out when he first came home to give me some tips on the best way to train him. He has been relatively easy to train but needs consistency. He will take advantage if you let him away with anything! He chews a lot, but has so far contained himself to his own toys and bones and the odd toe! You have to watch your socks, though! I work full time and live in an apartment. Bobby does not seem to mind this. A dog walker comes every day at lunch time and then he sleeps until I get home from work. He does not bark very often except at his own reflection. He is a delightful dog!"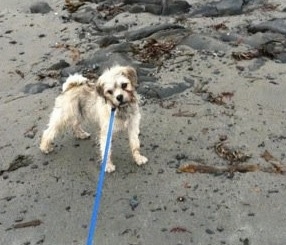 Bobby the Schnug as a 4½-month-old puppy living in Northern Ireland