Schweenie
Dachshund / Shih Tzu Hybrid Dog
Information and Pictures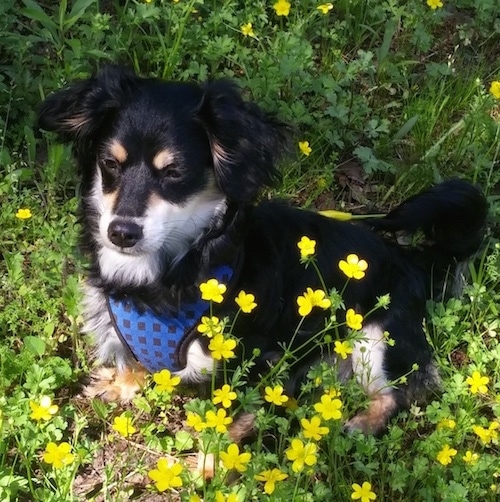 "Tanner is a Dachshund / Shih Tzu mix and is around 10 months old in this picture. He has the sweetest personality and is a joy to be around. He loves everyone he meets and is never fussy. He's funny and playful but also wants to curl up beside me and snuggle. He tends to favor me over my husband always. He's my baby. He plays well with our other dog, too. The only behavioral issue with him is house training and separation anxiety. Which may be more of my fault than his."
Description
The Schweenie is not a purebred dog. It is a cross between the Dachshund and the Shih Tzu. The best way to determine the temperament of a mixed breed is to look up all breeds in the cross and know you can get any combination of any of the characteristics found in either breed. Not all of these designer hybrid dogs being bred are 50% purebred to 50% purebred. It is very common for breeders to breed multi-generation crosses.
Recognition
ACHC = American Canine Hybrid Club
DBR = Designer Breed Registry
DDKC = Designer Dogs Kennel Club
DRA = Dog Registry of America, Inc.
IDCR = International Designer Canine Registry®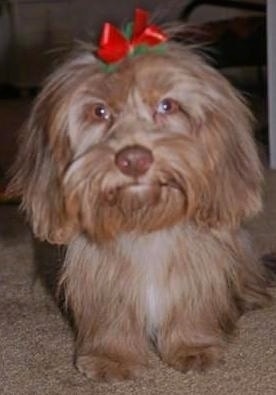 "This is Oscar and he is 9 months old. He's weighed right at about 10 lbs. since November so I think he's as big as he's going to get!"
"His dad was the Dachshund and his mom was the Shih Tzu. He has the most adorable face that allows for him to get away with too much!
"He is very loving and loves to cuddle, but he can be independent, too, and sometimes just wants to do his own thing! He loves to play with my Beagle and Dachshund and they wear each other out. I keep him crated during the day when I'm not home because he likes to chew on things! I tried putting up a baby gate, but he climbs up and over it!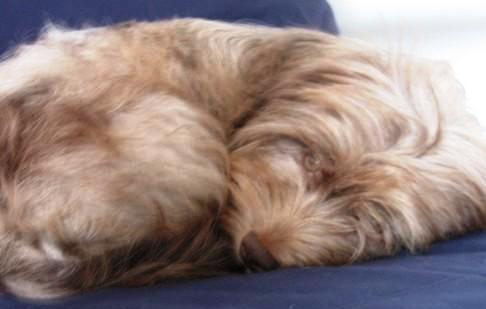 "Crate training has gotten easier, but he still has some separation anxiety. At first he would cry nonstop (according to my neighbors), but now he only cries when he hears my husband and I inside if we don't let him out right away.
"Potty training was a real chore at first, but now he's a pro. He was already three months old when I got him and I honestly don't think his breeder ever took him outside because he was scared to death of the outdoors for the first three weeks we had him.
"He is very intelligent and learns very quickly. I taught him how to sit within twenty minutes, but I think my other two dogs helped by showing him how they get their treats by sitting. He loves to eat and he used to knock his bowl out of my hand before I could even set it down. After only 2 nights of really working with him, I can now put the bowl in front of him and he will not eat until I tell him to.
"He tends to be pretty shy and timid outside when meeting people, but if we let someone in the house he is very outgoing and friendly toward them. He loves to take walks, but we have to watch him because he likes to pick up random things and carry them along."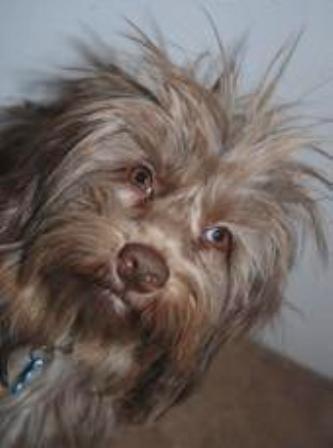 "His hair grows rather quickly so we generally take him to the groomer once every month or two just to get his feet groomed and a little trim. If we don't keep him groomed he tracks leaves in almost every time he goes outside. Even though it's long, his hair rarely gets tangled and I only have to brush it every couple weeks or so. He is wonderful at the groomer and she says he just sits there and lets her work on him without a fight. When we bathe him at home he does the same thing; just kind of sits there waiting for it to be over.
"My husband and I feel very lucky to have him in our lives. He brings us a lot of joy with his adorable antics and his mischief!"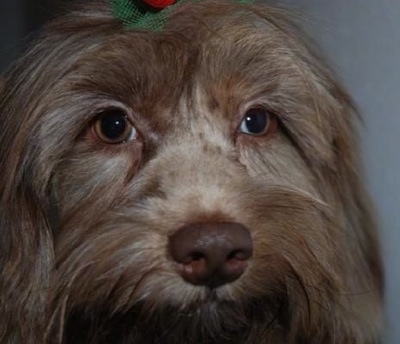 Oscar the Schweenie (Dachshund / Shih Tzu mix breed) at 9 months old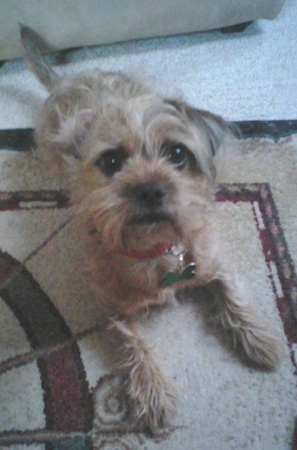 Julius the Schweenie at 4 years old- "Julius was purchased as a pup. His mom was a Shih Tzu and his dad was a Dachshund. We thought he would be a good companion for our purebred Shih Tzu named Ceaser. He is an outstanding watch dog, a playful, sweet Mommie's boy."
Julius the Schweenie (Dachshund / Shih Tzu mix breed) at 4 years old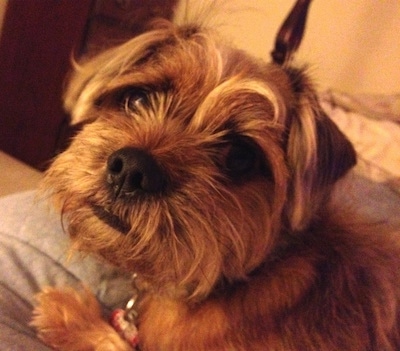 Julius the Schweenie (Dachshund / Shih Tzu mix breed) at 4 years old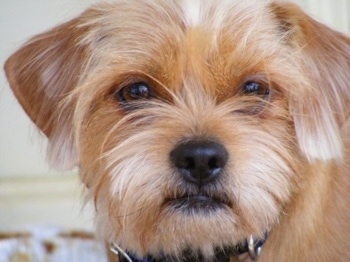 "This is Ace! He is 1 1/2 years old. He is so adorable and sweet. He has been the sweetest dog ever! He exercises everyday by going for walks and runs. He cuddles with you whenever you want him to. He is a well-balanced dog and is on a good diet. He does not shed, and house training was a breeze! He is a watchdog, that's for sure. We love little Ace so much!"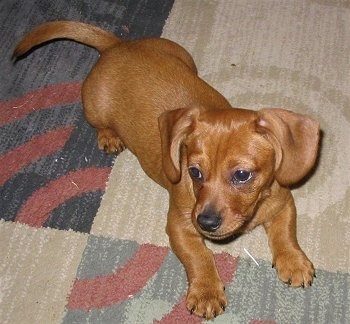 Baxter the Schweenie at 3 months old—his mother is a mini Dachshund and his father is a Shih Tzu.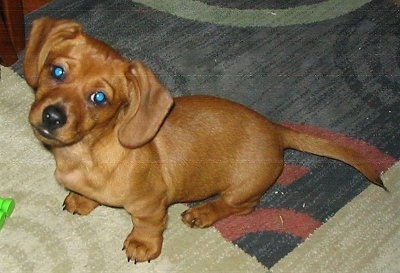 Baxter the Schweenie at 3 months old—his mother is a mini Dachshund and his father is a Shih Tzu.
"This is a female Schweenie at 6 weeks old named Lucy (LuLu). Her mother was a Shih Tzu and her father was a miniature Dachshund. So far, LuLu has been a very well-behaved dog. She does not like to tinkle in the house and will wait until I take her out. She immediately goes potty and gets a treat. She is very playful, teases the other pets, and is wonderful with my grandson. She has been quick to learn that she cannot bite. She has also already learned to stay in the crate without crying, but I don't put her in there until she is ready for a nap."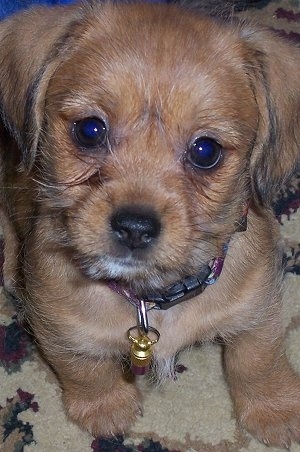 Lucy the Schweenie puppy at 8 weeks old (Dachshund / Shih Tzu mix breed)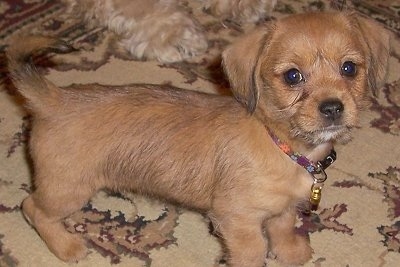 Lucy the Schweenie puppy at 8 weeks old (Dachshund / Shih Tzu mix breed)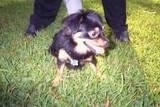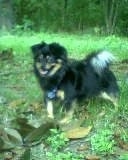 Midnight was one year old in the photo to the left and two years old in the photo to the right—"His dad was a Dachshund and his mom was a Shih Tzu. I got him for free because the Shih Tzu's pregnancy was a complete surprise to her owner, and she didn't think she could sell the puppies (3 males). He loves attention and can't get enough of it. Back scratches, belly rubs...he loves it all. He likes to beg by standing on his hind legs and flailing his front paws together like he's trying to put out a fire. He's small, but he's a serious watchdog who will bark at anything that comes within 50 yards of our house. Because of that, he's our unofficial doorbell. Housetraining has been a challenge, though. At three years old, he still doesn't tell us when he has to go, so we do a combination of taking him outdoors at certain times and having newspaper available for him to do his business. He is very greedy, so he's put on some weight. He'll search the house from top to bottom looking for crumbs, and he'll sit under us while we eat to catch anything that falls. When he gets a bath, he hates getting rinsed off and will try to bite the stream of water that comes out of the sprayer. He likes getting brushed, but he can't stand getting his nails clipped. He loves to chew ice, and he'll shred a paper towel to smithereens if you don't watch him. There's a cat in the house too, and they get along pretty well most of the time. He likes children, but he's not too fond of adult strangers, especially men. Although he's high strung and can sometimes be whiny, he's a load of laughs and an overall great companion."