Description
The Scottish Cocker is not a purebred dog. It is a cross between the Scottish Terrier and the Cocker Spaniel. The best way to determine the temperament of a mixed breed is to look up all breeds in the cross and know you can get any combination of any of the characteristics found in either breed. Not all of these designer hybrid dogs being bred are 50% purebred to 50% purebred. It is very common for breeders to breed multi-generation crosses.
Recognition
ACHC = American Canine Hybrid Club
DDKC = Designer Dogs Kennel Club
DRA = Dog Registry of America, Inc.
IDCR = International Designer Canine Registry®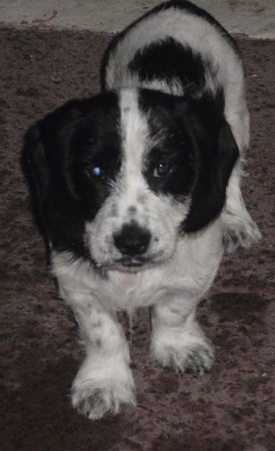 Charlie the black and white Scottish Terrier / Cocker Spaniel mix breed dog (Scottish Cocker)
Vader the Scottish Cocker puppy at 4 months old—"We got Vader when he was a tiny puppy. He is playful and he is a bit hyper. He loves to play and chase/run around with the kids. He plays with our other dog well. He is a watchdog and barks when someone knocks on the door. He is crate trained and housebroken. He loves to dig and sniff. If I take our other dog out first, Vader will follow his scent to a T."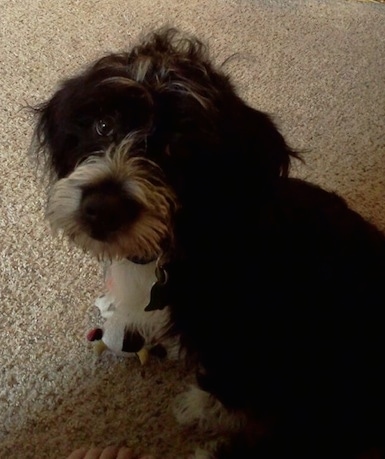 Vader the Scottish Cocker puppy at 6 months old—"He weighs about 20 pounds at 6 months. I have to brush him every other day or his fur gets matted. He is a very resilient dog, and loves to run!"