Schnocker
Miniature Schnauzer / Cocker Spaniel Hybrid Dogs
Information and Pictures
Rascal the Miniature Schnauzer / Cocker Spaniel hybrid dog— "I found this little guy in the middle of the road. He seemed lost and afraid so I brought him home so he wouldn't get hit by a car. He has been my little shadow ever since. He is a very sweet, cuddly dog and a complete mooch. He is also very smart and quick to learn. He escaped one day about 2 months after I found him and went back to his old home. They called me and told me his story and told me to keep him. They said his mom was a Cocker Spaniel and his dad was a Mini Schnauzer. Something interesting about him is he was the only dog with short hair in the litter! He is only one year old. I was happy to learn what he was. He is a great dog. He is very athletic, too; he can jump straight up the back of the couch and likes to jump straight up into the air just to kiss my face. He can jump over a fence, too, which I think is why his owners gave him up. I can definitely see both the Cocker and the Schnauzer in his personality; he is the perfect mix between the two."
Other Names
Mini Schnocker
Miniature Schnocker
CockerShnauz
Description
The Schnocker is not a purebred dog. It is a cross between the American Cocker Spaniel and the Miniature Schnauzer. The best way to determine the temperament of a mixed breed is to look up all breeds in the cross and know you can get any combination of any of the characteristics found in either breed. Not all of these designer hybrid dogs being bred are 50% purebred to 50% purebred. It is very common for breeders to breed multi-generation crosses.
Recognition
ACHC = American Canine Hybrid Club
DRA = Dog Registry of America, Inc.
IDCR = International Designer Canine Registry®
Recognized Names
American Canine Hybrid Club = Schnocker
Designer Dogs Kennel Club = Schnocker
International Designer Canine Registry® = Mini Schnocker
Rascal the Miniature Schnauzer / Cocker Spaniel mix breed dog
Rascal the Miniature Schnauzer / Cocker Spaniel mix breed dog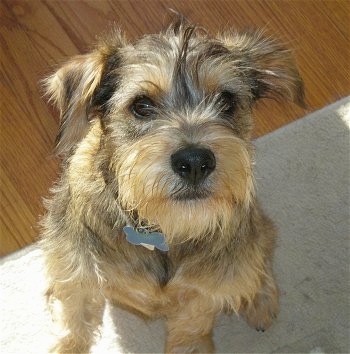 "Best friend, best little heart, and definitely the best bushy eyebrows ever seen. This is Wally, my Mini Schnauzer Cocker Spaniel mix who traveled all the way from Indiana to make it to the adoption center two hours away from my house where I just happened to find him less than 24 hours after he arrived in Maine. Wally mainly was adopted into the family because I already had one dog and I was hoping to find a friend for her. Not only did Wally bond with my other dog Margo (a Corgi, Husky, Sheltie, Rat Terrier mix) but he quickly bonded with my heart and we have been inseparable ever since. Whether I am going for a drive and Wally is hanging out the car window, or I'm on my bike and he is riding in my bike basket, we always manage to spend time together. With a face like that it's hard not to want to be around it all the time. A few things about Wally: he's my little alarm clock, 5:45 am everyday he is ready to get up, he loves treats and always sits very patiently waiting for them, he knows how to shake, yet he doesn't know why he's doing it. He sometimes has to wear a diaper (if he gets to excited he might squirt!). He is the biggest cuddle bug, and loves everyone the moment he sees them! Wally has enhanced my life more than I could have dreamed, and I am fortunate that he traveled to Maine to find me, his mother, so that we could finish off our family with the best little dog out there!"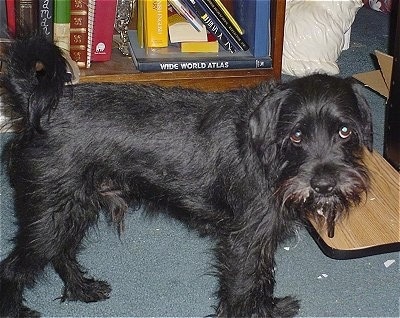 Cocker Spaniel / Schnauzer mix (CockerShnauz)—his owners say he is very intelligent and laid back.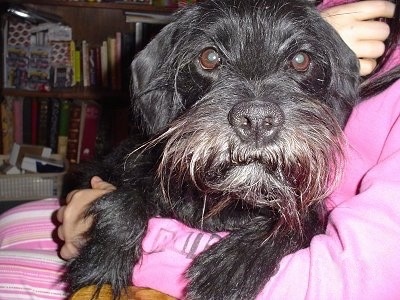 Cocker Spaniel / Schnauzer mix (CockerShnauz)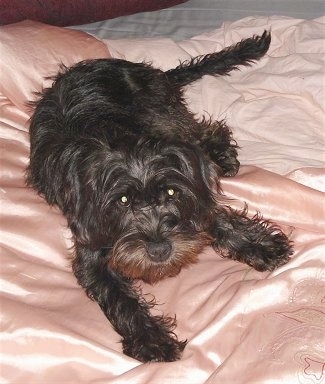 Lucky the CockerShnauz at 9 months old—"I adopted her at the pound when she was 4 months. I had no idea there were other mixes like her, but the dog on your page looks just like her! Same exact face! She's just a puppy, so her temperament has not yet been decided. She's a little protective, but quite smart and active! VERY playful!"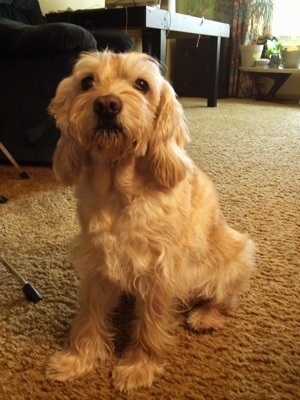 "Mak is our 10-year-old blonde Schnocker who we've had since he was a puppy. All through his life he has been very attached to and dependent on us, and is, just like the others, playful, intelligent, and relaxed when just the family is around.
"Mak is normally laid-back, but he loves people, and becomes excited when new people enter the house, running and whining and begging for their attention (and food!). While he is very friendly and submissive toward people, Mak acts very nervous and shy around other dogs, which is really our own fault, so for this reason I wouldn't call him a perfectly balanced canine. Other than that, though, we've had no major problems with him.
"He enjoys playing fetch, but for some reason he's developed a tendency of not returning the toy. Mak seems to be really close to us and hates being alone. He'll also get really whiny if someone steps outside without him, as if he's worried for him or her.
"Mak is sensitive, never aggressive, and knows his place in the house. He doesn't get walked as often as he should be, but my new habits of walking him are helping him lose weight. Watching the Dog Whisper has helped a lot, too, and using Caesar's method of walking and redirecting a dog's attention has helped Mak to be less jumpy around other dogs.
All in all, Mak has been the perfect addition to our family, and I wish I could grow old with him."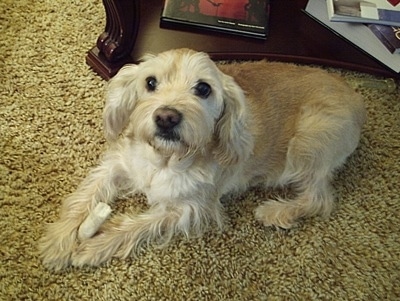 Mak the blonde Schnocker at 10 years old (Mini Schnauzer / Cocker Spaniel mix breed dog)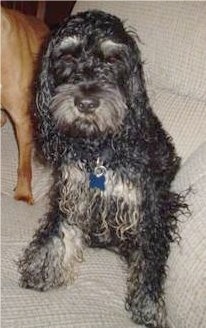 Charlie the Schnocker (Miniature Schnauzer / Cocker Spaniel cross) BEFORE a haircut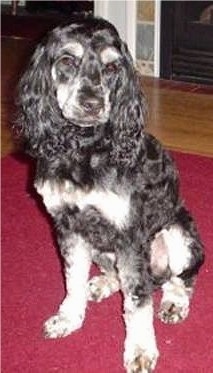 Charlie the Schnocker (Miniature Schnauzer / Cocker Spaniel cross) AFTER a haircut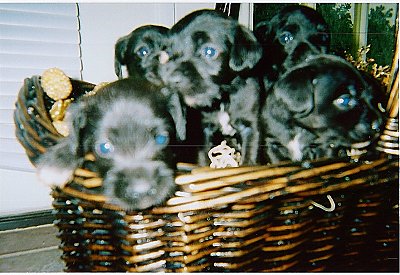 A basket full of Schnocker puppies at 4 weeks old!
Molly the Schnocker (Schnauzer / Cocker Spaniel mix breed) at 4 months old