Texas Heeler
Australian Cattle Dog / Australian Shepherd Dog Hybrid Dogs
Information and Pictures
Blue the Texas Heeler (Australian Cattle Dog / Australian Shepherd Dog mix breed) is a working Texas Heeler and an excellent herder!
Other Names
Aussie Shepherd Heeler
Description
The Texas Heeler is not a purebred dog. It is a cross between the Australian Cattle Dog and the Australian Shepherd Dog. The best way to determine the temperament of a mixed breed is to look up all breeds in the cross and know you can get any combination of any of the characteristics found in either breed. Not all of these designer hybrid dogs being bred are 50% purebred to 50% purebred. It is very common for breeders to breed multi-generation crosses.
Note: the Australian Cattle Dog is also called Australian Heeler, Hall's Heeler, Queensland Heeler, Blue Heeler, Red Heeler, Australian Cattledog and Australischer Treibhund.
Recognition
ACHC = American Canine Hybrid Club
ARF = Animal Research Foundation
DRA = Dog Registry of America, Inc.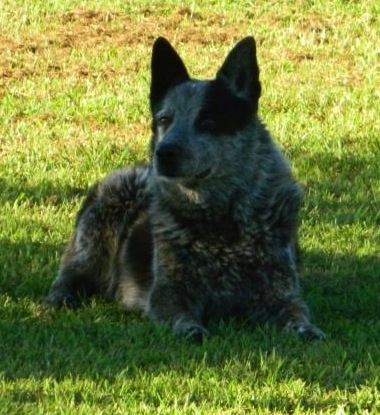 "Sam is a Texas Heeler—a cross between an Australian Shepherd and Blue Heeler. His parents were both registered and from WGC Field Trial dogs. Sam is the most capable farm dog I have ever had the pleasure of working with; a natural heeler with strong drive but the intelligence and temperament of the Australian Shepherd. He is 60 pounds, was a natural at obedience and agility and herding/heeling. He has rounded up the neighbor's goats and herded them back under the fence over the creek where they got out on their own then came back to the house after his job was done. Our poultry (chickens, turkeys, guineas and 1 Swan) free-range safely when Sam is on guard. He routinely kills possums, skunks and raccoons hat dare to bother his flock, yet the birds eat his dog food with him standing over them. He's even taken on coyotes and although he didn't finish the coyote off, it never returned. In addition, Sam is always up for a game of fetch or playing with kids. As a farm dog, he has excelled in every area here."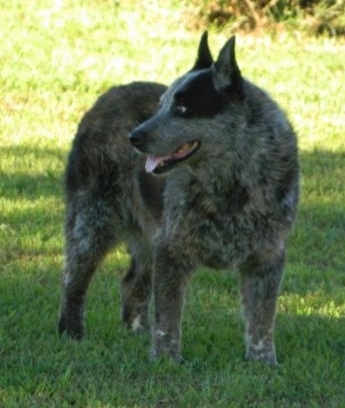 Sam is a Texas Heeler, a cross between an Australian Shepherd and Blue Heeler.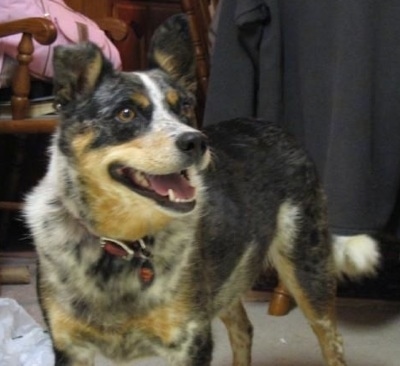 "This is Gracie, 5 years of age when we took this photo. We knew she was an Australian Shepherd / Australian Cattle Dog mix, but we didn't know there was a name for those! She and her littermates were thrown from a truck in a sack on a busy street before they even had any teeth; we don't know why. A friend of mine witnessed this action and saved Gracie for me to look at because she was blue merle like a favorite dog from my past. She must have been a fighter because she was on the bottom of the pile in the sack and suffered a broken toe. We were hoping she was going to be an Aussie Shepherd, but after the dog trainer got a look at her, we were warned that this was a Cattle Dog or dominant Cattle Dog mix and she would need firm handling from an early age. Advice taken! Gracie was very dominant and fought me for the pack leader designation from the very beginning. I don't know if she'd even be alive now if not for Cesar Millan and the principles we've learned from watching him. My husband and I were nowhere nearly ready to handle a dog this aggressive on our own; thank goodness our trainer specialized in herding dogs and knew what she was doing.

"Gracie is eerily intelligent and knows at least 200 different words, including every different toy in her toy box and the names of each of our three cats. Because of her intelligence, she excelled in obedience classes, but she flat-out refuses to do tricks no matter what kind of reward she's offered; it's as if she knows they serve no purpose. She prefers being an only dog; she stays outside during the day and comes inside at night to spend time with us and go to bed in her crate. She's not a cuddler or very touchy-feely, but enjoys a good belly rub and frequent back scratches. She is an amazing herder, but she only has cats to herd. Every night, we will go out into the backyard and turn the floodlights on, and she herds our shadows like crazy! It's hard to give her as much exercise as she needs, frankly. She loves walks around the neighborhood and hiking out with us.

"Now that she is older, I would have to say she is a pretty balanced gal and a little more relaxed as long as she has something to do. Her favorite treats are large Dingo bones—I've never seen a chewer like her! She obeys commands instantly, but she will test me every single day on the off chance I "forget" something. In public, I keep a close eye on her because of her size and strength (50 pounds) but she is always very well-behaved.
"Helping to save Gracie and having her as a member of our family is probably one of the most challenging things I've ever done, but also one of the most rewarding. We certainly won't ever forget her."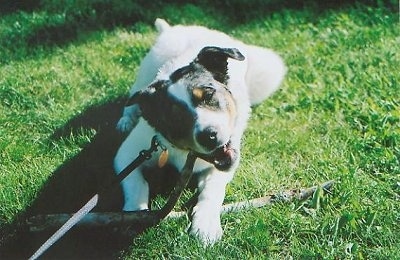 "Sydney is a Texas Heeler, or a cross between an Australian Cattle Dog and an Australian Shepherd. She was rescued from the local animal shelter after having been abandoned as a puppy. She has just turned one year old at the time of this picture, and is a treasured member of our family."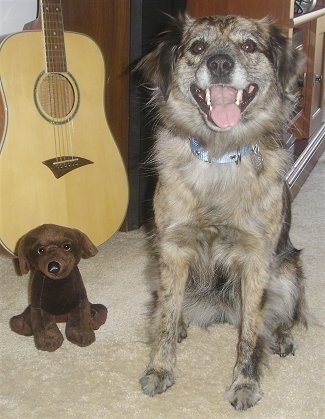 Sydney the Texas Heeler (Australian Shepherd / Australian Blue Heeler mix) at 2½ years old—"She is about 30-35 lb. and stands just under 20 inches at the shoulders. I took this picture of her with her "baby." It's her favorite toy that she takes with her everywhere. Sydney is a very intelligent, loyal and affectionate dog."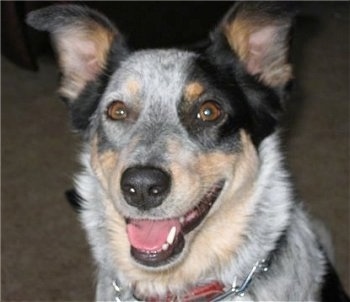 Matilda the Texas Heeler at 2 years old (mother is an Australian Shepherd; father is an Australian Cattle Dog)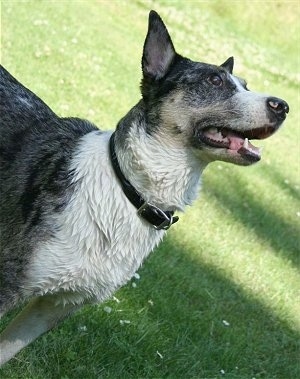 Mitzvah the Texas Heeler (mix between Australian Cattle Dog and Australian Shepherd)—"She was the best dog I ever had. Typical hard-headed and strong-willed Australian Cattle Dog behavior and habits, willing to please, loves to play rough, a bit dominant (in front of my other dog, who is a male Basenji), but extremely sweet and loving."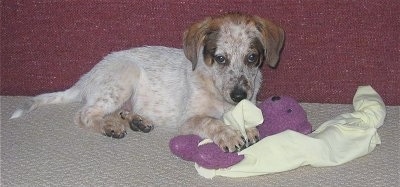 Davy the Texas Heeler hybrid puppy at 2 ½ months old—"This is Davy Crockett McFerren (with a name like that he has a lot to live up to). Davy is a Blue Heeler (Australian Cattle Dog) / Australian Shepherd mix. I got him from a foster care home near where I live here in Texas. He is such a sweetie, but his Australian Cattle Dog nature comes out occasionally and he tends to be suspicious of strangers, and sometimes a little jumpy. But once he settles down and gets to know them he's a wonderful playmate—or cuddler. He is extremely smart (too smart, sometimes!) and learns quickly. He has occasional naughty moments. Then we call him "Davy Jones." His puppy crate we have nicknamed "Davy Jones' Locker." When it's time to go take a nap in it, we say, "To Davy Jones' Locker with ye!" Davy loves to play games and run like a maniac around the backyard. He likes to play by himself with his toys, too...tossing them up in the air and then running after them, pouncing on them, and shaking them as hard as he can. What a great imagination. A few of his other nicknames are "Blue," "Laddie," "Slim," or "Slim Blue." He loves the outdoors and prefers to be outside most of the time (even in the rain.)"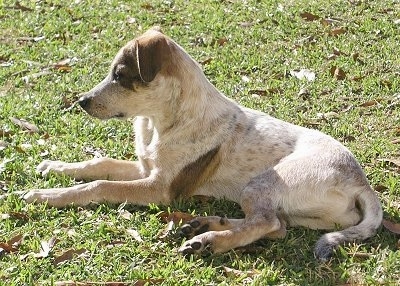 Davy the Texas Heeler mix breed as a puppy at 5 months old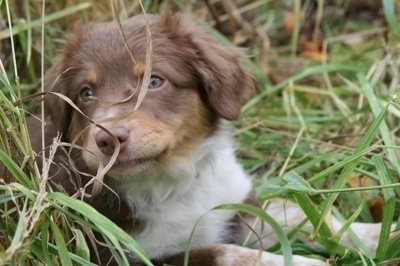 "This is Ellie, an Australian Shepherd and Australian Heeler mix at 3 months. She is very smart, very vocal and very intense at times. She also loves to lie on my lap, give kisses and ride in the car. She can be silly one minute and focused the next minute. I find her to be a complex dog, but with the right amount of activity and stimulation a terrific dog. She is now almost a year old and gearing up for obedience and agility training."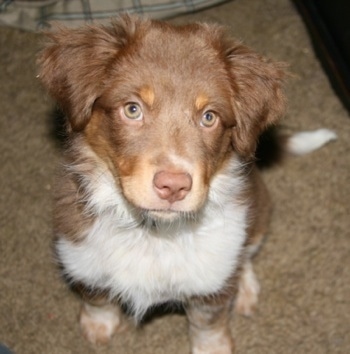 Ellie the Australian Shepherd / Australian Heeler mix breed puppy at 3 months old (Texas Heeler)