Yorwich
Yorkshire Terrier / Norwich Terrier Hybrid Dogs
Information and Pictures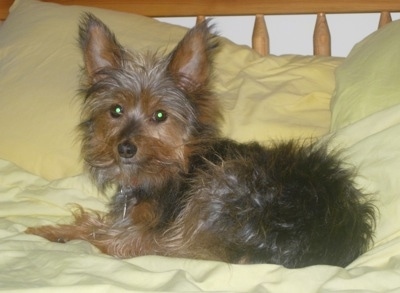 "This is Rosie at 12 weeks old. She enjoys daily walks in the park, which usually last about an hour, followed by a sleep. However, she does not like walking in the rain! She doesn't mind being left alone, but also loves attention from people (but not from other dogs). Her favourite things include sleeping/hiding under a duvet, rolling over to have her stomach rubbed and cuddling on the sofa. She is a very loving, gentle and good-mannered dog. She is also very quiet; she hardly ever barks. However, she is a very fickle eater! She seems to change her mind on what food she will eat every other day."
Other Names
--
Description
The Yorwich is not a purebred dog. It is a cross between the Yorkshire Terrier and the Norwich Terrier. The best way to determine the temperament of a mixed breed is to look up all breeds in the cross and know you can get any combination of any of the characteristics found in either breed. Not all of these designer hybrid dogs being bred are 50% purebred to 50% purebred. It is very common for breeders to breed multi-generation crosses.
Recognition
ACHC = American Canine Hybrid Club
DDKC = Designer Dogs Kennel Club
DRA = Dog Registry of America, Inc.
IDCR = International Designer Canine Registry®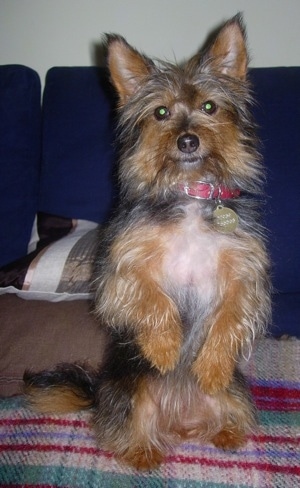 Rosie the Yorwich hybrid dog (Yorkie / Norwich mix)