Water (Walrus) Puppies (Anasarca puppies)
Page 2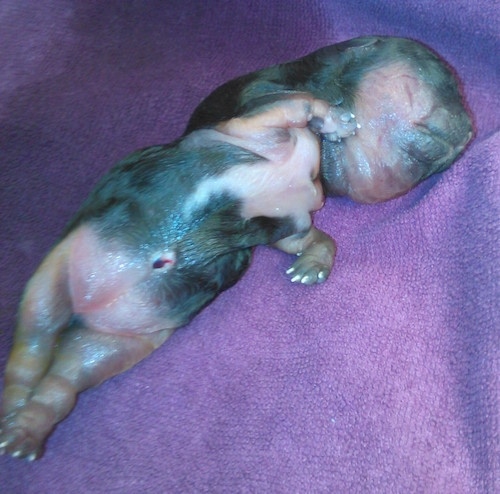 I have been raising Yorkshire Terriers for 8 years and this is the first time I have had or know anyone to have a walrus puppy. This was moms first litter (Grace) and she is 2 years and 4 months old. She was bred to an unrelated 1 year old male (Chip) and it was also his first litter. She delivered 1 day before her earliest expected due date and whelped 3 small, but healthy puppies on her own with no issues. She pushed with no progress for just over an hour when I took her to the vet.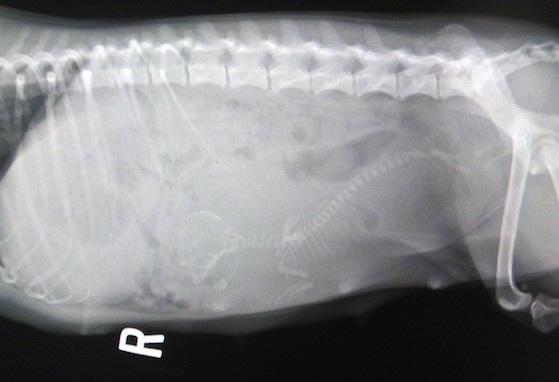 An xray was done and it was believed that she still had one very large puppy yet to be delivered.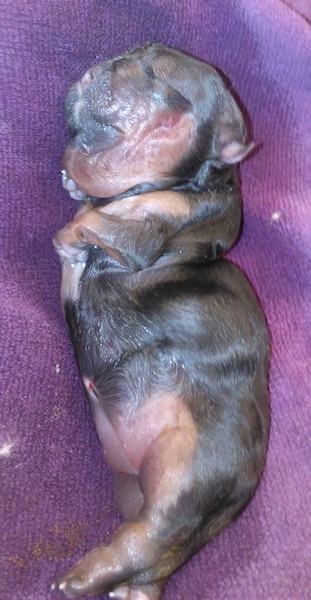 The puppy was delivered by c-section and the vet was surprised to find the pup's deformities. She was born deceased. She also had extra toes on her back feet and her one front leg appeared deformed. Mom was spayed and is doing well with her remaining puppies. All are all doing well so far. Dad will be neutered in the very near future.
Update: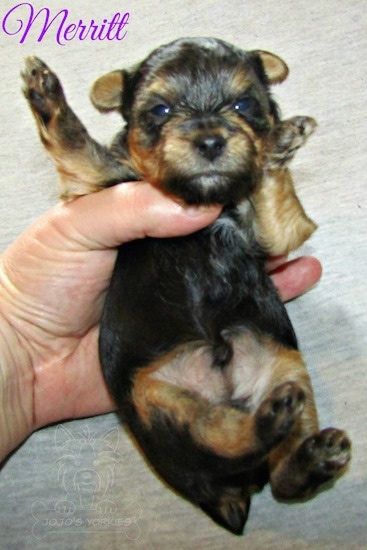 The pups are 3 weeks old now and it has been discovered that the smallest male has a deformed front leg very similar to the water puppy that was still born. This is the little guy with the leg deformity. It is his front left leg. He usually carries it crossed across his chest like in the picture below at 2 weeks old, but the deformity is more noticeable in the picture above at 3 weeks old. He can move the leg but cannot extend it to the ground to use it for walking.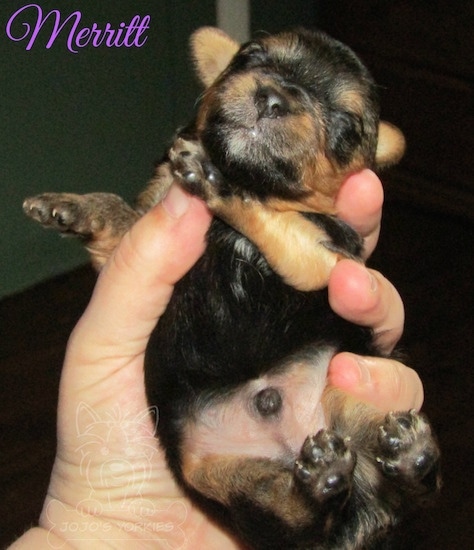 The puppy at 2 weeks old showing how he holds the leg up folded across his chest. At this time he is unable to use it for walking. The other two pups in the litter appear perfectly normal.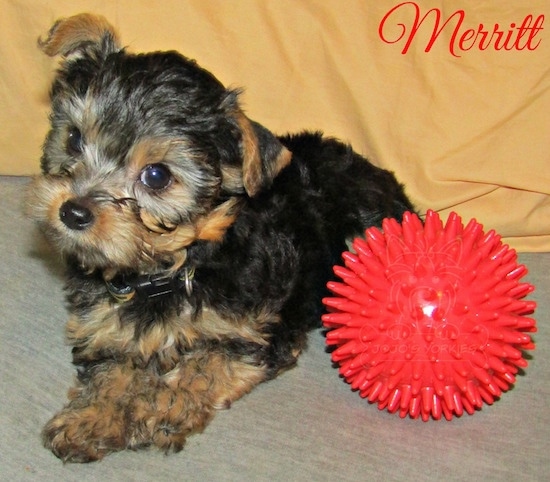 At 8 weeks of age Merritt found a loving family that accepted him just as he was and he has gone on to his forever home.
I had x-rays done at his 8 week exam and it showed he had a deformed humerus which caused the elbow to dislocate. There was also a healed growth plate fracture. He has no pain and has learned to use the leg quite a bit. By 9 weeks old he only had a barely noticeable slight limp/bunny hop. He is perfectly healthy in all other ways.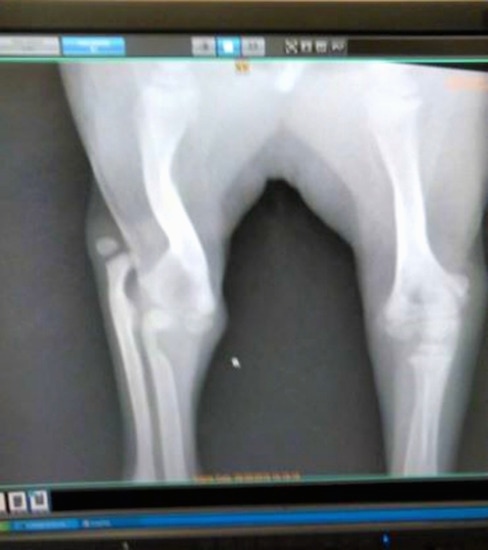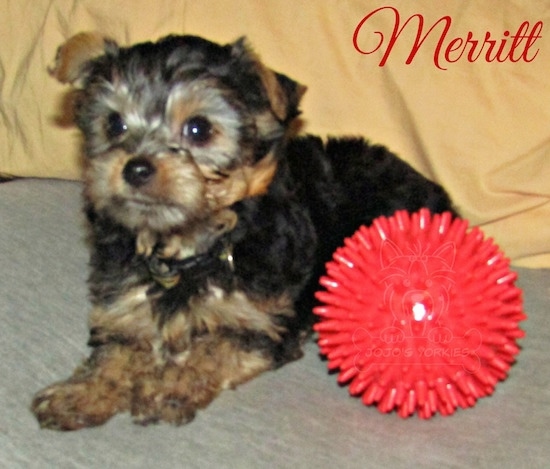 Merritt at 8 weeks old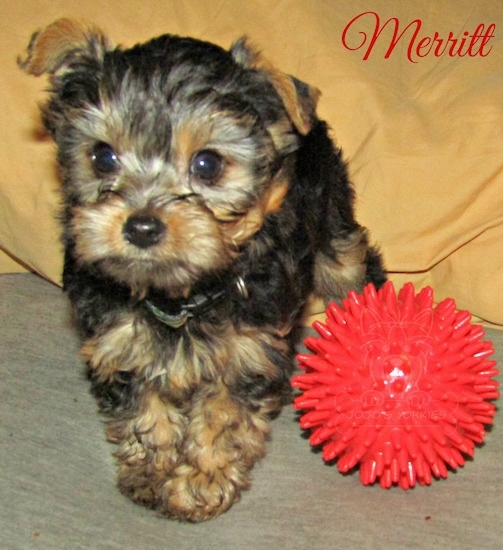 Merritt at 8 weeks old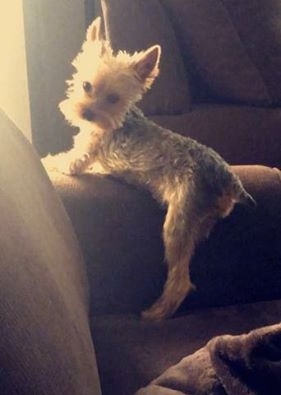 "Just thought I would give you an update on Merritt the Yorkie, 7 months old in this picture. His name is now Rocky at his new home and he is doing wonderfully. He was just neutered and is a tiny guy at about 4 lbs (1.8 kg). He uses his leg a fair bit but does hold it up when hes tired. His owners say it really doesn't slow him down at all and they love him to pieces."
A big thank-you to the breeders who shared their stories on their experience with water puppies.
If you have additional information/ photos on water puppies you would like to share in order to help others with this issue, Contact Us.
Although this section is based on a whelping of an English Mastiff, it also contains good general whelping information on large-breed dogs. You can find more whelping information in the links above. The links below tell the story of Sassy, an English Mastiff. Sassy has a wonderful temperament. She loves humans and adores children. An all-around mild mannered, wonderful Mastiff, Sassy, however, is not the best mother toward her puppies. She is not rejecting them; she will nurse them when a human places them on her to feed, however she will not clean the pups or pay any attention to them. It is as if they are not her puppies. This litter is getting mom's milk with major human interaction, manually giving each and every pup what they need. In return, the pups will be super socialized and will make remarkable pets, however the work involved is astounding. It takes one dedicated breeder to keep this situation healthy. Thankfully this litter has just that. Read the links below to get the full story. The pages within include a wealth of information that everyone can appreciate and benefit from.
Whelping: Close-to-Textbook Case