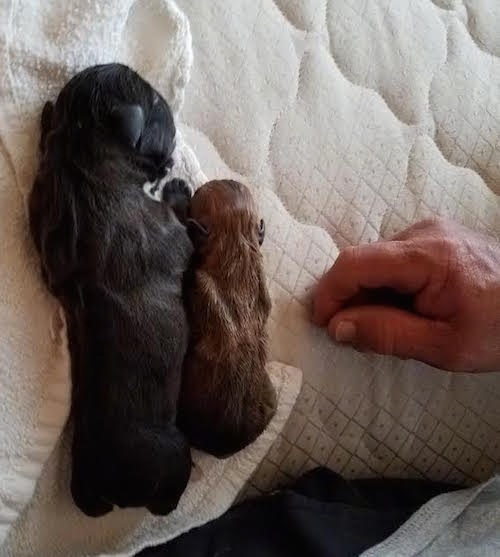 "These babies were in a litter of six Olde English Bulldogge puppies. Three pups were huge and three were tiny. This is a picture of two pups that were born dead. There was a huge size difference between them, one was very large and the other was a preemie size. The huge pup was her second pup, and the small was her third pup. The first pup born was just as tiny as the third puppy. My opinion is that it took her too long to have the huge pup. In fact, she needed help to get him out; this caused both to die (too long to be born and too much stress on them). We only had the one water baby he was the fourth pup to be born. The next two pups were the only ones who survived. The first pup did not have enough desire/strength to live. I tried really hard to save it. Unfortunately, it ended up getting squashed. The fifth and sixth pups were also different sizes; now at 8 weeks old the smaller pup has just about caught up to his bigger brother."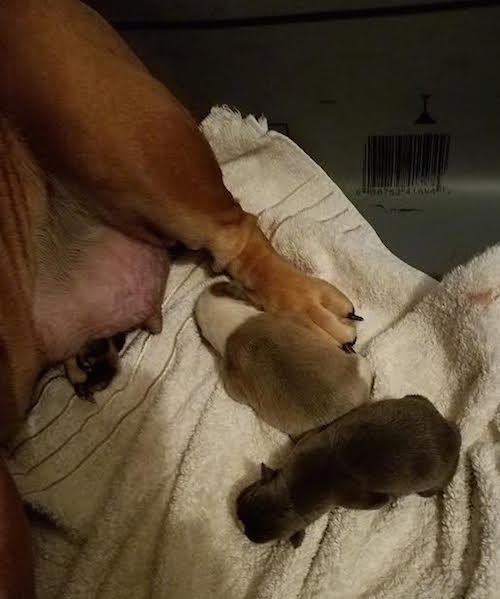 Healthy puppies born in the same litter.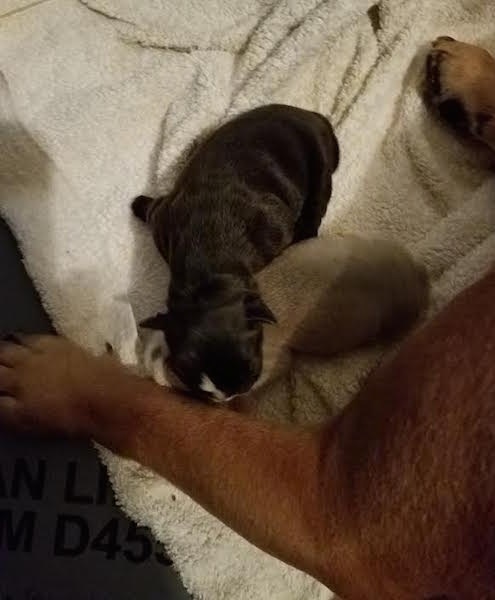 Two of the healthy puppies born in the same litter.
A big thank-you to the breeders who shared their stories on their experience with water puppies.
If you have additional information/ photos on water puppies you would like to share in order to help others with this issue, Contact Us.
Although this section is based on a whelping of an English Mastiff, it also contains good general whelping information on large-breed dogs. You can find more whelping information in the links above. The links below tell the story of Sassy, an English Mastiff. Sassy has a wonderful temperament. She loves humans and adores children. An all-around mild mannered, wonderful Mastiff, Sassy, however, is not the best mother toward her puppies. She is not rejecting them; she will nurse them when a human places them on her to feed, however she will not clean the pups or pay any attention to them. It is as if they are not her puppies. This litter is getting mom's milk with major human interaction, manually giving each and every pup what they need. In return, the pups will be super socialized and will make remarkable pets, however the work involved is astounding. It takes one dedicated breeder to keep this situation healthy. Thankfully this litter has just that. Read the links below to get the full story. The pages within include a wealth of information that everyone can appreciate and benefit from.
Whelping: Close-to-Textbook Case