Purebred Dog Breeds - I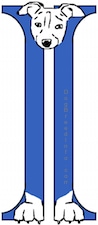 List of Purebred Dogs and Breeds Under Development that begin with the letter I
Irish Glen Imaal Terrier (photo needed)
Istrian Coarse-haired Hound (Photo Needed)
To see a full list including hybrids visit All Purebreds and Cross Breeds.
Information and photos are being added on a regular basis.
The definition of a "purebred" in the dictionary is the following—"bred for many generations from a member of a recognized breed or strain n: a pedigreed animal of unmixed lineage." According to the AKC a purebred dog means, "the sire and dam of a dog are members of a recognized breed and that the ancestry of a dog consists of the same breed over many generations."
The following list consists of purebred dogs and a few dogs that are in the latter development stages of becoming a purebred. Some people may not consider some of the newer breeds on the list purebred dogs and some of the breeds listed may be questionable. Read the origin of the dog you are looking up. It will tell you the stage of the dog's development; from there you can make your own educated assessment. Also included on the list are a few extinct breeds that were once purebreds. This list does not include Hybrid Dogs.If you would like a full list including the Hybrids, visit All Purebred and Cross-Breeds or visit our Search Category page for more search options.