Jack-A-Bee
Beagle / Jack Russell Terrier Hybrid Dogs
Information and Pictures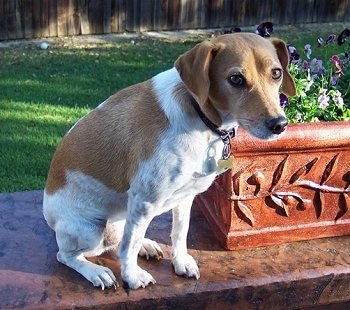 "This is Sydney, our 5-year-old female Jack Russell / Beagle mix (Jack-A-Bee). We think she's the best dog in the whole world. She was very easy to housetrain, and was easy to train period. Well behaved as an adult dog, Sydney was very "nippy" as a puppy (not advised for very small children in puppy stage), and was ultra-high energy, but calmed down greatly after puppyhood ended—especially after we realized that she needed a walk every day. She loves to sniff everything during her walks (probably the Beagle in her). If she misses her daily walk, you will regret it. She'll sit on you, your newspaper, or grab whatever you may be working on. She doesn't like to get into the water. Don't know if this is a breed trait, or if it's just her. She's very intelligent. We have to spell words around her. This wouldn't be the type of dog to get if everyone leaves the house for work or school every day. We have someone working at home most of the time. These dogs love to be around people. Sydney is very friendly to all people. Loves our kids. She watches for squirrels in the yard every day, and chases them up trees, etc. I don't think she'll ever catch one, though. She doesn't bark very much, only when the doorbell rings or when zeroing in on a squirrel. She is very non-destructive. Hasn't ruined anything since she was a puppy. I would suggest crate-training this type of dog as a puppy."
Other Names
Beagle Jack
Description
The Jack-A-Bee is not a purebred dog. It is a cross between the Beagle and the Jack Russell Terrier. The best way to determine the temperament of a mixed breed is to look up all breeds in the cross and know you can get any combination of any of the characteristics found in either breed. Not all of these designer hybrid dogs being bred are 50% purebred to 50% purebred. It is very common for breeders to breed multi-generation crosses.
Recognition
ACHC = American Canine Hybrid Club
DDKC = Designer Dogs Kennel Club
DRA = Dog Registry of America, Inc.
IDCR = International Designer Canine Registry®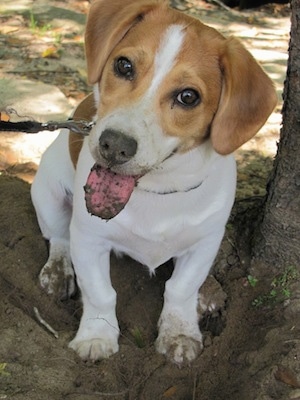 "Glasgow, a Jack-A-Bee is an energetic and smart puppy who learns tricks very easily. Originally from Georgia, this rescue is now living in Florida, and loves nothing more than going for walks, and chewing on his favorite toys. At eight months old in this picture, Glasgow is full of energy, but is starting to settle down a little from his early puppy months. He is a little cautious around people, and very cautious of other dogs, but has several dog friends he loves to play with."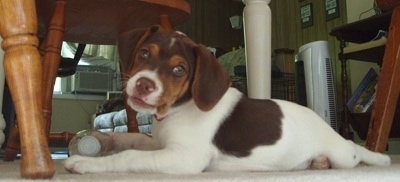 "This is a photo of our new Jack-A-Bee. He's 10 weeks old in this picture. We've named him Chase, which one of us is doing any time he is awake. His mother is a Jack Russell and his father is a Beagle. He goes for a mile to a mile-and-a-half walk every day, as long as it doesn't rain. Everyone just loves him and you can see why."
"This is my dog Jasper, a Jack Russell / Beagle cross. He is 10 ½ months old in this picture. He has been a joy to own. He is easy to train and is a very eager learner. I have never owned a more social dog. He loves children, other dogs (of all shapes and sizes) and cats. In fact, he even helped raise an orphan kitten. Jasper and the kitten Frankie are the best of friends. He is a great apartment dog; he's quiet and a small size without being too small, about 22 lbs. Though when he does bark it sounds a little Beagle-y, but without the bay. He does have quite a bit of energy but settles down nicely in the house. He is a big cuddle bug and wants to be with you at all times. This dog can jump!!!! I think he looks more Jack Russell, mostly because his tail was docked. His ears are longer then a Jack Russell but not as long as a Beagle and they are pointed at the tips. This is a big dog in a little dog's body."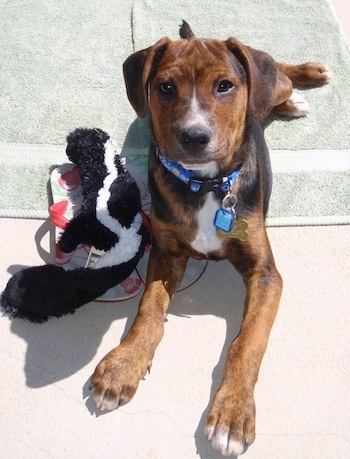 "This is our puppy Wallaby (Wally). He is 14 weeks and a rescue—one of the last of the litter to go; when we found him at the pound it was just him and his brother Scooby (white and tan) left. Wally hates car rides (he gets motion sick), loud noises and bath times, he's very shy amongst new people but extremely friendly and it doesn't take him long to warm up to them. He's excellent amongst young children and won't bite or jump up on them; even when they fall over he just waits patiently. One thing I've noticed is that Wally picks things up really quick, if you tell him not to do something you won't need to say it twice! He's a sucker for cuddles and is very affectionate—he loves to give lots of kisses. Wally is quirky; he'd rather eat off the floor than the bowl, will sniff absolutely everything, rarely barks or howls and he loves playing with his reflection in the mirror (it captivates him!). Athletic wise: Wally is quick, very agile and boy can he jump! He likes to hunt and has already caught his first mouse; he's not yet used to going on walks on the leash but is fine without one as he doesn't run off when he isn't on one. When not playing Wally likes to laze around or sleep. Food: we feed Wally an organic puppy food that contains no corn; he gets one salmon oil a day, too; his favourite snacks are tuna, salmon/sweet potato treats and baby carrots. We had a couple of accidents in the kitchen the first couple of days, but now he is pretty much housebroken except for the occasional nervous pidde when he has a fright. Currently he is a bit bigger than his mother the Jack Russell and doesn't have very big paws so we doubt he will grow very much more. He's teething, but thankfully he only goes for his toys or sticks!"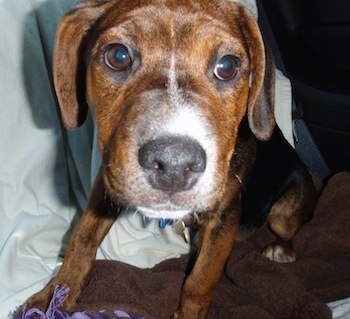 Wallaby the Jack-A-Bee as a 14 week old puppy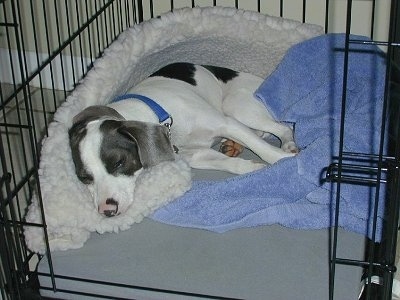 "This is Dewey, our great little Jack Russell / Beagle mix, according to our vet Dr. Dave. He is four years old, and we got him from our local Human Society. He's friendly to all, and loves long walks, chasing geckos and visiting his grandmother on Cape Cod."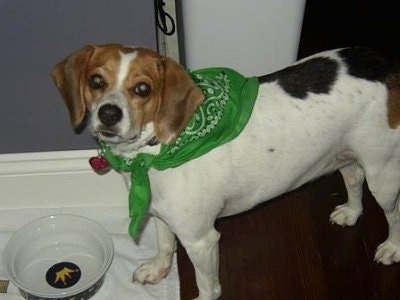 "This is Belle, a Beagle / Jack mix (Jack-A-Bee) at about 6 years old. She's bigger like a Beagle but has a lot of Jack Russell markings. Her nose and ears are longer than a Jack's, yet too short for a pure Beagle."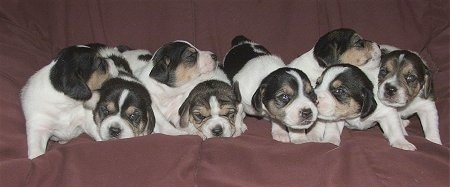 Jack-A-Bee puppies at 2 weeks old—"I was a Jack-A-Bee breeder and whenever people would contact me and inquire as to breed information I shared your site. I have attached pictures of our first (and last) ACHC-registered litter born to our Beagle mom (Missy) and Jack Russell dad (Bolin). Our previous litters were born to our Jack-A-Bee mom (Alley). I have always had great reports back on housetraining and training in general. It is true that you have to be ready for either end of the personality spectrum but even by 8 weeks you can really tell a lot about a pup's personality. When considering a hybrid, the people who have been in contact with the puppy for its first weeks of life should have some good insight as to what side the pup is leaning toward. I have noticed that the physical characteristics of the puppy also seem to be an indicator of the personality type (but not always, so be careful). Either way, anyone considering a dog that has Jack Russell in the bloodline should be prepared for a usually very active and sometimes a demanding dog (just in case). The rewards make it all worthwhile in the long run, though! Smart, playful, loving and cute! I wouldn't change my pups for the world."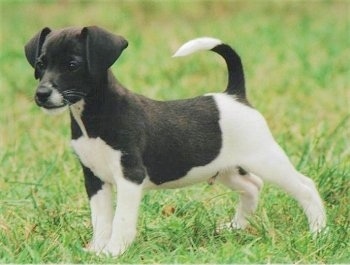 Scout the Jack-A-Bee at 12 weeks old (Beagle / Jack Russell Terrier hybrid)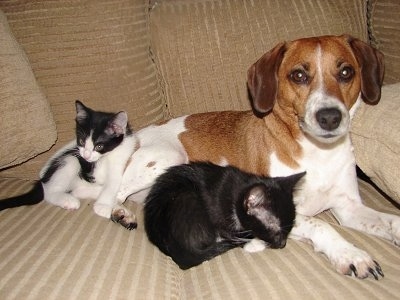 "This is my Jack-A-Bee Malcolm. We bought him for $500 at a pet store 6 years ago. He is the product of a purebred Beagle and a purebred Jack Russell Terrier. He is smart, dramatic, playful, stubborn and so loving. He needs to have physical contact with us at all times. When friends come over he is quick to cuddle up to them on the couch, it doesn't matter if he just met them. He prefers to sleep completely under the covers at night, in between legs or behind bent knees. If he wants to be rubbed he will dramatically scratch his nose with his paw, making pitiful sounds. If he is mad at you, he will not look at you directly when you call his name, but instead turn his head slightly and look at you from the corner of his eye. If he is around dogs that are bigger than him, he will go into another room and pout. It was hard to housebreak him, but easy to train him to do a number of commands, from "sit" and "roll over" to "shut the door" and "get the kitty" (when the kitties would escape he would catch them and carefully pin them to the ground until we came to get them). He is great around people, children and other pets. He is very gentle and cautious with babies, puppies and kitties."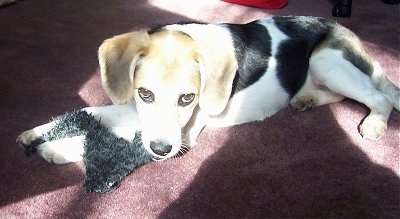 "This is my 8-month-old female Beagle / Jack Russell mix. She is very smart and playful. I just brought her home 2 weeks ago and she was not housebroken or crate-broken yet. She had one accident the first night in her crate and that's it! She has not had an accident in the house for 3 days now and has learned to let me know when she needs to go outside. She is very stubborn, but yet listens very well for a puppy with no training. I taught her how to sit and come within 1 day of coming home. Also only took me 3 days to get her to stop jumping up on people and trying to jump up while we are eating and trying to take our food away. Very responsive to verbal praise. She loves to play with my 4-year-old male Boxer. I've done research on both breeds and she is definitely the best of both! I was surprised how fast it was to housetrain her with her being so old and not being housetrained or crate-trained yet. She is such a joy! I'm so happy that I had adopted her!"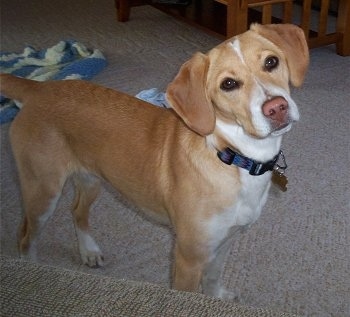 "This is Jazz. She is a Jack-A-Bee. We got her from a breeder that breeds pure Beagles and pure Jack Russells, so she is 50-50. She is the best dog that I have ever owned. Very energetic with a great personality. So energetic, in fact, that she keeps up with me at a pace of 15 mph for 20 miles at a time. I ran her 1600 miles last summer and she loved it. She is also a very avid swimmer, hole digger, rabbit and small animal chaser and very loving with our son who is almost the same age as her (1 ½). I would recommend her to anyone who has small children and is active with the outdoors."
Mickey the Jack Russell / Beagle hybrid (Jack-A-Bee) at 3 years old—"He is the most lovable dog and loves to give kisses, play ball and go for long walks! Oh and he is a die-hard Eagles fan! GO Philadelphia Eagles!"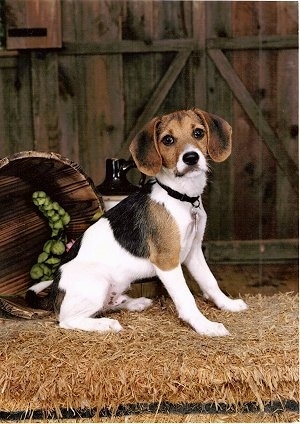 Mickey the Jack Russell / Beagle hybrid (Jack-A-Bee) as a puppy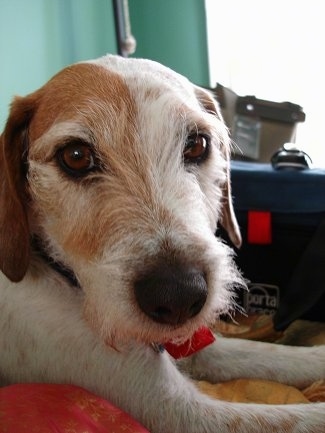 "Bruiser the Jack-A-Bee at 6 years old—his mom is a Beagle (Jackie Brown) and his dad a Jack Russell (Simon), who was a stand in for Wishbone on Nickelodeon! We love his crazy personality—enjoy"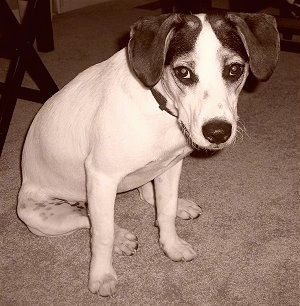 Buckley the Jack-A-Bee at 2 years old—his owner says, "He is the most playful dog I've encountered and has more energy and stamina than I know what to do with at times. Besides that, he is a GREAT family dog. He has been extremely gentle around our new baby. Amazing, smart, fun dog."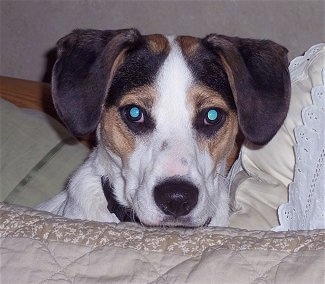 Buckley the Jack-A-Bee at 2 years old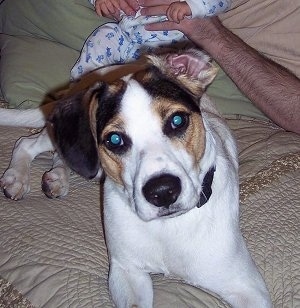 Buckley, the Jack-A-Bee at 2 years old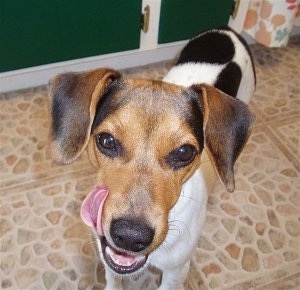 Penny the Jack-A-Bee (Jack Russell / Beagle hybrid) at 6 months old—"She has the best traits of a Beagle and the best traits of a Jack Russell all mixed into one! I was told she was ¾ Beagle ¼ Jack Russell, but I think she is more Jack Russell. She loves taking walks, swimming, and is CRAZY about fetch. I have recently purchased a chuck it! ball launcher and Penny absolutely loves that my throws now have more distance! She was easy to train, is very obedient and loyal, and is great with her younger "sister" Daisy, a Beagle."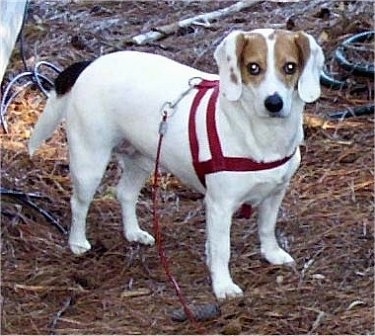 Chaz the Jack-A-Bee (Beagle / Jack Russell hybrid) at 7 years old—"Chaz has the Beagle bay and the Beagle appetite for sure. He's very independent, stubborn and is turning into a right grumpy old man, but can be so cuddly when the mood strikes. Chaz and his brother Sprocket, an American Staffie, both have Native American names. Chaz is "Stinky" and Sprocket is "Runs with Stinky"."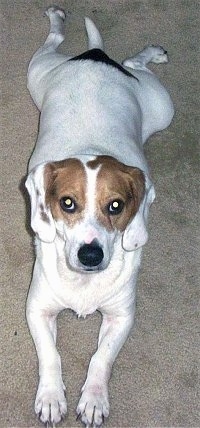 Chaz the Jack-A-Bee (Beagle / Jack Russell mix) at 7 years old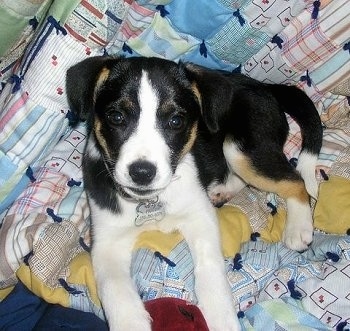 Piggy the Beagle / Jack Russell Terrier Cross (Jack-A-Bee) as a puppy at 10 weeks old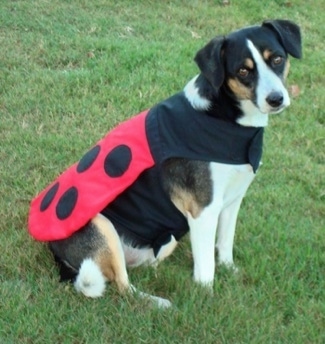 Piggy the Jack-A-Bee at 3 years old—"This is Piggy on her third birthday, which happens to also be Halloween. She is extremely mild tempered, loves children, and is beginning to be a great watchdog, though her bark is bigger than her bite! She loves to play with stuffed animals and anything that squeaks. Maintenance of Piggy's coat is minimal...we wash her with oatmeal shampoo to keep her skin from itching since she does have allergies. We love our Piggy!"
Hanna the 10-month-old Jack-A-Bee—"She is the sweetest dog ever. Plenty of energy, but a GREAT housedog. I would never trade her for a purebred!"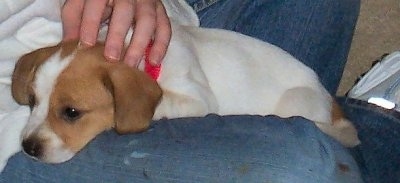 Dori the Beagle / Jack Russell (Jack-A-Bee) at 3 weeks old—"She has the typical markings and ears of a Jack (ears a bigger, though) and the size of a Beagle. She is energetic, and playful, one of the smartest dogs I've ever owned, and gentle around small children. She's never met a person, or dog that she hasn't liked, and she keeps our yard free from birds, squirrels, and any other nasties which might possibly make their way in."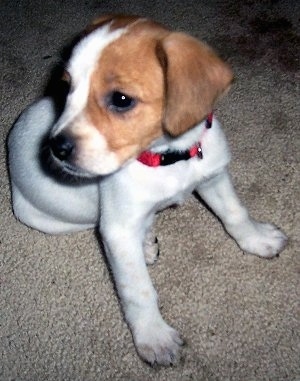 Dori the Beagle / Jack Russell Terrier (Jack-A-Bee) as a puppy at 3 weeks old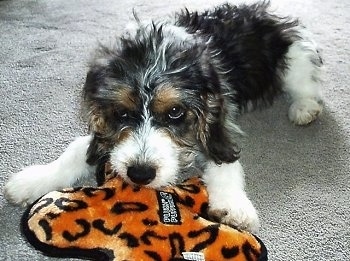 Morris the Jack-A-Bee puppy (Jack Russell / Beagle mix breed dog) at three months old—"He's incredibly intelligent, loves puppy school, is already almost completely housebroken and crate trained, knows how to sit, come when called and lie down. He loves his walk, and riding in the car."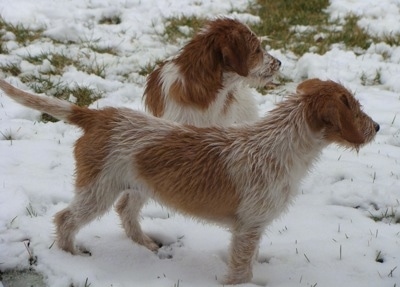 "Mickey and Rosy are 2 rescued puppies, brother and sister. The owner of their mother (Jack Russell Terrier) lost her job in this economy downturn at the same time she realized her dog was pregnant (an accidental pregnancy with a Beagle that lives around her house in the countryside). She had nowhere to turn but a rescue place.
"Then I saw Mickey and Rosy's picture on Petfinder and I knew they were very sweet puppies. I did a lot of research about the breeds. I was looking for a dog good with kids, dogs, smart, playful, that does not shed too much.
"So we decide to take 2 from a litter of 3. I thought that those type of dogs need to have a dog companion to not get bored. They were 14 weeks when we got them and now they are almost 6 months old. They will be fixed soon so no more accidents!
"I could not be more right; they are the sweetest dogs I ever had. Submissive but smart, playful with each other and the kids but not hyper (as soon you pick them up the love to have a belly rub for hours and many time they fall asleep). They endure my 5-year-old daughter's energy. For now we do not have a fence yet, but they are happy with a 20-minutes walk 3 times a day (perfect for me to get some exercise while waiting for my kids to come home from school), plus 2-3 quick backyard times as they are still puppies. So far not a bark, sometimes we think they are mute. They like to chase each other and play tag and hide-and-seek. As soon as they see a dog or a person outside they soon start to get excited because they want to play with them. They even played with a cat wandering around our neighborhood. If they are without the leash sometimes they take off and they are very, very fast. They love to jump in piles of leaves and go under, hide and then emerge suddenly to get the other one. They love to play with snow and go under it the same way.
"My daughters love them so much that even now they keep saying every morning "Mummy, we love Mickey and Rosy so much that makes us so, so happy!""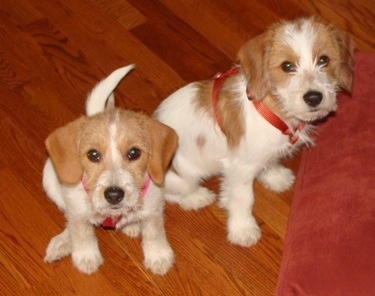 Rosy and Mickey the Jack-A-Bee puppies at 16 weeks old
Mickey the Jack-A-Bee as a puppy at 6 months old
Rosy the Jack-A-Bee as a puppy at 6 months old