Mountain Feist
Information and Pictures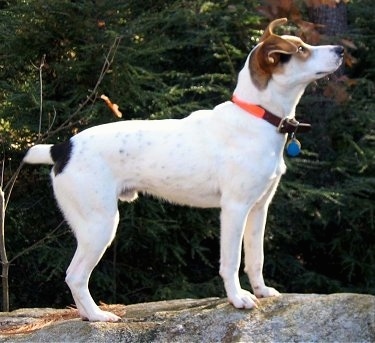 Gray's Trigger (tricolor male) Treeing (aka Mountain) Feist dog is registered with the National Kennel Club (NKC) and the United Kennel Club (UKC)— "We hunt mostly squirrels with our dogs, but rabbits and game birds as well." Photo courtesy of Treeing (aka Mountain) Feist
Other Names
Treeing Feist
American Treeing Feist
American Feist
Mountain Terrier
Description
The coat of the Mountain Feist is short and smooth. Coat colors include tricolor with spots, red and white, red, black, black and tan, blue and white, red brindle, and white. The head has a medium-length muzzle with a slightly rounded skull. The eyes are small and dark in color. The ears are set well on the side of head, wedge-shaped and held erect or semi-erect. The muzzle is medium length and tapers to a point. The nose is black and self-colored according to coat. The bite is scissor or level. The neck is medium length and strong. The topline is level. The chest is fairly deep and well ribbed. The back is straight and strong. Forelegs are straight and strong. Hind legs are muscular, with hocks slightly bent. The feet are small and compact, with arched toes and thick pads. The tail is set high and carried erect. Movement: Swift and very agile, with flowing gait.
Temperament
High-spirited, yet very lovable. American breeders are breeding three different varieties: the Mountain Feist, the Bench-legged Feist and the Pencil-tail Feist. For squirrel hunting, this dog is par excellence. These dogs also take on rabbits, birds and any small game. Make sure you are this dog's firm, but calm, confident, consistent pack leader.
Height, Weight
Height: 10 - 22 inches (26 - 56 cm)
Weight: 10 - 30 pounds (4.5 - 13.5 kg)
Health Problems
--
Living Conditions
--
Exercise
This breed lives to hunt. On days it cannot be taken hunting it needs to be taken on a long walk or jog. If the dog is on a lead it must be made to heel beside or behind the person holding the lead, as in a dog's mind the leader leads the way, and that leader needs to be the human.
Life Expectancy
10 to 15 years
Litter Size
About 5 to 8 puppies
Grooming
The Mountain Feist is easy to groom. An occasional combing and brushing to remove dead hair is all it needs.
Origin
Feist dogs (also spelled in different regions and time periods "fice" or "fyce") were here decades if not centuries before Rat Terriers were brought to America. Abraham Lincoln wrote a poem that mentioned "fice" dogs before the Civil War. George Washington also mentioned the dogs in his diary.
Group
Terrier
Recognition
ACA = American Canine Association Inc.
APRI = American Pet Registry, Inc.
ATFA = American Treeing Feist Association
DRA = Dog Registry of America, Inc.
UKC = United Kennel Club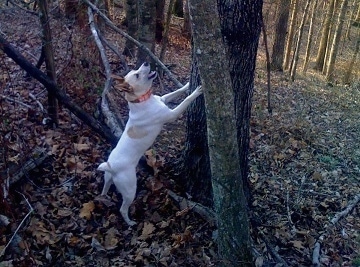 "Bear is an American Feist that has a champion bloodline. He is an outstanding dog with a tremendous future. He is becoming a heavily desired dog at a very young age." Photo courtesy of Mountain Valley Feist Squirrel Dog Kennels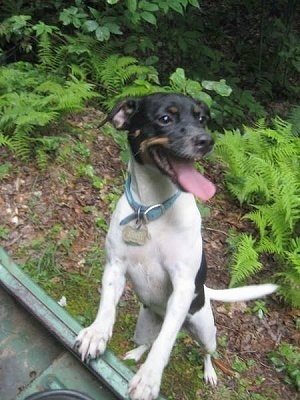 "Grommet is an American Treeing Feist, female, shown here at one year old. She has an unlimited amount of energy, and she loves dogs and people of all kinds. She enjoys playing chase, hunting for something to chase, swimming, digging in the sand, and sleeping under the covers. She is a wonderful pet, and I highly recommend this breed to anyone looking for an active, fun, loving dog. They do require lots of exercise and playtime, preferably with another dog."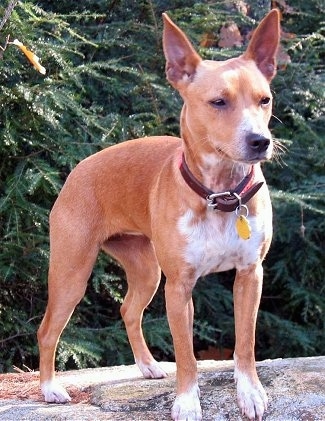 Kentucky Jody (brown and white female) Treeing (aka Mountain) Feist dog, is registered with the National Kennel Club (NKC) and the United Kennel Club (UKC)—"We hunt mostly squirrels with our dogs, but rabbits and game birds as well." Photo courtesy of Treeing (aka Mountain) Feist Squirrel Dogs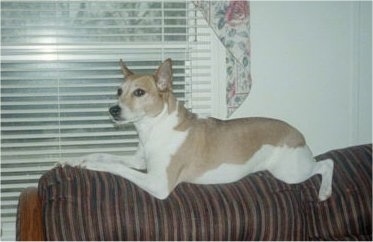 Cricket is a registered Smokey Mountain Feist seen here at 6 years old.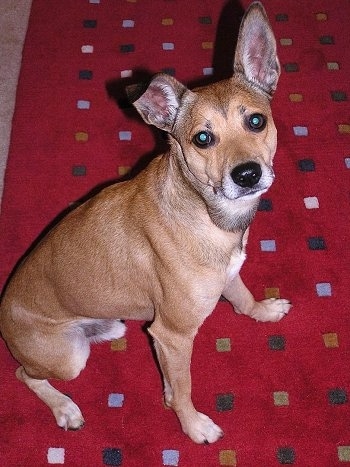 Kodi the Mountain Feist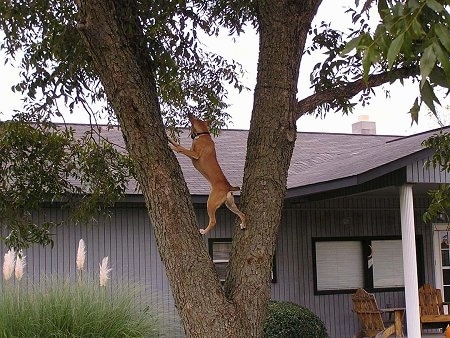 Kodi the Mountain Feist climbing up a tree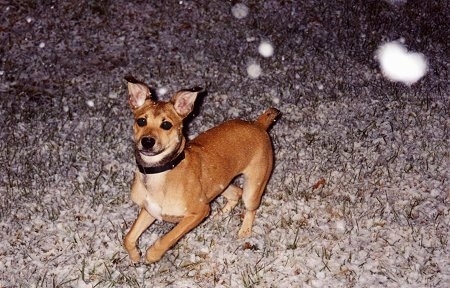 Kodi the Mountain Feist playing in the snow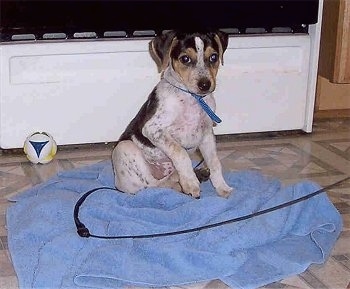 Sally Jo the Mountain Feist puppy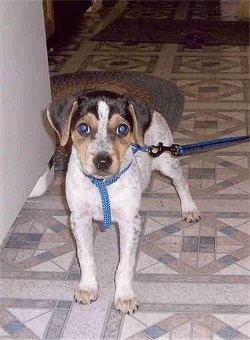 Sally Jo the Mountain Feist puppy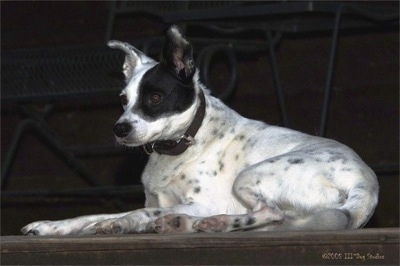 "Pop-i is a rescue. He is a true purebred Treeing Feist who comes unglued at the sight or scent of a squirrel. Unfortunately (fortunately for me) the report of a rifle terrifies him; hence the reason he was discarded. The little man and his girlfriend, y2Katy Doodle Bug, live in the ultimate kennel on a remote farm in the mountains of East Tennessee. Pop-i is now eight years old and possesses the energy level of a puppy. He is social, very athletic and is a master snuggler. He is a gentleman whose only questionable habit is habitually cleaning his girlfriend's ears after having a drink of water. He requires a lot of exercise, enjoys being chased through the house and being hooked to a leash and walked after each meal. He is a fantastic companion, good looking and knows he's good looking. On cool nights I'll wake up to his silky, soft coat cuddled up against me. You'll smile when he enters the room…he is a special little guy."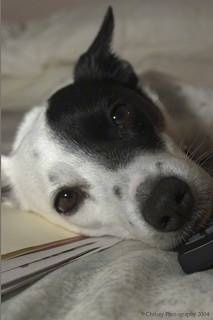 Pop-i the Treeing Feist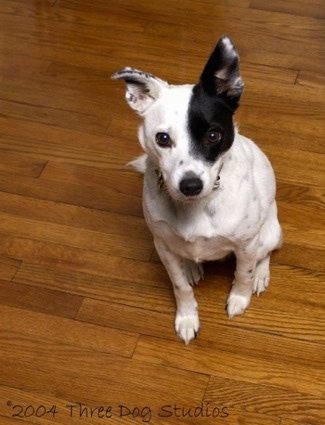 Pop-i the Treeing Feist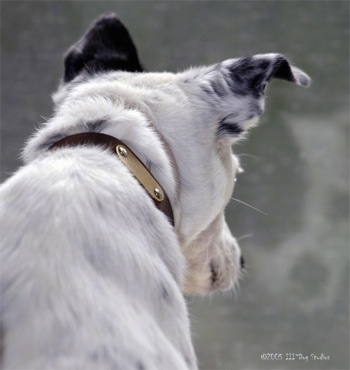 Pop-i the Treeing Feist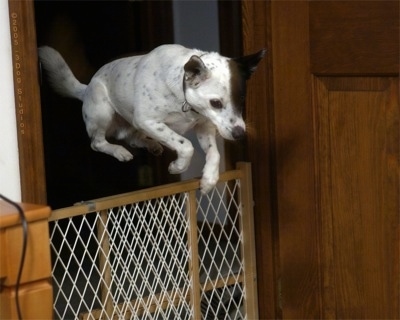 Pop-i the Treeing Feist jumping over a baby gate