List of Hunting Dog Breeds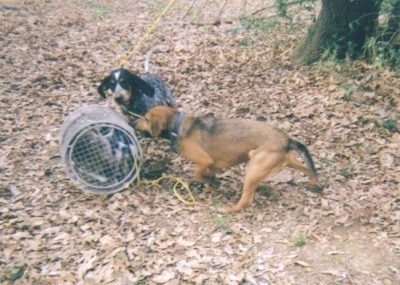 "This is Xerxes, my Bluetick Coonhound at six months old and Loki, my Cur mix. We were training with a roll cage in my backyard in Covington, Georgia."
This is a list of breeds that are often still used for hunting today. Hunting dogs are categorized into hounds, gun dogs, feists, terriers and curs. They are further broken down into scent, sight and tracking dogs. Some of the breeds have more than one of these talents. A lot also make good pets provided they are well exercised. Some hunting lines are bred and raised to be game dogs.
American Squirrel Dog (photo needed)
Bench-legged Feist (photo needed)
Braque D'Ariege (photo needed)
Braque D'Auvergne (photo needed)
Braque Dupuy (photo needed)
Braque Saint-Germain (photo needed)
Braques Francaises (photo needed)
Camus Cur (photo needed)
Epagneuls Picardies (photo needed)
German Pointeraner (picture needed)
Griffon Fauve de Bretagne (picture needed)
Henderson Cur (photo needed)
Hertha Pointer (photo needed)
Istrian Coarse-haired Hound (photo needed)
Kemmer Cur (photo needed)
Pencil-tail Feist (photo needed)
Perdiguero de Burgos (photo needed)
Perdiguero Navarro (photo needed)
Pont-Audemer Spaniel (photo needed)
Portuguese Rabbit Dog (photo needed)
Russo-European Laika (photo needed)
Spaniel de Pont-Audemer (photo needed)
Stichelhaar (photo needed)
Swedish Elkhound (also called Jamthund) (photo needed)
Treeing Farm Shepherd (photo needed)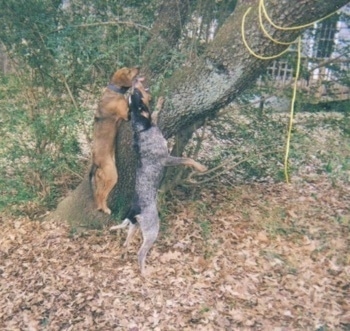 Xerxes, a Bluetick Coonhound at six months old with Loki, a Cur mix treeing a raccoon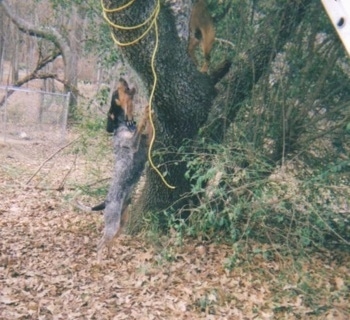 Xerxes, a Bluetick Coonhound at six months old with Loki, a Cur mix treeing a raccoon—Loki is in the tree.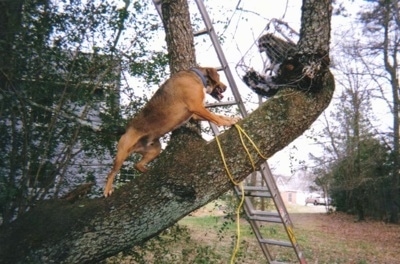 Loki, a Cur mix training with a raccoon in a roll cage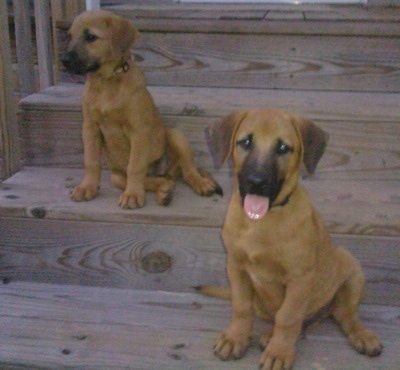 "Spirit (left) and Otto (right) on da job at 11 weeks old! Excellent guard pups, hog hunters and herders! They are half Black Mouth Cur and half German Shepherd! Kickin' butt since 6 weeks old."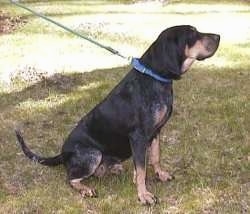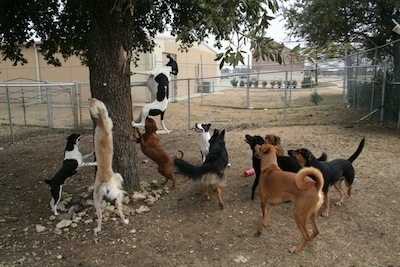 "This is Bonnye Mal (the dog halfway up the tree trunk). She is a 2-year-old Treeing Walker Coonhound. Bonnye was adopted from a local animal shelter when she was about 1 year old after her owner failed to claim her. Bonnye is very sweet and very eager to please and loves attention but isn't too clingy. She will test me on occasion but is easily brought under control. She is on a schedule and prefers to stick to it. For example, on daycare days she is up and ready to go at 6:00 a.m. Otherwise she prefers to sleep in. She is great with children and isn't bothered by my cat."
Other dogs in the picture are as follows, "The black-and-white dog leaning on the tree next to Bonnye is 1/2 Great Dane and 1/2 Pit Bull or maybe Boxer. I don't know her name but she is a very cool dog. The 3-legged dog is a Saluki; he was born with a bum leg so the owners had it amputated when he was pup. There is also a German Shepherd, a Chocolate Lab, Black Lab, and several other mixed breeds. It's a great daycare."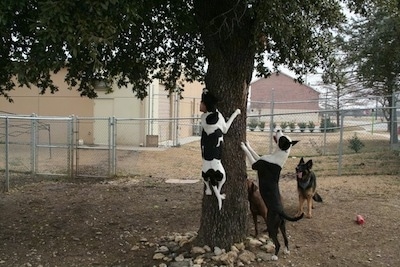 "Bonnye (the Treeing Walker Coonhound who is halfway up the tree trunk) may have had some hunting training before we got her. She bays when she gets on a scent and will tree squirrels. In the pictures that were taken at daycare, she has treed Lucky the resident squirrel who lives in the pecan tree at Bonnye's daycare. Bonnye is teaching her friends how to climb a tree. She goes to daycare twice during the week while I work. She also enjoys the local dog park which is full of squirrels. She has a great happy-go-lucky personality and has been a joy since day 1!"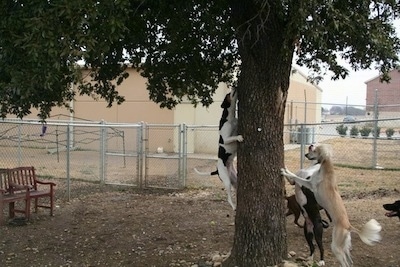 "I watch Cesar Millan every chance I get. His philosophy has worked well for both me and my dog. She is very easy to train even though we are working on a few things. She understands I am the pack leader and so do I—that makes for a healthy and happy relationship. I trust her and she trusts me."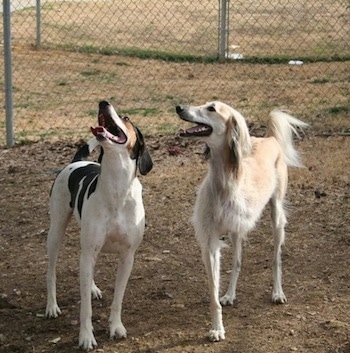 I know that squirrel is up there somewhere!