Cur Dogs
Types of Curs in the Cur Family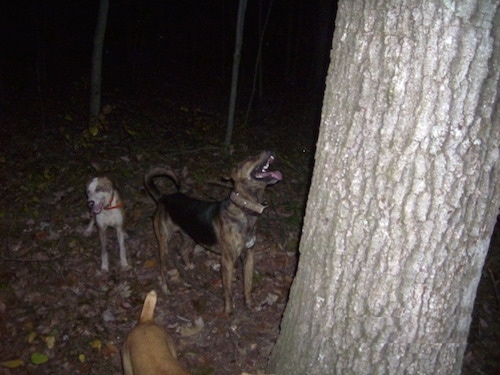 "This is Travs ShotGunin Spied, a NKC and UKC registered Treeing Cur at 13 months old Spied has a raccoon treed in this photo. He is the black/ brindle dog and is training the other two Mountain Curs. Spied trees squirrel in the day and coon at night. Very good hunter and is a silent trailer."
Cur dogs are a group of purebred dogs and their crosses specialized as multipurpose working/hunting dogs from the southern USA. Each Cur breed or type is unique. Curs are usually not recognized as show dogs, but developed solely for their hunting ability. As a result, most of the Cur breeds are types rather than breeds, i.e. one of these dogs can be recognized as a certain type of Cur but the appearance standard is extremely flexible, enough so that a complete breed appearance standard is difficult to create. The name "Cur" means a mongrel dog, and since Curs were developed from a large variety of dogs, that is how they got their name. Cur dogs are not the result of random cross breeding. You cannot "make" a Cur dog. Curs are specialized working dogs bred for ability by breeding the best to the best, based on individual performance and usually regardless of the actual breed. Several kennel clubs do however, register various Cur breeds based on their ancestry (bloodlines), and several lines are recognized within each breed. The United Kennel Club has an active registration program and competition hunting program for these dogs.
The Southwestern cur dogs are usually larger with longer legs with a wider range and strong stock working instincts, used as cow or hog dogs but are also used as treeing dogs.
The curs from the south in areas such as Louisiana and Florida are mostly larger, heavier-boned dogs that have adapted to swamplands. Often used as cow and hog dogs.
The curs from the Southeastern mountains tend to be smaller, shorter and stockier, working in a closer range of the handler and tend to be more tree-oriented.
The cur / hound hybrids generally are taller with larger ears. They have a stronger nose with a wider range than the traditional cur types.
This is a list of Cur breeds and types that have developed over the years.
Camus Cur (picture needed)
Foundation Stock Mountain Cur
Henderson Cur (picture needed)
Texas Cur (picture needed)