Mountain View Cur
Information and Pictures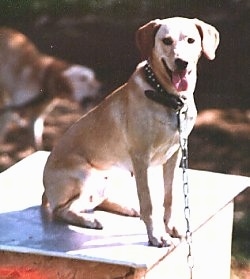 Hall of Fame, 2-time Supreme Grand Reproducing Champion Mountain View Dance, owned by Michael J. Bloodgood, Mountain View Cur Registry
Description
The average Mountain View Cur female is about 35-45 pounds and the average male is 45-55 pounds. Ninety percent are a light blond to a rich dark yellow in color and the other 10% are all brindle, all black, or black and brindle. Almost all have white points on their chest, feet and/or muzzle. About 50% are born naturally bobtailed and the others are docked at a few days old. They differ greatly from the Original Mountain Curs, in that 99% are born without dewclaws on their hind feet and the few that are should have them removed at birth.
Temperament
Mountain View Curs have an outstanding disposition and love kids. They are protective of the property and family, but not overly protective or aggressive. Basically, they have the sense to know when there's trouble and when there's not. People who have these dogs say owning a Mountain View Cur is an enjoyable endeavor for the whole family. They will amaze you daily and will try to please you every way they physically can. As one owner said, he "believed they would cut wood for him if they could."
When hunting, these dogs check in every 20-30 minutes when cast out on raccoon and about half that time on squirrel. They hardly ever need a leash put on because if you're moving through the woods, they will keep you in check until you stop and take a stand. They load and kennel on their own. They make natural rig dogs, winding game hundreds of yards away. Mountain Curs are fast track dogs and swing out on cold tracks and drift with their heads up. About 70% are semi-silent trailers, 20% are silent and about 10% are open trailers on coon. Almost all open trail on big game (bear, lion and hog) and about 99% are totally silent on squirrel track.
Mountains Curs have a clear ringing chop on the tree and many will give a locate bark when they first hit the tree. They are stay-put tree dogs and are known to have the game pinpointed 99% of the time. The Mountain View Cur is a natural straight tree dog, showing very little interest in non-tree game. Unless encouraged, the few that have, have been easily broken from it. Only a strong reprimand is necessary, because they want to please their master.
Even though the Mountain View Cur has been bred for hunting raccoon and squirrel, they have also been used successfully on bear, lion, bobcat, boar, opossum, pheasant, grouse, turkey, rabbit, hare, coyote, and for even herding cattle. Basically if you sick 'em on it, they will get it.
Because of their high intelligence, scenting ability and self-control, there is also great interest in the Mountain View Cur for search and rescue, drug control and law enforcement dogs. The objective in training this dog is to achieve pack leader status. It is a natural instinct for a dog to have an order in its pack. When we humans live with dogs, we become their pack. The entire pack cooperates under a single leader. Lines are clearly defined and rules are set. Because a dog communicateshis displeasure with growling and eventually biting, all other humans MUST be higher up in the order than the dog. The humans must be the ones making the decisions, not the dogs. That is the only way your relationship with your dog can be a complete success.
Height, Weight
Height: 18 - 26 inches (46 - 66 cm)
Weight: 30 - 60 pounds (16 - 29 kg)
Health Problems
A very healthy breed with no known genetic deformities or tendencies.
Living Conditions
Though the Mountain View Cur does make a loving companion, it is not recommended for apartment life. It is bred for hunting and working and will be happiest when in the woods or with a job to do.
Exercise
The Mountain View Cur, though not a hyper breed, is a very active hunting dog, that needs a lot of daily exercise and will thrive best if it haqs a job to do. When this Cur is not out actively hunting it needs to be taken on a daily, long, brisk walk or jog. While out on the walk the dog must be made to heel beside or behind the person holding the lead, as in a dog's mind the leader leads the way, and that leader needs to be the human. In addition, it will benefit from a large, safe area where they can run free. This breed enjoys outdoor activities and sports.
Life Expectancy
About 12-16 years
Litter Size
About 3 to 8 puppies
Grooming
The short hair of the Mountain View Cur is easy to groom. Occasionally comb and brush to remove dead and loose hair. Bathe when necessary, and keep toenails clipped.
Origin
The Mountain View Curs were developed by many years and generations of strict selection and line breedings starting with a strain of Original Mountain Cur. They are named after the kennel name (Mountain View) of the original breeders Michael J. and Marie A. Bloodgood, who developed the breed in the late '80s in an effort to own Curs that could hunt and be outstanding hounds, but would handle much better.
The Mountain View Curs are known today as the purebreds and thoroughbreds of the Cur dog world because of their uniformity as a breed. Many feel they should not be called a "Cur" anymore. "Cur" means dog of unknown origin. But the Mountain View Curs have a known origin.
In 1987 the Mountain View Cur Kennel was formed in Afton, New York, and was owned and operated by Michael J. and Marie A. Bloodgood, now of Bonnieville, Kentucky.
After owning, raising and training some outstanding coon hounds under the Black River Kennel name for many years and finding it harder and harder to find hounds that handled well, the Bloodgoods tried to locate some good Curs that could keep up with, but would handle a little better than their great hounds of that time.
The search for Curs that could fit this bill proved to be a difficult and challenging task. They tried 56 Original Mountain Curs, only finding 6 that they considered to be top tree dogs.
They found that 4 of the 6 were of a certain ancestry and were better reproducers. So they concentrated on these 4 registered Original Mt. Curs: three females and one young male.
One female was removed from the breeding later because she produced ill-tempered male pups, and another female was removed because her pups lacked brains and ability, leaving one exceptional female (Mtn. View Dance) and one exceptional male (Mtn. View Gold Nugget) for the foundation of the Mountain View Curs. That's 2 out of 56 OMCBA-registered Curs. Later, an outstanding male cousin to Mtn. View Gold Nugget (Mtn. View Buckshot) and an outstanding female (Mtn. View KY Lady) were added to the breeding program. Most of the MVCR-registered dogs today carry these dogs in their bloodlines.
Realizing that the Mountain View Curs were unique to the other OMCBA-registered dogs, and so many of the dogs were being out-crossed and exploited, several dedicated owners and breeders including Mr. Bloodgood feared losing this natural treeing family or breed of Mt. Curs.
These eleven founders believed that the Mountain View Curs should be registered as a separate breed and with a registry that would certify tree dogs before they would be used for breeding, and would assure that no other dogs could be registered in the breed.
In April of 1995 the American Squirrel and Night Hunters Assoc. was chosen to hold the registry, but because of policy changes in the ASANHA, the breed advisors felt that the Mountain View Curs should have their own registry with its own policies. So in the fall of 1996 the Mountain View Cur Registry was formed. Their motto is to breed for Quality not Quantity, on Ability not Myth.
Group
Working and hunting dogs
Recognition
APRI = American Pet Registry, Inc.
ASNHA = American Squirrel and Night Hunters Association
DRA = Dog Registry of America, Inc.
MVCR = Mountain View Cur Registry
NKC = National Kennel Club
PKC = Professional Kennel Club
USDR = United Squirrel Dog Registry
WTDA = World Tree Dog Association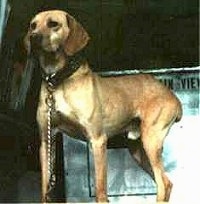 Hall of Fame, 13-time Supreme Grand Reproducing Champion, 2-time National Coon Champion, 1995 Sunshine Mills High Point Dog of the year, 3-time Grand Night Champion Mtn. View Gold Nugget. Photo courtesy of Mountain View Cur Registry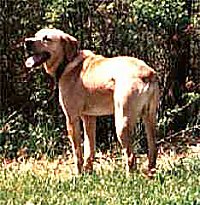 Hall of Fame, 7-time Supreme Grand Reproducing Champion, Kentucky State Champion, Northeastern Classic Hunt Champion, 3-time Night Champion, 3-time Squirrel Champion, 4-time Show Champion Mtn. View Buckshot. Photo courtesy of Mountain View Cur Registry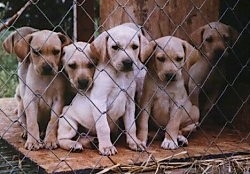 This litter of Mountain View Cur pups shows the uniformity of the breed. Photo courtesy of Mountain View Cur Registry