Old Danish Chicken Dog
Information and Pictures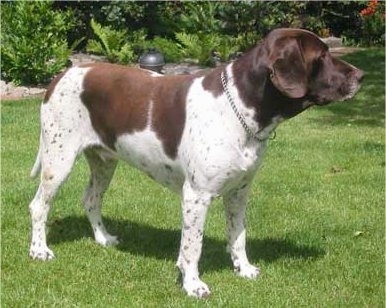 Adult Old Danish Chicken Dog, photo courtesy of Jorgen Bay
Other Names
Gammel Dansk Honsehund
Old Danish Pointe
Old Danish Bird Dog
Old Danish Pointing Dog
Altdänischer Hühnerhund
Ancien chien d'arrêt danois
Pronunciation
--
Description
Liver and white, a small amount of ticking allowed.
Temperament
Hunting dog
Height, Weight
Height:
Male 21–24 inches (54–60 cm) above 22 inches (56 cm) is preferred
Female 20–22 inches (50–56 cm) above 20 inches (52 cm) is preferred
Weight:
Male 66–77 pounds (30–35 kg)
Female 57–68 pounds (26–31 kg)
Health Problems
Some lines can be prone to hip dysplasia, but are usually a very healthy breed.
Living Conditions
The Danish Chicken Dog will do okay in an apartment if sufficiently exercised. They are moderately active indoors and will do best with at least an average-sized yard.
Exercise
This breed needs to be taken on a daily walk.
Life Expectancy
About 12 to 14 years
Litter Size
About 4 to 6 puppies
Grooming
The smooth, short-haired coat is easy to groom. Comb and brush regularly with a firm, bristle brush. Bathe or dry shampoo only when necessary. These dogs are average shedders.
Origin
Denmark
NOTE: The Danish Chicken Dog should not be confused with the Danish/Swedish Farmdog . The Danish/Swedish Farmdog and the Old Danish Chicken Dog are two entirely different breeds. This was mistakenly published in the Bruce Fogle's Encyclopedia of the Dog; the Farmdog was never known as the Chicken Dog. The book has the Danish/Swedish Farmdog listed under the name Old Danish Chicken Dog and has the true Old Danish Chicken Dog named as the Old Danish Pointer. In the Danish world, there is no confusion; the confusion existing only among non-Danish speakers. Websites often make the confusion (including those of breeders), but it doesn't happen on Danish websites. The reason being that Bruce Fogle's Encyclopedia of the Dog is the only English language dog breed book which has the Danish/Swedish Farmdog pictured and described, but has it listed as Danish Chicken Dog. This has caused the confusion in the English speaking (and reading) world. Danish: hoensehund (hønsehund) – "hoense" means hen (a female chicken); –"hund" means dog.
Group
Gun Dog
Recognition
ACA = American Canine Association Inc.
DRA = Dog Registry of America, Inc.
FCI = Fédération Cynologique Internationale (pending)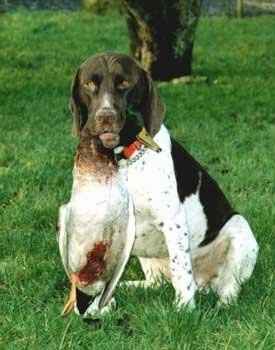 Old Danish Chicken Dog with a duck in its mouth, photo courtesy of Jorgen Bay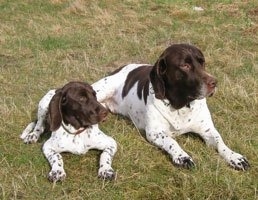 Old Danish Chicken Dogs, photo courtesy of Jorgen Bay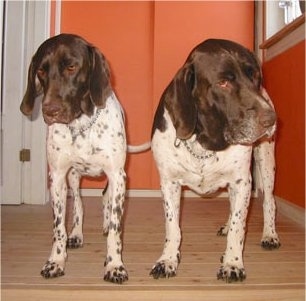 Old Danish Chicken Dogs, photo courtesy of Jorgen Bay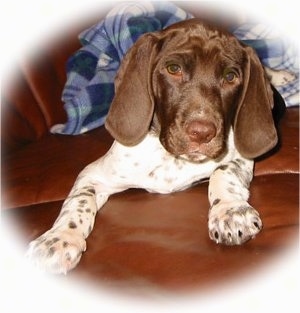 Old Danish Chicken Dog puppy, photo courtesy of Jorgen Bay