Petit Bleu de Gascogne
Information and Pictures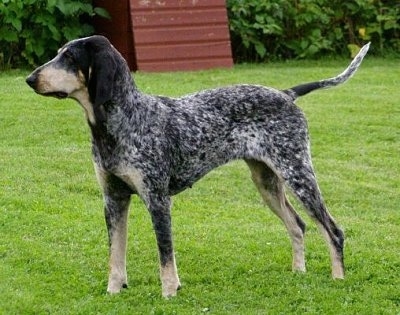 J WW2003, EST&BALT JW2003, EST JCH Tacoma Du Grand Veilly, owned by Hedvig Tahlfeldt, Kennel Hanging Around
Other Names
Small Blue Gascony Hound
Pronunciation
--
Description
The Petit Bleu de Gascogne has a thick, dense coat. The ears are low set, thicker and less curled than its cousin the Grand Bleu de Gascogne. The long head is refined looking. The chest is deep, providing ample space for the large lungs. The forelegs are surprisingly strong in relation to the rest of the body. The thighs are flat but have powerful muscles. The feet are oval and fairly long with black pads and tan hair.
Temperament
The Petit Bleu de Gascogne has a superior nose and is an excellent hound that can follow the faintest of scents. Resourceful and determined, this breed is usually not easy to obedience train. It gets along extremely well with other dogs. It needs a firm, but calm, confident and consistent pack leader who provides the proper amount of mental and physical exercise and who sets the rules of the home and sticks to them.
Height, Weight
Height: 20 - 23 inches (50 - 60 cm)
Weight: 40 - 48 pounds (18 - 22 kg)
Health Problems
--
Living Conditions
This breed is not recommended for apartment life.
Exercise
The Petit Bleu de Gascogne needs to be taken on a daily, brisk, long walk or jog. While out on the walk the dog must be made to heel beside or behind the person holding the lead, as in a dog's mind the leader leads the way, and that leader needs to be the human. He loves a good run and needs a lot of exercise. However, if he picks up an interesting scent, you may find it difficult to get his attention. This breed has an incredible level of stamina and can walk for hours on end. They would greatly enjoy hiking with you, but keep in mind their urge to investigate any interesting scent. If under-exercised, this breed can become restless and destructive.
Life Expectancy
About 12 years
Grooming
The smooth shorthaired coat is easy to look after. Brush with a firm bristle brush, and bathe with mild soap only when necessary. Dry shampoo occasionally. Be sure to check the ears carefully for signs of infection and keep the nails trimmed. This breed is an average shedder.
Origin
This breed was created through selective breeding of the Grand Bleu de Gascogne for smaller size, in order to hunt small quarry. Its country of origin is France. It is rarer than its cousin the Grand Bleu de Gascogne.
Group
--
Recognition
ACA = American Canine Association Inc.
DRA = Dog Registry of America, Inc.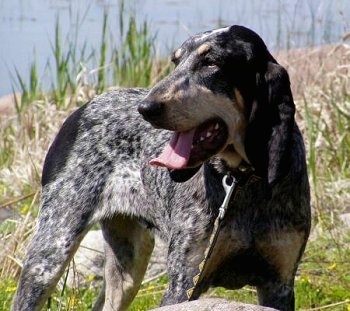 J WW2003, EST&BALT JW2003, EST JCH Tacoma Du Grand Veilly, wned by Hedvig Tahlfeldt, Kennel Hanging Around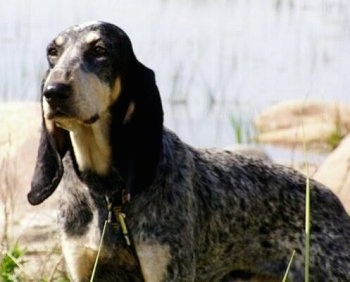 J WW2003, EST&BALT JW2003, EST JCH Tacoma Du Grand Veilly, owned by Hedvig Tahlfeldt, Kennel Hanging Around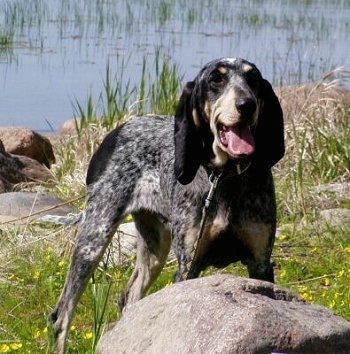 J WW2003, EST&BALT JW2003, EST JCH Tacoma Du Grand Veilly, owned by Hedvig Tahlfeldt, Kennel Hanging Around