Pugese
Chinese Crested / Pug Hybrid Dogs
Information and Pictures
"Klaus-Oleg the Chinese Crested x Pug hairless puppy shown here at 6 months old weighing around 9 - 10 lbs. She has found her voice. She is a very good 'security guard'. She frightened a burglar away even though she is tiny. She has a big dog bark.... lol."
Description
The Pugese is not a purebred dog. It is a cross between the Chinese Crested and the Pug. The best way to determine the temperament of a mixed breed is to look up all breeds in the cross and know you can get any combination of any of the characteristics found in either breed. Not all of these designer hybrid dogs being bred are 50% purebred to 50% purebred. It is very common for breeders to breed multi-generation crosses.
Recognition
ACHC = American Canine Hybrid Club
DBR = Designer Breed Registry
DDKC = Designer Dogs Kennel Club
DRA = Dog Registry of America, Inc.
IDCR = International Designer Canine Registry®
Zeniba the Pugese (Pug / Chinese Crested mix) puppy at 9 weeks old—"Zeniba is a Pugese Powder Puff female. A great mix between a Pug and a Chinese Crested. In this photo I gave her a 'powder puff' clip which just shaves the face/neck area clean. Her dam is a pure Pug, her sire a pure Hairless Chinese Crested. She came from a litter of 6 puppies, 4 of which were hairless the other 2 were fully furred."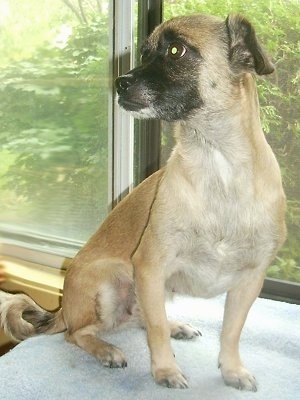 Musia the Pugese (Chinese Crested / Pug mix breed dog) at 3 years old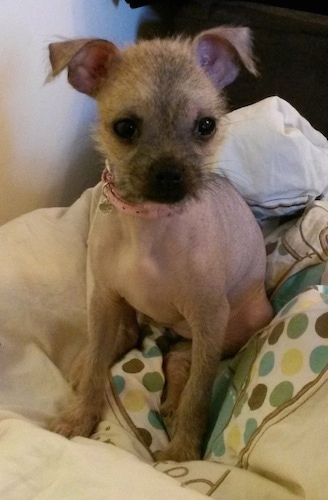 Klaus-Oleg the Pugese at 4 1/2 months old—"Klaus-Oleg is very intelligent but also very needy of human company. She hates being left alone. She is hairless and does suffer some mild allergies. As a 4-month-old puppy she is 2.5 kgs (5 1/2 pounds) and expected to grow to no more than 3.5 kgs (8 pounds). Klaus will bark if someone knocks on the door but is otherwise a quiet dog. She adores kids and other animals and is very playful and easy to train using rewards. She was very easy to housetrain."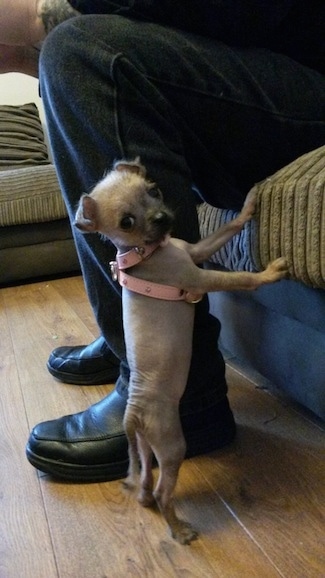 Klaus-Oleg the Pugese at 4 1/2 months old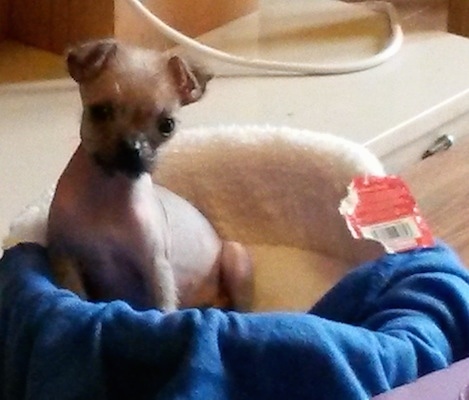 Klaus-Oleg the Pugese at 4 1/2 months old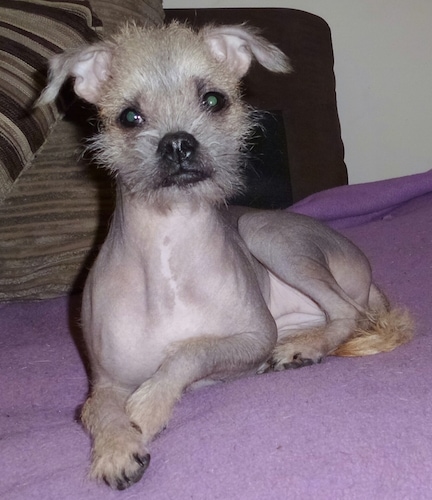 Klaus-Oleg the Pugese (Pug / Chinese Crested mix breed dog) at 6 months old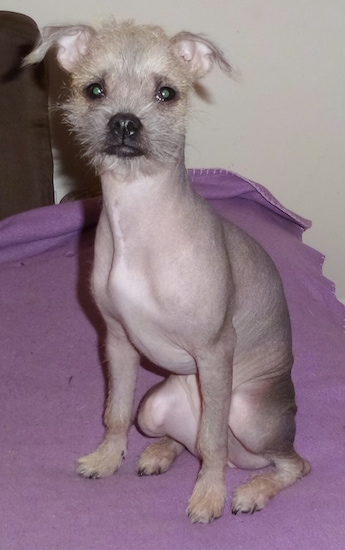 Klaus-Oleg the Pugese (Pug / Chinese Crested mix breed dog) at 6 months old