Chinese Shar-Pei Pictures
(Shar-Pei)
Page 2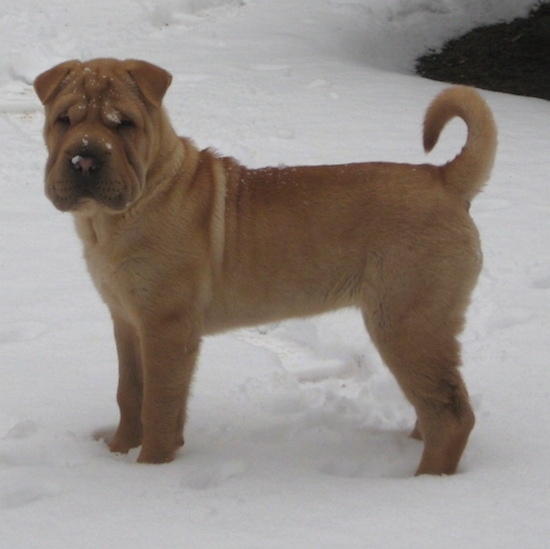 This is our wonderful Chinese Shar-pei, Io. (io, like Zeus' girlfriend, not Lo.) She is such a happy, good-hearted girl, eager to please, and very silly and comical! She lives here in central Ohio with me and my spouse, my parents, a stern Chihuahua named Trixie, a sweet French Bulldog named Baby, and many kitties! A full happy home! We got her when she was 8 weeks. She has grown so fast, and she has really made our home complete! We love her so much, and she makes it very clear she loves us too! This picture was taken when she was about 3 months old, playing in her first big Ohio snow! She had a blast and was totally hilarious, and with that dignified yet comical Shar-Pei face!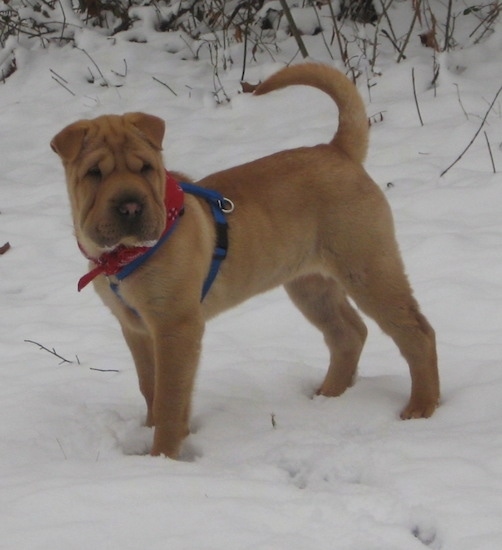 Io the Shar Pei as a puppy at about 3 months old playing in the snow!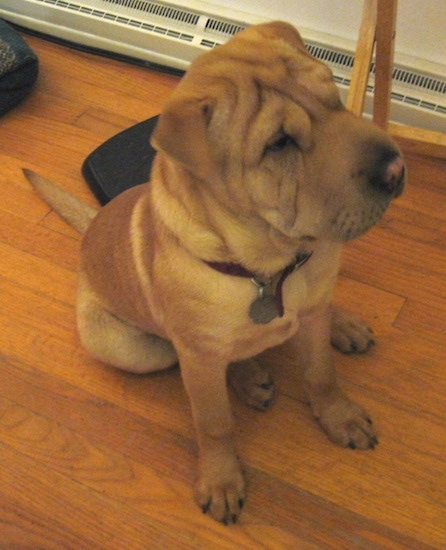 Io the Shar Pei as a puppy at 5 months old watching TV - it is funny how much she watches it! Even commercials.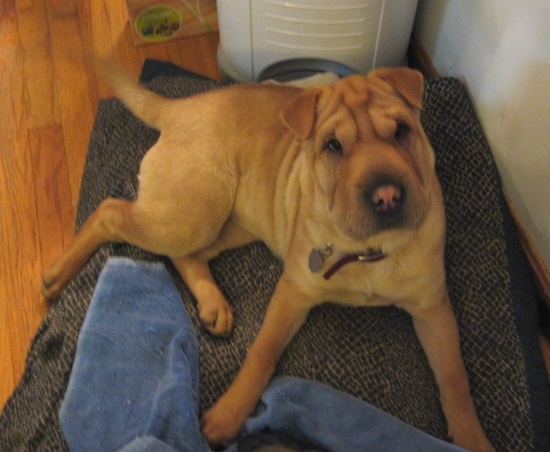 Io the Shar Pei as a puppy at 5 months old laying on her bed wondering what I am doing with that camera.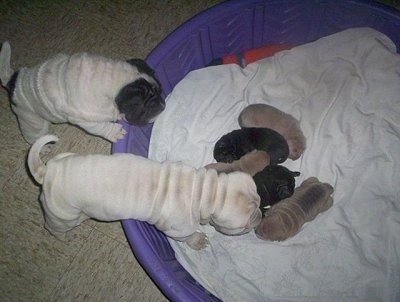 Chinese Shar-Pei puppies— "We have had Shar-Pei as a hobby for 24 yrs. They are part of our family. The platinum/white puppy is Lilly and the black flowered is Rusty. They are great babysitters and are looking out for the new litter we have now. They were born and raised at our home, here in Texas. They will remain with us throughout their life. They are what make our days happy and joyful. They are great puppies and very joyful." Photo courtesy of Hrabal Dogs of Texas, APRI-registered Chinese Shar-Pei puppies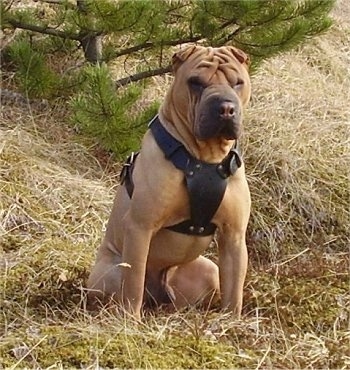 "Ursus, my 3-year-old Shar Pei—we live in Iceland, where there is a lot of space for dogs to run wild and exercise!!"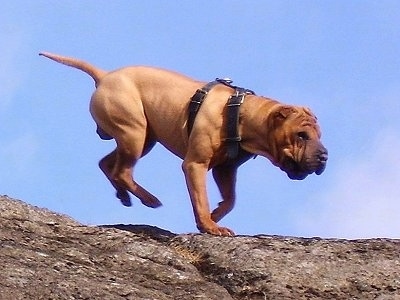 Ursus the Shar-Pei at 3 years old on the move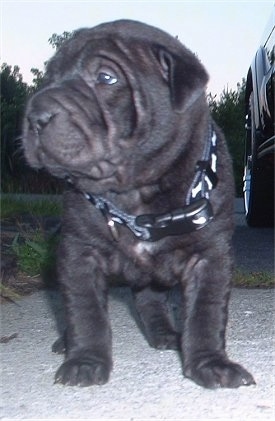 Rupert the black Chinese Shar-Pei as a puppy at 5 weeks old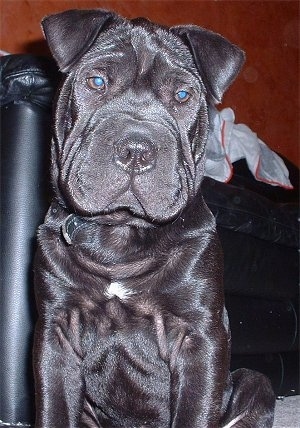 Rupert the black Chinese Shar-Pei as a puppy at 3 months old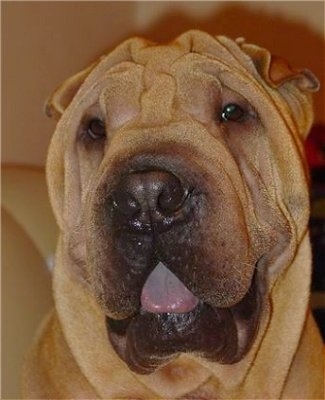 2-year-old Shar-Pei Bero nuo Babrungo (Boomer), Kaunas (Lithuania)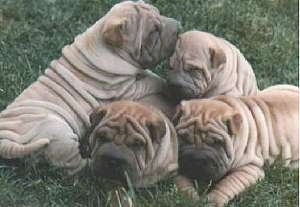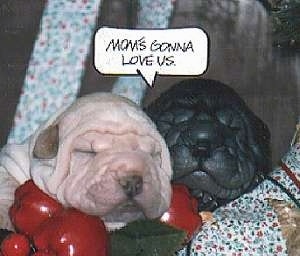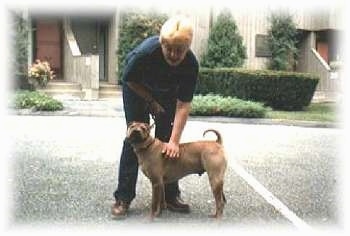 Chester the Shar-Pei and Anne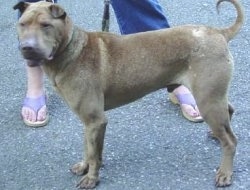 Roger the Shar-Pei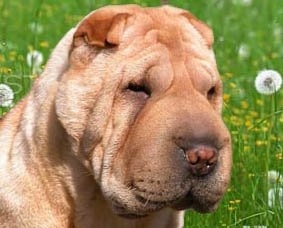 Chernyi Chizh Ninka Kak Kartinka, National Russian Club Champion 2005, Photo courtesy of Chernyi Chizh Shar Pei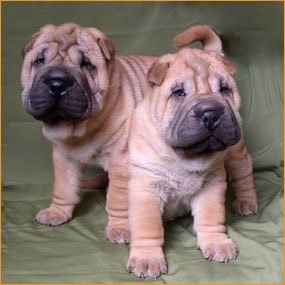 Shar-Pei puppies photo courtesy of Chernyi Chizh Shar Pei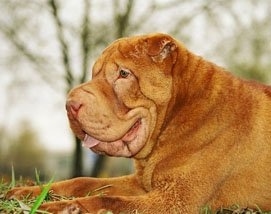 Chernyi Chizh Gargantua photo courtesy of Chernyi Chizh Shar Pei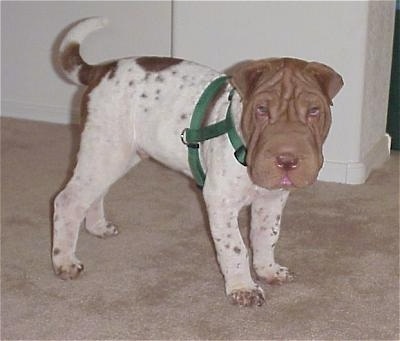 Four-month-old Chuey is a flowered Shar-Pei who lives in Madison, WI. (AKC standard for Shar-Pei lists the flowered, spotted or parti colored Shar-Pei coat as a disqualifying fault in the show ring.)
Chuey the flowered Shar-Pei as an adult