Love Those Mutts
Pictures of Mixed-Breed Dogs
Page 3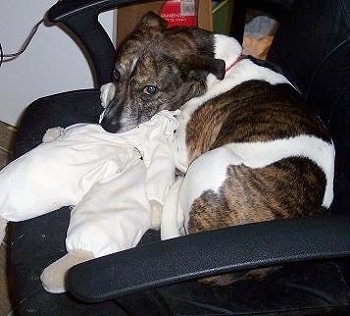 "This is Stanley with Bobo (the white teddy bear). Stanley's mom was a Min Pin / Rat Terrier mix, and his father was a Pit Bull. He's seven years old and belongs to my 15-year-old daughter. So does Bobo, the teddy bear; she's had Bobo all her life. The three of them are almost inseparable; she watches TV and surfs the 'net with Bobo and Stanley in her chair with her, sleeps with them, they go nearly everywhere she goes. When she does go somewhere they can't go, Stanley mopes until she comes home."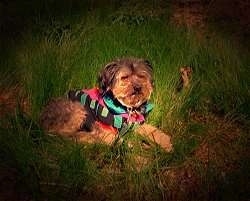 This is Benji. He is 17 years old. This picture was taken a few years ago when he and his owner were backpacking in the mountains. Benji is a mixed breed and looks somewhat like a Tibetan Terrier. His owner says, "He certainly is one of the smartest dogs I ever seen. Benji adopted my family and trained us how to be good dog owners. I would never have had a dog if I had my way, but he was too smart for me."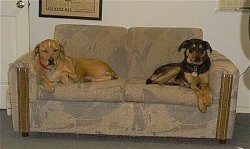 Rommel (left ) a Vizsla mix (?) and K.C., a mutt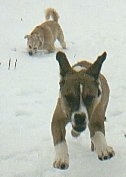 Paige, a Pit Bull Terrier mix (front) and Bailey, a terrier mix (back)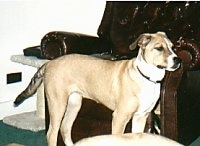 Paige the Pit Bull Terrier mix all grown up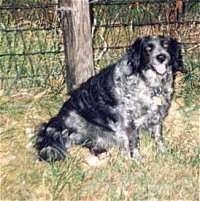 Dee Dee, a 7-year-old bird dog mix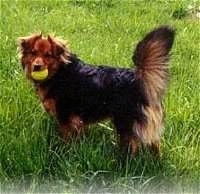 Hanna, a Border Collie or Aussie mix(?)—she herds cows and her Beagle brother.
This is Emma, a yellow Lab / Rottweiler mix and Zoie, a German Shepherd / Husky mix. Zoie is in training to be pet partners (therapy dog and handler). Emma is still too young to go to work.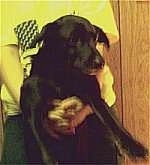 Labrador / Husky mix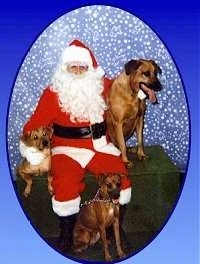 Rusty the Rhodesian Ridgeback / Lab mix (left), Ralphy the Rhodesian Ridgeback / Bull Mastiff (left), Lucy the Rhodesian Ridgeback / unknown mix (front)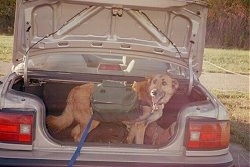 Sidnee, an 11-year-old Shepherd mix adopted from a pound over 10 years ago, has boundless energy and loves to go on walks. This photo was taken after one such walk. (No, he does not ride in the trunk; he jumped in and photo was snapped.)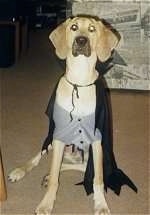 Jake, a Bloodhound / Lab mix
Dog DNA Tests