Love Those Mutts
Pictures of Mixed-Breed Dogs
Page 11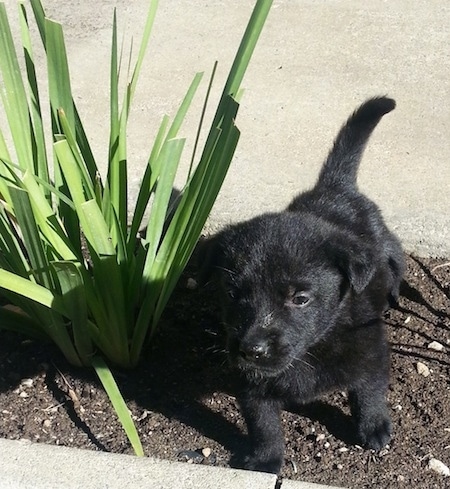 Otis the Labrador Retriever mix as a puppy the day he was adopted—"Otis is a Lab mix. When we got him we were informed he was about 7 weeks old, but we think he was much younger at about 5 weeks. Training so far has many ups but still working on some. After only 2 weeks with us he sits when told to and waits to start eating until invited or told to do so. If he has to go potty and happens to be inside he notifies us. He is also crate trained. We are working on trying to get him to stop eating things that are not food. He occasionally puppy bites, but that has improved."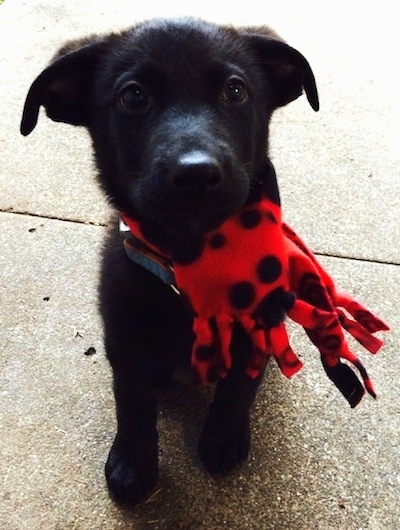 Otis the Labrador Retriever mix as a puppy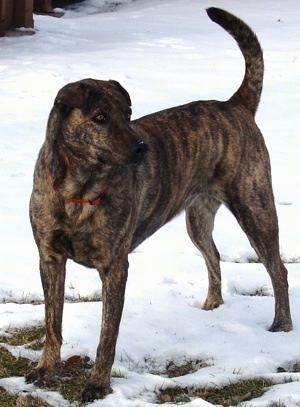 "This is my dog, Splash. Her mom was a Shar-Pei and according to the DNA lab, Canine Heritage, her dad was a mix of Dalmatian and Lab. She was a rescue dog. We found her at a Colorado Rockies Baseball game when they had "Adopt-a-Pet Sundays," bringing in dogs from local shelters. She was 8 months old and had been there for 4 months because her owner had to give her up to go to Iraq. I thought she was beautiful. They said that she was hard to adopt out because of the Shar-Pei. Apparently they can be feisty. She is almost 5 now. We had her DNA tested because she was so bizarre-looking and our vet was curious. She is a runner and often entices a pack of dogs to chase her at the dog park. It is quite a sight to see them running free in a pack like dogs should be able to. Shar-Peis hate water, but the Labs love it. She runs into the water and then stops when it gets up to her doggy armpits. She is not a swimmer! She also gets 4 walks a day and goes to the office with me where she has three cat companions. She also has two cats at home and is respectful with them so not to get swatted or hissed at. She may be bizarre, but we love her."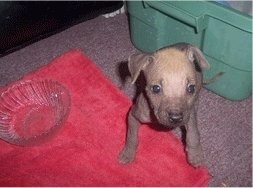 Mexican Hairless Dog / Bullmastiff mix puppy at about 8 weeks old—"I have a Mexican Hairless Dog (toy breed) that is about 5 pounds that has bred with my sister's 75-pound Bullmastiff. My sister didn't think they could breed and then she walked outside one day and saw them in the middle of their business and sprayed them with the hose.... I guess it was TOO LATE!! Unfortunately the female was the small dog; on the positive side she has successfully delivered 6 healthy puppies without harming herself or the puppies. She refused to feed the puppies so we bottle fed them all. They are the craziest looking puppies!"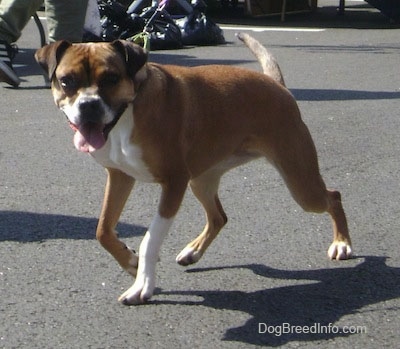 Adult Boxer mix dog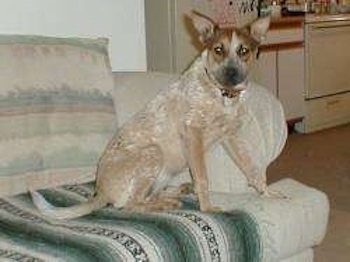 This is Dixi AKA Doodamiss, Doodlebug, Doofus. She is a 6-month-old Red Heeler / Rat Terrier mix. Her owners got her from a puppy rescue and state, "She was the best Christmas present my husband ever got me."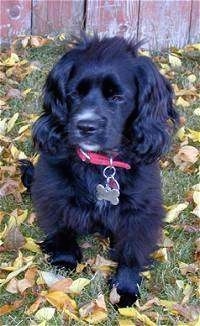 This is 7-month-old Ira. His owner managed to catch him in one of his rare moments of stillness. Ira's mommy was a Cockapoo and his daddy was a Wire-haired Terrier. As far as personality goes, he definitely takes after his daddy!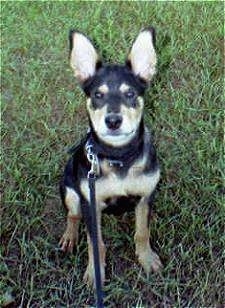 Cleo the pretty girl...she's part Rottweiler and German Shepherd shown here as a puppy.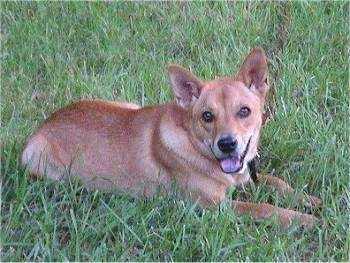 Sadie the Shiba Inu / Cardigan Welsh Corgi mix—Sadie likes to explore the wilderness for a couple hours if given the chance to sneak out.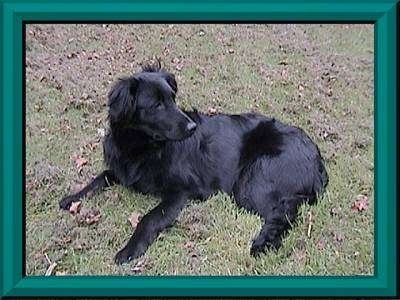 Kai, a four-month-old Great Pyrenees mix(?)
Dog DNA Tests