Dogs Named Rascal
Rascal the Schnocker (Miniature Schnauzer / Cocker Spaniel hybrid dog)—"I found this little guy in the middle of the road. He seemed lost and afraid so I brought him home so he wouldn't get hit by a car. He has been my little shadow ever since. He is a very sweet, cuddly dog and a complete mooch. He is also very smart and quick to learn. He escaped one day about 2 months after I found him and went back to his old home. They called me and told me his story and told me to keep him. They said his mom was a Cocker Spaniel and his dad was a Mini Schnauzer. Something interesting about him is he was the only dog with short hair in the litter! He is only one year old. I was happy to learn what he was. He is a great dog. He is very athletic, too; he can jump straight up the back of the couch and likes to jump straight up into the air just to kiss my face. He can jump over a fence, too, which I think is why his owners gave him up. I can definitely see both the Cocker and the Schnauzer in his personality; he is the perfect mix between the two."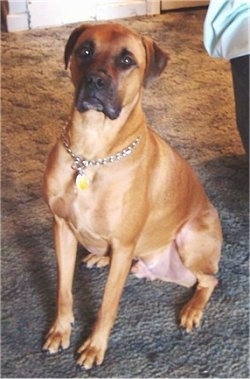 Rascal, an F2 (second generation) Boxweiler, meaning Rascal's parents were both Boxweilers. Rascal is Bear's son. Bear is a Boxer / Rottie mix (F1 first generation hybrid) and was bred to another F1 first generation Boxer / Rottie hybrid.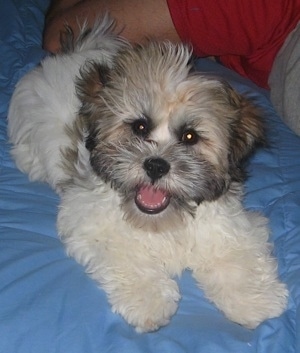 "This is Rascal the Zuchon (Bichon / Shih Tzu mix) puppy at 4 months old. He enjoys taking long walks and meeting new friends at the park. He also loves lots of attention and when people say how cute he is. Some of his favorite things to play with are cardboard, any kind of paper products and socks. He is always in a great mood, but can be a rascal at times."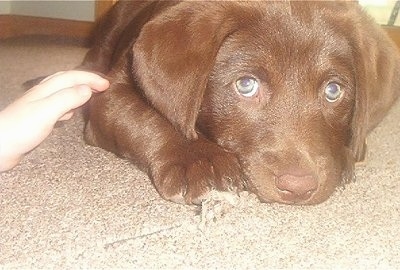 "Princess Baby Rascal is registered through the American Canine Hybrid Club as a Chesador. She is a fun-loving dog with a very eager-to-learn attitude. She is very smart. Housebroken at 3 months. At 5 months she will retrieve. Also she is very calm around children. Her dad is Chesapeake Bay Retriever and mom is a Labrador Retriever."