American Pit Bull Terrier Pictures
Page 4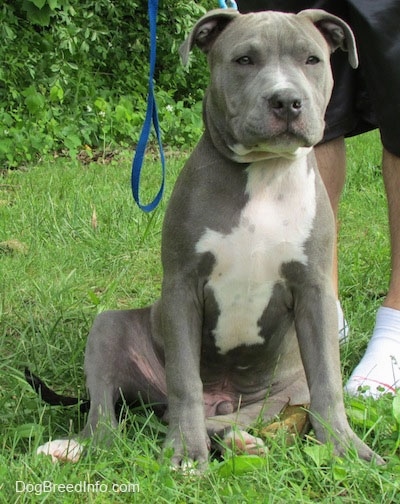 Blue the blue-nose American Pit Bull Terrier puppy at 3 1/2 months old
Other Names
Pit Bull
Pitbull
Pit
Pit Terrier
Half and Half
Staffordshire Fighting Dog
Bull Baiter Dogs
Old Family Dog - the Irish name
Yankee Terrier - the Northern name
Rebel Terrier - the Southern name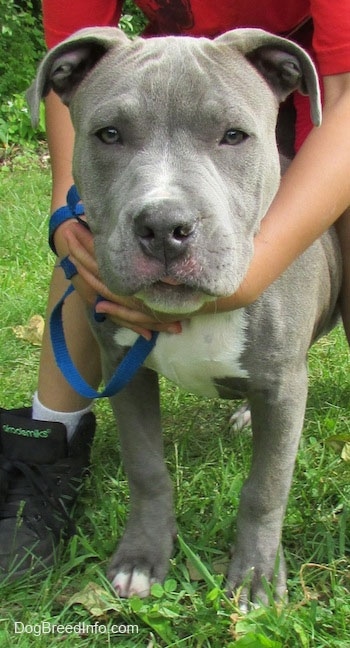 Blue the blue-nose American Pit Bull Terrier puppy at 3 1/2 months old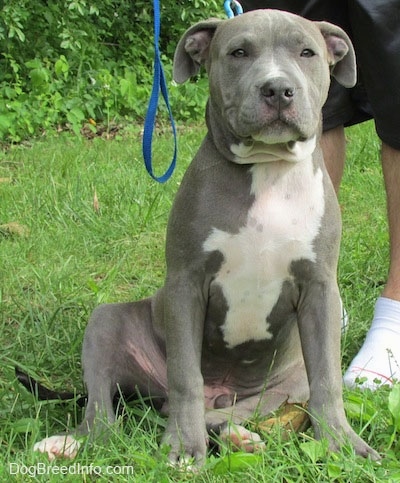 Blue the blue-nose American Pit Bull Terrier puppy at 3 1/2 months old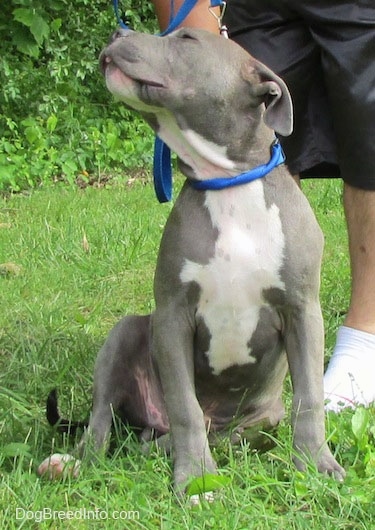 Blue the blue-nose American Pit Bull Terrier puppy at 3 1/2 months old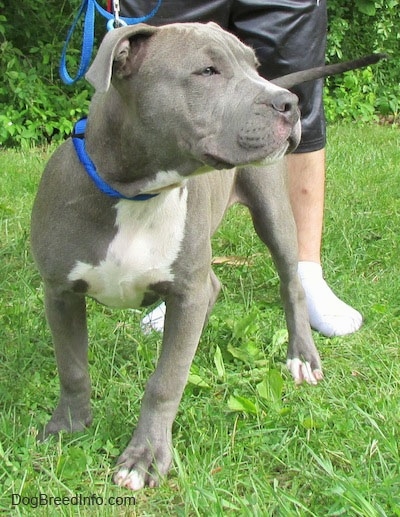 Blue the blue-nose American Pit Bull Terrier puppy at 3 1/2 months old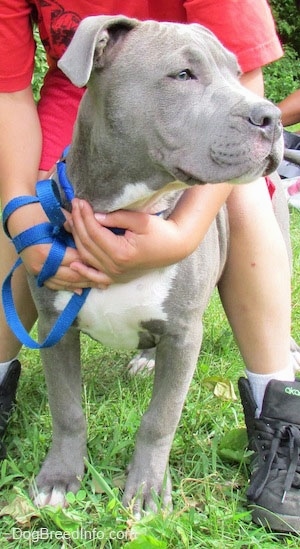 Blue the blue-nose American Pit Bull Terrier puppy at 3 1/2 months old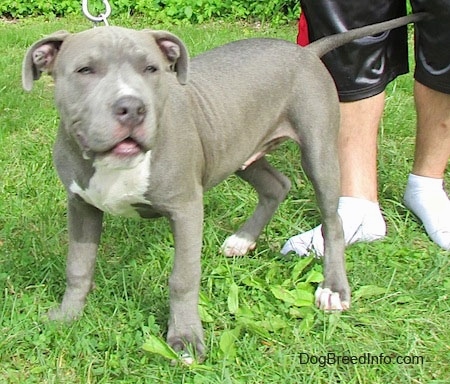 Blue the blue-nose American Pit Bull Terrier puppy at 3 1/2 months old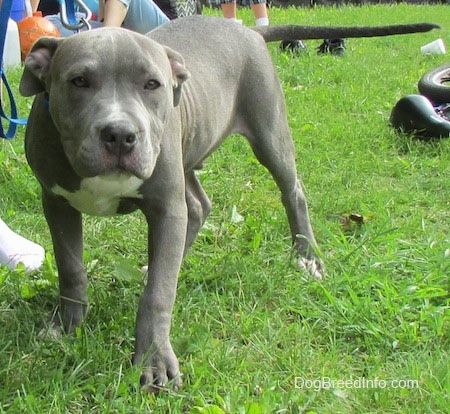 Blue the blue-nose American Pit Bull Terrier puppy at 3 1/2 months old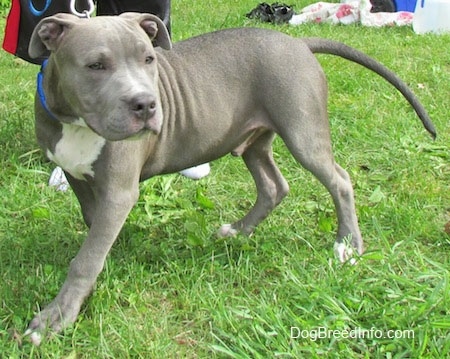 Blue the blue-nose American Pit Bull Terrier puppy at 3 1/2 months old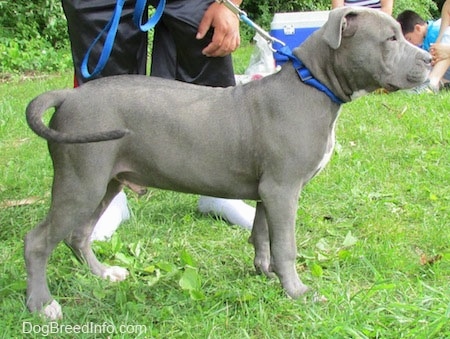 Blue the blue-nose American Pit Bull Terrier puppy at 3 1/2 months old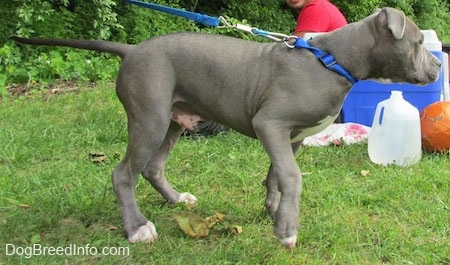 Blue the blue-nose American Pit Bull Terrier puppy at 3 1/2 months old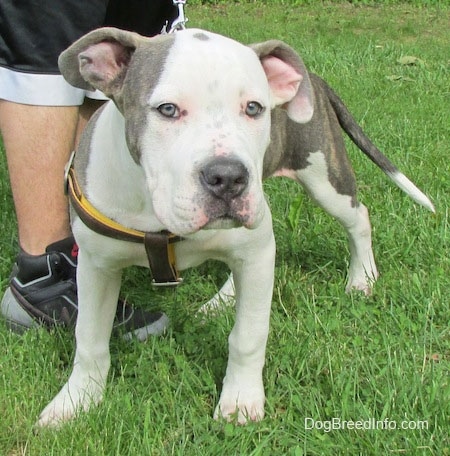 Rocky the blue and white American Pit Bull Terrier puppy at 3 1/2 months old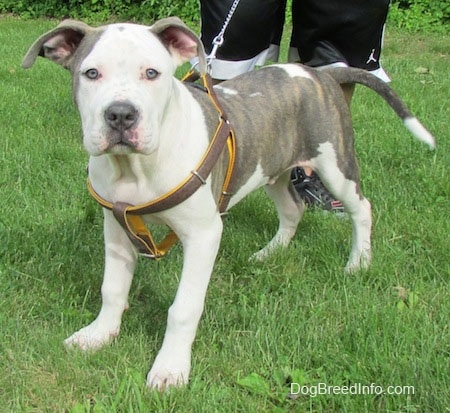 Rocky the blue and white American Pit Bull Terrier puppy at 3 1/2 months old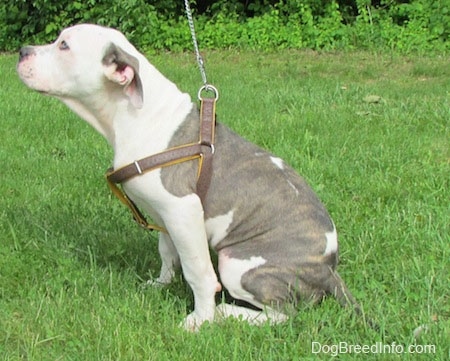 Rocky the blue and white American Pit Bull Terrier puppy at 3 1/2 months old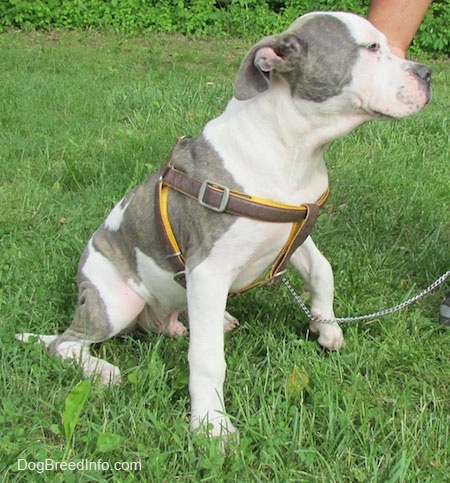 Rocky the blue and white American Pit Bull Terrier puppy at 3 1/2 months old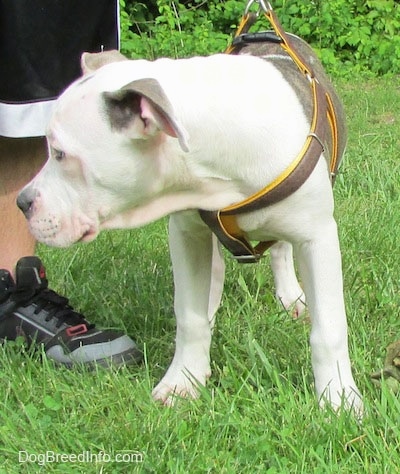 Rocky the blue and white American Pit Bull Terrier puppy at 3 1/2 months old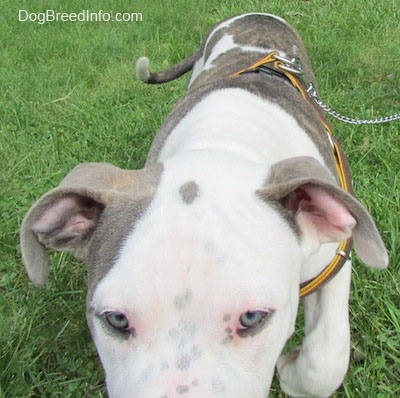 Rocky the blue and white American Pit Bull Terrier puppy at 3 1/2 months old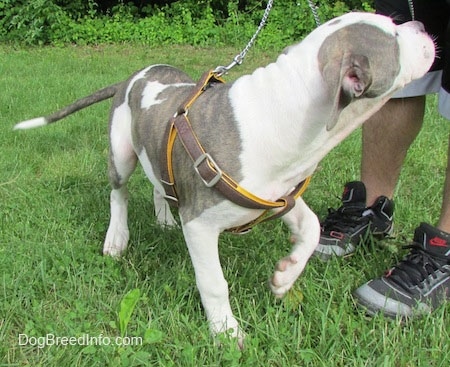 Rocky the blue and white American Pit Bull Terrier puppy at 3 1/2 months old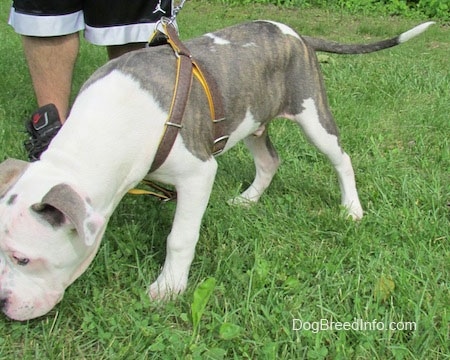 Rocky the blue and white American Pit Bull Terrier puppy at 3 1/2 months old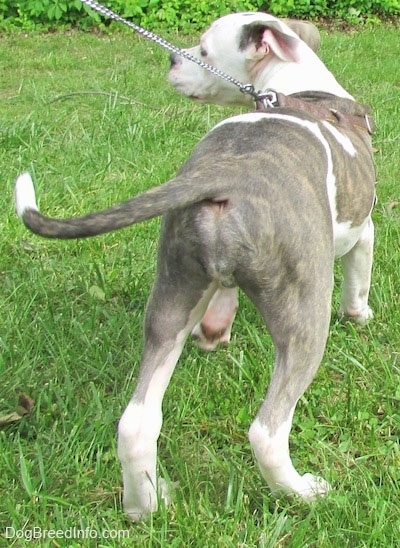 Rocky the blue and white American Pit Bull Terrier puppy at 3 1/2 months old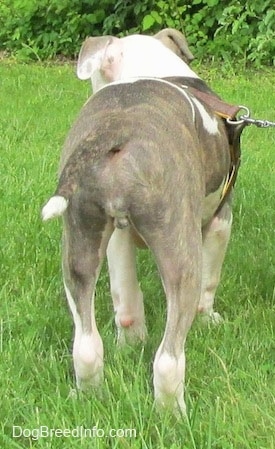 Rocky the blue and white American Pit Bull Terrier puppy at 3 1/2 months old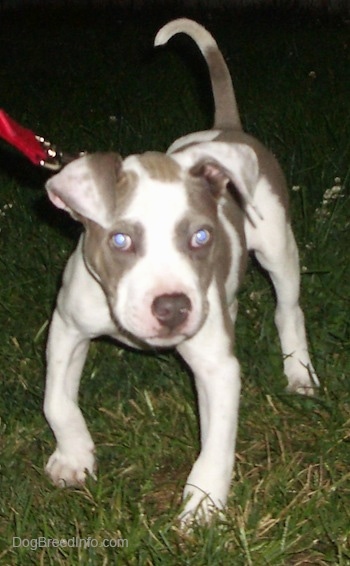 This is King Kane the Pit Bull puppy at 10 1/2 weeks old. He has a deformity where is right leg curves in, but it should straighten as he grows.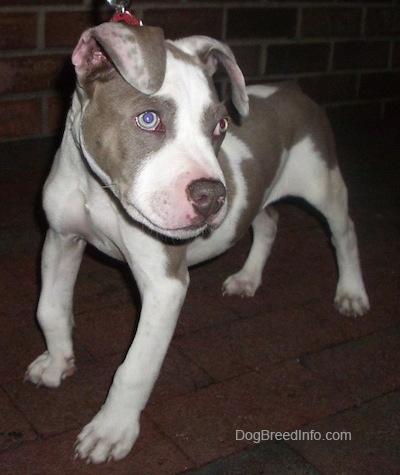 King Kane the Pit Bull puppy at 10 1/2 weeks old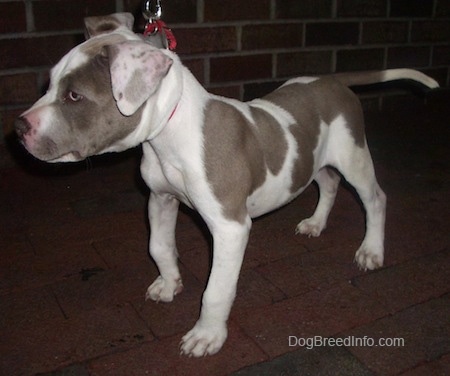 King Kane the Pit Bull puppy at 10 1/2 weeks old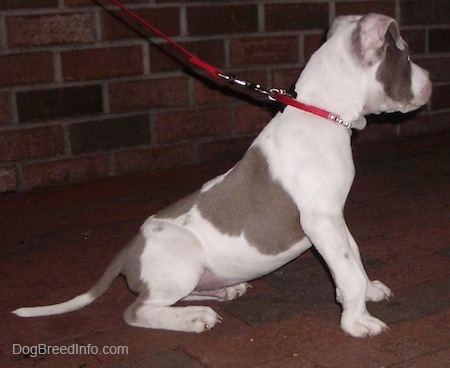 King Kane the Pit Bull puppy at 10 1/2 weeks old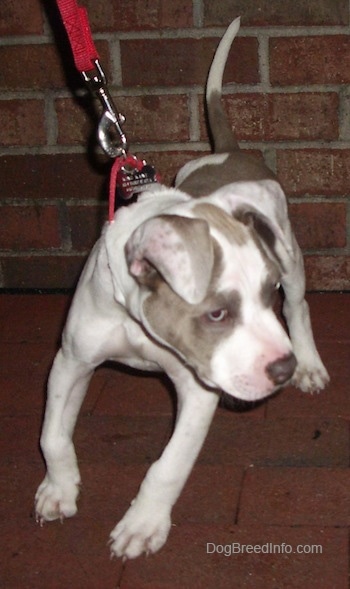 King Kane the Pit Bull puppy at 10 1/2 weeks old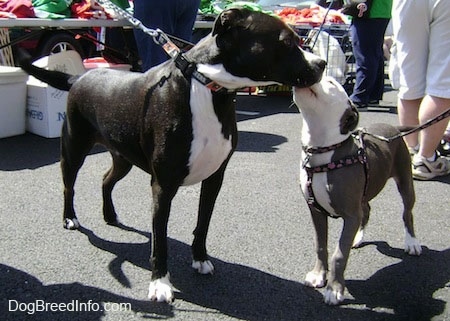 The size of an adult Pit Bull can vary greatly.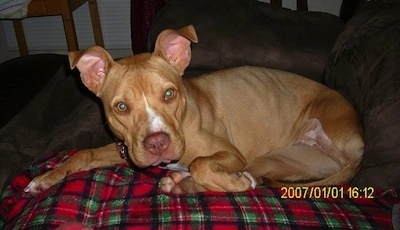 "This is Tilly, my red American Pitbull Terrier at 1 year old. As you can see in her picture she has 3 legs and she has a story. Tilly was abandoned at my work (I'm a vet tech at an animal hospital). She was attacked by another dog when she was about 4 months old and her previous owner didn't have a plate put in her leg like she should have. She came to pick her up from my work and brought along Tilly's sister Pigglett just for a ride.... After picking her up about 30 minutes later they both were returned by strangers. Tilly's sister had mangled feet and Tilly had glass in her; we were told that they were in a truck and her sister's feet landed in the motor of the car. Their owner only visited once after the wreck and gave a fake number. She never returned to claim her dogs after that. Tilly lived at my work until August of 2009. I couldn't let them put her down. I adopted Tilly with legal papers proving she was abandoned and now my dog. Tilly then had her leg amputated to live a normal life and she is doing great. Tilly has changed my life dramatically and really showed me how great a Pitbull can be despite their bad reputation. Tilly is proof these dogs are strong-willed and are WONDERFUL family pets."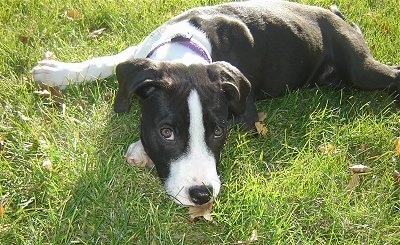 "My Pepper (Pit Bull) passed away suddenly four years ago and it hurt like I had lost my child. When Pepper girl died I really felt the loss, from watching TV without my girl firmly planted behind me keeping my weak kidneys warm, to having my bed back to myself without her seeking out the warm spots, to my kids missing the best pillow of all, the warm underbelly of a loving Pit Bull. Pit Bulls are by far the most maligned breed out there. No one really knows how fantastic this breed is unless they have been blessed with their acquaintance or love. After four long years of yearning to again be the Mom to a Pig Bull (as I like to call the wiggly piggies) I finally found my Nellie. Nellie has been part of our family for a month now and the familiar love of a Pit Bull has really got me choked up; I almost feel like I let myself down by not sharing my home with a Pit for so long. Now we are all making up for the lost time. Playing fetch, long walks, teaching my ever so clever puppy all the neat tricks you find in bully breed magazines. Boy the terrier really comes out when you have an attentive dog! Nellie loves and accepts her big brothers Doc (Boarder Collie) and Jake (the rather large mixed breed) and her favorite three sisters of the feline kind (Missy, Baby and Deuce). Nellie really tries her best to be a respectable little girl, even when she makes a mistake you can tell she will do her best to do right the "next time." Even questionable behavior is minimal, not like her predecessor, Pepper girl kept me on my toes for two years. (Pepper had a hankering for socks, underwear and pillows.) Nellie will be a breed ambassador if it takes me ten years, I am so dedicated to this breed and me and my little pig will spread the word on how wonderful these dogs can be, if only so we can get rid of the bad owners and that BSL. Ban the Deed not the Breed! P.S. don't chain your family member, it hurts them emotionally. A very happy Pit Bull Momma"
"This is Angel, my 2-year-old female Pitbull Terrier. I bought her from a friend who could not take care of her at the age of 7 months. It was apparent to us that she was not properly cared for at the beginning of her life. As your website clearly states, a Pitbull Terrier needs "a firm, but calm pack leader." He definitely left the calm portion out. Upon bringing her home she was extremely shy and timid, but with a little bit of healthy pack leadership she turned into a wonderful family and personal companion. She is an excellent guard dog. She will alert us when anyone is close to the outside perimeter of the house but always greets new visitors with a wrinkled snout known as her welcome smile. We found that training was a breeze; she learned everything super quick from sit, down, what's my name (speak), paw, roll over, even watch it. We never had to train her to come, her strong loyalty traits always kept her in line. She loves to play fetch, tug-o-war and hide-n-seek. With the tug-o-war game we set up a release word from the beginning. With continuous training she has now obtained the skills of climbing trees, swimming to retrieve as well as pulling 2 times her weight of 60 lbs. We exercise her daily with walks and visits to the dog parks and tossing the ball around. She honestly has no bad habits; she just loves to be in your face and lap kissing you till you can't feel your skin. With proper introductions she can be around, on and off the leash, with small dogs. We have a Dachshund - Collie mix, cats and small animals, (ferrets and a bunny) and she is OK with them. Angel is an extremely balanced Pit Bull Terrier because she has a healthy structured life and it shows."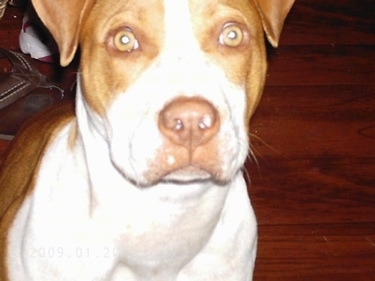 "This is Tangy. She is the best family dog we have ever had. She is an APBT, and to those out there that stereotype them as ferocious animals, they have never owned one. My wife and I have just celebrated our 15-year anniversary and we have never even considered an inside dog until we got Tangy. We have 2 kids, a 13-year-old son and a 3-year-old girl. Tangy is their best friend. This dog has it all, brains, brawn and beauty. She is the smartest dog I have ever had. She has been easier to potty train than our 3-year-old daughter. She has brought much joy and happiness to our family and we look forward to many years of enjoyment and love from her. P.S. To anyone considering owning an APBT, please check with some local rescue orgs. and you just might save a life and make the best friend your family could have."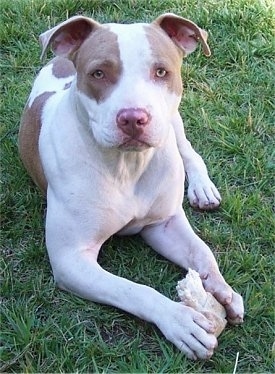 Hannah the Pit Bull at 1 year old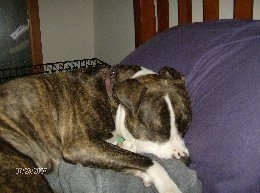 "This beautiful dog is Layla. She is a 2-year-old Pit Bull. I was hesitant about getting a Pit Bull but now that I now own one, there is no other breed I want. Layla is a very loyal and lovable dog. She is a big ham that likes to please everyone. She always brings a smile to everyone in my family. This breed has such a horrible reputation for being violent mean animals, when in fact they are not. This behavior should solely be blamed on the owner. Remember there no bad dogs, just bad owners!!!!"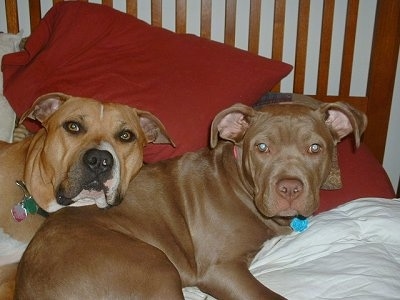 "This is Snoop Dog and Luci, both Pit Bull Terriers. Snoop is tan and white and Luci is a chocolate red-nose. Snoop is 3 years old and Luci is 1 year old in this picture."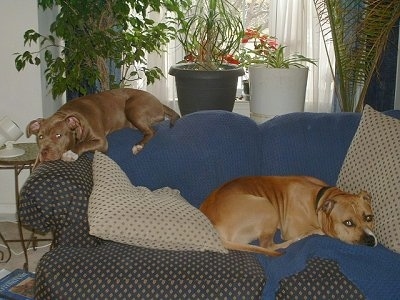 As you can see, Snoop Dog and Luci are big couch potatoes...
Chaos the Pit Bull Terrier puppy at 3 months old
Chaos the Pit Bull Terrier puppy at 6 months old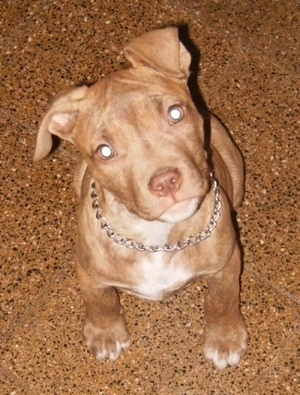 "This is Bunky, my four-month-old Pitbull pup. We live in Argentina, a country where dog fighting is still common place, and so it's a constant fight with the neighbors and local families who harbor a strong prejudice against this wonderful breed. Many of them have been surprised to see him playing with my best friend's 3-year-old daughter, or my 9-year-old stepdaughter. They pull his ears, take food away from him and are constantly struggling to lift him up, no easy task as he now weighs 10 kgs! I even caught my stepdaughter putting her dolls clothes on him the other day! Most people honestly can't believe that this 'dangerous' dog could possibly put up with so much and I'm constantly getting into arguments with people who see us on our daily walk, trying to explain that there is no such thing as a bad dog, only bad owners. He loves to play with the other dogs in the park and now that he is known by some of the other dog walkers they're happy to let him play. Bunky adores his sister Nina who is a five-month-old Belgium Shepherd. I honestly can't understand the prejudices that people have against this wonderful breed, I won't be without him and he goes everywhere with me."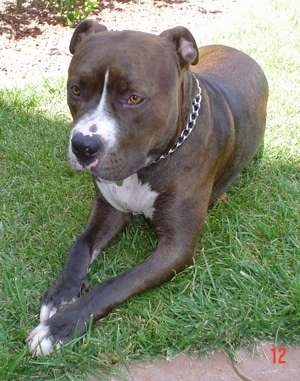 "This is our Pit Bull Rocky. My husband and I adopted him from the pound about 3 years ago. He is the most loving, cuddly and affectionate dog. I could not ask for a better companion. Rocky loves to sleep in our bed and snuggle all night. He buries his nose under the covers to keep warm. He loves to play with his dog friends. When he is around older people and children, it is as if he knows he needs to be gentle (which he is anyway)! Rocky loves action, but would rather relax on the couch or his bed and watch TV with mom and dad. My husband trained Rocky using Cesar Millan's techniques and I can say from the bottom of my heart, Rocky is a calm, submissive dog that knows his boundaries and limitations. After having Rocky in our family, we will never own another breed of dog and will always get our Pitbulls from the pound to make sure a life is saved."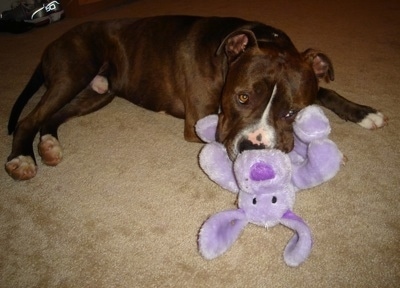 Rocky the Pit Bull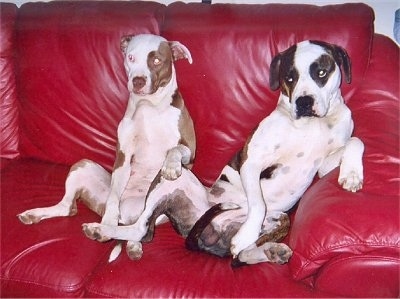 Angel, the 2-year-old tan and white American Pit Bull Terrier and Wizzy the 4-year-old brindle and white Pit—they are also couch potatoes! Rest in Peace, Wizzy.
Nala, the happiest American Pit Bull there is! She loves everyone and believes everyone loves her.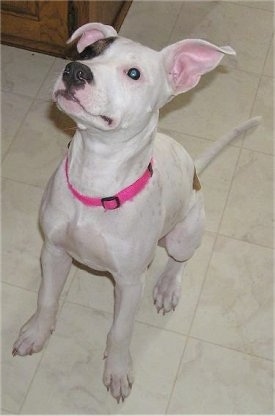 Nala the American Pit Bull as an older puppy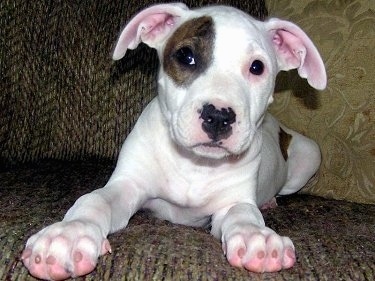 Nala the Pit Bull as a young puppy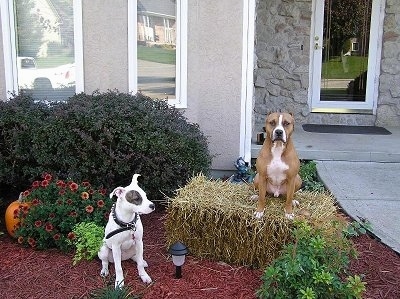 "Forget the complicated security systems! We feel pretty safe with our Petey/Nala system."—American Pit Bull Terriers Petey and Nala, who live with a 6-pound Chihuahua, Chico, who rules the house. Yes, the Chihuahua is the boss of the Pits!