American Pit Bull Terrier Pictures
Page 5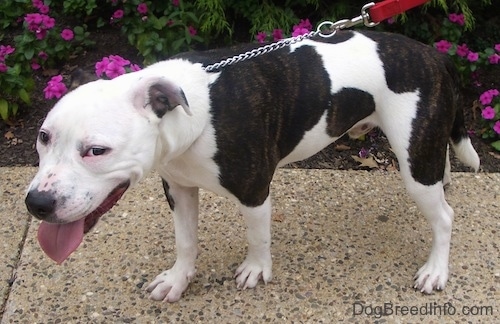 Spark the white and brown brindle Pit Bull Terrier at 8 months old
Other Names
Pit Bull
Pitbull
Pit
Pit Terrier
Half and Half
Staffordshire Fighting Dog
Bull Baiter Dogs
Old Family Dog - the Irish name
Yankee Terrier - the Northern name
Rebel Terrier - the Southern name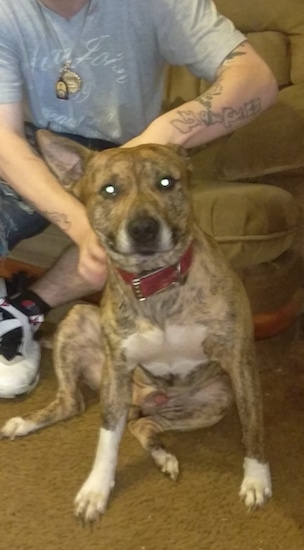 "Tank at 3 years old is a big monster of a dog"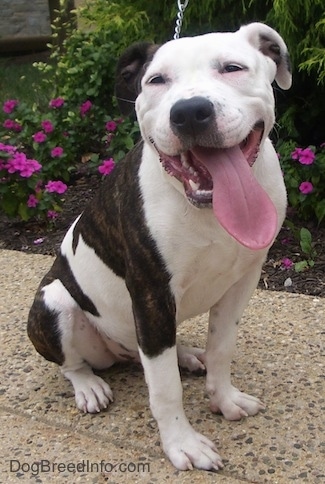 Spark the white and brown brindle Pit Bull Terrier at 8 months old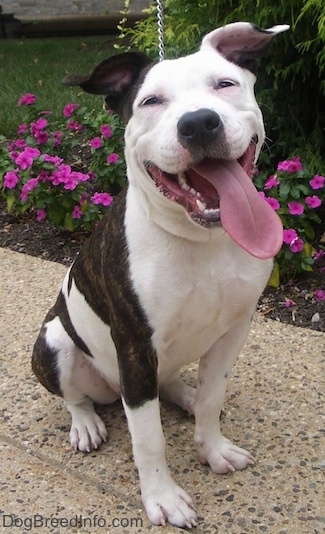 Spark the white and brown brindle Pit Bull Terrier at 8 months old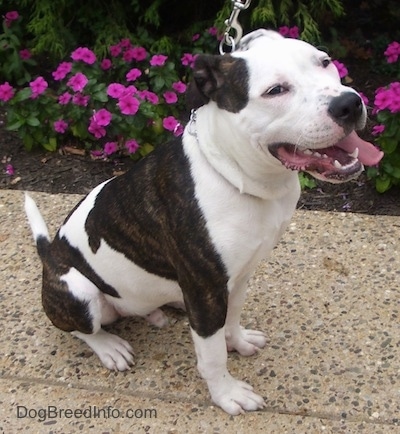 Spark the white and brown brindle Pit Bull Terrier at 8 months old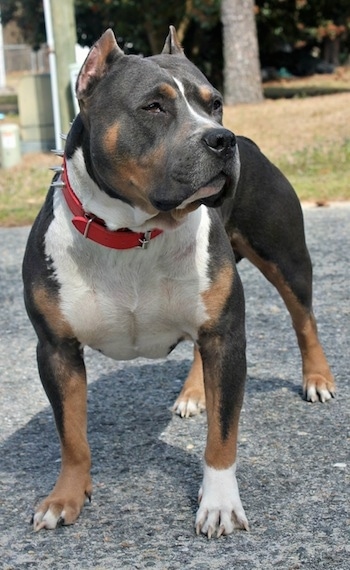 "Money is a 5-year-old blue tricolored American Pitbull Terrier. This boy is everything I could ever possibly want out of a dog. This is far more than a dog to me, This is my friend. The most loyal & loving one I could ask for."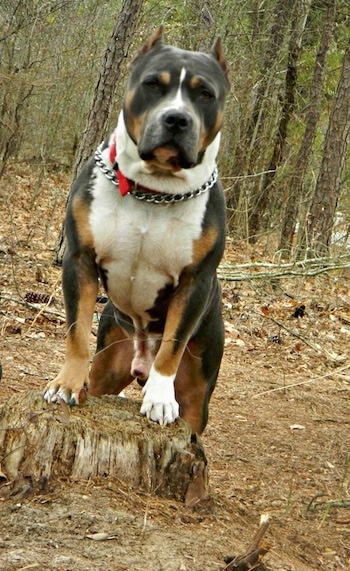 Big Money the blue tricolored American Pit Bull Terrier at 5 years old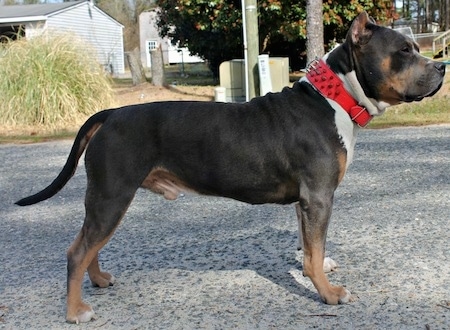 Big Money the blue tricolored American Pit Bull Terrier at 5 years old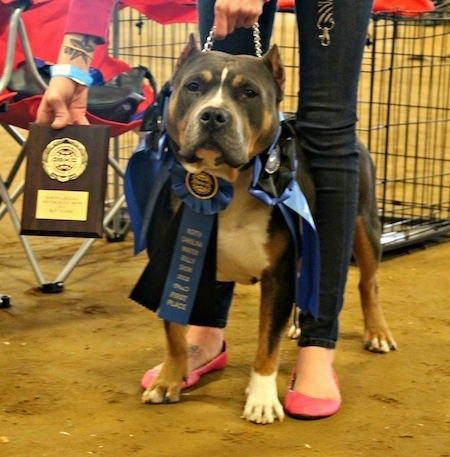 Big Money the blue tricolored American Pit Bull Terrier at 5 years old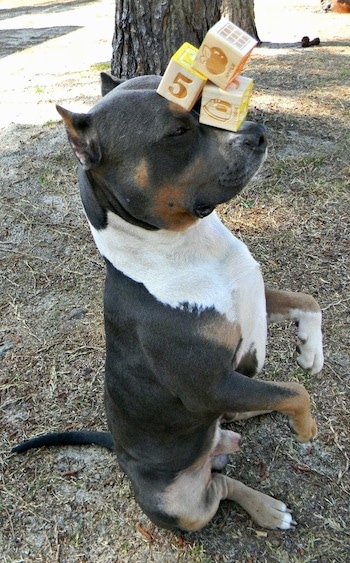 Big Money the blue tricolored American Pit Bull Terrier at 5 years old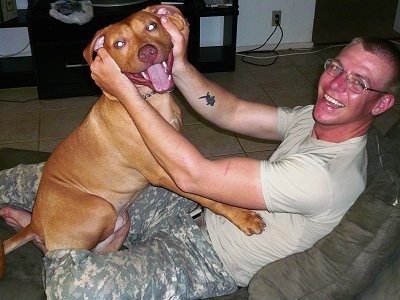 "This is our pure Pit Bull Sarge at 10 months. We rescued him from the humane society, and although I had doubts, I have to say I am a Pitbull lover for life! He has been the best company for me as we are entering my husband's deployment. He is great as a guard dog, and an even better companion and friend. Sarge has his hyper moments, and his couch potato times."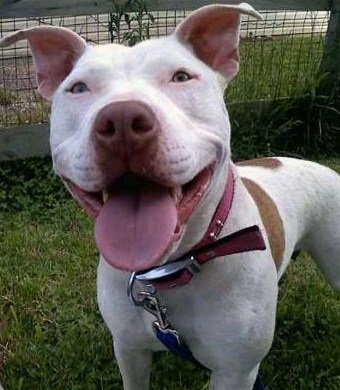 "Chevy is a 3-year-old female Pit Bull that was rescued as a 10-week-old puppy. She will be loved for being herself only; she is spayed by our choice! Chevy loves to be kissed and petted. She is very active and we swear she is a poster child for Dog ADHD! She loves to be silly, running free in our yard with her older sister Pinkabell. We love this breed of dog that everyone has so many opinions on. Before the Pitbulls, we were strictly cat people. After our first Pit, we will Forever be Pitbull Lovers! We educate people on becoming responsible pet owners—the do's and don'ts of loving your pet. Owning pets is, we feel, a privilege, and you owe it to that dog or cat to be kind, and taken care of. Vaccinations, check-ups, preventive health are priorities for us. We love the message that Cesar Millan is spreading about becoming pack leaders! If someone isn't willing to do the work, don't get the pet! We hope everyone enjoys the photo of Chevy. It was taken by my 18-year-old daughter Rebecca Dugger in our backyard. She tells Chevy to smile for the camera and then we get this masterpiece!"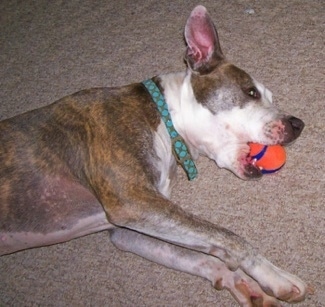 "Emma (blue brindle, UKC-registered rescue American Pit Bull Terrier)—I have been a lifelong dog owner, and after I married my husband, we lived in apartments that were too tiny to keep a dog of the size I wanted. Finally, in 2003 we moved to a house with a yard. I had been doing research on dog breeds for 5 years, and had come to the conclusion that I wanted an American Pit Bull Terrier. Their wonderful personalities, which combine equal parts nobility and goofiness, attracted me, as well as their "underdog" plight and the fact that they're so commonly misunderstood and misrepresented. I found out that a local dog trainer was also a very responsible Pit Bull breeder, and I contacted her to see if she had any adult dogs. She introduced me to Emma, the finest dog and most loving canine companion I've ever known. Emma was adopted out as a purebred puppy from show stock, but was abused in her first placement, having been confined to a puppy-sized crate almost exclusively for the first 6 months of her life. When the breeder found out about the owner's irresponsibility, she took Emma back and rehabilitated her. Emma had rampant skin infections from lying in her own excrement and urine, and was bloody from elbows to paws after trying to dig out of her crate. Emma was nearly 2 when I adopted her, and she's been my constant companion ever since. She embodies all the best of the APBT: loyalty, gentleness, playfulness and a capacity for love that humbles everyone she meets. She transformed my husband, who had been attacked by a dog (German Shepherd) when he was a child, into a lifelong dog lover."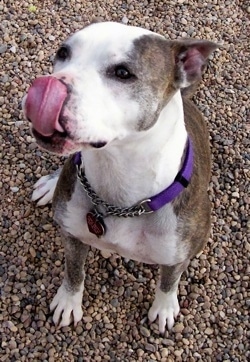 "In 2006 my husband and I decided to adopt another dog. Emma loves to play with other dogs, and we had the room and the resources to take one more in."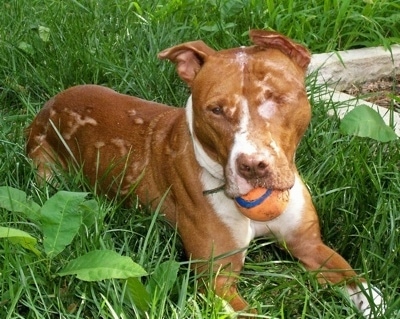 "River (one eye, scars, no registration, also rescued)—I searched PetFinder for the perfect dog, and came across River's profile. "Special needs," it said, and (since I'm a counselor and work frequently with "special needs" children) I wondered, "What is a "special needs" dog?" River had been found chained to a street sign in Wilmington, North Carolina. She had been doused with gasoline or lighter fluid and set on fire. Nearly all the fur on the right side of her body and the left side of her face was gone, as well as much of the skin. She was a bloody mess. The no-kill shelter that sponsored all her medical care and rehabilitated her, the Norman P. Wiggle Home for Wayward Dogs, wrote that River loved other dogs and was extremely affectionate. We arranged to meet River, and then to have Emma and River meet. The two of them have been inseparable ever since."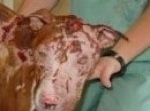 River, showing the extent of her injuries when first rescued—"River had to have one eye removed, but has recovered fully from her ordeal. She is universally accepting of every new person, animal and experience she meets. River is a 40-pound lap dog, just like Emma, and shows a special sensitivity to the emotional state of her people: if I've had a hard day at work, she comes to me and lays her head on my leg, looking up at me with her one eye and making sure I know that she understands that she loves me no matter what. Both River and Emma have been through beginner and intermediate obedience classes, and they have excelled at everything they've done. I use River's story and pictures in my work with survivors of abuse and neglect, and every day she teaches someone new about what it means to go on loving in spite of pain and fear. This is the true spirit of the American Pit Bull Terrier: whatever happens—whatever horrific cruelty they face—no pain they suffer has the power to destroy their ability to love."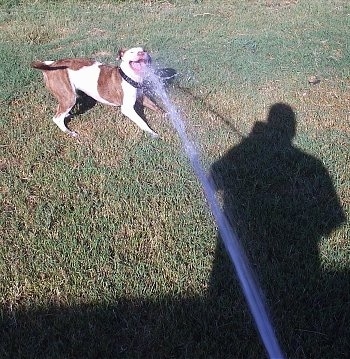 "This is Pinky at about 1½ years old. She is an American Pit Bull Terrier. When it is time to water the yard she has a blast. She will chase and eat the water till her belly is full. If she does not get her playtime she will make a mess of the house, knock over the couch, chair and trash can. Also I cannot leave my socks out. She will swallow them whole. I find them later in the yard when I pick up after her but I don't keep them. She was so easy to potty train. I have had a total of 7 dogs in my life, all mutts; Pinky is the first purebred dog I ever owned. I am so glad that she is part of my life. She never leaves my side and always puts a smile on my face even when she is bad—all you can do is laugh, right."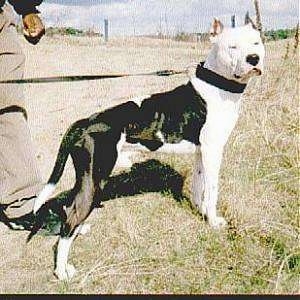 This is Domino, a 5-year-old American Pit Bull Terrier. He is ADBA-registered and his full name is Faulk's Bailey's Domino.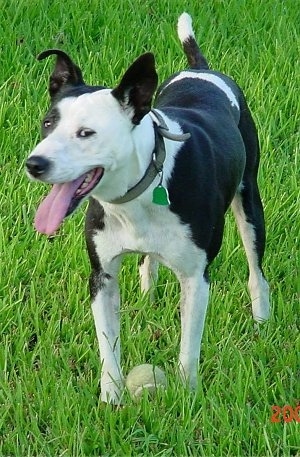 RC the American Pit Bull Terrier at 9 years of age—"He was trained as a puppy to fetch a tennis ball and catch it in the air as it bounced off the side of our garage. He would jump up and do flips in the air to catch the ball for us. What an amazing dog he has been! Very loyal, protective, and good with our 2 children (ages 6 and 8). It is sad that his breed has such a bad rap, and we hear lots of comments from families about how we should not have him despite a fairly good history. Small animals do not usually survive a trip through our very large yard. His health has been extremely good until this past year. At 12 years old he has started developing arthritis and has some cataracts developing. I thought you might like this picture with such a good expression on his face. It is one of my favorites."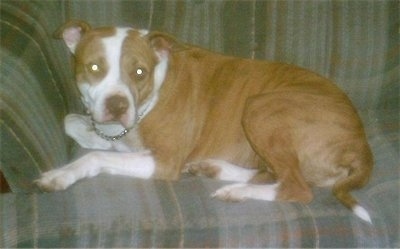 Angel the American Pit Bull Terrier at 2 years old—"This is the first time I have owned a Pit Bull. She is the best dog I have ever had."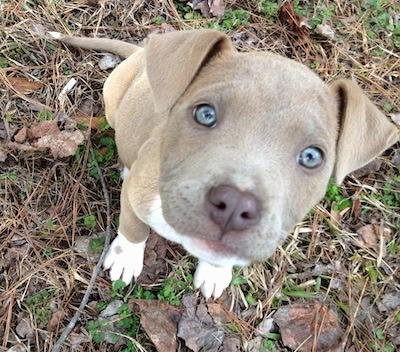 Dixie the reverse blue brindle American Pit Bull Terrier as a puppy at 2 months old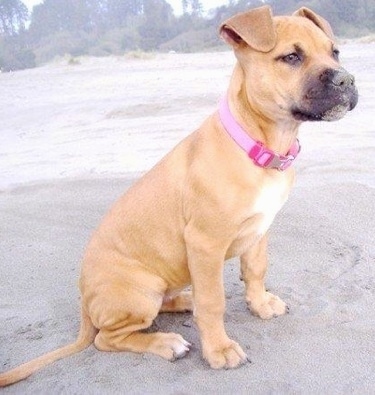 "This here is my baby girl Roxy at 2 and a half months old. She is the first Pit I've owned and I must say...I'll never own another breed of dog BUT Pitbulls! I fell in love with the breed 3 years ago when I went on vacation to California (I live in Washington) and I went to a Pitbull rescue... immediately I was surrounded by 15-20 Pitbulls. I've never had so many dogs at once DYING for my attention!!! I knew from that day on there was no other dog I wanted BUT a Pitbull. No one will ever understand a Pitbull unless they own one. The only thing they want in this world, what they live for, is to please you. Make you laugh and just be your companion. There's no such thing as a bad dog... just a bad owner. It frustrates me to hear all these stories about Pitbulls attacking little kids or biting their owners; most of those dogs that you see on the news AREN'T EVEN PITBULLS!!! They are all mostly mutts. How dare someone claim what a Pitbull is when most of those people have never even seen a Pitbull in person. No one believes me when I say Roxy is a purebred because "she's too small to be a purebred Pitbull" when in reality, purebred Pitbull Terriers ARE medium sized dogs—Roxy is 47 pounds now and pure muscle! She's got what I like to call "the Pitbull wiggle" when she gets so excited her whole body wiggles and she "smiles" at me. (I could really go on forever about Roxy!) She warms my heart and I want to cry sometimes just looking at her, and how happy she makes me. They are determined dogs, and have so much passion and fire in their eyes (just like her mamma!). I don't know what I would do without my baby girl!!!"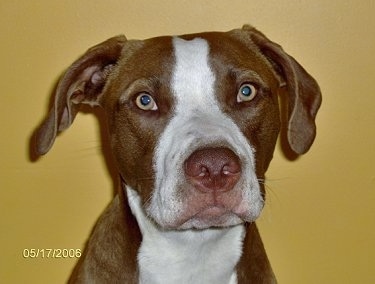 Hades the American Pit Bull Terrier at 1 year old is currently working diligently in obedience and has begun some agility work. He's a loyal, hard-working dog that aims to please.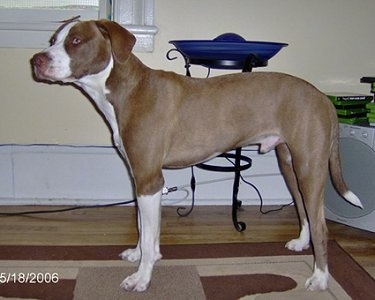 Hades the American Pit Bull Terrier at 1 year old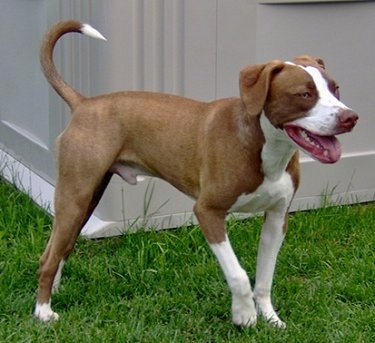 Hades the American Pit Bull Terrier at 1 year old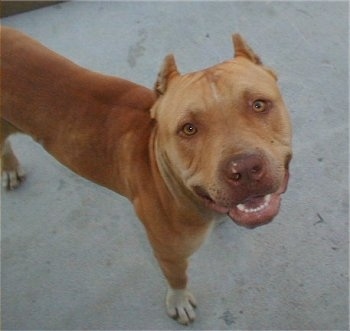 "This is Tokey, an American Pit Bull Terrier at 7 years old. This is truly an amazing Pit Bull. Great with kids, good tempered, very intelligent and very loyal. I always loved Pitbulls and think it's not fair how they are labeled as people-killers. It's too bad people think so badly of them. One day my mother had found some kittens only weeks old. She brought them home hoping she could get them healthy and find them a home. Keeping them in the barn away from my Pitbulls, the kittens were out one day. It was raining and Tokey got a hold of them. Before we knew they had been out, he had two kittens hanging in his mouth. I rushed to stop him, hoping to save the other kittens. I thought it was too late. Expecting to see the worst blood and guts. Having to break the news to my mom was the worst thought in my mind. I was surprised to see no harm was done. Just a funny-looking wet kitten. Tokey was actually getting them back inside, keeping them safe away from the rain. He also catches chickens for me."