American Pit Bull Terrier Pictures
Page 1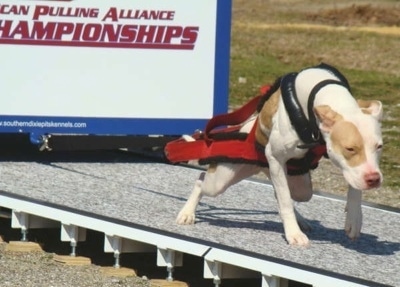 "This is Martin's Eisiss. She is a 3-year-old APBT competing in a weight pull. She had been pulling for about 2 years when this picture was taken."
Other Names
Pit Bull
Pitbull
Pit
Pit Terrier
Half and Half
Staffordshire Fighting Dog
Bull Baiter Dogs
Old Family Dog - the Irish name
Yankee Terrier - the Northern name
Rebel Terrier - the Southern name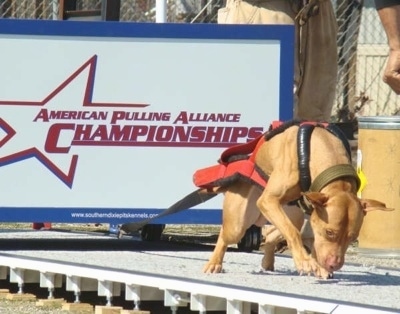 "This is Martin's Stitch. He had been pulling for 2 years when this picture was taken. He was named ADBA's 2007 dog of the year."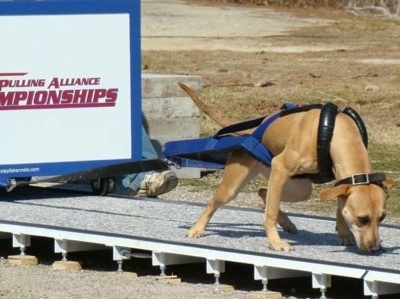 "This is Working Dog's LuLu. She is our new puppy. This picture was taken during her first year. She is well on her way to a few titles of her own. We love our Pits and wouldn't own another breed. We have 2 young children and all 3 dogs love the kids!"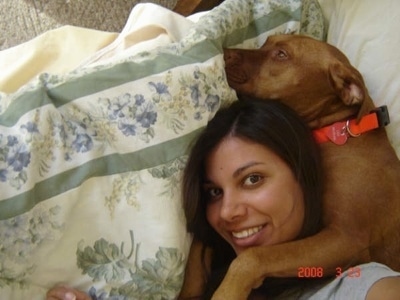 "Lily is the love of my life when it comes to animals! She has stood beside me and made me laugh through thick and thin! She has saved my life when someone tried to break into my house. She has drowned not only me but all of my friends in kisses. I have had countless people tell me that she has singlehandedly changed their viewpoints on Pit Bulls. With her friendly smile, wagging tail and warm eyes, who could not fall in love with her? Lily loves to show off her belly and will never be the one to turn down a good belly rub. She is eager to please which has made her easily trainable. Cesar Millan's books have helped us to enrich both of our lives and become a healthy "pack." It is sad to me that so many people have such a poor understanding of this amazing breed. I had two elderly ladies petting Lily and going on about how adorable she was. When they asked what kind of dog she was, they immediately backed away, faces grimacing, as they muttered under their breath. These people will never have the opportunity to understand loyalty at its fullest and a heart that seemingly beats only for you."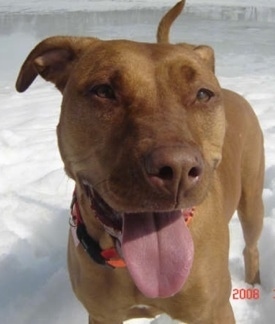 Lily the Pit Bull Terrier
Scout and Kate the American Pit Bull Terriers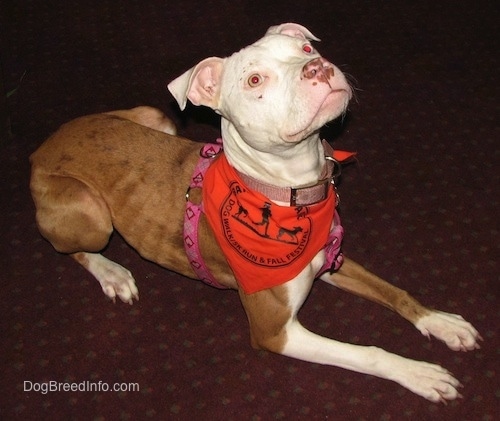 Scout the American Pit Bull Terrier at 11 months old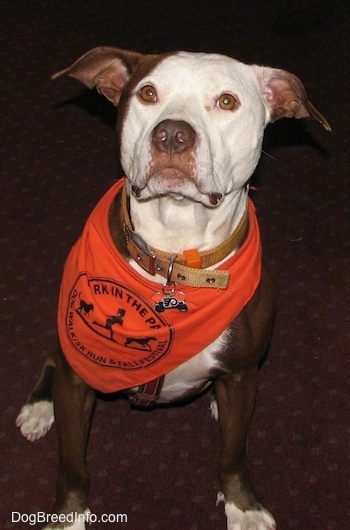 Kate the American Pit Bull Terrier at 5 years old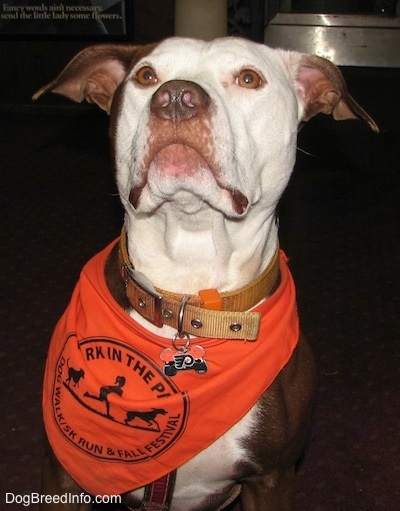 Kate the American Pit Bull Terrier at 5 years old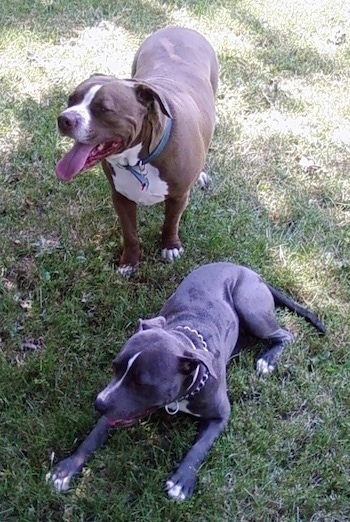 Blaze the red-nose Pit Bull with Duchess the blue-nose Pit Bull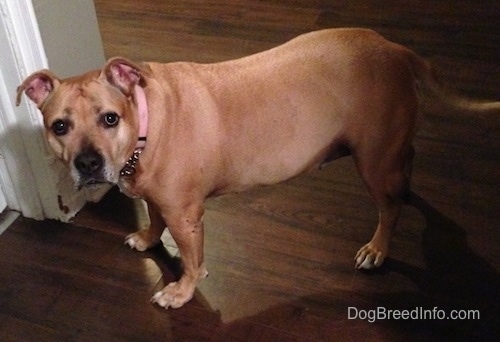 Sammy the Pit Bull at 10 years old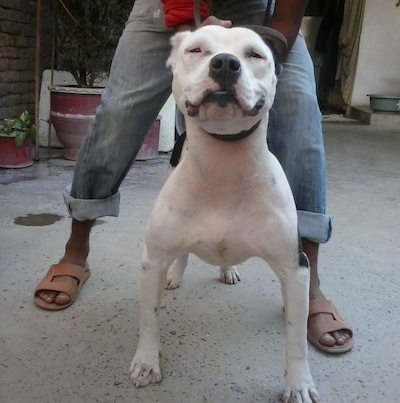 Danjo the Pit Bull Terrier at 11 months old from Pakistan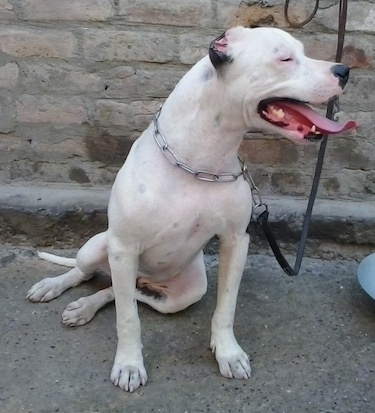 Danjo the Pit Bull Terrier at 11 months old from Pakistan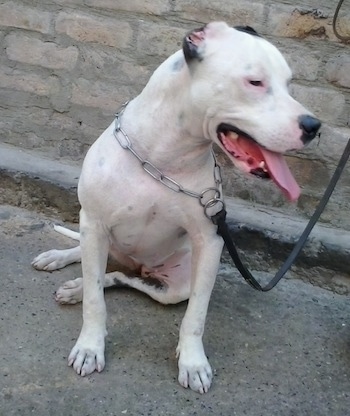 Danjo the Pit Bull Terrier at 11 months old from Pakistan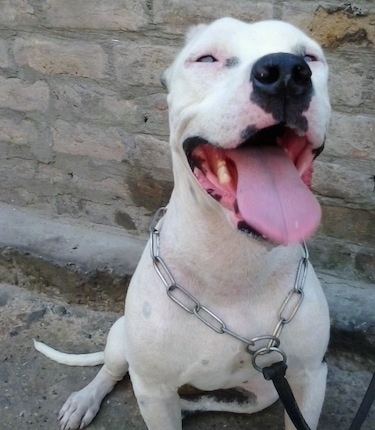 Danjo the Pit Bull Terrier at 11 months old from Pakistan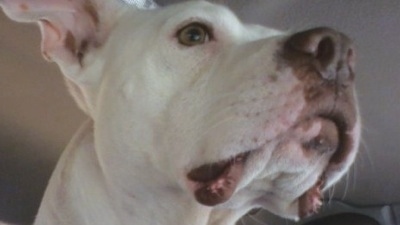 "This is my 50-lb. baby Danzig. So, he is obviously not a baby; he's an American Pit Bull Terrier. He brings me so much satisfaction and unconditional love. We were meant for each other! Although he was more than a handful having bad separation anxiety as a puppy, I couldn't ask for a better dog. I picked him out from a laundry basket full of puppies at a gas station. The owners said they didn't have papers for the pups, but they were 100% American Pit Bull Terriers (I don't know and don't care!) and would give them away to homes that promised they wouldn't fight them. The best things in life are free! We enjoy "dog parties," swimming and body surfing at the beach, lots and LOTS of fetch (the "chuck it" arm is a great tool), tug-o-war with and without other dogs, and biting the spray from the water hose. I had a hard time walking him on a leash because he wants to mark his territory on everything, so we started going on bike rides. He doesn't even think about other dogs while running! Zig has SO much energy at 5 years old, the 2.5 miles I bike and he runs is nothing to him. Zig has energy to spare. He sleeps with me every night, sometimes past the alarm, and will wake me up if someone knocks on the door. He cheers me up when I'm sad and makes my day fun and interesting. Danzig loves attention, especially from kids. I brought him to the pre-school I worked at, and the kids had a blast getting him to "speak." They jumped every time he did, though! He didn't care at all; they would tug on his neck skin or poke on the spot on his back. I recently had my aunt and cousins (ages 8 and 4) staying with me, and they all want a Pit Bull now! I was amazed that he listened to the kids when they "shot him dead" and told him to "roll over." It taught them to be calm and assertive too, rewarding him with ice cubes. I am an American Pit Bull lover and owner for life!"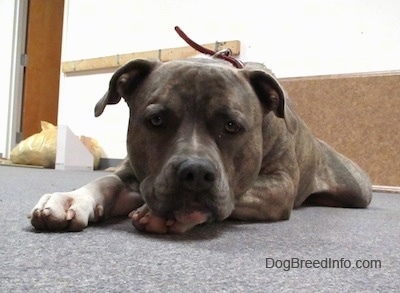 Spencer the blue-nose brindle American Pit Bull Terrier at 1 year old relaxing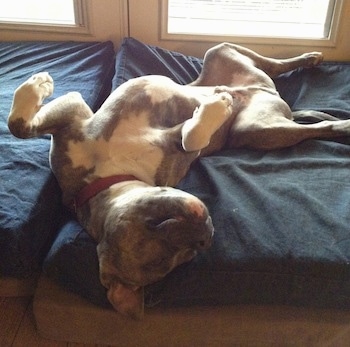 Spencer the blue-nose brindle American Pit Bull Terrier likes to sleep upsidedown.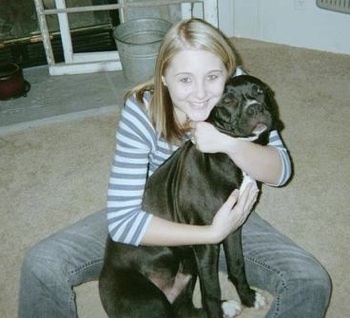 "Buster the Pit Bull at 6 months old—he is truly the best companion I've ever had. We got him when he was about 10 weeks old. Housetraining him was a breeze. I had a two-month-old baby when we got him; as they both got older we worried that she may crawl on him and he may snap. Not only did he love to cuddle with her, he would lie under her swing when she would take a nap or under her highchair while she ate. Buster was very protective of my daughter Emma—all of us, for that matter. When I moved out of my mom's house it was harder to say goodbye to Buster than it was my own family! When I come back to visit, before I even get in the house he is crying at the door to come out and meet us! I miss him more than words could ever describe."
DBI Side Note: For Buster to lie "under" the baby, was him submitting to the baby. For dogs, being on top is a dominant behavior. Good boy, Buster!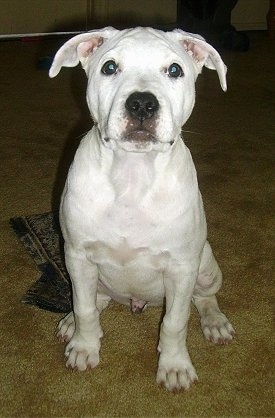 "Buddy is a Pit Bull that's ready to take on the world. He is 9 weeks old and looks like he's going to be the best dog I've ever had. At this early age in his life, he already knows basic commands. So very sweet and loyal. Never in my life did I think I would own a Pit Bull. After all the bad rap these dogs are getting, I decided to do some research. I found that the old saying goes, it's not the dog, it's the owner. I have raised Aust. Cattle Dogs (Blue Heelers) for years, and I'm quickly finding out these Pit Bulls are just as smart, loyal and ready to please. When I got my puppy, I made an appointment to get his ears cropped. After more research, today I cancelled the appointment. Some people don't realize how painful and cruel this is. Another thing, it also makes the dog look mean and very aggressive. PLEASE DON'T FUEL THE FIRE BY EAR CROPPING!!!! We need to educate the public on what these dogs are really about. They make GREAT family dogs. Please help save the breed and do not crop their ears."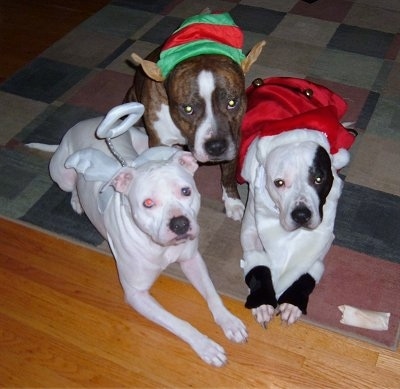 The Christmas Pit Bulls—Porsche is the white American Pit Bull Terrier shown here at 3 years old. Harvey is the brindle APBT shown here at 7 years old. Norman is the black and white APBT shown here at 9 years old. See Porsche Swim!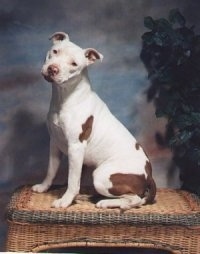 This loveable Pit Bull is named Molly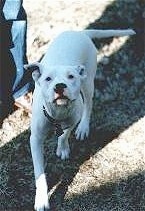 Holly the white Pit Bull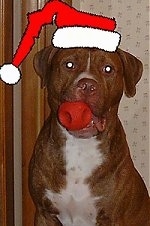 Merry Christmas Ickis!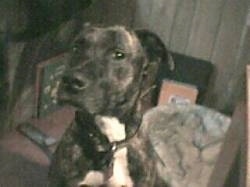 Zeus the Pit Bull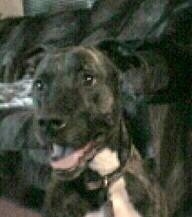 Zeus the Pit Bull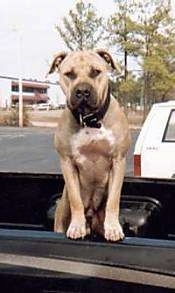 Owen the Pit Bull at 1 year old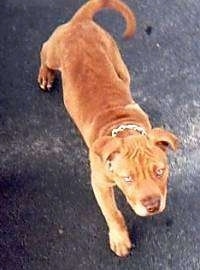 Ruger the Pit Bull at 5 months old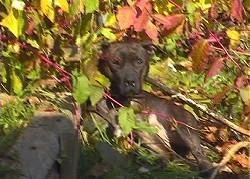 Missy the Pit Bull Terrier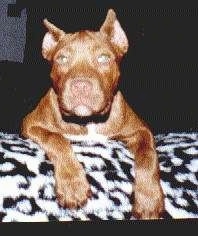 Williams's Lady 'N Red the red-nose Pit Bull at 7 month old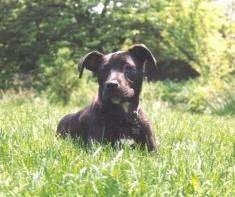 Master Frodo—"Frodo is such a good dog. Very, very affectionate and sweet. Great with other people, kids, dogs, cats, horses, etc. Just an all-around awesome friend."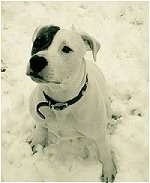 A Pit Bull in the snow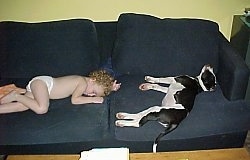 This is Peanut at 3 months old taking a nap with his human sister.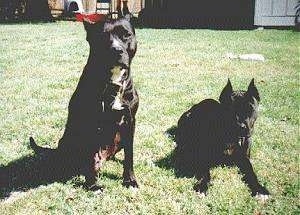 Faulk's Lily (left) with her daughter Bailey's Tar Baby (right)