German Shepherd Dog Pictures
(Alsatian) (Deutscher Schaferhund) (GSD) (German Shepherd)
Page 7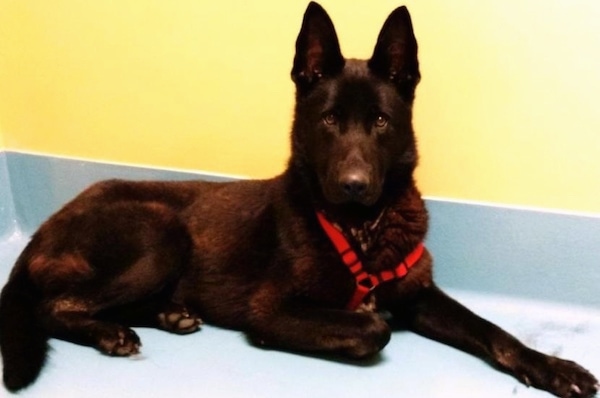 "Shadow formerly Bryson—We believe in second chances for people as well as pets. We have had 3 rescued dogs in the past. Sheba a German Shepherd/Collie who lived 16 years, Abbie a Sheltie/Chow who lived about 15 ½ years and our beloved Gandoff Rottweiler/Lab lived 9 ½ years, the vet gave him Rimadyl. After the loss of our beloved "Gandoff" we were sure we wouldn't be ready to take in another dog. We have had 3 rescued dogs and we know they need work, however we have never regretted it. Well I had finished watching Cesar Millan and a comment made just did not sound right. "Black or dark dogs and cats are the last to be adopted", well I looked this up on the internet. Not only did I find this to be correct, I proceeded to look at some adoption sites and sure enough it is a fact. Well I saw two dogs when I showed up at our nearest shelter Pawmetto Lifeline. The first dog was very high-strung. The second dog I was told may need some work, he "Shadow formerly Bryson" was a 62 lbs. black (Sable German Shepherd with a white spot on his chest). He was underweight and had an embedded collar that had left very bad scars around his neck. We have picked out our dogs by behavior and when the dogs in the next room started to bark, he went to the door and just stared. I told him its okay, he laid down at my feet and played. Well at his last checkup he weighed 76 lbs. in less than 3 weeks. His neck is healed and he is home. Open your home and you may need a little patience but, it's worth it. The staff at Pawmetto Lifeline work very hard to save these animals and sometimes there work is not noticed."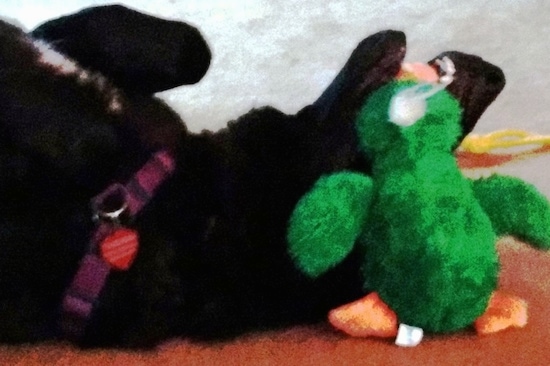 Shadow the black German Shepherd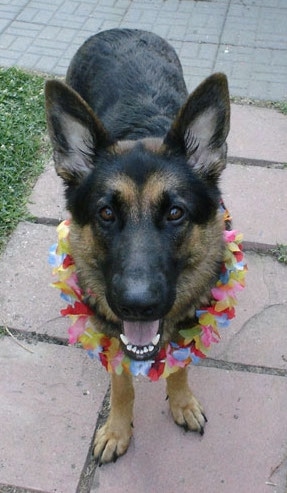 "Ishahis hanging out at the family Luau. She is truly a lover and has a great personality. You can tell what she's saying by her facial expressions and she smiles most of the time. She is obsessed with her Frisbee."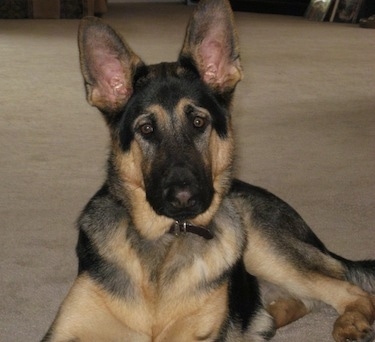 Hunter the GSD at 8 months old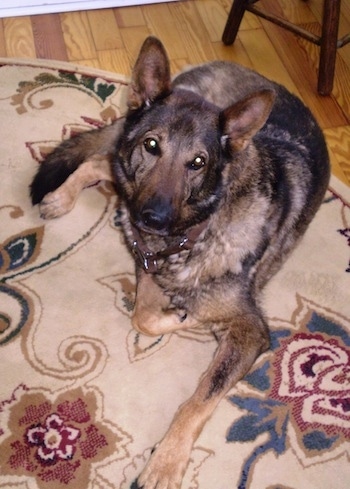 Duke the German Shepherd Dog at 9 years old—"We got Duke from a GSD Rescue in Albuquerque. Nothing was known about him except that the pads of his feet were raw and bleeding when he was found. Whatever he was running from, he was running far. Strangely enough, he never leaves our yard unless I lead him (and we go for runs). He loves cats, hates dogs, and has learned to trust most people. My husband works out of town and I know I am safe with Duke here. He is mistaken for a wolf often, and one time I withheld information from an arrogant meat salesman who came to our door, out in the Maine woods. He was giving me a hard time about not eating/buying his steaks when Duke suddenly appeared at the door. He started backing off the porch quickly, while asking, "What is that? A wolf!?" I didn't deny it. When they were backing out of the driveway I let the dogs out. Duke went running in circles (as usual) and our little Sheltie chased them out to the street. LOL"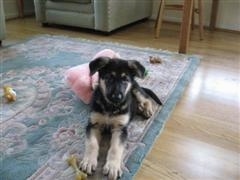 "Hunter watching over the house as a 3½–month-old puppy—a very regal pose. The most loyal and loving dog you could ever hope for!"
"This is my 18-week, plush-coat, bicolor GSD puppy. We call him Kaiser or Kai, registered "Kai Kal'El ben Mikha'el". He is from working lines and has such an even temperament. He has a high prey drive. In this picture we are playing ball. He is the most intelligent dog I have ever owned and wonderful with our toddler. His mother was 80 pounds and his father was 110, so we believe he will be large. His coloring keeps turning darker red and his black seems to be spreading instead of fading. It's starting to go down his front legs and on his toes! He's incredibly receptive and sharp and he always retrieves; there's never a time when he won't, it seems! He will begin personal/family protection training at 18 months."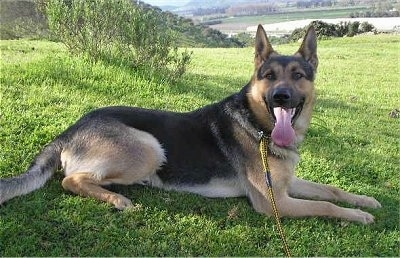 "Balto the German Shepherd at 1 year old from Chile—Balto comes from South American lines before the standardization of the breed in Europe. He's energetic, friendly and easy to train."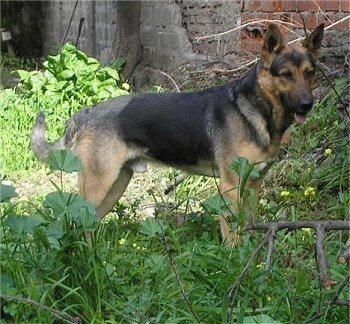 Balto the German Shepherd at 1 year old from Chile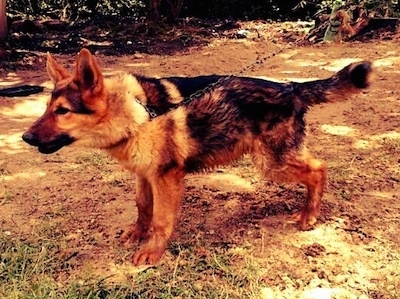 Bruce the German Shepherd Dog at 9 months old from Kenya, Africa—"He is very friendly and intelligent."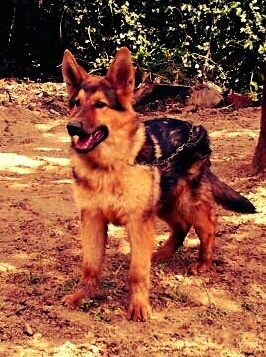 Bruce the German Shepherd Dog at 9 months old from Kenya, Africa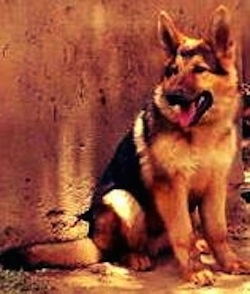 Bruce the German Shepherd Dog at 9 months old from Kenya, Africa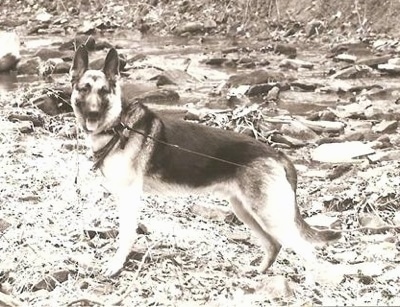 "Tonka is 14 years 7 months old. He is a purebred German Shepherd who my family and I have had since he was a few months old. He loves playing Frisbee, ball, and anything that deals with being outside. There are not many things that I have found that Tonka doesn't enjoy. He has an excellent temper and is always eager to please. It only took Tonka a few hours to learn how to give us his paw when I was 12 years old. Tonka also learned tricks like how to pray (where he would do the stretch dogs do which is really adorable). Tonka loves to exercise and be outdoors.
"Tonka was born on December 23, 1995. The day we picked him up from the farm he was extremely timid and shy. It took him a few days to warm up to me and my family. He was so energetic and loving. He has helped me through so much in my life. The best thing about Tonka is his bear hugs. He was my first dog and not like any other dog that I have ever seen with their owners. He actually understood every word you were saying and has the most caring facial expressions.
"This story ends very sadly. Tonka passed away 2 days ago (July 11 2010). He lay down by the front door, fell asleep and never woke up. He started to have health problems only a year ago. He was starting to have spinal problems. He lost feeling in his spine about a year ago and he started to lose his hearing. He had trouble with his back legs and my mom built a ramp for him. He acted like a puppy for 14 years of his life.
"I could write a novel on how wonderful Tonka was and how much he has impacted my life and I still believe no one would fully understand. He was my gentle giant. I am so upset over the loss of my best friend and just wish I could hold him. My family and I buried him Sunday night with his favorite Frisbee."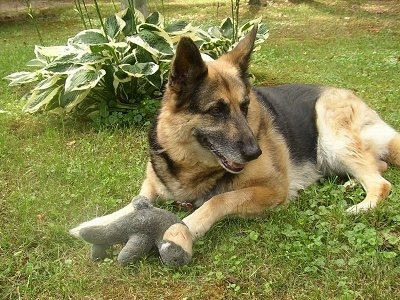 "This is Mika. I rescued her in Queens, NY. She is sweet, intuitive and a great friend—unless you are the mailman. Mika LOVES her dollies and often looks quite silly with a floppy dolly in her mouth. She also loves to snap at bugs when hanging out in the backyard. She loves to be comfortable and loves to sleep with all fours up in the air on the sofa."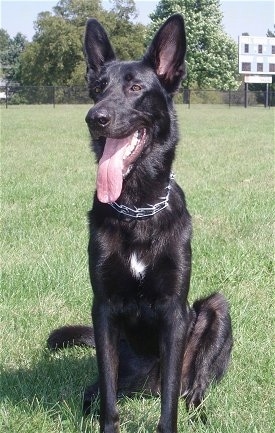 Kaiser the black German Shepherd Dog at 2 years old—"He is very intelligent and very sweet!"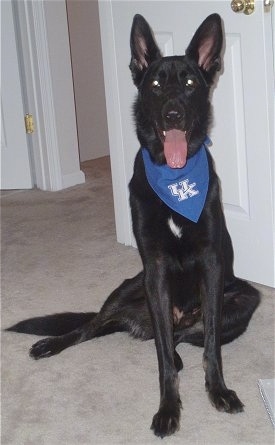 Kaiser the black German Shepherd Dog at 2 years old wearing his blue UK bandana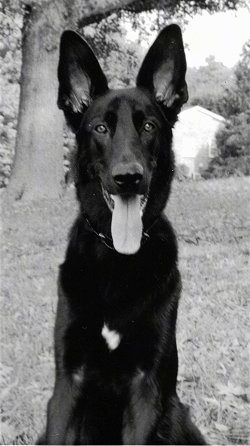 Kaiser the black German Shepherd Dog at 2 years old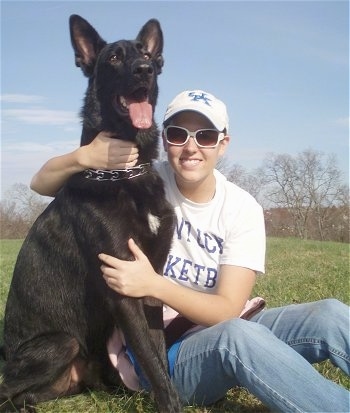 Kaiser the black German Shepherd Dog at 2 years old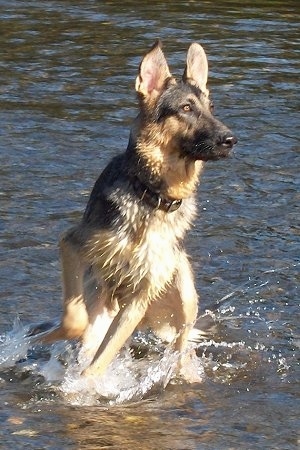 Franki the GSD at 9 months old enjoying a romp in the river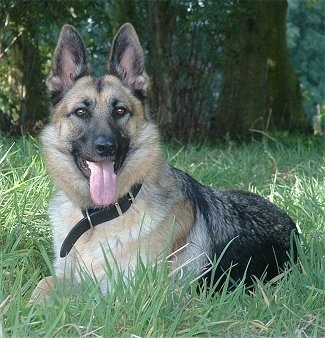 Kell the female German Shepherd at 18 months looking regal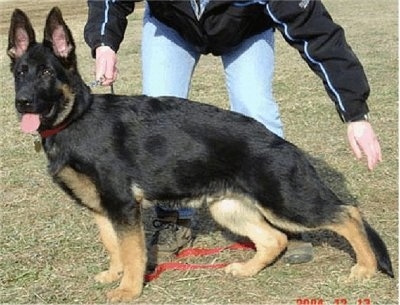 Bujak the German Shepherd puppy at 5 months old—"He is like a big teddy bear, because he loves kids and is a huge part of the family."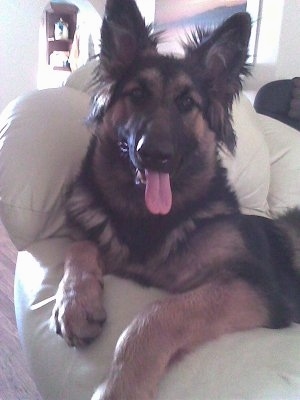 Midnight Magic Star aka Max the German Shepherd Dog at 9 months old was bred out of Old English lines—"He's just amazing. He has naturally crimped hair around his ears. He's huge. Very intelligent and he responds to commands perfectly."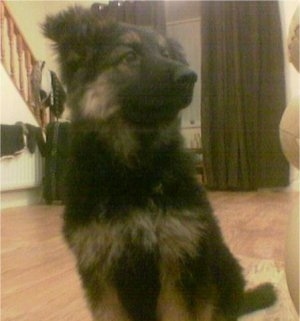 Midnight Magic Star aka Max the German Shepherd Dog as a puppy at 12 weeks old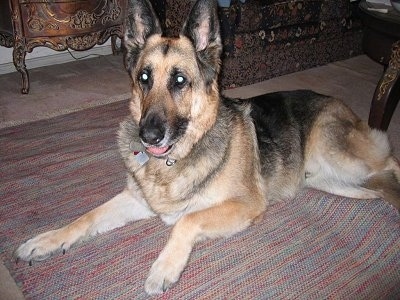 King the rescue German Shepherd Dog at about 8 or 9 years old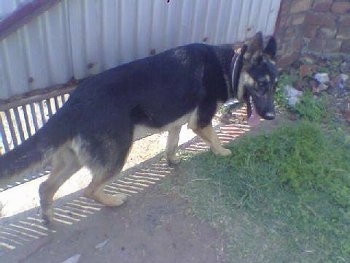 Softy the German Shepherd at 10 months old from India—She is very intelligent and naughty. She loves to play with kids. She does not like water at all. In this photo she is trying to be innocent, but she isn't; she is very naughty."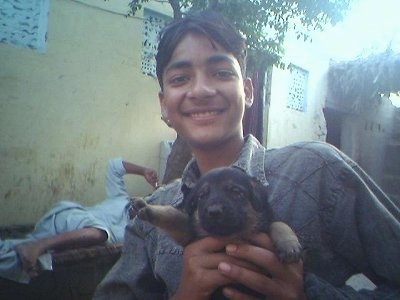 "These are the pics of my beloved German Shepherd dog. I call him Shepherd. It is a very naughty dog it likes to put my hand into its jaws. I'm sending you these pics from Pakistan." Above, Shepherd as a 2-week-old puppy; below, Shepherd as a 2½-month-old puppy.