Raising a Puppy: The First Week in his New Home—Spencer the Blue-Nose Brindle Pit Bull
A day in the life with Spencer the American Pit Bull Terrier puppy. Spencer's first week—10 weeks old, 17 pounds, 12 inches from the ground to the highest point of the shoulders (the withers).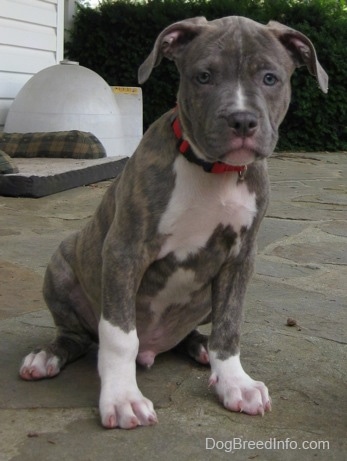 About 2 months old.
Preparing my Pack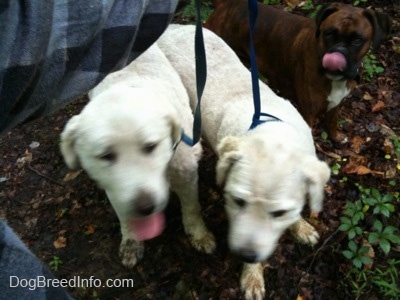 Before I left to get Spencer I prepared my pack at home (Bruno the boxer, Tundra and Tacoma the Great Pyrenees) by taking them for a long walk. The walk drains their energy and calms their minds.
Choosing Spencer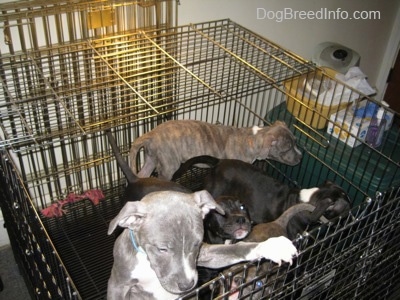 The kids and I had pin-pointed Spencer from looking at pictures over email, however I also knew I wanted the most submissive puppy in the litter and the breeder was willing to let me pick. When we walked in and looked at the puppies they all became very excited, jumping at the side of the cage and whining. All but one pup that calmly remained in the back, not caring to push his way past his siblings. His tail was not between his legs. He looked relaxed. He did not look afraid, nor did he look shy. I would not have wanted to choose a pup that had any of those traits either. I asked the breeder which puppy was the one we were eyeing up over the emails and he said it was the one in the back. I took that pup out of the crate and placed him on the floor for a bit to see what he would do. His tail started to wag and he started to explore. When the breeder stated he had always been like that I knew he was the one. PERFECT! It could not have worked out any better. The fact that Spencer was not bothering to get in front of his littermates, and remained calm through all of the excitement told me that he was the pick of the litter for me. The most calm, submissive puppy in the bunch! Oftentimes people choose the pup that is the most forward, the one that jumps off the chair first, the one that explores first, the one pushing in front to see them. They take it as the dog being smart and loving them. Yes the pup may be smart, but it is also the most dominant. The leader. Follower dogs are much easier to handle and do better with children, challenging humans less. The puppy who calmly hangs back with his tail relaxed is the more submissive one of the bunch.
First Getting Into the Car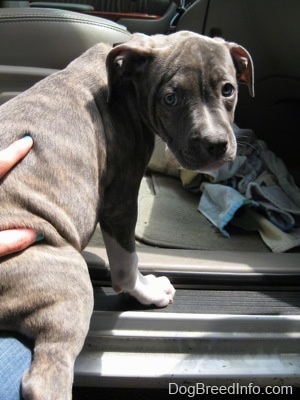 When bringing Spencer home I do not just carry him into the car, I allow him to walk in by himself when he feels ready. It takes time, however it is the best way to make a dog secure about riding in a car. Spencer is too small to just jump in, so I help him up by placing his front paws on the car entranceway. I then support his back legs and wait for him to decide to walk into the car. I could have used a treat, but Spencer took the steps into the car on his own. I then waited until he relaxed before I got in and closed the door.
On the way home had Spencer been anxious, whining or unsure I would not have been able to pet or hold him. Giving him affection when he was unsure or upset would have intensified his feelings, as the affection would have been like saying "Good boy for feeling that way." However Spencer was relaxed and calm and did very well on the way home.
When it is time to get out of the car for the first time we take it slow. I help Spencer move through the motions of jumping out of the car, careful not to really allow him to jump, as he is still too small to jump that high a distance.
Spencer and Bruno's First Encounter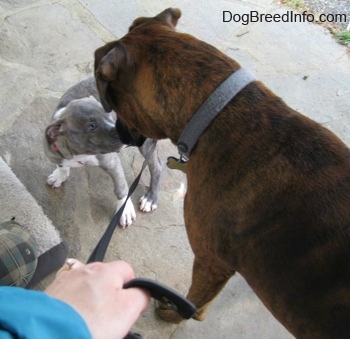 Bruno meets Spencer for the first time. I quickly unsnapped Spencer's leash, as dogs often do better at an introduction if they are free to move around.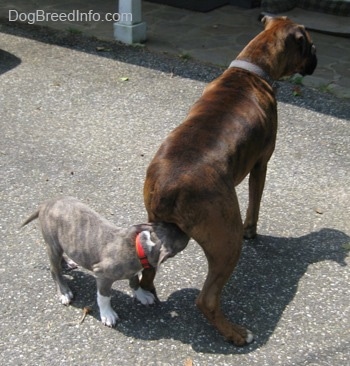 Bruno the Boxer allows Spencer to smell his rear, a ritual dogs use to get to know one another. By smelling another dog like this is like reading a book about the other dog. They can tell what they ate, where they have been, how or what they have been around and touched and if they are male or female, among other things.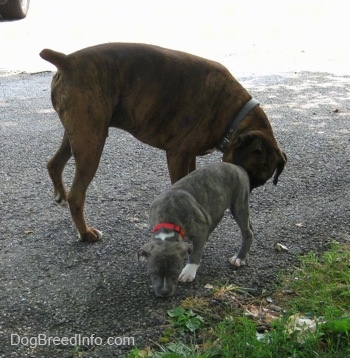 Then Bruno smells Spencer.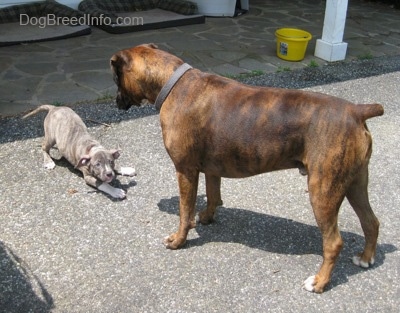 Spencer quickly decides that he really likes Bruno the Boxer. Over and over again when Spencer starts to feel not so sure about something he turns to Bruno, follows him and quickly gets over his insecurity.
Spencer and the Cats
Pumpkin (aka Lumpy) has his eye on this new pup. Spencer, on the other hand, does not see the cat, yet.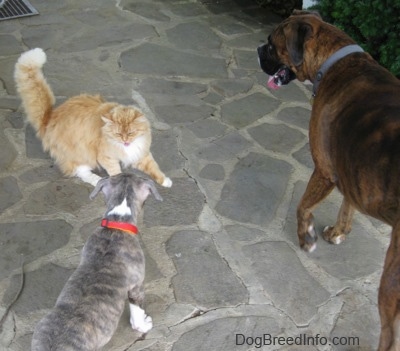 Spencer and Lumpy meet face to face for the first time. Lumpy puts Spencer in his place and lets him know cats are nothing to be messing around with. Spencer gets a swat in the face. Several other cats swat him in the face and Spencer backs away.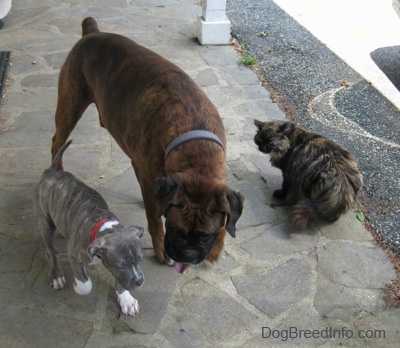 "Look little buddy, the best piece of advice I can give you is to leave those cats alone. They're nothing you want to be messing with. They can get evil, ya see."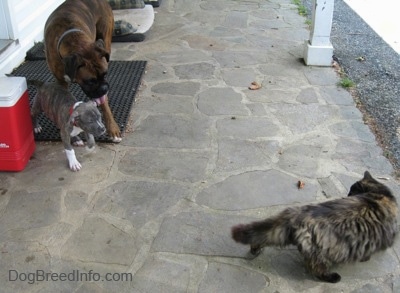 "See that cat there, Spence, I don't recommend you go messing with her. She's one of the tougher ones."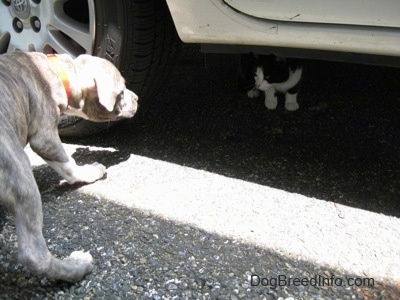 Spencer spots Oreo under the car.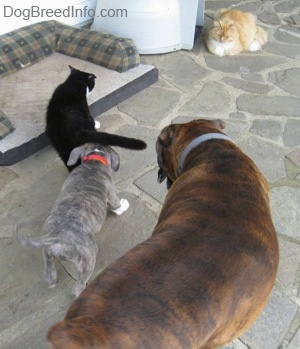 Spencer meets Sylvester, one of the more mellow cats who is much more tolerant of newcomers. Sylvester is gracious enough to allow Spencer to really get to know him by smelling his back end.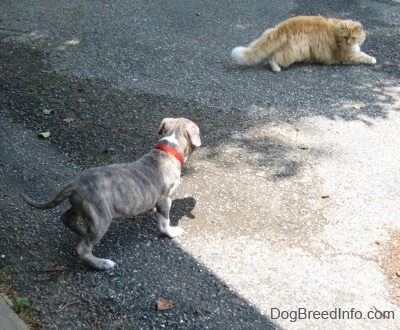 Spencer has another encounter with Lumpy…
…but quickly decides he does not want to challenge the cat. Score for the kitty.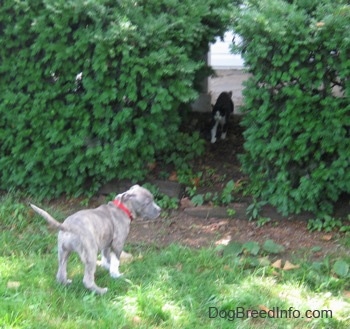 Spencer spots Oreo the cat in the bushes.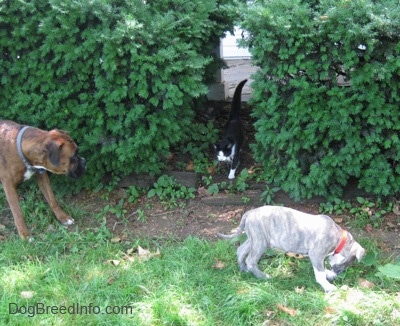 He decides to leave her alone.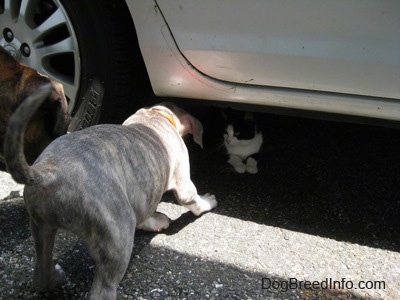 Later Spencer spots Oreo under the car.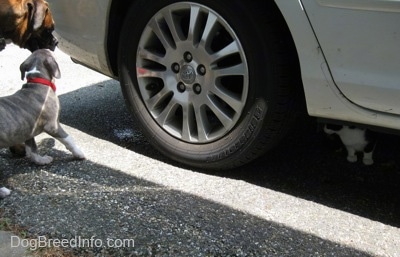 Once again he decides to leave the cat alone, focusing his attention on his new buddy Bruno the Boxer.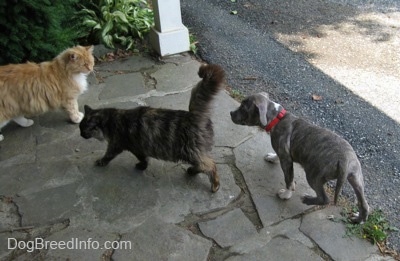 The cats decide that this new pup is a piece of cake.
Gaining Confidence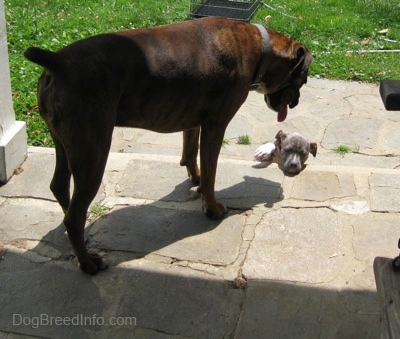 Bruno and I heard a funny noise. I was not sure what it was, but Bruno took off toward the sound and I followed him. We found Spencer whining, wanting to come up the porch steps. He was trying his hardest. Bruno stood there watching him. I knew if he tried hard enough he could do it and I also knew that if I just helped him up it would block him from gaining confidence. Mother dogs do not help their pups with every little obstacle; they allow them to venture on their own, learning and exploring.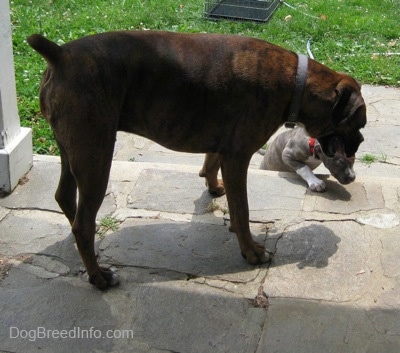 Sure enough, Spencer did it on his own!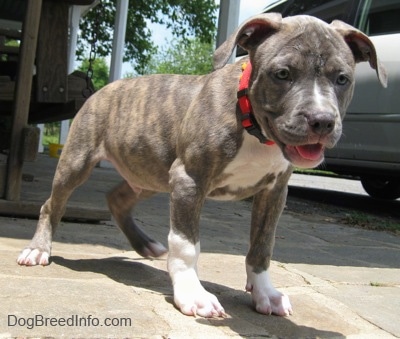 What a handsome Pit puppy.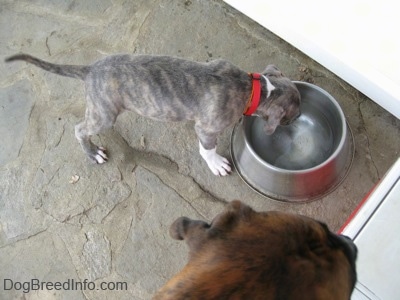 Spencer finds the water bowl on the porch and starts to take a drink. Bruno the Boxer steps back and watches, giving the pup respect. Right after Spencer is finished Bruno steps forward to have his turn at a drink and Spencer steps back and watches. The respect goes both ways. What a great pack this is going to be.
Coming Inside the House for the First Time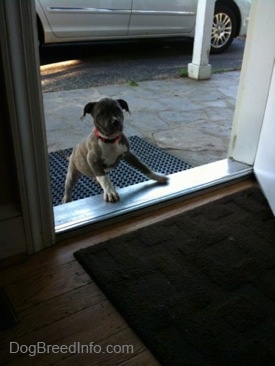 We want Spencer to be a very secure dog. Therefore we are allowing him to explore at his own slow pace. We do not rush him. We wait until he is good and ready to take that step inside the house.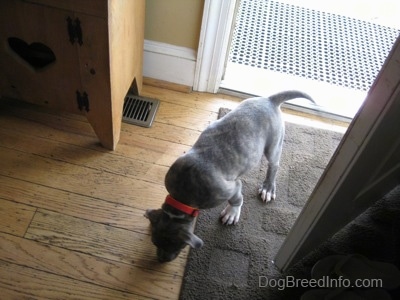 We call Bruno inside the house so Spencer sees Bruno. Spencer has really taken to Bruno and watches him for direction, following him around. We quietly wait it out and after a bit Spencer decides to step inside.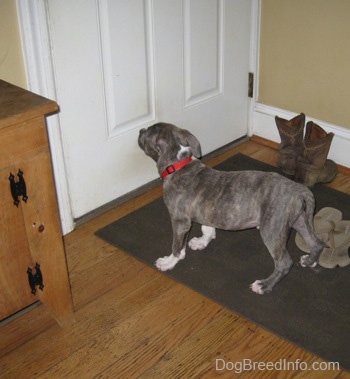 Once Spencer was inside and appeared relaxed we closed the door, however he then decided he wanted back outside. Once again we quietly waited it out. Waited for him to relax on his own and realize that being inside was a safe place. Spencer soon turns back to us and walks in some more.
Introducing the Crate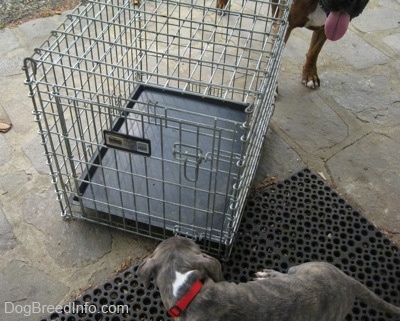 The way the crate is introduced will play a big role in how secure Spencer is being in it. The more secure he is the more he will like it.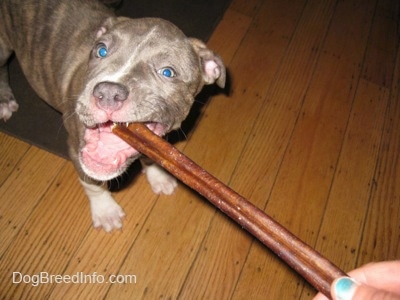 Spencer is already not sure about being inside the house. To help him along I get a bully stick and let him chew on it. After he gets a taste of it he decides he likes it.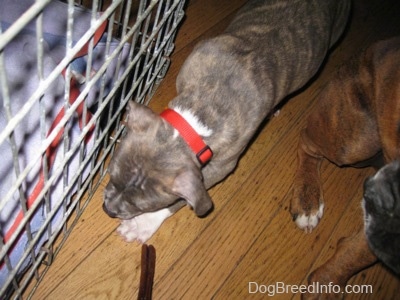 I then use the stick to lure him to the front of his crate…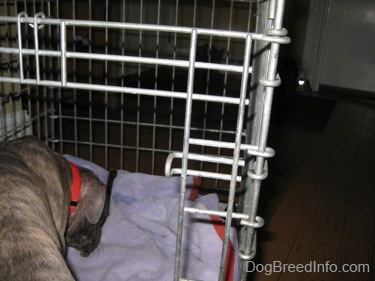 ...and toss the stick inside.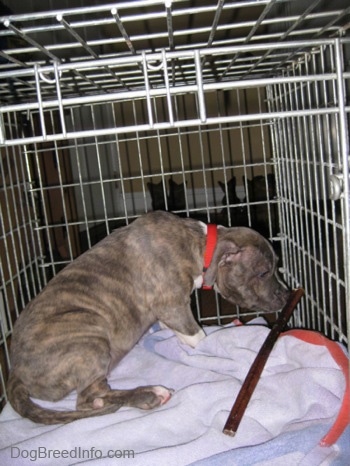 Spencer walks into the crate on his own. Had I just put him in there myself, his first experience would not have been as pleasant. Allowing him to explore it on his own gives him the confidence he needs to really feel safe inside of the crate.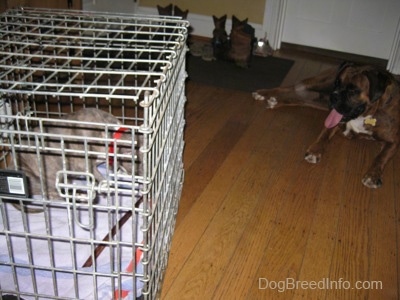 As soon as he relaxes I close the door. Bruno's presence helps Spencer relax.
A few hours later, after having Spencer outside playing and exploring, he comes inside the house and walks right into his crate. Success! He decides the crate is his safety place. After all, there is a bully stick in there just waiting for him.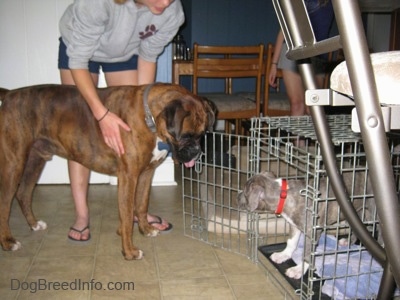 Spencer is not so sure about coming out of his crate and walking on the kitchen floor.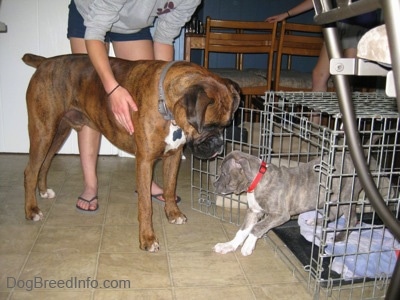 Simply yanking him out will not help to build his confidence and could actually cause him to become insecure. Therefore we give him time. We use Bruno to help lure him out. As soon as he builds up his nerve he starts to come out.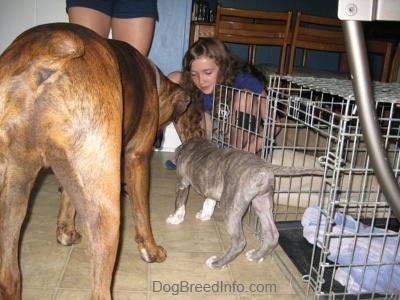 And he's out.
First Bath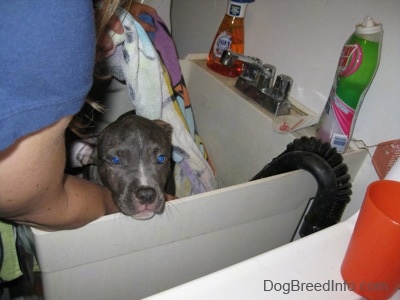 We gave Spencer his first bath and he started to shake. We were careful not to sweet-talk to him while he was upset or it would have made him even more upset, as if to say "Good boy for feeling this way." We were unable to get him to calm down without waiting it out and the poor guy was getting cold. We hurried his bath along and wrapped him in a towel. Now what to do? We cannot sit there and cuddle him while he is upset. Amie says, "Give him to me." She picks him up and...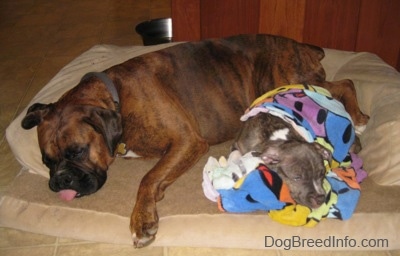 …plops him down with Bruno. Instantly Spencer is calm and relaxed. It's just amazing how one well-balanced dog can help another. If we had not had Bruno we would have put him down all wrapped up in a towel and let time calm him.
Nails Clipped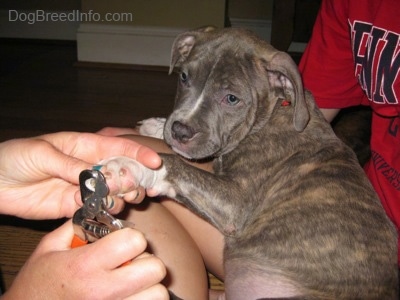 We make sure Spencer is calm before cutting his nails. He does a great job.
Housebreaking First Night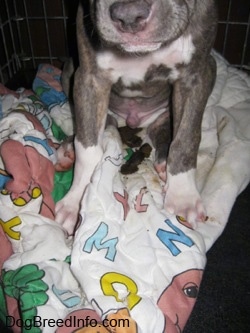 Spencer pooped and peed in his crate and then slept in it. Oh boy. I didn't hear him yip to go outside. I don't know if he did or not. Bruno was sleeping in a dog bed right next to his crate. He was content. The pen the breeder kept him in had a wire bottom where the waste would fall to a bottom tray. Spence was most likely not used to the waste staying right where he went, not to mention that I should have gotten up to let him out during the night. Time to start setting the alarm. I'll start with every two hours and extend it as I see some kind of pattern. Puppies at this age cannot physically hold it in beyond a certain point of time. I bleached his blanket and the bottom of his crate to get the smell entirely out. I better invest in a lot of spray cleaner and paper towels!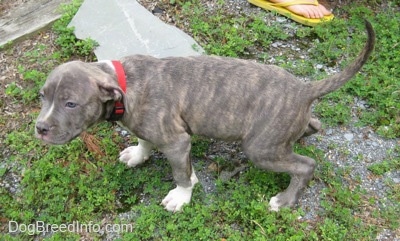 Puppies have to go to the bathroom within five minutes after eating, so I take Spence outside right after he eats every time. Sure enough, he always goes.
Housebreaking: Second Night
Spencer had a long day (see pack walk video) and was exhausted by the end of the night. He was sleeping in the dog bed next to me. I woke him up and took him outside to eliminate and brought him back in. A half-hour later I took him out again and this time let him walk into his crate. I was confident that he no longer had to go to the bathroom. Bruno was in the dog bed in the living room and Spencer's crate is in the kitchen. Spence started to put up a fuss. It was a weekend and it was late, 2:00 a.m. I went up to bed and could hear Spencer having a temper tantrum. There was a bully stick in his crate, but he apparently didn't want to be in there. I waited it out and in about ten minutes all was quiet.
I set my alarm for 5:00 a.m. (three hours from when he last peed) and went to sleep. At 5:00 a.m. I came down and Bruno was in the second dog bed located next to Spencer's crate, Spence was sleeping, his crate was dry. I opened the crate and encouraged him to come out. He carefully stepped out of his crate with his tail going a mile a minute and walked from the kitchen into the living room and out the front door! He followed me to the grass, peed and followed me back to the porch. WOW!
Only having three hours of sleep myself, I decided I didn't want to spend the time to encourage him to walk back to the kitchen so I carried him to the kitchen and set him in front of his crate. He walked in. He loves the crate. The hard part for him is walking inside the house to get to it. This we will be working on in time. (Update: Sara got Spence over his insecurity this same day. See Spencer the Pit Bull getting over his apprehension of indoor hard flooring). He made great progress when he walked from the crate to the front door. I went back to bed until 8:00 a.m., three hours later I took him out to pee again the exact same way. The crate is clean and dry and he walked from the crate to the front door! I may be able to push this time to every four hours. Not sure yet. I'll be testing it out.
Update on Housebreaking: Second Night
Amie just told me that twice in the middle of the night she heard Spencer fuss in his crate and she opened the crate and he ran like the house was on fire from the crate to the front door, over to the grass and peed and pooped. I just might need a baby monitor. The pup wants to go outside. Someone just has to hear him. Way to go Amie and Spencer!
Housebreaking: Third Night
Spencer made it through another night with a dry crate! Instead of setting my alarm I bought a baby monitor so I could hear if he woke up. When it was time for bed I walked Spence out to go to the bathroom. After the pup went I walked back inside the house and to the kitchen with him following me. I used his bully stick to lure him into the crate. When he lay down to chew it I closed the door. As soon as I walked away Spence started fussing, and boy is he loud when he fusses. I knew he did not have to go to the bathroom because he just went.
I didn't want him to think fussing resulted in affection or the crate door opening, so I went to the living room where Bruno was sleeping and told Bruno to come with me in the kitchen. I had Bruno sleep in the dog crate next to Spence's kennel. Spence saw Bruno and calmed down considerably but started to fuss one more time and I sternly "shhhhed" him. Spence stopped fussing and was content with being in his crate next to Bruno, although I know he would have preferred to be in the same dog bed. Had I not had Bruno I would have had to ignore him and wait it out.
At 4:00 a.m. I realized I had not heard a peep from Spencer. I decided to go and let him out anyway. He followed me all the way from the kitchen to the living room front door and to the grass to pee and back inside to the kitchen. He plopped down with Bruno in the dog bed. I had to guide him inside his crate with the bully stick that was next to Bruno. I gave him his bully stick and went back to bed.
At 7:00 a.m. I heard him squeak and I got up to let him out. I notice when I open the front door he does not step outside unless I step outside first. I have seen Amie tell him to wait until she passed through the door first a few times. Since Bruno does this automatically Spencer seems to have picked up on this concept already.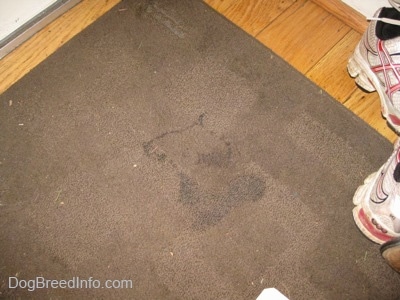 We had a little accident the evening of the third day. Spencer went to the front door and we didn't notice in time, so he peed right in front of the door. I cleaned it up very well with pet deodorizer spray to get the smell out so it does not attract him to do it again.
Housebreaking: Fourth Night
Spencer's crate was dry once again. I got up in the middle of the night and took him out to potty once. Crate training is going well.
Feeding
Spencer is a good eater. We feed him three times a day, as much as he can eat in ten minutes. He is always finished before the ten minutes are up. Spencer and Bruno are eating different types of food and Spencer eats more often than Bruno, however when Spencer eats Bruno ignores him. Good boy, Bruno. Respecting the puppy.
Bruno Helping Spence
It is amazing to watch just how much Bruno helps Spence adjust to all of this new excitement. For example, one of the first times Spencer was in the car he started to shake. He was not sure about being in there. He looked up at Bruno and suddenly his tail started wagging and all was better again.
On the first day home when I would take Spence out to go to the bathroom he seemed unsure about following me down into the yard. However when I took Bruno with me he followed Bruno with confidence, very happily I might add.
Teaching to Follow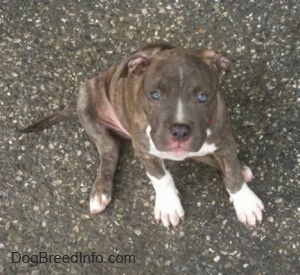 Spencer's instinct to follow is strong, stronger than Bruno's was at this age. Bruno had the instinct, but Spence's is stronger. He follows me everywhere and he does not try to pass me. I walk, he comes, I stop, he stops. When I stop walking he sits down right next to my feet and waits. I look down at him and he looks up into my eyes waiting for the next move. I walked him and Bruno to the pond and back off-leash and Spencer followed. That super strong instinct to follow and the attachment to humans is a Pit Bull trait. We are showing him strong leadership and in return he is paying close attention to us to see what we want of him. Pit Bulls will do anything for their owners if they can understand what it is the owners want of them. Owners need to channel that desire to please into something positive.
Introducing Crate for Car
I wanted to introduce Spencer the Pit Bull to a crate that we were going to use in the car. He had never been in this crate before. I had just cleaned the crate out and the pup got a hold of the paper towels that had cleaner on them. Simply yanking them out of his mouth would have not only not taught him a thing, but he would most likely have thought it was just a game. I had to act and think fast however because of the cleaner to get him to drop it himself. After taking care of the paper towel issue I use this bully stick to lure him into the new crate. Notice how he is focused on the smell of the cleaner and I use this bully stick to redirect his attention to that smell. Then I use the bully stick to associate the crate with something positive. Simply shoving him into the crate may have caused him apprehension about being in the crate.
The Test
It was midnight and time for Spence to go to his crate. I took him out for a short walk and a potty break and headed back inside the house. Just like the last two nights I led Spencer to his dog crate in the kitchen. When we got in sight of the crate the little bugger stopped in his tracks and it was as if I could see the wheels spinning in his head; he didn't want to go in the crate. He made a beeline for the living room dog bed, running as fast as he could. He skidded into the bed and lay down really fast, as if he was now safe at home base.
Spence, you little sucker. You may be a smart pup, but I am a little smarter. I body blocked him toward his crate and this time I was ready. When he got to the same spot he tried to do the same beeline back to the dog bed in the living room. Just as he started to run I poked him in the neck with my finger and blocked him. I pointed and told him to get in the crate. He lowered his head and walked into his crate. I passed the leadership test. I am sure there will be many more of these tests to come.
He is just a little guy, 17 pounds and I could have easily just picked him up and put him in his crate. However it was important that I made HIM walk back to his crate on his own, otherwise it was not him giving it up. The difference between leadership and overbearing pushiness on an owner's part is making the dog do what you want on their own, and not physically forcing the dog with your muscle strength. You use your mind, feeling confident and strong inside. If you feel stronger than the dog does, and match his intensity without going too far over, the dog is more likely to listen to you.