Raising a Puppy: The 34th Week in his New Home—Spencer the Blue-Nose Brindle Pit Bull
A day in the life with Spencer the American Pit Bull Terrier puppy. Spencer's 34th week—43 weeks old, 79 pounds, 22 1/2 inches from the ground to the highest point of the shoulders (the withers).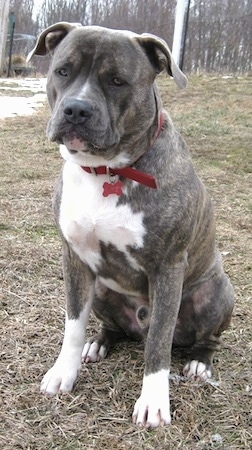 10 months old.
The Toys
Oh Spencer, if you would only learn to pick up your toys before you go to bed. I'll have to talk to Sara about teaching you that trick.
Weaning off the Crate
We were going out for a couple of hours and decided to leave the pup out of his crate while we were gone. When we got home Spencer was sleeping in the middle of the living room floor and nothing was out of place. Good puppy!
You Picky Fellow!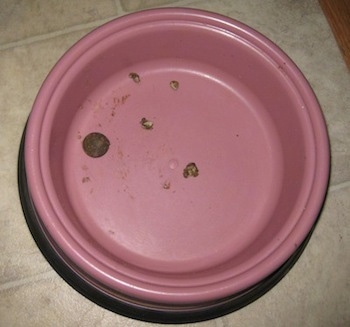 Bruno is on a joint supplement that I toss into his food bowl and mix with his food. I checked with my vet and the vet said it was OK to give the same supplement to Spencer. I decided what the heck, might as well give it to him too. For the past few days I have tried just tossing it into his food bowl like I do with Bruno, however this picky dog eats everything in the bowl except for the supplement. So the other day I put it into a pill pocket made for dogs and he picked it out of that too! This particular day I had put two chewable pills into his food and had squirted salmon fish oil on top of it and mixed it into his food. Keep in mind that there were not only dry pieces of kibble in the bowl but a can as well. It was really mixed in. He did it again—ate everything except for the supplement. This dog is so observant. He is always watching, always smelling and seems to always be thinking. So much more than any other dog I have ever owned. I decided it is not worth trying to give him a supplement right now. If he ever has joint problems I will have to figure something out. Hopefully that will never happen.
Spencer is also on a high-quality grain-free diet just like Bruno. In fact it was Spencer that got me looking into the ingredients of the dog food I was feeding. Spencer was refusing to eat it so I started looking at what was in the food and I would not have eaten it either! I switched him to a better quality food and he loves it. I let him taste test a lot of foods and let him pick it. This was back when he was just a small pup. I am glad he brought the food quality to my attention way back when he was so small.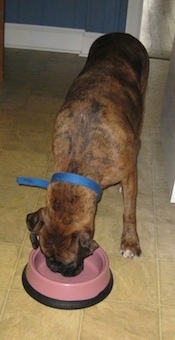 So what to do with the seemingly wasted joint supplement? Give it to Bruno! Bruno eats anything.
Taking the Weekly Profile Picture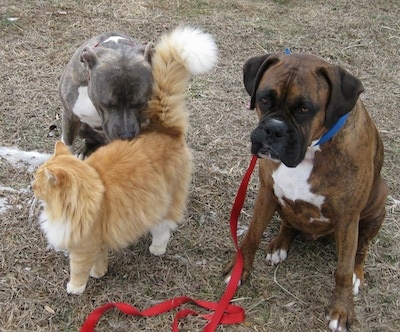 It's always a challenge getting a good weekly profile picture of Spencer. Not because Spencer will not sit down but because the cats always show up and start to rub all over him.
Bruno is hooked to a leash because he is still not allowed to run since his ACL surgery not too long ago. The leash helps me stop him should he try to run. Well, the cats are good for something I suppose; Bruno had gotten up and was about to walk away when Pumpkin (aka Lumpy) clawed at his leash and held him there. Bruno is pretty mellow and didn't try and pull away. He is excellent on the leash, even with a cat!
Hunting
We often go for off-leash walks in the woods so Spencer can hunt around and use his nose. He likes to follow trails and chase deer, fox and rabbits. He never catches anything but he has a good time trying. It's fun to watch him with his nose to the ground following a scent.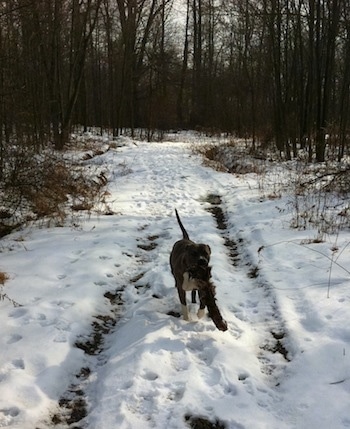 This particular walk he found something and brought it to me. "Pup, what do you have?" You would have thought he had just found a pot of gold as proud as he was. I believe it was a deer skin or something. After he found it he carried it with him the rest of our walk.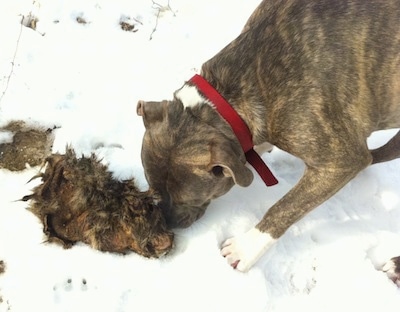 I didn't dare smell the thing. There was no meat on it, only skin. Some other animal must have eaten all of the meat. Good thing because I would not have wanted him to eat it.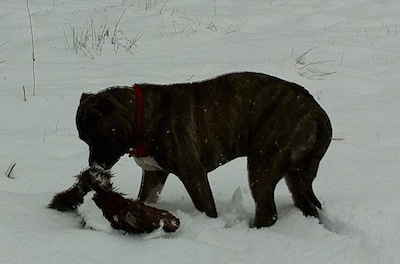 It must have smelled good to him. He could not get enough of the smell. Thank goodness it's winter or I think that old skin would be extremely stinky!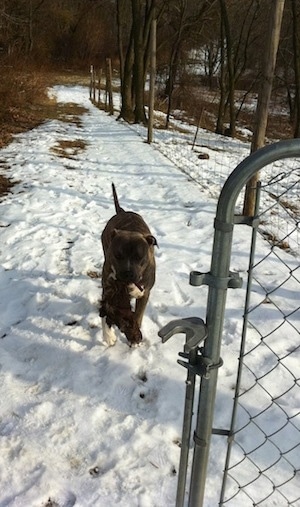 As we approached the front gate I decided it was best left outside the gate.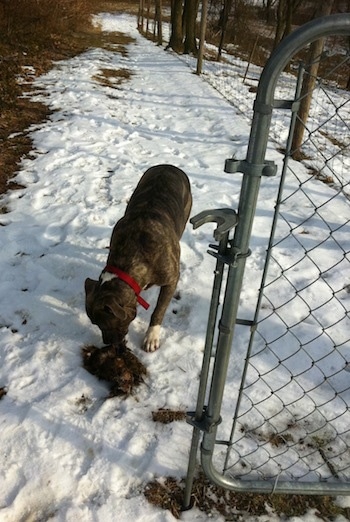 "Drop it." He dropped it. "Leave it." He tried once to bring it, "No, leave it."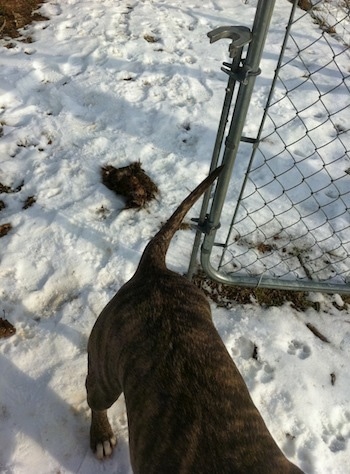 Good boy.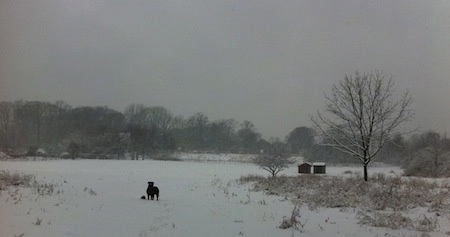 Later we went for another walk. I let him get the skin again. He carried it around. That's the skin next to him in the field. Later, after a second snowstorm hit we buried the skin with the plow in the snow. Spencer spent a couple of hours nosing around trying to find it. We had not left a trail; that would have been too easy for him. We just moved it and dumped snow on it. A good mental exercise for him. He did find it eventually and it's still lying out there somewhere.
Spencer and Uncle Tim
Spencer gets a visit from Uncle Tim, an autistic man in his 60s once a month. Spencer is called over, pushed on, pulled on, petted hard and leaned on. He takes it all in stride; he's calm, acting submissive and never tries to jump. One "Leave it" from me would send Spencer over to his bed, however I rarely have to tell him to leave it. Uncle Tim calls Spencer to come to him and enjoys the interaction, often laughing at the dog. Spencer does a nice job handling the rough petting and seems to also enjoy the attention.