Raising a Puppy: The Eighth Week in his New Home—Spencer the Blue-Nose Brindle Pit Bull
A day in the life with Spencer the American Pit Bull Terrier puppy. Spencer's eighth week—17 weeks old, 38 pounds, 17 3/4 inches from the ground to the highest point of the shoulders (the withers).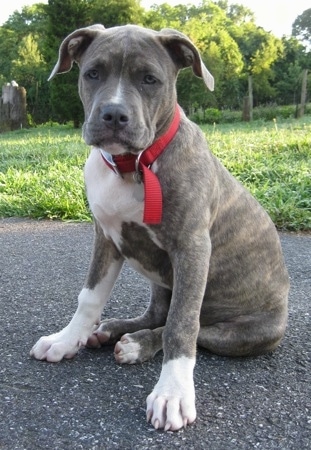 4 months old.
Housebreaking
Spence continues to do well with housebreaking. He still gets up by 7:00 a.m., usually earlier, every single morning. When the crate door is opened he walks right to the front door, goes outside and does his business. During the day we keep him well exercised and let him outside often to go to the bathroom. Spence walks to the front door several times a day and we open it and let him out. We also take him out right after he wakes up from a nap, right after he eats and if it has just been a while since he was last out. As soon as I see him start to sniff around the floor, out he goes.
Worm Medicine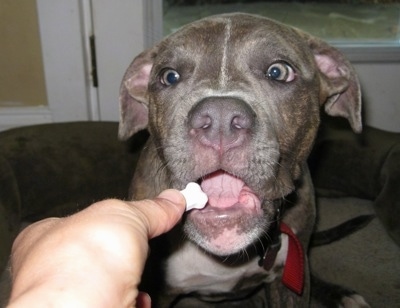 Three weeks had gone by since Spencer had his first dose of medicine for worms. It was now time for his second dose. The pup ate most of the chewable pill all by itself, but did not seem to want the last little bits. I put the last few pieces into a dog pill pocket and he ate it right up.
Trip to the City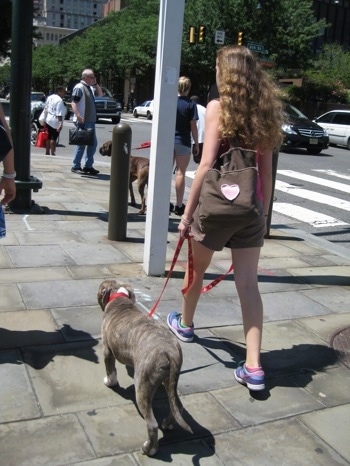 We take Spencer on a trip to the city of Philadelphia. Talk about some good socialization: jack hammers, people, cars, horns, sirens, noises and activity in every direction.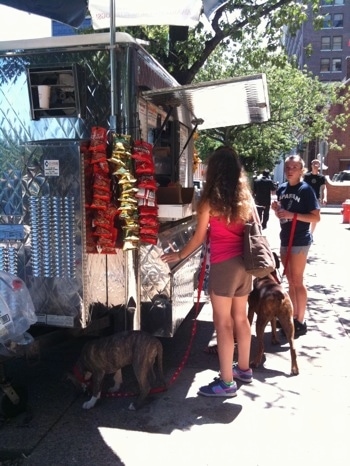 We stop at a food vendor for lunch. Spence, I hope you're not eating something you should not be eating under there.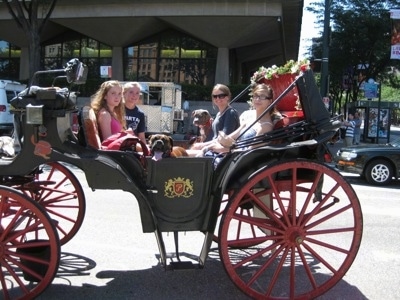 After lunch we decide to take Spencer and Bruno on a horse carriage ride. Neither of them is fazed by the horse or the carriage. Spencer sits on the seat so he can see and Bruno sits on the floor.
Spence checking out all of the action we pass along the way.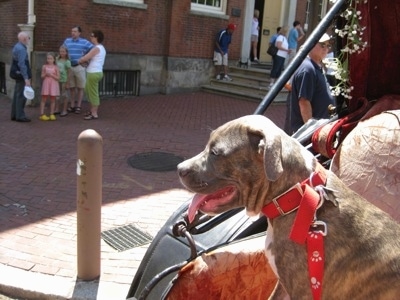 Over and over we hear people say, "Aw, look, there's a puppy on the carriage!"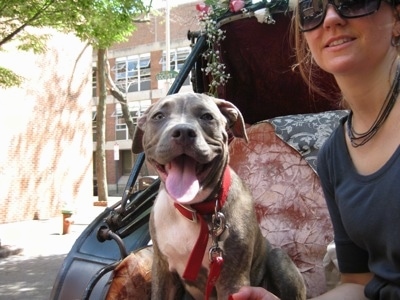 Spencer enjoying the ride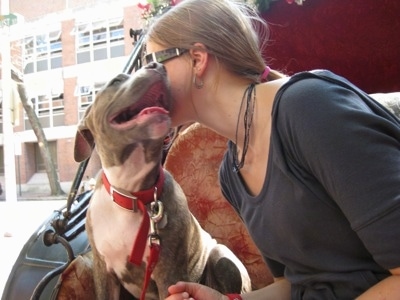 He is such a loving pup that is very bonded with humans, those he knows and those he does not. He loves everyone.
The Cats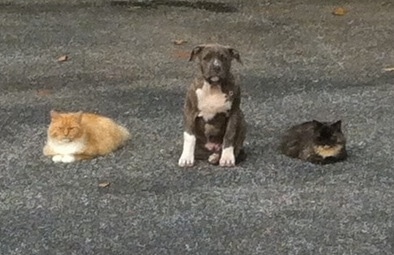 I think they like him! From left to right: Pumpkin, Spencer and Blizzard.
The Fly Swatter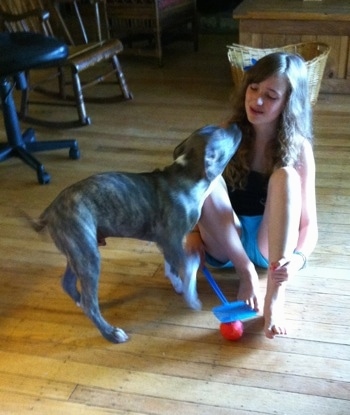 There were several flies flying around the house that were landing on the dogs and biting them. They were landing on Bruno the Boxer while he was trying to sleep and he would turn and try to eat them. Too slow every time, of course. I got the fly swatter out to help him out and mistakenly scared the you-know-what out of Spencer when I tried to get a fly that had landed not too far from him. Spencer was suddenly afraid of the fly swatter. What to do, what to do. I don't want the pup afraid of anything; that is no way to live. We decided to turn it into a game. Without talking to him Sara started using the fly swatter to bat around his ball. Spencer was not so sure at first but the ball was just too tempting. He forgot all about the swatter being a scary thing and started associating it with a ball game.
Hershey Park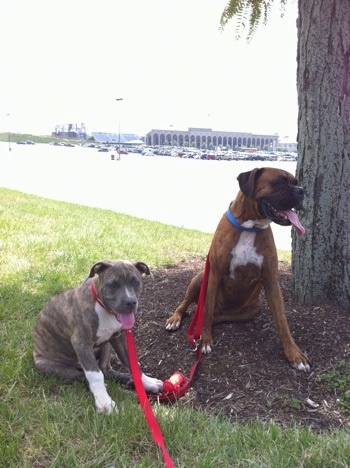 We took the dogs with us on a trip to Hershey Park. Dogs are not allowed into the park, but were able to be walked all around the outside of the park. The park offers an air conditioned kennel that you can keep your dogs in for the day, however we had our RV and did not need to use the service. I came back to the RV and walked them several times throughout the day.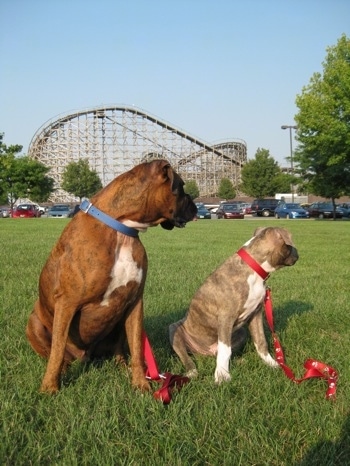 Spencer and Bruno hear people screaming on a ride. Come on boys, turn and look at the camera.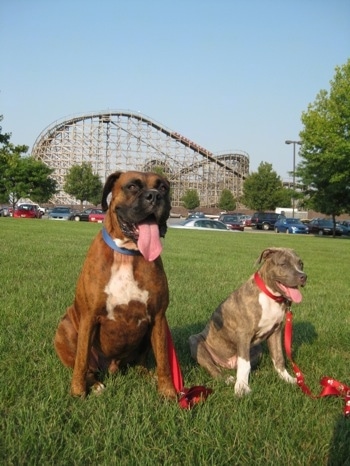 That's better. Smile pretty. I walked the dogs along the outside of the park right next to the roller coaster. Bruno had been there, done that and just kept walking as the screaming coaster zoomed by. Spencer was not so sure at first, looking with wide eyes, but soon got used to the noise as well.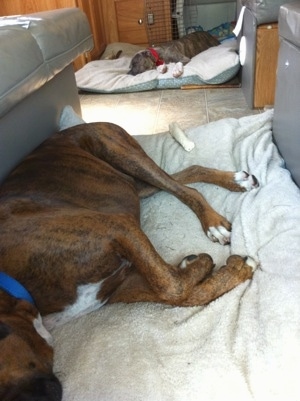 A long walk in the morning before we left for the park, stopping for a walk on the way to the park and several long walks at the park pretty much kept the dogs like this while we were outside the RV. Spencer is too big now to shut the door of the crate we had brought and anything larger did not fit through the RV doors. Spencer still liked to sleep in it with is head hanging out so we brought it with us anyway.
At the end of the night I sat on the steps with the dogs outside the entrance, waiting for the kids as people came out of the park. Many different groups of people came over to pet Bruno and Spencer. The dogs ate up the attention. They both love little kids. As soon as people Bruno does not know start petting him his tongue starts licking; a habit I wish he didn't have, but it is a submissive lick so it's not a horrible thing, just wet.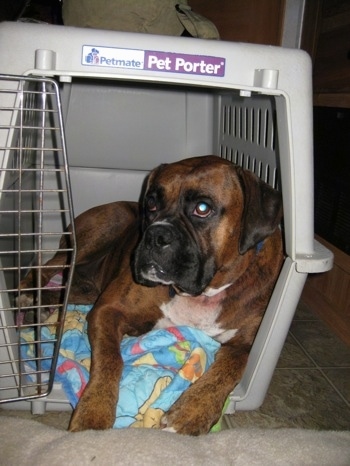 Bruno! I don't even know how you managed to get your body into that crate, let alone turn around and face front again. You silly pup.
Later, when we arrived home from the park it was time for bed and I gave Spencer the command to get into his crate for the night. "Cage." Silly Bruno had walked with Spencer to the kitchen and was about to get into the crate. I stopped him with a bear hug as he walked by. I didn't want to say "No" or Spencer may have thought I was talking to him. Bruno buddy, listen up. You are a big boy now and do not need to be locked in a crate at night. The crate is for your kid brother.
Puppy No-No's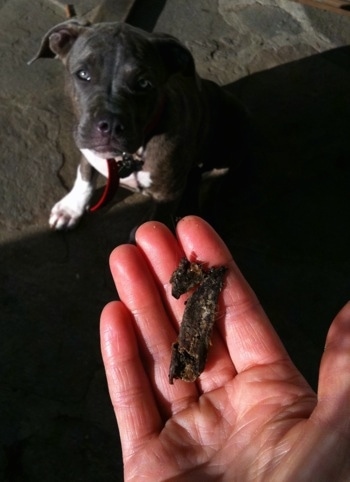 I'm not even sure what this is, but it has the feel of an old bone. I sure hope it's not some kind of poop. But in any case it's not something this pup should have been eating.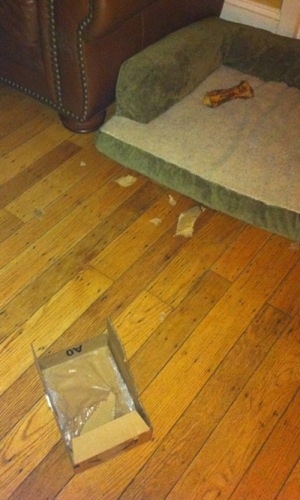 Um, Spence. I am not even sure when you did this. Listen pup, the UPS guy does not bring cardboard boxes just for you to chew on. Oh, and do you see that bone on your bed? Need I say more?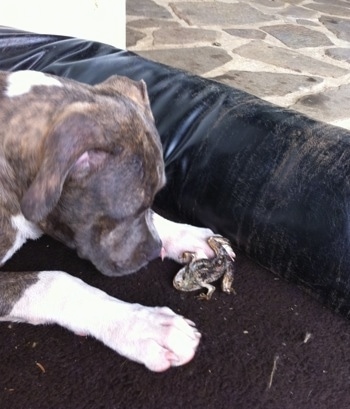 Another dead frog. Oh my gosh, Spencer. I think I have touched more dead frogs since we adopted you than I have in my entire life. Give me that. Gross!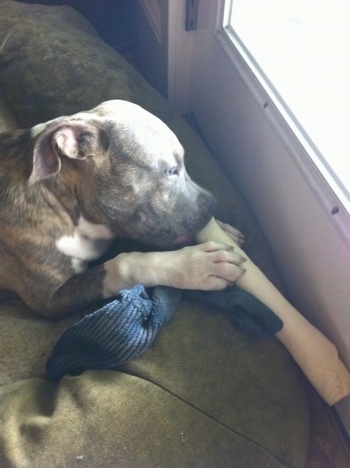 Hmmm, now the pup has the right idea. He is chewing a bone. However that is my sock under his paw and I know I didn't put that sock there on his dog bed. It was in my boot.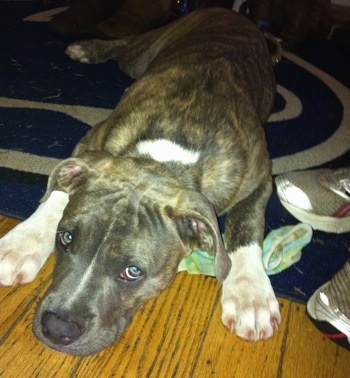 Don't let that innocent face fool you. See that sock under him? He had just taken that sock out of that shoe a few seconds before this pic was taken. "Hey!" he dropped to the ground as if the thought never crossed his mind. Who me? I'm too cute to do anything wrong.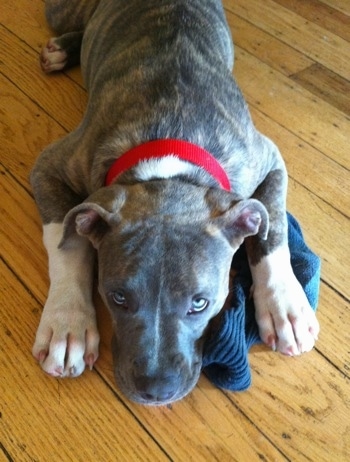 And again. He had that sock in his mouth. As soon as I said "Hey!" he quickly lay down and gave me that face. Too bad the evidence is right under him. He must love the smell of feet. Feet, poop and dead frogs. There is a bright side to everything—at least he does not obsess over cigarette butts.
The Paw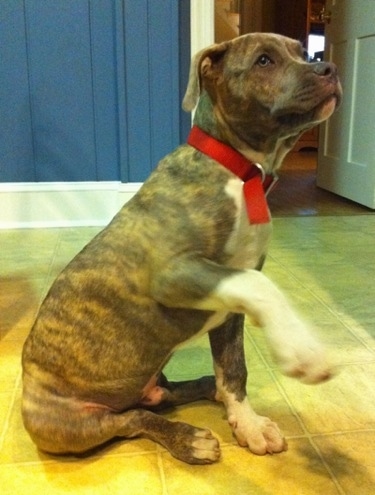 Every day at feeding time before Sara sets Spencer's food dish down she tells him to sit and asks for his paw. Spence holds his paw in the air without actually touching anything or anyone and Sara sets his dish down for him to eat. She also likes to pick up his toy, ask for his paw and when he lifts it she hands it to him.
Apparently this has taught Spencer that is how you communicate that you want something. A couple of Spencer's toys were on the cabinet because they are toys that need supervision when being played with because of Bruno's big strong mouth. He could chew them apart in minutes if I let him. Spencer spotted the toys, walked over to the cabinet, calmly sat down and still looking at the toys raised his paw in the air.
Later that same night it was a little after his dinner time. He walked over to the spot where he eats, calmly sat down and held his paw in the air. This reminded me to tell Sara to feed the dogs. He waited calmly as she prepared his food and of course Sara made him lift his paw in the air before he could eat.
Since he has now learned that a paw in the air means he would like to have that, I talked to Sara and told her to make sure the "paw" trick remains only holding it in the air with no contact. I would hate for him to start scratching people and things when he wanted something. I also have to make sure he remains calm and submissive about it and does an additional trick on my terms should he get what he is asking for. One thing is for sure, he's one smart pup for only four months old.
Steps
Spencer does not get a chance to go up and down full flights of steps very often. Over the weekend, however we were at a house with steps that he needed to go up and down. At first he just looked at them and didn't even want to try it. I picked him up and carried him until there were two steps left and placed him down. Spencer climbed them and was happy when he reached the top. We ended up going out the back door which had five porch steps. Spencer went down those with no problem. The next time we came into the house Spencer had the obstacle of the full flight of steps in front of him once again. He didn't want to climb them. I picked him up and placed him four steps from the top. He climbed them and was once again happy when he reached the top. That same day when we had gone out and back in Spencer took a look at the full flight of steps and went for it. He climbed all the way up by himself! The closer he got to the top, the more his tail would wag. When he reached the top his tail was going good.