Spencer and Bruno visit Penn State University (PSU)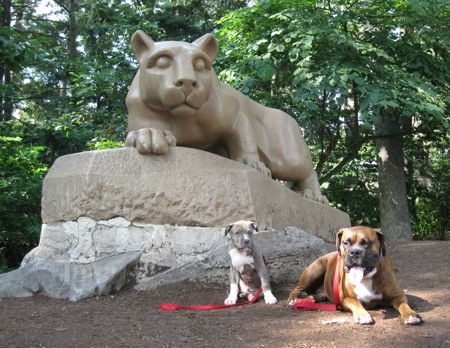 Spencer the 12-week-old American Pit Bull Terrier puppy and 3-year-old Bruno the Boxer take a day trip to Penn State's University Park campus in State College, PA.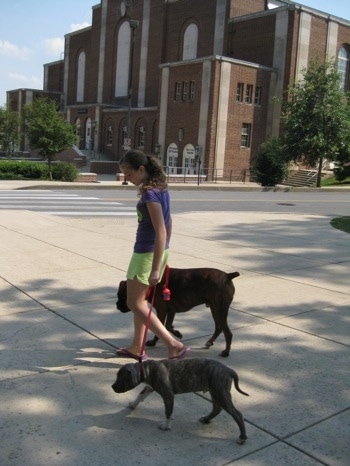 Walking to the Nittany Lion Shrine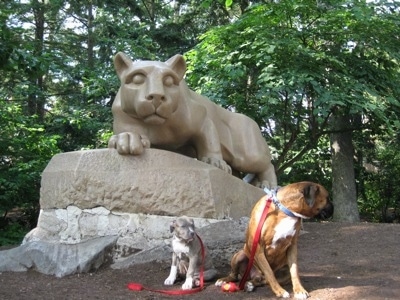 When I first asked Bruno to walk up to the Nittany Lion Shrine at PSU, Bruno was not so sure. He did an army crawl over to it, lowering his head as far as it could go and still be walking. Bruno is not usually afraid of anything. He had me wondering what was up, when Sara pointed out I was asking him to walk up to a huge cat that was in a pounce stance. Bruno won't even go near our five-pound cats when they are in that same stance let alone a 13-ton cat! You silly Bruno! After he smelled it he did relax.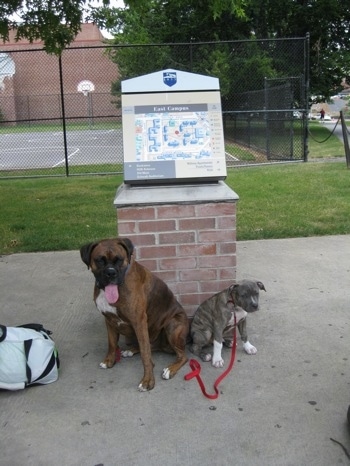 Bruno and Spencer hanging at a campus map.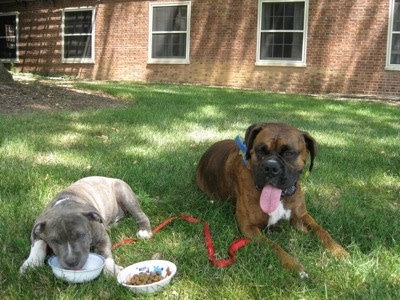 Spencer has lunch outside Simmons Hall.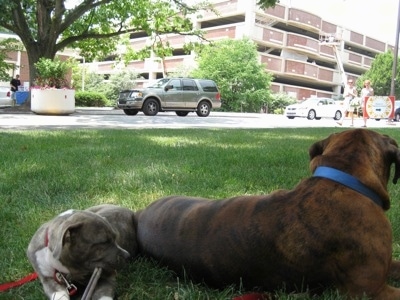 Hanging on the Simmons Hall lawn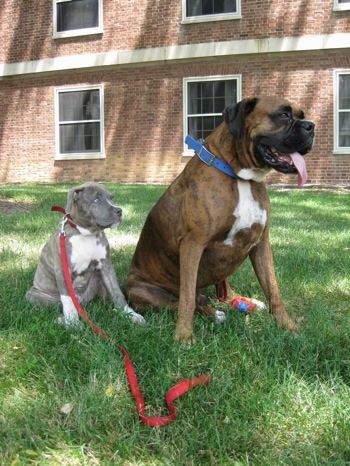 Spencer and Bruno watching all the people walk by.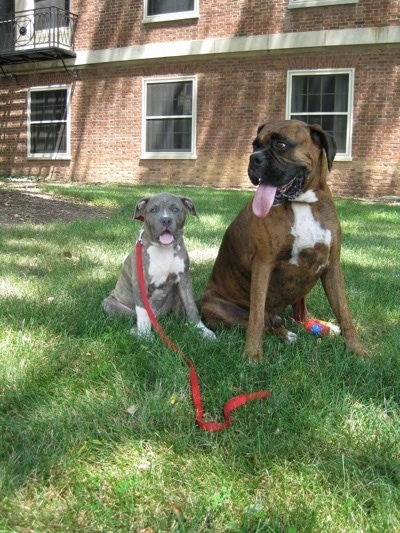 I do believe they are enjoying their day on campus.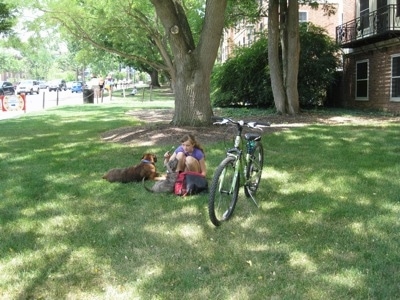 Sara hanging with the pups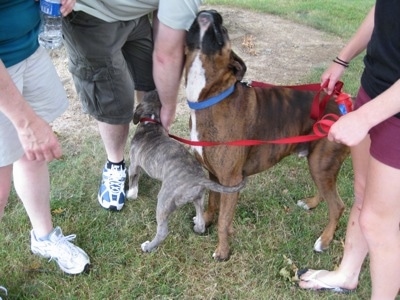 Many people stop to say "Hi" to Bruno and Spencer. Both of them eat up the attention.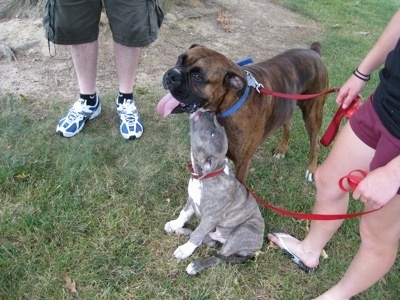 Spencer still digs licking up Bruno's drool.
Spencer and Bruno checking out all the students and alumni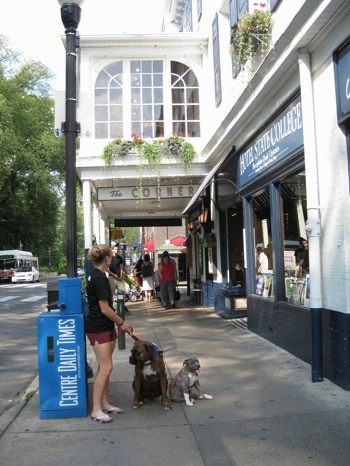 Hanging out on College Ave.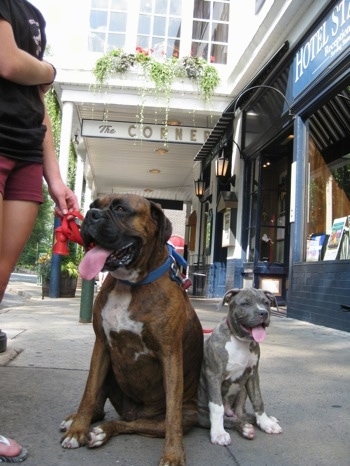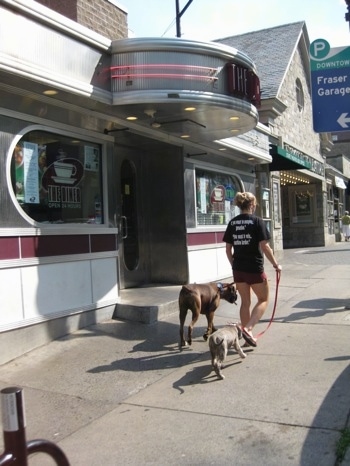 Going for a walk down College Ave.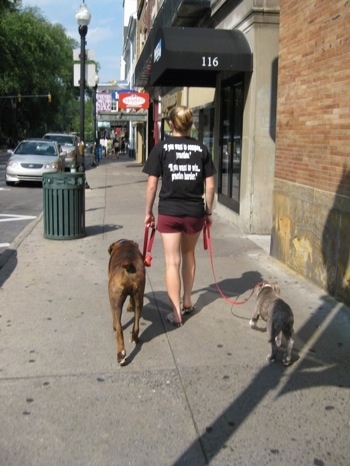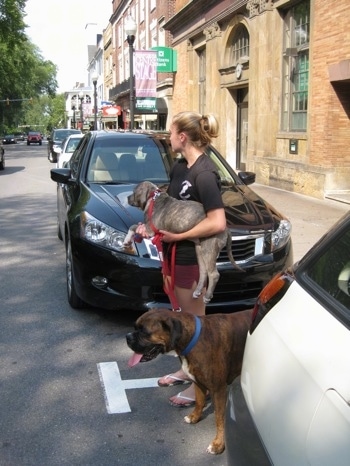 Spencer is getting tuckered out.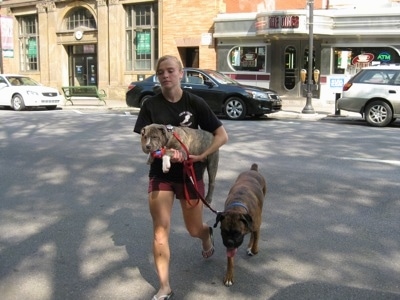 Spence, you're getting so big. Enjoy being carried while it is still possible!
Spending the day at PSU is enough excitement to exhaust any pup! It was so hot and this pup was so tired that he actually attempted to jump into the van by himself, knowing that cold air blows out at him on the floor. I had to quickly help his back end up as I don't think he would have quite made it. In time Spence, in time.