Dogs Caught in the Act!
Page 11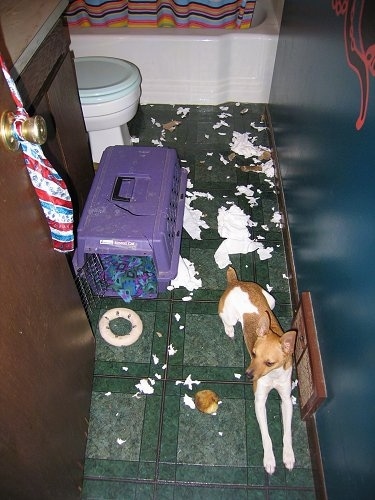 "This is Otto. He is a ten-month-old Rat Terrier. We keep him in the bathroom during the day even though our other Rat Terrier, Roxy is not confined. He will soon graduate to free range as well because he has been doing very well when we are not home (except when I leave the toilet paper within his reach!)"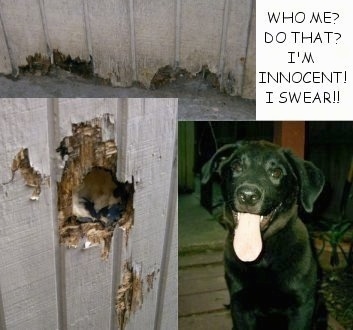 Sanford, a 4-month-old Lab—"Sanford's newest trick is eating our house! He tried to blame it on the other three dogs but we know it was our darling Sanford."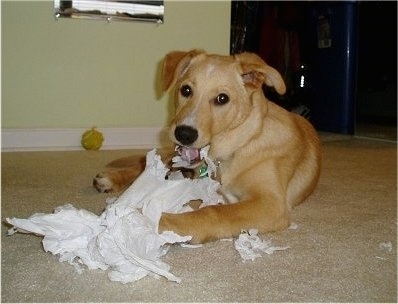 Dublin the Golden Sheltie (Golden Retriever / Shetland Sheepdog hybrid) CAUGHT!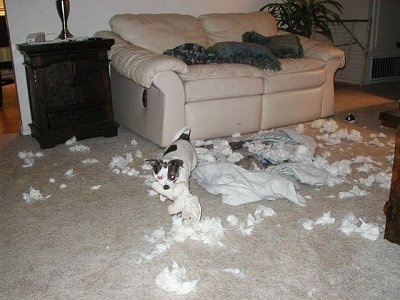 Moxi the Chihuahua Terrier mix at about 2½ years old. Her owner states, "She was left in our front yard under our bushes when she weighed only 3 lbs. Apparently someone didn't realize the love they were about to miss out on!!! These pictures are of her pulling the stuffing out of an animal we had just gotten her. It took her all of 3 minutes to pull all the stuffing out."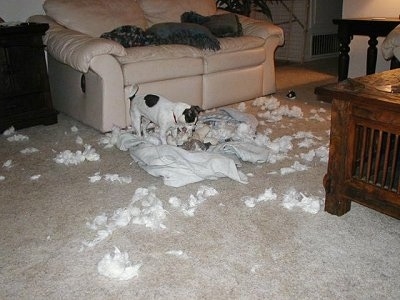 "Needless to say, stuffed animals don't last long in this household."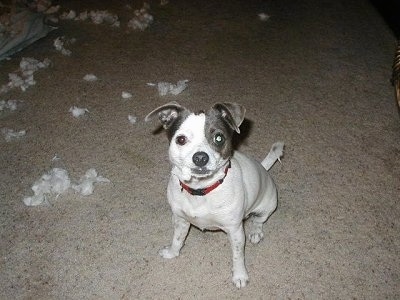 Showing evidence of the shred-fest she had! "What??!! What did I do??!!"
Moxie trying to go for more, after the mess had been picked up. Gotta love her!!!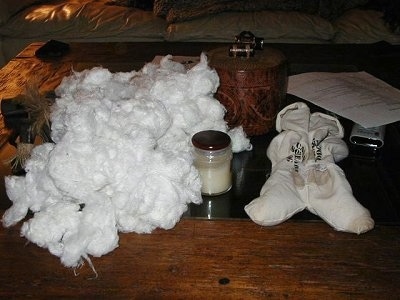 Why does my dog do that? Learn what makes a dog tick and what you can do to turn your dog into a happy, well behaved, respectful canine.
Do you have a photo of your pet caught in the act of a no-no? Send it in!