Dogs Caught in the Act!
Page 17
"This is Baksheesh (which means 'gift' in the local dialect), a wild dog from Afghanistan we adopted while living in Kabul (age unknown, but likely around 4 months). He had been dealt a bad hand in life up until being adopted by us, having to scrounge for food and water on a daily basis with no pack to support him, and was very quick to take to the good life. Here he's caught rummaging through the trash to get at the last bit of Cheetos from an empty tin. This is only minutes after he polished off an entire MRE (meal ready to eat), normally used to feed an adult human. I assumed he was making up for lost time on eating, but had to get the photo (and stop falling over with laughter) before dislodging his head from the container."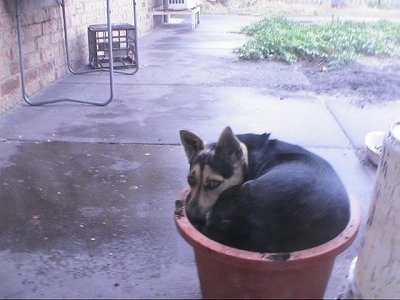 "This is my 1-year-old Kelpie cross German Shepherd Speckles caught sleeping in an unused plant pot in our backyard. (Look at the top right corner to see a colossal overgrown watermelon weed!)"
Why does my dog do that? Learn what makes a dog tick and what you can do to turn your dog into a happy, well behaved, respectful canine.
Do you have a photo of your pet caught in the act of a no-no? Send it in!