Detecting Internet Scams
Scams
Targeting Sellers (Breeders and Rescues) | Page 3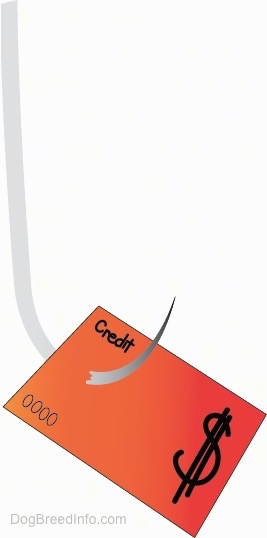 Another one sent to the Dog Breed Info Center® web site. OK, I admit, I knew it was the scam and I was toying with them ;-)
Scammer: HELLO,
MY NAME IS MRS JULIET DONNA, I HAVE VISTED YOUR WEBSITE AND I AM SO INTERESTED IN SOME OF YOUR ITEMS , I WANT YOU TO SUPPLY MY STORE WITH YOUR PRODUCTS AND I WOULD LIKE TO ORDER FOR THE FOLLOWING ITEMS LISTED BELOW. I WANT YOU TO GET BACK TO ME WITH THE TOTAL COST AND SHIPPING COST VIA AIR FRIEGHT TO NIGERIA SO THAT I CAN PLACE MY PAYMENT AND ALSO I WANT YOU TO ADVICE ME ON YOUR MODE OF PAYMENT.
ITEMS DISCRIPTIONS.
Adult Sweatshirt*.........................qty24
Adult T-Shirt ..........................qty24
Long Sleeve T-Shirt...................... qty24
I WANT YOU TO PACKAGE ALL THIS ITEMS IN NOT MORE THAN A CARTOON.
AWAITING TO READ FROM YOU.
MY REGARDS.
MRS JULIET DONNA.
Dog Breed Info Center®: Hi,
You will need to contact this web site to order your items http://www.choiceshirts.com
Sharon Maguire
Scammer: HELLO,
THANKS FOR THE MAIL AND I HAVE VISITED THAT AND I HAVE CHOOSEN WHAT I WANT FROM THE STORE AND WHAT I JUST NEED FROM YOU NOW IS FOR YOU TO GET BACK TO ME WITH THE TOTAL COST OF THE ITEMS.SO THAT I CAN PLACE MY PAYMENT.
MY REGARDS.
MRS JULIET.
Dog Breed Info Center®: Hi,
They are one of our sponsors. We are not the same company as they are. We do not sell shirts, they sell shirts. You will have to contact them for a total cost. I do not know the cost of what you have chosen. You can find their contact form at the bottom of this page http://www.choiceshirts.com.
Sharon Maguire
Scammer: hello,
thanks for the information and if i may ask what do you deal with may be i may be interested to buy from you.
my regards.
mrs juliet
Dog Breed Info Center®: We do not have a product. We have a high traffic site and offer classified listings. So if you would like to run an ad you can do so by going to this page https://www.breederinfocenter.com/register.php
Sharon Maguire
Scammer: hello,
thanks for the mail and it would be very better if you can only help me with some items which i will pay for.
thanks.
Dog Breed Info Center®: You know the shirt site http://www.choiceshirts.com has a shopping cart you can buy items from. Click on the item, choose the size and click "Ad to Cart"
Scammer: hello,
i want you to do that favour for me actually my daughter is getting married this week and i am some how confused and i think you can help me with a present and i will forward my cc account number information to you to charge , i will also compensate you if you wouldn't mind.
my regards.
mrs juliet.
Dog Breed Info Center®: I am sorry but I would not be able to do that, you will have to call the company at their toll free number
Toll Free: 1-800-xxx-xxxx
Scammer: hello,
thanks very much , i am not reffering to the shirts any more , i want something valuable to present like cellphones.
thanks.
Dog Breed Info Center®: I don't sell cell phones.
Scammer: i understand i just want to know if you can only help me to buy that.
thanks.
Dog Breed Info Center®: How am I to help you buy something?
Scammer: hello,
thanks very much, i am very happy to hear this from you.
i will want you to help to price two SONNY ERRICSON P800 MOBILE PHONE and get back to me with the cost and you help to buy that and i will send you my cc account number to charge which i will also compesate you on your effort .
thanks.
Dog Breed Info Center®: Go here http://www.cellularconcepts.com/phone_details.php?link_id=29&product_id=2587 click the orange "Ad to Cart" link and put in your credit card number.
Scammer: hello,
i am doing all this just base on trust and i belive when i forward this to you it will be save .
thanks.
Dog Breed Info Center®: Yes, but I will not be the one misusing your number. Someone else can intercept it before it gets to me through the lines.
Scammer: hello,
why are you keeping me waiting.
i am still waiting for the cost of the phones.
thanks.
my regards.
mrs juliet.
Dog Breed Info Center®: Hi, I am sorry. I am having trouble finding what you want. I will not be able to help you.
Scammer: hello,
thanks for the reply and for that you can advise meon any other things you know i can hove and you can help with. awaiting to read from you.
mrs juliet.
Dog Breed Info Center®: I am sorry, I do not know. I will not be able to help
Scammer: hello,
thanks very much for the mail, but i just need this help from you and if you can do tht atleast you can help me with wristwatch.
awaiting to read from you.
my regards.
mrs juliet.
Scammer: hello,
thaks very much , i can understand you better and i know you wanted to help but now that the wedding is over , i would like to just make you as a friend and i know and sure that i am well come.
thanks.
From a Breeder
I have been contacted by 3 different individuals, all attempting to buy ALL of my remaining pups. They want to send a cashiers check for more than the cost of the pups. They then expect me to wire the difference in money to their "shipper", who will then pick-up the pups. These characters don't give any information about themselves, where the dogs are going, or even the method of shipping. One went so far as to call me on a relay call (normally for the deaf). When I found out this is a scam I emailed him and said I would only accept a wire transfer directly to my bank for the amount of the pups. His email indicated he was very upset about it. My dogs are $2000 and $2500 each. I'm sure they are picking people with high priced dogs. Dogs are not the only target in this scam. I learned about it through my brother. It seems they are also targeting motorcycles, boats etc, anything of higher value advertised on the net. I will be contacting the authorities about this. I just want to be sure you are also aware of it since they are targeting people advertising on your site.

Respectfully,
Scammer: james rick wrote: am interested in
buying your healthy, purebred Lhasa Apso puppies
- i believe
is still in good condition email me with the last price for sale and
the pic. till i hear from you soon. Thanks,
Breeder: Let us know if you are interested in any of them. :-) Our prices are
as follows: all colored babies ar $495 and our powder whites, which we have none at this time, are $650. We do ship and deliver within the US. If you want an adoption form let us know as all our familes must be approved before purchasing a baby from us. :-)
Thanks~
Scammer: Hi,
i think i will like to buy the colored babies ar $495
Breeder: Hello
Rick~
We do currently have a few babies available. They are pictured on the site-
Scammer: Thanks for your response,well i will like you to know am a serious buyer ,and i will not like you to sell it to anyother person,am in ireland and i will like it to be shipped to ireland to a friend who who asked me to buy one for him,i should be traveling on monday ,so all i will do is to instruct my BUSINESS PARTNER who is paying me the sum of $4,000 to send the cheque to you ,i will also make an arrangement with my shipper on how to ship it,and for the cheque to you i will need the following information ,your name,your contact address and your phone number ,as soon as i get all this information i will forward them to my BUSINESS PARTNER WILL SEND THE CHECK TO YOU ,and immediately we are through with the payment my shipper will come and pick it up,THAT WILL BE WHEN YOU HAVE SEND THE BALANCE TO HIM FOR THE SHIPPMENTI will like you to please give me your phone number so i can call you before i travel so we can discuss, YOU WILL HAVE TO SEND THE BALANCE TO MY SHIPPER IN IRELAND i will be in ireland for three weeks,so i will like you to please reply this mail as soon as possible so we can get started.
Scammer: hello
my best regards to you,am tim jimmy am an international business dealer of any kind goods i live here in uk with my family but right now am in a business tripe to west africa. am interested in purchasing and i be paying with cashiers cheque?and you can send me ur quotation of this items i hope i can trust you,as for the`payment my client who is in the uk is owning me and he will send you the cashiers check of payment to you . then you take out ur own charges, in and then send me the remaning balance of check my will sendto you.and you send the balance to me through via moneygram to west africa nigeria so that i can make booking with my shipping angent and as from ur place once you send the balance to me.if this is ok,with you pls reply me with full contact info(name,address and phone)to enable the check to be issued in ur name and mailed to reply Please advice as soon as possible
Regards
tim jimmy
Scammer: i am truly glad to hear from you again,thanks for the mail.i have accepted ur price and i will like to take two of any nice colour's.can you believe that as i'm send you this mail,i'm flanked by my kids, who just cant wait to have these kittens.like me,they love pets alot so you can imagine what it'l be like if i dontget them these pets. i have a little problem,which i'm hoping you'l help me solve.i really want the kittens,and i've discussed with my wife and she's really eager too,so please assist me by doing me this favour. i spoke with my client in maryland who is owing me to the sum of $5500.i wanted him to write two cheques,one in your name for$1000,and another in the name of one guy who works for me in my computer care shop in nigeria.he said that he cannot issue two cheque's,so i instructed him to issue a check on my behalf for $5500 and send to u.as soon as the chequeis cleared,u collect ur $1000 and kindly send me the balance to the guy(computer care shop) through the money gram funds transfer which i will tell you how to do,after you have collected the money.i will want to come pick them up myself,since its for my family after you've collected your money.kindly send me the name to be written on the check and the address is to be send to.i'm hoping you'l assist me by doing this favour,so that they can have the kittens at home soon.i'l tell you were to send it to when its time.please,it will take a day or two days for the cheque to get to you from maryland,once i have your address.please i'm gonna trust you with this money,believing that youwont let me down. I await your responseRegards.frank
From a Breeder
I was recently contacted by a person using the name John Woods, claiming to be from West Africa to purchase puppies from my kennel.

He claimed to have a client in the US that owed him money and he would instruct this client to send me a check for the amount owed. I was to cash the check and forward the balance to an international shipper that he had already set up with pickup/delivery instructions. He would handle all medical certificates, quarantine, etc.


I told him that I would not accept a personal check and he agreed to send a money order. Thinking that a money order was the same as cash (at least anytime I have used one I paid for it up front, right?) I took it to the bank. The bank told me since I didn't have enough money in the account to cover it, I could not withdraw any funds till it cleared. They told me the funds would be available in the morning. The follow morning, I withdrew the funds and transferred it Western Union as instructed to an address in Nigeria.



It wasn't till two weeks later that my bank account showed a large negative balance. The money order was counterfeit! I immediately contacted the bank. They told me that it was the best counterfeit they had ever seen. These guys are professionals. Even the tracking numbers printed on the bottom of the money order (same as a personal check) were printed in magnetic ink and it was drawn on a legitimate bank in the US. So it slipped through my bank unnoticed.



Since then I have found out that several fellow breeders have been contacted in the same manner. I have been in touch with the police. I found out that the Secret Service has a special task force set up for this because it started with cars, then horses and now puppies. We are currently working with the Secret Service to catch these guys. If you have been a victim to a similar scam call the Secret Service Agent in charge of the Nigerian internet scams Jason Henslee at (515) 284-4565, if you have received any correspondence of this kind please fax all correspondence, with full header to Jason Henslee at (515) 284-4566 or mail to Attn. Jason Henslee, US Secret Service, 210 Walnut St, Suite 637, Des Moines IA 50309. It is very important to save the documents with full headers. They are useless with out the ISP header. If you do not know how to display the full header contact your Internet Provider for instructions.

DO NOT TIP THESE PEOPLE OFF. KEEP THEM BELIEVING YOU ARE INTERESTED OR STOP CORRESPONDING ALL TOGETHER, BUT DO NOT INFORM THEM THAT THE SECRET SERVICE IS INVESTIGATING.

DO NOT SEND THEM ANY MONEY. IF YOU RECEIVE A MONEY ORDER OR CASHIERS CHECK NOTIFY THE SECRET SERVICE IMMEDIATELY.
Scammer: Am Francis and i deal with dogs,located in west africa.Am interested in buying your AKC Yorkie Puppies please let me know if you can ship to west africa and also the exact condition of the dog,if not i will arrange for the shipment myself.pls let me know the exact cost.To let you know my mode of payment will be by a cashier's check.Please let me hear from you if this is ok with you,Reply asap.
Thanks
Francis
Scammer: Hello,
i'm a secuirity agent in west africa i'm interesred in buying two of your Purebred Husky pups of color white and black both female and male consecutively, e-mail me for the knockdown price of both pups and tell me their ages ,i will be expecting to hear from you soon.
Regards,
olawale.
Scammer: Wes davies,
Thanks for your response to my request.
I will need the one of $4.00 as you say, so that will be $200.00. kindly do a favour for me. one of my client that owes me the sum amount of $2500.00 will send the cheque to you and as soon as you received the cheque you send me the remaining balance of the money via western union money transfer or money gram. if this is okey by you kindly send your contact address to enable my client to send the cheque to you.
Austin.
Scammer: Hi, my name is Dr. Shalley, i'm an Vetrinary Dr in Africa. I'm interested in the "male pup, please mail me ASAP with the last price. Once more do you accept check for the payment?, looking forward for your reply. thanks. Dr. Shalley.
From a Breeder
I was contacted by a detective from the local law enforcement yesterday and he as been in contact with the Secret Service. He is of the opinion that there is no hope to trace this fraud even with the email correspondence. I sincerely hope he is wrong. I realize my money is unrecoverable, but to stop this before it hurts anyone else is my main concern. It is going to be a real struggle to maintain my kennels with this kind of monetary loss. My operation is very small in comparison. I have about thirty dogs but only 6 females are of breeding age. I have had nine litters in three years. I am heart sick over the thought of losing ANY of my dogs. They are more than "kennel dogs" they are family. I hope this helps so no one else is faced with that choice. Thank you for the great
service you provide. Sincerely,
Scammer: Sender's name: John Woods
Sender's email address: johninthewoods@yahoo.com Sender's message:
Hi, I am an American based in West Africa and I breed foriegn dogs for resale.I saw your ad and would like to buy your dog. Please contact me ASAP to let me know if you are still intrested in selling ,payment would be made by chasiers check drawn on a US bank.I look foward to your reply.
Regards John Woods
From a Breeder
This scamster is old news. I've received telephone calls and emails for years on this same sort of thing and I have always ignored it. There is no free lunch! I guess not everyone is smart like I am so I'm glad you are passing this info around. Thanks! I think I got an email from this scamster a week ago too...
From a Breeder
The account didn't exist! Then it was turned over to the FBI and I was told it was then turned over to the Secret Service. The Scammer even called me 3 times! I was disappointed that I never heard from the secret service! I offered to have the phone tabbed and postponed the "deal" for a full week. I did my part to try and catch him, The secret service did nothing. I finally told the scammer that when the check was taken to the bank it was bad. He quickly said "What?,I'll call you back" and quickly hung up. I have all the emails from this scammer if anyone would like to see it. O, I would like to tell you that a Doctor was arrested in a Perry Georgia. He was scammed for over 200 thousand! He is being held responsible for the balance to the bank and is held in jail for cashing a counterfeit check. It's people like this dog breeder who gives them the idea that doing this works. People use your common sense!
For immediate release – Tuesday, February 11, 2003.

Contact Bob Brammer – 515-281-6699.


Miller Issues Warning:
Nigeria Counterfeit Check Scam

"Counterfeit cashier's checks are deceiving Iowans who sell items on-line. This con-scheme has new elements that make it an alarming new threat."


Des Moines. Iowa Attorney General Tom Miller warned Iowans to avoid a scheme that costs victims thousands of dollars when they are duped into wiring money to con-artists in Nigeria. People selling merchandise on the Internet receive and deposit a U.S. bank cashier's check, but days later it turns out to be a very impressive counterfeit, Miller said.

"This is a new twist, and it's ripping-off Iowans," Miller said. "We are concerned that it's much more likely to deceive people than the other Nigeria scams that have been around for decades."

Miller listed the hallmarks of the new scheme:


 The victim is selling a used car or some other item via the Internet.
A buyer based in Africa sends an e-mail message that he wants to buy the item.
 The buyer says he will pay with a cashier's check from a bank in the U.S.
 At the last minute the buyer has some story why the cashier's check will be much more than the asking price – thousands of dollars more. "Just wire the difference back to me," he explains, "-- after the cashier's check clears, of course."
 The victim thinks the cashier's check must be good when it's accepted by his or her bank and the funds are provided – but in a week or so the check turns out to be counterfeit.
 Unfortunately, the victim has wired thousands of dollars to Africa, never to be seen again.
The bank requires the victim to pay back all the funds provided for the phony check.


"I want to state in no uncertain terms that victims of this new scheme are not naive and they are not greedy," Miller said. "They typically are skeptical and careful. But this is a more perilous scam than the Nigerian e-mails we've all received for years that promise a one-third cut of $60 million if we will only provide a U.S. bank account for them to place the money. Yes, it's the same huge gang of perpetrators, but they're using new tricks," he said.

"Even the most skeptical consumer can be deceived, and it all comes back to the cashier's check supposedly from a U.S. bank," Miller said. "First, the checks are superb facsimiles -- counterfeit, but so authentic that they often fool bank personnel who study them. Second, people think the cashier's check must be good when the bank gives them the money – especially if they insist they are skeptical, as many victims do."

Miller issued the warning at a news conference at his office in Des Moines. He was joined by victims of the scheme: Larry Pegg of Des Moines, who lost thousands of dollars, and Shawn and Jeff Mosch of Bloomington MN, who lost $7200 to the scam – but who are fighting back by warning others and supporting victims through their own web site, "ScamVictimsUnited." (On the Web, go to http://www.geocities.com/scamvictimsunited/scam.html .)

Paul Johnson, Resident Agent-in-Charge for the U.S. Secret Service Iowa/Nebraska office in Omaha, also participated. The U.S. Secret Service is the lead U.S. agency battling Nigeria scams. (See their Web site for background: http://www.secretservice.gov/alert419.shtml .) Johnson led the Secret Service's Nigerian Organized Crime Unit from 1997-99 – and helped open the unit's office in Lagos, Nigeria, in 1998. Johnson has traveled several times to Nigeria.

Tips for Consumers:

"We just pieced this together, and we consider it an urgent priority to warn consumers," Miller said. He advised consumers:


 If you are selling on-line, be extremely skeptical of any e-mail offers from Nigeria or Africa offering to pay by cashier's check. Reject it -- it's almost certainly a scam. Don't swallow any story that asks you to wire money abroad. Remember, a bank may make money "available" to you almost at once if you deposit a purported bank cashier's check, but that's NOT a guarantee the check is authentic. It still could be counterfeit, and the bank will hold you responsible for the money.

 If you are a VICTIM already of the Nigeria Counterfeit Cashier's Check Scam, contact the US Secret Service, the lead agency fighting this fraud. Call 202-406-5850, or write to: US Secret Service, Financial Crimes Division, 950 H Street, Washington, DC 20001. Send e-mail complaints to the Secret Service at 419.fcd@usss.treas.gov. Also notify the Attorney General's Consumer Protection Division (515-281-5926, or www.IowaAttorneyGeneral.org.)

 Spread the alert. Tell friends and associates. Ask buy-and-sell web sites to post warnings about the danger posed by the Nigeria Counterfeit Check Scam.

Fighting Back – Shawn and Jeff Mosch

"We are extremely grateful to Shawn and Jeff Mosch for helping spread the alert to Iowans and people all over the nation," Miller said. Late last year the Mosch's placed an Internet ad to sell a 1961 Buick. They were contacted by "an African car dealer" who wanted to buy. He said that someone in the U.S. owed him $8,800 and he would just have the person send a cashier's check to expedite the purchase. The Mosch's would deduct the $1600 price of the vehicle and send him the remainder of $7200 via Western Union -- once the check cleared – so that he could arrange and pay for transporting the vehicle.

The Mosch's thought it sounded "fishy," thought they'd never see a check anyway, thought a check would never clear if it did arrive. But the cashier's check did arrive soon by express mail, and their local bank accepted it and said it would clear within 24 hours – despite the Mosch's insistent questions. "I need to know when we can be sure that it is a good check, that it has cleared, and that it is real money that we can touch and use. I don't want to get a charge or have this come back and bite us in the butt," Shawn said. "They told me, 'Tomorrow afternoon, ma'am. No problems,' Shawn explains.

The Mosch's waited not one day but two, and then wired the $7200 to a Ben Olawale of Magrove Transportation in Lagos, Nigeria. Later, when the cashier's check turned out to be counterfeit, the bank called the Mosch's and told them the check was counterfeit – and that they owed the bank $8,800. Ultimately, after much wrangling and the Mosch's insisting that the bank bore much responsibility for assuring them strongly that the check would clear, the Mosch's and the bank came to a mutual agreement for an out-of-court settlement to the situation. (Most other victims tell the Mosch's that banks insist on consumers replacing the funds deposited to them from Nigerian counterfeit checks.)

Miller said: "We are very impressed and appreciative of what Shawn and Jeff did next: they set up their very own web site called ScamVictimsUnited to warn others and support victims. (http://www.geocities.com/scamvictimsunited/scam.html ) They've had 12,000 hits in just three months. They've contacted authorities, urged on-line sales sites to post warnings, consoled and consulted with victims. And they've done all this just to help others avoid the shock and harm of big losses, humiliation, isolation, and even suspicion that they are part of a criminal enterprise. We tip our hats to Shawn and Jeff and thank them for driving down to Iowa to tell their story."

Fighting Back – How we can all help:

Miller said his office learned about the new elements of this scam – on-line sellers being victimized by sophisticated counterfeit cashier's checks – a few days ago, and learned of the Mosch's after that. "We're going to join them in sounding the warning to Iowans and others," Miller said.
Miller said many forces already are spreading the word -- including on-line web sites for selling cars, pure-bred animals, and other items. He said his office will be asking others to be sure they consider steps to help, if they haven't already, such as Internet warnings being posted by the Secret Service, Postal Inspection Service, and Internet Fraud Complaint Center operated in part by the FBI.

The Iowa Bankers Association said it is supporting efforts to prevent the scam. Miller said his office will share warning information and encourage financial institutions and associations to alert front-line staff to recognize the situation and take preventive measures – such as explaining that money being quickly "available" does not mean a check is valid until it has gone back to the originating bank and been cleared, which can take five days or sometimes much longer.

Miller said his office will spread the word to others, including livestock and dog breeders and associations, online car sales sites and other online sites, local law enforcement agencies, and other State Attorney General offices.

"We have to stop the scam on our end, here in Iowa and the U.S.," Miller said. "It's probably impossible to stop it at the source, in Nigeria and few other countries where it's spread, so we have to just spread the word and choke it off here."

Iowa Victims:

Miller said his office has issued warnings for years about the "Nigeria Letter Scam," but only discerned the new dynamics of the Counterfeit Check Scam a few days ago. "We already are putting the pieces together that this is harming Iowans. Larry Pegg of Des Moines joined Miller at the news conference. Miller said Pegg probably was one of the earliest victims of the scam – last summer. Pegg says he took the U.S. bank's cashier's check to a local branch of the bank and had several officials study it, who said it was good. He deposited the check at his own bank and then sent thousands off to Nigeria.

An Eastern Iowa dog breeder narrowly averted losing $4100 recently when she was to receive a check for $5000 for three bred puppies and wire the remainder to Africa. Another Iowa dog breeder is said to have lost thousands when a cashier's check for Great Danes "cleared" and she wired $4100 to Nigeria.

A Des Moines woman lost over $3,000 in a car-sale situation last month – and almost lost $3,000 more when the buyer asked to cancel the car purchase "since he needed the money because a friend's father died."

The Secret Service Des Moines office said it had 15-18 calls from Iowans over the last few weeks to report they had been cheated in the scam.

"We tend to think the Nigeria Letter Scam, which offers millions of dollars and still operates through a blizzard of e-mails, only snags one in a thousand or one in 10,000 victims," Miller said. "We are worried that this Counterfeit Check Scam may snag one in fifty or one in five – who knows? We think they pose a real threat and we all need to spread the alert."
HELLO DEAR,


YOU MAY BE SURPRISE BUT IT WAS OUT OF MY DESIRE TO SHARE THIS MUTUAL PROPOSAL WITHYOU, I GOT YOUR NAME AND ADDRESS THROUGH MY RANDOM INTERNET SEARCH.

MY NAME IS MR.ABINART RHODES A GENERAL SECRETARY IN INTER CAPITAL SECURITIES COMPANY HERE IN NIGERIA THERE IS A CONSIGNMENT CONTAINING A SUM OF (12,000,000.00USD)TWELVE MILLION UNITED STATES DOLLARS DEPOSITED IN OUR COMPANY FOR SAFE KEEPING BY ONE MR. GUEI WALTER BEFORE HIS DEATH, NO ONE HAS COME TO CLAIM THIS CONSIGNMENT AS A BENEFICIARY TILL DATE.
I AM HONORABLY SEEKING FOR YOUR ASSISTANCE AS
FOLLOWS:
I WANT YOU TO ACT AS A BENEFICIARY
I WANT YOU TO PROVIDE A BANK ACCOUNT WHERE THIS
MONEY WILL BE TRANSFERRED
I WILL PROVIDE YOU THE ENTIRE NECESSARY DOCUMENT FOR THIS CONSIGNMENT TO PROVE THE CONSIGNEE AS A BENEFICIARY TO THE COMPANY, 40% OF TOTAL AMAOUNT MAPPED OUT FOR YOU WHILE THE 60% MAPPED OUT FOR ME.
IF YOU ARE OKAY WITH MY CONDITION DO NOT HESITATE TO SEND ME -MAIL (rhodes247_abinart247@yahoo.fr) SO THAT I CAN FURNISH YOU UP WITH ALL THE INFORMATION NEEDED, I WISH TO HEAR FROM YOU SOON.

THANKS FOR YOUR COOPERATION

ABINART RHODES.
Scammer: FOR YOUR KIND ATTENTION.

It is my great pleasure to write you this letter on behalf of my colleagues.
I got your information from a personal search in the internet business index.
I have decided to seek a confidential co-operation with you in execution of a deal hereunder for the benefit of all parties, and hope you will keep it confidential because of the nature of this business.

I am the Secretary of the Contract Review Panel instituted by H. E. President Olusegun Obasanjo to probe/review all Contracts executed and payments made during the regime of late General Sani Abacha. I have been mandated by my colleagues on the Panel to seek your assistance in the transfer of the sum of US$31.0 Million into your Bank Account.

As you may know, the late General Abacha and members of his government embezzled billions of dollars through spurious contracts and payments to foreigners between 1993 - 1998 and this is now the subject of probe by my Panel. In the course of our review, we have discovered this sum of $31.0 Million, which the former dictator could not transfer from the dedicated account of the Central Bank of Nigeria before his sudden death in June 1998. It is this amount that my Colleagues and I have decided to acquire for ourselves through your assistance.

This assistance becomes crucial because we cannot acquire the funds in our names and as government officials we are not allowed to own or operate foreign bank accounts. We have thus developed a, fool proof, legal and totally risk free scheme through which the fund can be transferred to your nominated bank account within a very short time.

The scheme is to use our position and influence on the Panel to represent you as a foreign Contractor beneficiary of the funds. We shall arrange all documentation to support this claim and get Approval for the transfer of the funds for your benefit on our behalf. The scheme is perfected to be 100% risk free and we are sure the funds can arrive your Account within
7 - 10 working days from when you agree to assist us.

You should acknowledge the receipt of my letter through my email address so we can further discuss the modalities of your cooperation and negotiate the charge for the usage of your Account. You definitely have a lot to benefit from this transaction as we are prepared to give you 25% of the total funds as soon as you secure it in your account.

Please, endeavor to give me a telephone/fax number through which we can communicate with you in confidence (in your response) as the need for secrecy is great to this transaction.

We expect your urgent response.

Yours faithfully,

'Niran Frederick
Scammer: Calvary greetings to you in the name of our Lord and Saviour Jesus Christ.

I am Mrs. Juliet Andreas, named person from Switzerland. I am married to Late Dr. Andreas Dominic of blessed memory who worked with Switzerland embassy for nine years before he died in the year 2000. We were married for eleven years without a child. He died after a brief illness that lasted for only four days. Before his death we were both very devoted Christians.

Since his death I too have been battling with both cancer and fibroid problems. When my late husband was alive he deposited the sum of $17.5 Million (Seventeen Million Five hundred thousand U.S. Dollars) with Barclays Bank of Ghana vault with a special arrangement in their vault.

Endeavour to contact me, so that I can link you up with the Barrister involve. The barrister and my late husband has been able to use their contact to make this fund to Barclays Bank on a special arrangement.

So feel free to contact him on maysfield@zipido.com . The barrister's name is Barrister Adegbesan Tunde Melvin. He will furnish you more details on how to receive this fund smoothly.

Recently, my Doctor told me that I would not last for the next three months due to cancer problem. Though what disturbs me most is my stroke sickness.

Having known my condition I decided to donate this fund to either a Christian organization or devoted Christian individual that will utilize this money the way I am going to instruct here-in. I want this Christian organization or individual to use this money in all sincererity to fund churches, orphanages, widows and also propagating the word of GOD and to ensure that the society upholds the views and beliefs of the holy inspired and infallable word of God which is the Bible.

The holy Bible emphasized so much on GOD's benevolence and this has encouraged me to take this bold step. I took this decision because I don't have any child that will inherit this money and my husband's relatives are new Muslim convert and I don't want my husband's hard earned money to be misused by people I call unbelievers. I don't want a situation where this money will be used in an unholy manner. Hence the reason for taking this bold decision. I know that after death I will be with GOD the omnipotent, the omniscience and the omnipresent. I don't need any telephone communication in this regard because of my health and also the presence of my husband's relatives around me always.

I don't want them to know about this evelopment. With GOD, all things are possible. As soon as I receive your reply I shall give you the contact of the Bank i.e. Barclay's Bank of Ghana. I will also issue you a letter of authority that will prove you as the original - beneficiary of this fund.

I want you and the Christian community where you reside to always pray for me.

My happiness is that I lived a life of a true devoted Christian worthy of emulation. Whoever that wants to serve GOD, must serve him in truth and in fairness. Please always be prayerful all through your life.

Until I hear from you, my dreams will rest squarely on your shoulders.

May the almighty GOD continue to guide and protect you.

Regards,
Mrs. Juliet Andreas
Scammer: goodday,
i am michel Mobutu Sese-Seko, wife of the late President Mobutu Sese-Seko of former Zaire, now Congo Democratic Republic. My family and I now live in exile, in Morocco. I believe you are aware through the International press how the European Government froze my late husband bank accounts. Recently the French Government confiscated my father's Chateaux in South of France. In view of this, my family and I are afraid to make any investment without a front. In this line, therefore, it is the wish of my family to solicit for a trustworthy and sincere person who will invest these fund under trusteeship. I am interested in making an enormous investment worth US$12Million in some parts of the world of which will be beneficiary to both parties SOURCE OF FUND. Before the death of my late husband, he deposited the above stated funds with a security Firm here in Amsterdam. Hence I am in asylum here in lome. Therefore, I intend to have a front who will manage this funds and invest it into property development, buying of sharesstock in Multinational Companies and engage in non speculative investments and other related ventures.As soon as I hear from you I will then aarrange a face-to-face meeting for us to deliberate on this investment. It will also give me the opportunity to assess your capability of handling this investment. Please, I will like you to send me your private telephone/fax numbers to allow me discuss privately.Meanwhile, reach me on the above email address. Kindly treat this matter with utmost confidentiality.
Best Regards,
michel Mobutu Sese-Seko
Scammer: Dear Sir/ma,
I am Dr. Henry Dickson, a veterinary doctor. I am an American based in Africa. I am interested in buying puppies from the US to Africa.
I want to know if you can be of assistance for me in this area. If you have puppies you can reply to my mail so that we can discuss on the possibility of bringing them down to Africa, to people who need them over here.
Looking forward to your prompt response.
Thank you
Regards,
Dickson
From a Breeder
Thisa already happened to me . . . Same person from Nigeria . . . ! I lost $4000, and my bank won't do anything about it. I had to borrow money from my mother. They closed my account.
From a Breeder
Thank You for sending the warning. I have been contacted three times now, but every time I thought it sounded funny. So I would tell them I require personal info before we could proceed and the first two times they stopped responding and the last time they got a little hateful with me. They wanted to know what more I needed to know -proceeded to tell me he was a engineer in Nigeria and he was married. I wrote him back and told him I need his phone number, full name, address and the closest to airports to him so I could make reservations for the puppies, but of course he stopped corresponding. I had no ideal till last night that other people where getting the same kind of emails. Again thank You.
From a Breeder
With having Boerboels, we get sent lots of these scam things almost constantly. I have gotten quite a few of them, I always tell them that I only accept payment via western union or moneygram and then I don't hear from them again.
From a Breeder
I have received one simalar to this but they will not say where they are from and it is from a women. I have not received any money from them yet but the senario is so much the same.
From a Breeder
I had been contacted several times by this same type of scam for the past 2 years so it is not new.....they also have another one where they are students or something I usually just delete them...but so might be in my filing cabinet
From a Breeder
thank you very much for the warning as i have already had several contacts been emailed to me like this . it seems that allyou have to do is place an ad somewhere and they will send you mail within days if not hours . they are very quick . i already had heard about this scam ,so i did not get sucked in . but i am so sad to hear that some have . it seems that i get alot with yahoo adresses . again thanks for the warning and glad to see someone is trying to do something about it
From a Breeder
i am in contact with a guy from nigeria right at this moment. he is supposedly coming to the states monday night and will contact me tuesday morning. he will be coming to the state of florida. it was the same story.
he was owed money and i was to accept it and send the rest to the shipper. if this sounds like the same guy let me know and i will go through with the deal. i also thought something was funny and told him i would accept nothing but a money order and he said fine.
Scammer: Hello, i am willing to purcahse your (puppy) and i want you to tell me the present condition of it, i want you to give me the last asking price and if you have is pics you can also send it to me, my mode of payment lays on certified cashier\'s check drawn in U.S funds and i will handling the shipping.Because i have shipper who will be coming for the pick up....
Thanks....
Stay Alert-ignore these scammers. Don't lose your money to them.
Were you scammed over the Internet? Send us your story.