Ripped off trying to buy a cockatoo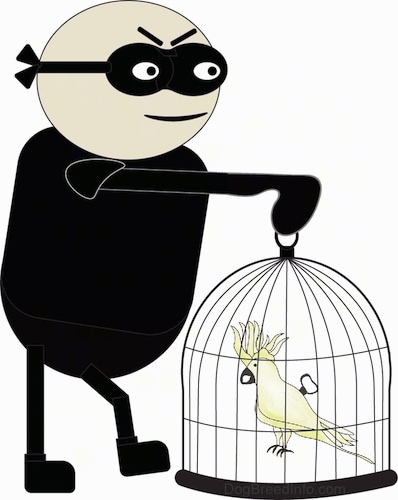 Stories of people getting scammed over the Internet— These stories are posted so you can read them, learn from them, and not let it happen to you.
Story from a person trying to purchase a cockatoo over the Internet…
"I just got scammed. How it goes. I emailed the seller/breeder of a cockatoo. Asked for pictures and price. Sent me a Actual Stock Photo. Was extremely pushy on payment. Then I demanded a actual pic of the actual babies. Came through with that. Then I did the payment. Through monogram. Number 1 Wrong thing to do. Asked me to send payment to Africa. Said son was in Africa on a trip. Thought about it and said to myself well everyone does travel over seas. Second wrong thing to do. (Africa is where just about all the 409 4019 scam artist are). Then I was told the seller/breeder tried to ship the bird. Asked for more money to the tune of $450.00 additional. Mind you I already paid for the bird and shipping $100.00. So I called some airlines. TO ship from Seattle, Washington to me in Harrisburg PA under $100.00 . Informed seller/breeder. For a person to fly one way is $350.00 to $500.00 of coarse that's the cheapest. Then by miracle the bird was shipped. The bird was shipped to AFRICA! The seller/breeders son shipped it to his brother in Africa. I had asked the seller for the flight info or airbill. Did not have paperwork. Then they had a fire. how funny.
Next morning I checked my email and I got an email from an "airline company" saying I have your bird.. It takes roughly 24 to 40+ hours to fly to Africa from Washington. ( I researched this) So how could a bird leave Saturday evening and be in Africa the next morning??? I wonder maybe the bird was shipped early in the morning on Saturday... or possible Friday. The airport which I was told by the shipping company (is the major airport in Cameroon Africa). Do you know that a airport actually shuts down for a holiday? Something new there. The shipping company asked for more money; to the tune of $265.00. Would not ship COD. Because its Africa.... so yet again I paid with money gram... Now I was getting that sinking feeling something is wrong.
The next day I spoke to Delta pets. The lady I spoke to said its a scam. And go to this web site. This web site told me to contact the local Secret Service.. Believe you and me I did just that. He confirmed it as a scam. Last night I sent emails to monogram and my financial institute. Money gram could not stop the payments. They had picked the money up with in a matter of minutes. BUT good news. They were not picked up or cashed in Africa. They were here in the USA.
Today I got another email I need to call you (the airline) ok gave them my number. They called and asked for MORE MONEY! This was for insurance on the bird.. $165.00. Told them I would have to speak to my husband. Who works nights. It was a lie. I had called the airport. Never heard of the airport manager I spoke of , the email , or even the phone number. The seller/breeder did not supply me with any phone numbers to contact her. Till this day the breeder/seller still cannot find the flight info.. Also the breeder said they lived in Washington. The address I was given there is no address. Also I know the moneyorders were cashed in Central Pacific time. In the united states.
The good news of all this for me... I did NOT lose my money. I had contacted my financial institute before the money left my account. The secret service agent has called monogram and found out what state they were cashed in. And has a picture of them from the cameras. Money Gram is out the money, $800.00. Guess who they are going after? Not me. So please NEVER USE monogram. There is no safety net for you the buyer. Unless your sending payment to someone you know your relative or close friend or even a utility company. Don't even use it on EBay. You wont know its a scam till the money is out of your account and there is nothing you or the bank can do. Also do NOT send payment to Africa.. I know scams are in other countries.... But don't do Africa.. You've been warned by someone who has been scammed.. But I have gotten my revenge.. I hate to say it like that.
Thank you!"
Stay Alert-ignore these scammers. Don't lose your money to them.
Were you scammed over the Internet? Send us your story.