Phone and Text Message Scams
Puppy Text Scam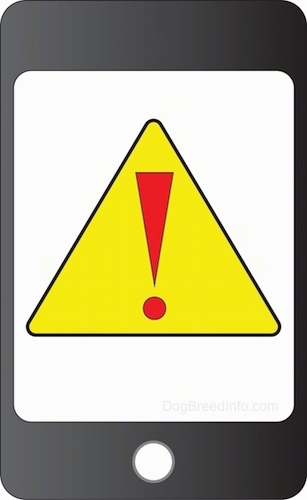 I just wanted to send in the latest "puppy scam" that is out there. Lately I've been getting many text messages from random numbers all over the US, and even Canada. Here is the one I got most recently.
"Hello, my name is Stephen. I will like to know if the puppy is still for sale, if yes, how much and whats the sex?"
I responded to "Stephen" via text back that
I am not advertising a puppy, I was advertising my open wait list spots for a future litter due in 28 days or so.
I listed prices for males and females
I said that I was not able to give him sex of puppy because they are UNBORN
I would not accept a text message as confirmation of a sale, I want to talk to people personally and then IF I approve they sign a contract with me.
I told him not to text message me again after midnight (he sent this text to me at 12:35 a.m.)
"Stephen" (whom at this point I knew darn well was a scammer) then sent me this reply today at 12:07 p.m. (at least he's not waking me up now)
"Okay I want just one female and I hope they are all wormed?"
Out of curiosity I tried calling the number that the text had been sent from. It rang for quite some time and then went to a voice mail system.
I didn't reply to this last text, I reported this number as SPAM on my smartphone and blocked it.
I have gotten MANY MANY text scams like this over the last month since I have advertised my wait list for one of my litters, and it's getting ridiculous. Be VERY careful! ALWAYS ask to speak with someone directly on the phone, not just an email but a real live person. Have them come to your home and meet you, etc.
Just wanted to get it out there that now text messaging has been infected with scams.
From Scammer to Breeder
I received a phone call from a hearing impaired TT machine. Asking if I still had puppies left and to email him with more information.
The response to my email was this.
Thanks for getting back to me,I will like to inform you that am purchasing the puppy as a birthday present for my son,I will be very much happy if you consider the puppy* sold to me.
The reason I am sending you this email is to make final reconfirmation of puppy *which is ok by me,and also to let you know that payment will be by certified cashier's check or money order. In view of this I need you to email me any information that may be required to send the payment as I do not want to send the check or money order to a wrong location lest they get into the wrong hands.
Regarding the shipping, I have a company that takes care of the pickup of my consignments for me and ship to my destination in VERMONT anywhere in the U.S.A., you do not worry about shipping, the company will send down a representative to
arrange the sales documentation and the pick up from your end for onward transfer to my destination.
I also want to alert you on the fact that you will be receiving an overdraft check, which will cover the money for the pickup (pickup and shipping to the final destination) as well as the money to be paid to the company that will take care of the pickup and the documentation with you. So please, as soon as you receive the payment, go and cash it immediately, deduct the money that accrues to you, and send the balance to the Head Office of the company that handles the shipment via Western union.Th e check will be in your name to make it easier for you to receive payment, please reconfirm your details one more time .I will give you the details of the company that will be shipping the puppy as soon as we seal this deal.Once the money is received by the agent , the shipping agent will contact you immediately to arrange the documentation as well as the pick up immediately. So in view of the above, here are some of the details I will need for final issuanceof the check or
money order to you.
Full Name
Mailing address, no p.o.box please
your direct telephone number both home and cell?
Acceptance of my offer
Final asking price
Once you get back to me with all the above, the check or money order will be issued out immediately and it will be sent to you .Hope to hear from you immediately .Looking forward to your swift response I will also be offering you extra $50 for keeping puppy. for me till the shipper comes for the pick up..NB, I will be looking forward to your swift response
.....
Regards
Ben
You will go out in joy and be led forth in peace . . .
Isaiah 55:12
Bank of American Phone Scam to collect your personal information. The message is not from Bank of America although that is what caller ID says. The message states...
I'm calling from the customer experience center for Bank of America. Our records indicate that someone from this household recently had an interaction with the Card Services department at Bank of America on September 3rd. Please have the person who recently had an interaction with Bank of America call 1-800-490-5065 and answer a few questions regarding the interaction. Thank you.
Recording of the Bank of Amercia Scam Phone Message

Text Message Scam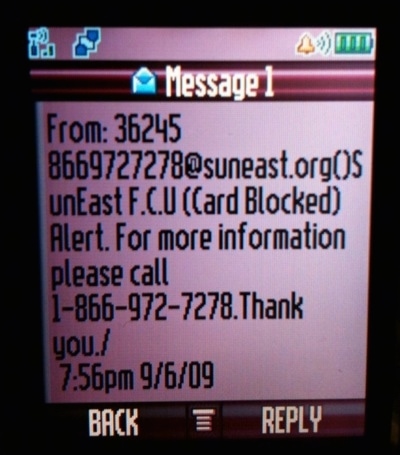 SunEast F.C.U (Card Blocked) Alert. For more information please call 1-866-972-7278.Thank you./
This is a scam to collect your personal information. A bank would never send you a text to alert you that your card was blocked. The text was sent from 362458669727278@suneast.org. The person who received the text message didn't even have a SunEast account.
"I am contacting you to warn other people about this certain Scam that has plagued my boyfriend and I for the past 2 weeks. They are based out of Massachusetts. They say they are selling dog insurance. They call 3-4 times a day and say that you had purchased it and that it is about to expire and would you like to renew it. DON'T FALL FOR IT!!! We looked them up and they "company" doesn't even have a return phone line. I wanted to warn others about this before they made the mistake of purchasing something like this." Submitted by Sarah
Stay Alert-ignore these scammers. Don't lose your money to them.
Were you scammed over the Internet? Send us your story.