Scam Stories
Page 17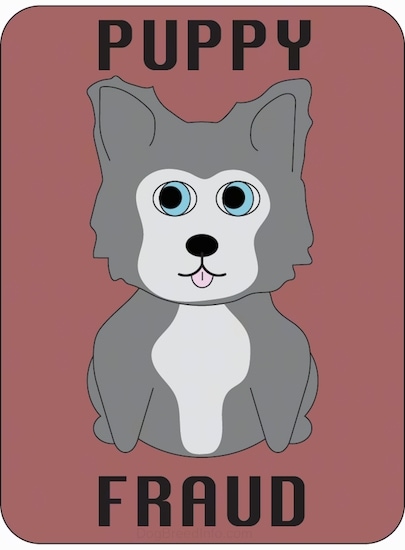 These stories are posted so you can read them, learn from them, and not let them happen to you.
Puppy Buyer
"I found a beautiful Siberian Husky online. The lady said $800.00 For the puppy, and $200.00 For shipping, I sent a total $1100, then I received a email from Express Expedia, asking for $2500 For insurance on puppy, I told the woman I don't have any more money, but I would just drive to Ohio and pick up the puppy. She said she would take care of it, and I will need to send her the refund back when puppy is delivered. But no puppy came. Then she said she only sent $1500 but the puppy is at my airport and I have to send the remaining $1000 to get him delivered. There is no puppy, I just got scammed."
Puppy Buyer
"I found a picture of a Husky puppy for sale on craigslist and I emailed the seller. He said there were 2 more puppies. He would sell one for $150.00. After a week of emailing back and forth I decided to buy the female puppy. He asked me to send money Western Union and he gave me the information. After I sent the money he called and told me the puppy would be delivered to my home at 7:00 in the morning. I was so excited that night and let my kids know. We could not sleep. Right before 7:00am he called and said he needed $1,200.00 for insurance and it was refundable when the puppy was delivered. I was not told about the insurance from the beginning and I knew something was up. I emailed him and told him that I knew he was scamming me and I couldn't understand how he could make a living playing with good people's emotions. I am so embarrassed. I feel so stupid."
"I was looking for a Shih tzu puppy. (I lost my 2 loving dogs 04/16) having a Shih tzu -- I know he would be fun. I shopped on line for over 2 weeks. found add for $600.00 The sweetest brown & white puppy. I knew this was the puppy for me. He emailed me back that Ela was a available. Instructed me how to pay. I wired the money thru money gram at walmarts He said he had started the paper work. would have puppy ready for shipping when I mailed the receipt.(I Did so)this was 9:30 AM at 1:40 Pm said dropped off to carriers (Spring Water International Pet Couriers) At 5:30 Pm I called him said I did not hear from anyone for shipping. I than received E mail that the shipping create was not OK for cold weather, that I would have to buy a create for $690,00- to $940.00. I called him said I couldn't pay any more money. He ask if I could pay half. I told him "you said free shipping" I know now that there was no dog and the shipping was a scam. I believed-- I fell in love with a picture and lost $600.00. I have since looked up scams. This was red flags all the way. Please look at all the negative reviews before sending $"
"My husband and I found finest tea cup Shih Tzu puppies in Plano, Texas. They wanted 500.00 wired through Western Union which is a red flag my husband picked up on. We wired the money. They said pups were half price because they were going on a RELIGIOUS MISSION in England in 2 months. They made me take pics of the receipts. They said the puppy would fly out the next day. Sunday. Few weeks ago. On the Pilots Cabin! Well, bamm. federal regulations as we On the USA know that can't happen. Doors locked no one allowed. Hello?! We then contacted the airport which only serves direct flights from west jet air on Sundays. There were no flights. I checked out BBB in Plano, Texas. Another man fell prey to same scam only the West jet air contacted them wanting 1910.00 dollars to fly the pup when I was all inclusive as we see told. We contacted Western Union and were told by our tracking number they didn't pick up the money So she stopped it and were given a refund number up the street we went and got our money. I then spent the weekend filing fraud reports. We didn't lose our money. The other man did not pay 1910.00 but lost the 550.00. Extra 50 for puppy delivery My husband then played a trick on them from his email. That he wanted 2 pups as their were 10 and he lived in Dallas 35 min away and worked as a Correctional Officer. We said that because they wanted to know initially what our jobs were. We picked a good one. We could pick up pups next day, never heard back. We proceeded to email telling them we really wanted our pups. They emailed back that they were going to a SEMINAR for a few days and for him to STAY PUT. Lesson learned. PayPal is the way most reputable breeders go. Pups don't fly with the crew or pilots. Paperwork needs to be processed to fly a puppy and that takes a bit of time. Luckily we got our money. The police in Plano, Texas that I filed an online report with never returned my call. My husband thinks they're located possibly out of the country due to Western Union and the way the scam played out was bogus. Someone picks the money up anywhere in the world. Nigerians use Western Union because it can't be tracked as long as they have ID. They get their money anywhere. I suggest using AKC website and PayPal. I am saying BEWARE. People can post cute little puppys from anywhere. So you work to become a detective. I looked up the address in Plano, Texas and MacDonalds popped up. Now I wait for a pup in my state found on AKC site. BUYER BEWARE FINEST TEA CUP SHIH TZU PUPPYS. PLANO TEXAS. REMEMBER THE TEST AMINIALS WRITTEN CAN BE WRITTEN BY ANYONE. We now wait for our pup to be born from a breeder in our state."
Stay Alert-ignore these scammers. Don't lose your money to them.
Were you scammed over the Internet? Send us your story.