Scam Examples
Page 5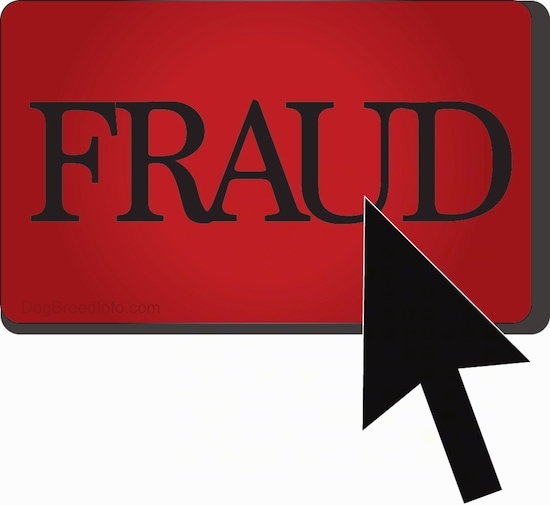 These stories are posted so you can read them, learn from them, and not let them happen to you.
Scammer
Thanks for the mail and interest in the little puppies,we were busy trying to get some stuffs for our new home. We love them so much but its unfortunate that we cant even give them the love and affection we have in our hearts. The main reason we are giving them for adoption is because we shall have no time to take care for them due to the present nature of our new job So that is the reason we have to find a home where they will be showered with all that love and affection. Hope you wont mind if i ask you a few questions I am located in Newark Delaware Do you have any experience with puppies? Where are you located? Are you a breeder or will you breed them in the future if i let you have them? Will you send us updates about them from time to time and pictures? Who will look after the puppies when you are not around? We also need your Name and contact number? Will you like to know more on how the transportation works ? how old are you ? I am just being concerned about the type of home they will be going to ,so that is why i am curious to know. We love them so much and we want to make sure they goes to a family that will show them the affection they deserves. they are Registered/Register-able, Current vaccinations, Veterinarian examination, Health certificate, Health guarantee, Pedigree, Travel crate and will come along with all their papers, diapers, dog blanket, play toys, Travel crate and food menu. They are 12 week(s) 4 day(s) and are very playful and go along with kids and other home pets. We are giving them for $500 for both of them and $250 for one. This will cover the cost of adoption and transportation to you .The shipping and delivery would be very easy since they will be coming with a delivery company and pet delivery agents. which of the puppies are you interested in ? if one the male or the female ? Find attached to this email recent pictures of the puppies. The female puppy is called Ella and the male puppy Spike.
Scam Examples 5
I got these texts first:
Scammer
(1/2) HELLO THIS IS smith DO U STILL HAVE THE PUPPY FOR SELL IF SO EMAIL ME AT cole.smith15@aol.com EMAIL ME THE PICS AND THE PRICE ALSO(2/2) WITH THE PRESENT CONDITION OF THE PUPPY THANKS..
So I emailed the man the price and more pictures.
Thanks for your e-mail and am interesting in buying the puppy and You have to bear with me that I text you about the puppy you have for sell, its because am hearing impaired. i will like one of the puppies for my son birthday as a surprise gift(1puppy), and Regarding the shipping,i will send down a shipper to arrange the pick up from your end to my destination.. I also want to ! alert you on the fact that you will be receiving a Cashier check which will cover the money for the (Shipping and puppies) as well as the money to be paid to the shipper after u after you receive the check deduct your money and send the change to the shipper via western union to the shipper and i reside in NY.
Full Name
Mailing address, no p.o.box please
Your direct telephone number and cell phone
Acceptance of my offer
price
NB. and i will be happy if you can leave it for me to get it for my son birthday
,if you help me i will be paying you $50 for the reserving The Puppy for me.Once you get back to me with all the above in formations, am also including my family pictures and my house picture my Son will be 8 years old thats why i want to present him with the puppy he loves puppy the check or money order will be issued out immediately and it will be sent to you.Finally i am making you a promise that the puppy will be taken Good care of and my children will be playing it him the pup all the time and will make it just like a son and nurtured like my friend,companion and pet at the same time,never lacking any care the pup all the time and will make it just like a son and nurtured like my friend,companion and pet at the same time,never lacking any care
Scammer
Hello
Thanks for the interested in adopting my puppies i still have a male and female ready for adoption to any pet lovely family,You see these puppies are not for sale but they are for free adoption because i do not believe in selling animals because of the love and happiness they bring when they are around so that is why i am given them for free adoption and to make sure that i find them a good home, that is a pet loving family, a home that i will be sure that these puppies will be well taken care of and a family that will show them all the love and care they desire. and the reason that i am giving these cute babies out for adoption is because i am unable to show these puppies all the love and care they need because of my new job which is taken much of my time so i do not have time to take care of these puppies as they desire so that is why i am giving the puppies for adoption to a well trusted pet loving home.so just to make sure that these puppies are given to a good home that
i will be sure that they will be well taken care of i will like to ask you the following questions"
Are you a pet lover?
Have you ever had a pet before?
Why are you interested in this breed?
How soon do you want them over?
Do you want to adopt one or both puppies?
Where are you located?
Are you a Christian?
Do you have a yard that my puppies will be free to play?
Do you have kids and are you married?
Which breed are you interested to adopt?
What is your occupation so i can know if you will have time to take
care of the puppies or are you a student?
If you have kids do let me know if they are happy to have a new member in your family?
The above questions will help me know who i am trusting my puppies to so do not be angry about the questions okay hope you understand why i am asking all these questions so be kind and do answer the question for that will make me so glad and happy okay.
These are few details about the male and female puppies below
Details of the male and female puppies
Breed.................Puppies
Sex...................Male and Female
Age...................10 weeks
Names.................Jazzy and Kelly
Behavior...............they easily get alone with other house hold pets and people.
Health............These puppies have never had problems with health
since they were born and they are currently on vaccination and will
come along side all health document and 1 year guarantee health
document.
Below are some things that you can do to make these puppies very happy and secured.
-They loved to be kissed and carried.
-They loved short and long distance walks.
-They do not like to shouted at these make them sad.
-They love to visit parks and meet other puppies or Pets.
-They loved to play and they are very loving.
So do get back to me with the answers to my questions so that i can give you more information about the puppies and how you can adopt these puppies or puppy.
Thanks for your understand
Regards,
waiting for your reply the soonest
God Bless You And Your Family
ME: Being so excited
Mr. Morgan,
A blessed Day!
Sweet greetings from our Lord Jesus Christ. Thank you for your respond regarding for the adoption of your puppies. Well I just want you to know that Im living here in Philippines and I am pure Filipino citizen. 20 yr old woman with a lived-in partner 25 yr old government employee from Department of Science and Technology ( DOST ). I love to have puppies, and I am definitely pet lover. Can I tell you a story of how do I become a pet lover?
Way back before when I was in grade 4. I've got phobia from a dog, there's a birthday celebration for my nephew in my auntie's place. At that night I'm going to pee so I ask my friend to come with me, there's a lot of dogs out there from my auntie neighbors and while where coming in my aunties house where trying not to make some noise so those dog will stay asleep. We walk silently as we can, but unexpected things happen when where going back to the party. I step on a plastic cup and those dog get disturb and started to bark and they keep on barking and barking until we decided to run before they bite us. I get my slippers and run as fast as I can. I and my friend run in separate way so they won't follow us. I was so nervous that time, I was crying and shouting in the street "Help! Help! Somebody help me! "And some people got my attention from a store and I run over there and I saw my friend was been there.
We keep on crying, we've got so fear. I never felt that thing before, my cousin did tell me before that we should be careful in that place cause those dog has rabies and there were going to bite you if they recognize us as stranger and that was going to happen that time if we don't run. Years past and I still got fear in a dog, until I enter in high school. Whenever I know in a place that someone has a dog I go with them. Until when I as in 2nd yr high school, my cousin ask me to live with them because they're going to support my studies. I heard that they had a dog so at first I wasn't convince to live with them.
Until I had no choice, I met sosie ( I don't know exactly what breed she is but they pronounce it sounds like Ducktian? Haha lol.) she was a tiny puppy that time and I still afraid to see her, whenever I got home from school I decided to use the kitchen door instead in from door. They know I've got a fear from a dog so my cousin decided to teach me overcome my fear. He showed me sosie, she's keep on barking and it makes me so afraid in her. My cousin hold my hands and saying " She's a good girl, if you show her that you're afraid in her she will keep on barking and let you feel afraid.‰ He hold my hands and he was trying to let me touch sosie's head, I taught it was going to bite my hand. But it wasn't! I don't know how to express that feeling but that time I felt in ove with her. Over years ago it was a torch in heart, a fear of seeing a dog. Sosie let me know that a dog was a real bestfriend of man. She was smart, brave and sweet dog I ever met. After staying at my cousin's
house for 4 yrs sosie's got pregnant and gave birth to her 4 lovely puppies and I've got a opportunity to get one of them. ( see a picture below, light brown one beside the black one)
I use to call him" kokoy " it was a simple name in Tagalog language. Kokoy was one of the best dog I ever had, he's so cute and sweet! Some of my churchmate are asking me to sell kokoy to them but I still don't do it. Money can't make memories like a dogs can, and It is priceless if I was going to sell it. hehe

Years past and kokoy turn into a man  I mean a dog. ( they're breed was a small type)
He was so sweet and adorable, every morning he wake's me with his kisses he was trying to wake me up 6am in the morning to go with him in a park and played with my friends dog. It was a happy days and those moment are one of the best things that happen to me. My mom telling me that I shouldn't be married cause kokoy will get mad at the end, hehe I treat kokoy as a man not a dog. I talk to him, and I always play with him. Summer days come and those days was one of the most tragic moments that I want to be erased in my life.
I lost kokoy, he died in a brain cancer. We don't know what happen; kokoy was a healthy and cheerful dog. When summer started there's news in a tv that there's a virus spreading out that can affect dogs it is coming from the air pollution ( things like that I don't remember it clearly ). After a week, kokoy got sick he wasn't able to smell his food so I decided to bring him in a veterinarian and they find out that he has a brain cancer, the doc. Tell me that he has only 3 weeks left and he was going to die. I keep on crying when I got home and tell it to my brother, My brother tells me that it wasn't true that we can't keep him alive and he can survive. He keep on saying that thing we must trust in our faith.
And week started and he stills sick, and his getting thicker. His left feet were keeping on moving even when he's sleeping and sometimes we heard him crying. I cried to my brother and asking him what should I do? We continue feeding him every day with milk using dropper and get him some vitamins that a dr. gave us for him to extend his life however I know it won't work.
The 3rd week has come and I wasn't able to sleep for a week for me to be able to watch him because I don't want to wake up in a morning that kokoy was already dead. Friday afternoon of that week, I was preparing his food and medicine, I cried whenever I started to see his thick body. He was dying in his situation, the good things is he still eating and he want to survive. The moment that I was trying to feed him, he started to cry.. He cried and growling.. And I cried too, I can feel his pain, I can't stand seeing him dying in a pain that he didn't know what to do. He keep on growling, his crying.. and last growling.. he lost his breathe and waters come out in his mouth at that moment I know his dead, (July 9, 2009) I run through my brothers and cried to him.
We bury his body in a place where he always want to be, somewhere near in a park. I got disappointed in myself and then my fear of having a dog is back. I am afraid to have another dog because of kokoy, my family knows it. Even there's a chance of having a new dog again my mom don't get a new one for me, she knows that I love kokoy very much.
After one year my brother brought me a puppy, his name was "Bulkit‰ he is a crossbreed Rottweiler dog
Bulkit help me overcome my sadness of losing kokoy, and now his still alive living at my family and good news is we had a new girl dog named "Negra‰ a tagalog word for negro.
This photo taken in my churchmate house where I bring negra with me.
I think this following question was something I need to answer.
Why are you interested in this breed?
I am online Job worker; I don't go usually outside to work in office. My work is a homebase type so If I was given a chance to have a dog again I want a cute and a small one. A dog which can lighten up my day whenever I get stress from my task.
How soon do you want them over?
As soon as I can have them, I know it wasn't easy for you to do it but you can trust me. I will send you a email every week for you to be able to know that their ok.
Do you want to adopt one or both puppies?
I want to get them both  we know that everyone don't want to be alone, so if it possible to get them both it would be better for them to be with each other.
Where are you located?
Im located at Metro manila Philippines
Are you a Christian?
Yes I am, my father was a former pastor when he is still alive. He is a founder of our church and an outreach church of my Grandfather ministry. My dad died when I was 2 yrs old and my 1st cousin take over his place as a pastor in our church. I have 3 brothers and 1 sister and I am the youngest in our family. My mom is a housewife and my sister Hannah is a Research Analyst,, My elder brother Eliseo is the pianist, Bernabe was a bassist, and my bro. Jacob is a overall musician, Youth leader and future pastor.
Most of the head of our family is a pastor all over in Philippines. We are Endtime Christian believer a follower of Christ. Overall in our family from my cousins to my uncle, we have 7 pastor located at different part of Philippines.
Do you have a yard that my puppies will be free to play?
Sad to say I don't have yard to play with your puppies. I am living in a 3 floor apartment building and I am located at the 3rd floor so they can also play around in a rooftop. They can still get fresh air and sunset every morning. And we're planning to live in province probably next year and buy a house there so we can have a yard for dogs and garden
Do you have kids and are you married?
I don't have kids but I am living with my partner.
Which breeds are you interested to adopt?
I would love to have both of them if it is ok with you. Like what happen to me, I don't want jazzy or Kelly be left alone I want them to be together so they can live happily with each other.
What is your occupation so i can know if you will have time to take
care of the puppies or are you a student?
As I tell you above I am a home base worker, a researcher writer.
Mobile # : 0000000000
I have a lot of time to get along with your puppies almost 70% of my day I can spend with them.
Bonbon ( my lived-in partner ) is trying to get me a dog because he knows im a dog lover, he want me to have someone to be with when he was in office. I was left alone all day and don't have someone to be with when I was left at my unit. I want to have a dogs/puppies to treat them as our children and be part of our family.
Please let me know if you want to know something about me or I can't have them 61516; I just wanted to know, I can't afford to buy a breed like Jazzy and Kelly so it would be a great gift from me.
Have a blessed day ahead! Godbless
Sincerely Yours,
Sarah
Scammer
Hello Friend,
Thanks for the responds to my mail i must say i am very convince that you
are a pet lover and that you will take very good care of my puppies and
thanks for getting back to me with the answers to my questions it has help me
to know who i am trusting my puppies to and reading your answers to my
questions i am most certain that you can show the puppies all the love and
care they desire so i can proudly say now that i have found a good pet
loving home for my puppies and i can trust the puppies to your care and if
it will be okay with you to send me monthly pictures of the puppies for me
to see how they are doing in their new home and if possible for me to visit
the puppies at your home to see how they are doing?.
-they are 100%pure breed puppies.
-they are house Trained .
-they are socialized with kids and other house hold pets
-they get angry when you shout at them, so don't do that.
-they are 10 Weeks old
they will be coming along side with all details of
vaccination,DE-wormed and microchip.
I just moved to Cameroon a week ago because of my new job so if you can come
and pick up or view the puppies that will be very nice because i will get to
meet my puppies adopted parents but if you cannot come for view or come and
pick the puppies up then i can arrange for a Pet carriers Service that will
deliver the puppies to you.The delivery agency that i will use i have been
using the service for a long time now and the delivery agency is fast,
reliable and most especially Safe in delivery and they offers additional
service like door to door service so they will deliver the puppies at your
door step or home address. and you will only have to pay for the delivery
flight tickets or Air tickets of the puppies for them to be delivered at
your home address and you will pay the money directly to the delivery agency
for the air tickets of the puppies.So in order for the delivery agency to
deliver the puppies to you i will need to get the puppies registered under
your names and to your location at the delivery agency and also in order to
proceed on the change of ownership document of the puppies from my names to
your names i will need the below details so that i can get the puppies
registered under your Full names and home address and also proceed on the
Change if Ownership Document.
Your Full Names.................
Home Address....................
Cell Phone Number...............
Home Number.....................
Postal Code.....................
Email Address...................
The above information will be needed for the registration and paper work of
the puppies under your names and home address so that the delivery agency do
not make mistakes when delivery the puppies to you or it will help the
delivery agency deliver the puppies to your door step and once i have the
above details i will take the puppies to the delivery agency and have them
registered under your names and home address and once am done with the
registration the delivery agency will contact you and let you know on how
the puppies will be delivered to you and for you to also confirm your
address to avoid any mistakes when delivery the puppies to you okay and the
delivery fee for one puppy is 150$ and for both is 300$ and that is all the
money you will need to pay for the puppies to be delivered safely to your
location or home address and as i said in my first mail these puppies are
for free adoption so that is why you are paying just for the delivery fee
okay note that the money is not for the puppies but for the transportation
or shipping fee, you are not paying any money for the puppies okay.
both puppies also come with the following
papers;
# Health guarantee
# Vaccine record
# AKC registration papers
# Microchip Registration
# Pedigree
# Nutrition supplement
# Traveling Crate
Regards and waiting for your kind respond
.Morgan Smith
ME:
Honestly I feel sad about something. I've got excited at first for some reason. From the day I read your reply I wasn't able to sleep because I've got so excited about your puppies. I just want to ask something, does the pet agency accept credit card for the delivery fees? I've already sent my details to you from the first email replied.
I just want to get some copy of photos of your puppies now, and the name of the agency.
I will going to paid for the delivery of your puppies if they will send it first here at my address and see them for real If that things could be possible tell me. If it wasn't Im sorry. I couldn't take them..
Blessed day ahead.
God Bless
After sending some question as of now he's not replying on my email. I make a research about this and finally I proved it to myself that this is a scam.
English Bullbog Scam
I received an email from a woman asking me to adopt her to English Bulldogs. The transfer of papers with only cost $200, but if I would take both puppies it would cost $400. The name she used was Elena Saiz Arribas. She said she lived in Colorado. The email address that she is messaging me from is E-Saiz-Arribas@hotmail.com. She asked me to send pictures of my home ask me how many kids I had and why I wanted to adopt one of her dogs.
Puppy Buyer
I was looking for a Great Dane for my mother as a surprise, and I came along an ad on Craigslist, in my local section, offering a beautiful Dane puppy. I contacted them, requesting information and what the adoption fee would be; their response was that they were not interested in making money off of the puppies, they just could no longer keep them. Long story short, this person was supposedly several states away and wanted to deliver the puppy to me, and requested payment through Western Union, and through their Western Union information it revealed that they were really located in France, which explained their broken English and difficulty in understanding what I had written to them and had asked of them, that is when I discovered they were a scammer, and thankfully I caught them before paying anything. I also noticed that of the two puppies they supposedly had for sale, one was photographed with a blue backdrop and could not be more than 8 weeks old, while the other was photographed outdoors and appeared to be at least 16 weeks, they did not provide any more photographs. In their initial ad, they used a photograph of a random blue merle Great Dane puppy to lure customers, but in reality they were selling black and black mantle puppies that didn't even exist. Their email address is jessicajessie809@yahoo.com and they go by Jessica
Puppy Buyer
I was scammed on 5/15/2013. She started out wonderful, sent me pictures of the puppies and all the info I could possibly need. Then it happened, we accepted and I had to learn the hard way not to trust people! I received emails about 2 female teacup Yorkie puppies and I chose to take one "Skylie". I wired money, only $25, then I got a blocked call from the "airline" saying that if I didn't pay $1500 that my dog couldn't fly and that if I didn't come pick her up I'd be charged with animal neglect/abandonment. I kept my head though. I pleaded with the woman to just take the dog back while I was looking up their number and info. Lo and behold it wasn't correct the first thing that struck me as off; the email. It was something completely inappropriate for a professional airline. I hope she is caught or at least that people don't keep falling for this scam! But now she had my address luckily we are moving pronto.
Scammer
Good day,
Thanks for the mail and thank God for this wonderful day he has provided for us.To begin ,Brandon is a handsome guy and Skylie is a beautiful girl.Both puppies are 12 weeks of age.This are purebred yorkie puppies.The puppies are 1.5-2.5lbs in size and will be about 3.5-4lbs when fully grown. fast learner and very intelligent.The puppies are house broken, potty trained both out side and inside and very friendly to children and other pets.They are also current with all his shots (Distemper,Para Influenza, Boratella, Parvo and Hepatitis,Rabies shots etc) and will come along with all vet papers and all toys.Many people are seeking to adopt our puppies but we can not afford to give them to any person unless we are very sure that he or she can take proper care of any.We are willing to separate them .We dont feel comfortable selling them .All we need for them is much love and care .
Where are you located?
Have you had any before?
Are you a God loving person and how can we be assured that
you will take good care of our lovely babies?.
We are sorry for asking many questions , we just want to be very sure about who we will be adopting our babies to.Hope you understand.We hope to read from you .This cute babies are still available and we pray that they will move into a good home .We will miss them very much but our job is so demanding and we dont have much time to take proper care of them.We hope to read from you .Have a nice day
.GOD BLESS YOU
Thanks
Dr Norman
Buyer
No need to appologize. Believe me -- I know how you feel and I don't blame you. I lost my little yorkie mix (photo att.--approx. 4 Lbs./4yrs.) and put out a reward to find him. I have a print shop on N. Zarzamora/Woodlawn and I made a hugh banner and put out the word w/all my clients/friends and made hundreds of fliers. The people who "found" him live down the street on Woodlawn. Gave them a reward ($200.00) and they kept coming back to borrow, borrow, etc. and never paid back. They were probably scammers and probably had my dog inside waiting for the reward. I don't know but I sure thank God that I got my little Baby back.

Anyway, he needs a little companion. I do have a home; live with my 91 yr. old mother. We have a huge fenced back yard that Baby loves. He acks like a little rabbit when he runs around back.

I wouldn't mind taking both your puppies to keep them together. I keep Baby here at the shop with me to keep me company. Actually, I got him for Al, my dec. partner. He was diag. w/prostate cancer and was down/out. I got the pup to cheer him up; and that he did! Al lived 5-6 years thereafter, but unfortunately, passed rather suddenly. Baby missed him. He was sad, laying around/sitting around Al's chair for days.

Baby brings great happiness to me -- actually we do to each other, as well as my entire family. My mother lost her chi. that I bought for her in 1985 (dec'd. at 14 yrs.), so she was reluctant to get another dog/pup. But she has obviously gotten well adjusted to BABY! (In fact, more to him than me!) Because she is 91 yrs. I was afraid of him knocking her down, etc. so I trained him here at the shop. He is 4-5 yrs. and very well behaved. When he was missing (6 da.) we all cried so much.

I suffer w/depression and feel he knows my hurt when I'm down. I really can't explain, but I think I'm better because of him. I just hate to see him by himself. I get him play dates with a friend's pup but after they're gone he gets all lonely. I have to run this shop (am on the computer a lot) and he demands attention that I somethimes can't give when on a deadline. Having companions might keep him busy playing.

Baby just went to the vet Sat. I couldn't go because I don't have the stomach to hear his yelps, but my sister took him for all his shots, exam, etc. He came back pretty sore -- didn't really move around till Sunday evening. (Just so you know I am responsible and especially care for his total wellbing).

I had a cocker spaniel when I was young (Bimbo) who live almost 17 years. He died of old age also. Had a palamino mare horse (Wildfire) who lived to be 20. It's heartbreaking to loose a loved pet, but they do go to GOD's Petland.

Please feel free to call me if you have any further questions, comments. I'd love to hear from you and look forward to meeting with you. Rest assured that I would definitely take very good care of your little ones. You can even come to visit if you wish.
Scammer
We are happy to read from you again.We knew from our prayers that God was going to make a good choice for Babies.We are happy to read from you once more.we have attached pictures of Brandon and Skylie to this mail.We are also very happy to know that you are pet lovers and can take good care of our puppies,we were just scared because we have read about some
people that maltreat animals for pleasure in the name of bloody dog fight games .My family and i have just relocated to Geneva, Switzerland ,we work for the Baptist Mission and our job is so demanding living us with no time to take good care of our babies .They will each come along with all vet papers and a one year health guarantee.All we need for them is much love and care.We dont feel comfortable selling them but If you are willing to take care of the change of ownership papers let us know and we will ship them to you.Or better still you can travelle to Geneva, Switzerland and pick up the puppies in person.If you dont feel comfortable to take any let me know immediately and so i can adopt them to another family.We are willing to separate them.We hope to read from you.Have a nice day.GOD BLESS YOU.
Thanks
Dr Norman
Buyer
No pics. att. You said you were in Geneva? Are the pups there also?
Scammer
Thanks for the mail . We knew that by the grace of God our babies were going to make it into a caring home.The laws here in Switzerland are quite different from the laws in the states and so the transfer of ownership papers must be done here if not the Swiss custom authorities at the airport will not allow the puppy to to be shipped out of Switzerland .We are willing to separate the puppies if you only want one . I will be shipping from the Geneva international airport.All we will need is the change of ownership papers and so we can book a flight for any of the puppies. The certificate for the change of ownership is a legal document that certifies that the puppies have been transferred to your ownership and care.The change of ownership papers will cost $25 for each and $50 for both.If you are ready we can have the papers done today and so we have any ship to you by evening or tomorrow morning depending on when the papers will be signed at the ministry of Livestock and Animals Transportation.

We will require the following information and so we can fill on the transfer of ownership papers:
-your full names
-Home address
-The names of the closest Airport to your Home
-We will also need Your phone number because the airlines will call to notify you as soon as the puppies arrives.
We will use the Delta Airlines or Air Europa Cargo because they are very efficient in pets transportation and they always insure pets before shipping .They also offers home delivery services but you will have to pay an extra $25 if you will want the puppy to be delivered to your door steps.They also have well trained vet specialist that will take proper care of pets during flight.When it comes to pets transportation in Europe they are the best.As soon as you are ready to wire the money let me know and so we can have things started .You can call me using my universal satellite cell phone number
979 - 705-5390 cal the number just as it appears . We hope to read from you.God Bless You
Buyer
Thank you anyway, but I do believe that you are a scammer. Looked you up and found your crap. I do know that its not a good thing to use God for evil work. Believe me, I'm a believer (was near death and saw the light); and I pity you when you see God for your own Judgment. I saw all the scammed people. Wow! Sure don't wanna be you. I turned you in to my contacts, esp. FBI, etc. Don't try to contact me at all. Better loose my number! You better hope and pray that I don't stumble and fall or get hurt cause they've got your number. Understand!
Stay Alert-ignore these scammers. Don't lose your money to them.
Were you scammed over the Internet? Send us your story.