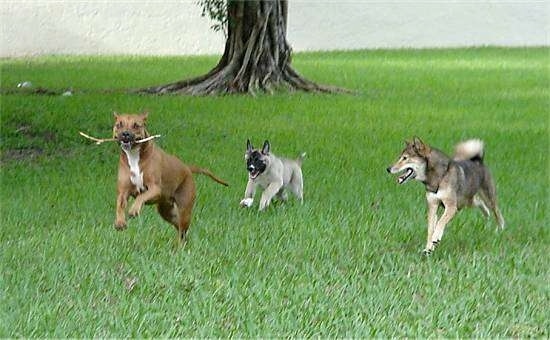 Red, an American Staffordshire Terrier, Hachi, an Akita Inu and Shin, a Shiba Inu. Red's got the stick and she is NOT giving it up!! Run, Red, run!
See more of Red.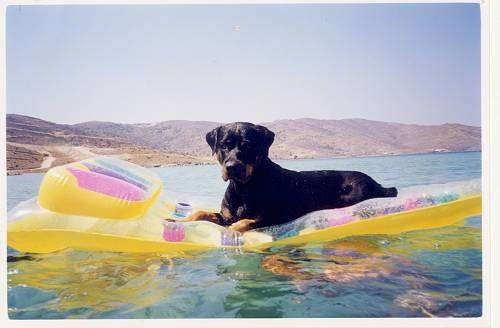 My name is Embony. I am a Rottweiler and I love sunbathing. Last summer I took my master Dimitris with me on my vacations. He was a very good boy, but not a good swimmer as me. This photo is from Greece which is my home country.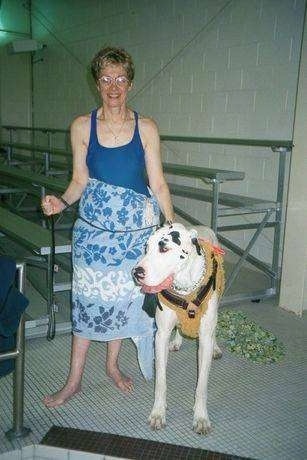 Meet Baily, a Great Dane who works as a helper dog for Dale. Dale has MS and Baily helps her with various things in her everyday life. Dale used to have a Labrador Retriever as her helping dog, but Dale is so tall her back was hurting from leaning over to hold the harness. A taller dog was needed and Baily was perfect.
If you think you have an amazing dog photo and would like to share please send it in.
Please Note:
To qualify for the Amazing Dog photo section, the photo needs to be of your dog doing something amazing or out of the ordinary. Please do not send in photos out of books, magazines or from other websites without proper permission from the owner of the photo. Due to the high number of photos sent in, not all photos are posted.