Those Amazing Dogs!
Page 20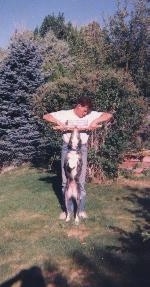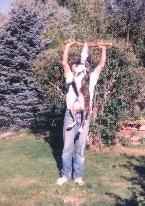 "Here are two photos of Jake at age 5. My husband is practicing his weightlifting (ha ha), and Jake is only too glad to help.& Jake's an Airedale / PitBull mix, and used to live for stuff like this. You can't tell in the photos, but even while suspended in mid-air, he would still be pulling at the stick (or rope, or tire, or whatever...pushing against AIR!) with all his might!! Now, however, at age 13, he spends most of his time DREAMING about that old jaw strength!"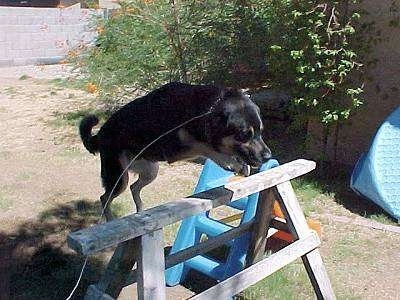 Jumpin' Buck! Buck is a German Shepherd/Rottweiler/Husky mix.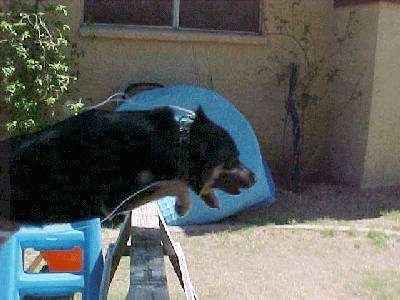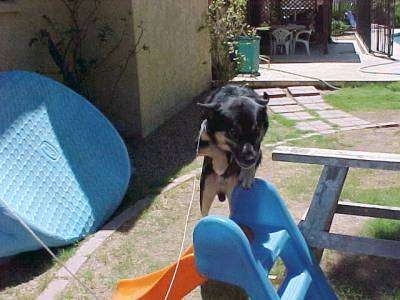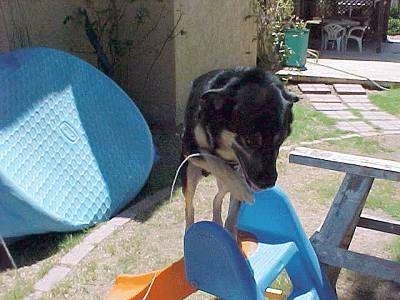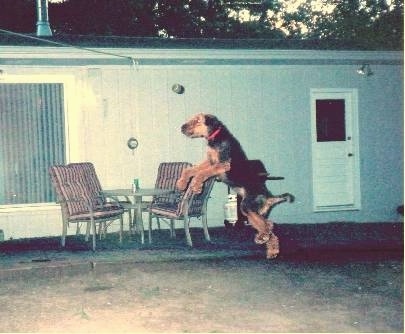 "Ransom, an Airedale Terrier. We got him from a rescue organization here in Kansas City, so we don't know exactly how old he is. Since he still has some black on his legs and head we figure he is between 1 and 1.5 years old. He was in pretty bad shape when we first got him, but with a little TLC he is now a healthy, happy bundle of energy."
"This photo shows just how far he will go for the tennis ball. He is completely obsessed with tennis balls. (We're thinking of hiring a doggy psychologist to help him with his obsession. Is there a Betty Ford Clinic for dogs hooked on playing fetch?)"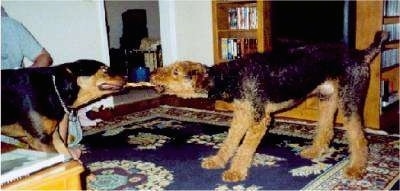 "Ransom and his best friend Reese (our best friends' Rott / Doberman mix-Rotterman)—when these two big dogs start playing you had better watch out or you might get run over. This photo shows clearly the "I'll take that, not because I want it, but because you have it" mentality of these two. If there were 10,000 toys in the house the only toy that each one would want is the one the other one has. We've seen a few toys made into two separate toys because of this behavior."
If you think you have an amazing dog photo and would like to share please send it in.
Please Note:
To qualify for the Amazing Dog photo section, the photo needs to be of your dog doing something amazing or out of the ordinary. Please do not send in photos out of books, magazines or from other websites without proper permission from the owner of the photo. Due to the high number of photos sent in, not all photos are posted.