Those Amazing Dogs!
Page 19
Meet 10-year-old Tyler and Sally the amazing bike-riding Poodle mix. Sally sits on a cushion on the bike with her front paws on the handlebars. In the photo above, Tyler and Sally rode four blocks in a parade that took place in Marquette, Kansas. Tyler has also taught her to go down a Slip 'n Slide by herself.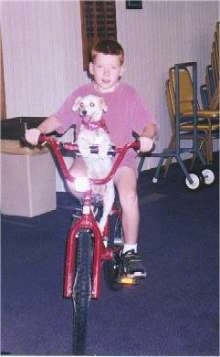 Sally was a stray that was going to be put to sleep. A family took her in and they say she has been their pride and joy ever since.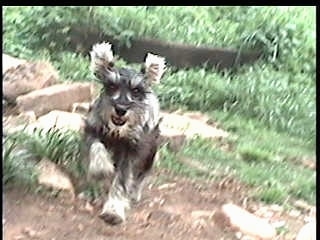 Miniature Schnauzer on the run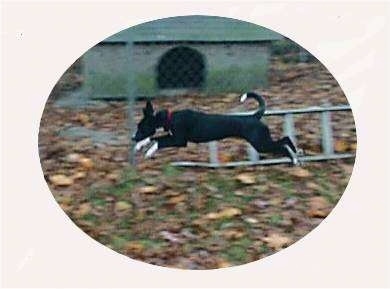 Pepper jumping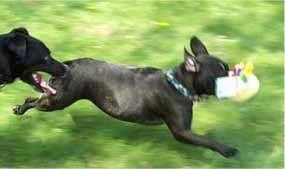 Rufus, an Olde English Bulldogge on the run with his toy!
Dot the French Bulldog quenches her thirst by digging at the bottoms of tree trunks for puddles of water! Photo courtesy of Roosje, Dot and Ratteplan's Mom.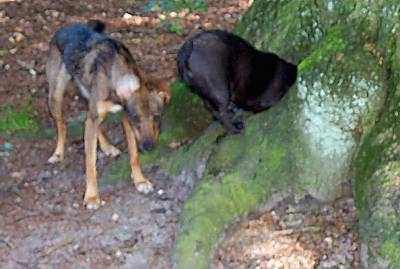 Photo courtesy of Roosje, Dot and Ratteplan's Mom.
If you think you have an amazing dog photo and would like to share please send it in.
Please Note:
To qualify for the Amazing Dog photo section, the photo needs to be of your dog doing something amazing or out of the ordinary. Please do not send in photos out of books, magazines or from other websites without proper permission from the owner of the photo. Due to the high number of photos sent in, not all photos are posted.